Visiting East Iceland just got easier!
In July we shared the exciting announcement that Condor airline will offer direct flights between Germany and Egilsstaðir in 2023.
Stuðlagil. Photo: Þráinn Kolbeinsson | @thrainnko
Germany's most popular leisure airline will be bringing its new candy-striped livery to Iceland from May to October, and we can't wait to see it! Condor will offer one flight per week (on Tuesdays) in each direction between Frankfurt and Egilsstaðir. In time, we hope there will be international flights to and from Egilsstaðir airport all year round.
Stay a week with us – maybe two! We know we can fill your time with amazing attractions in the east, or you can use Egilsstaðir as a start and end point for one of the world's finest road trips, Iceland's Ring Road. From the airport you can be exploring Austurland's magical fjords, forests and welcoming communities within an hour. Alternatively, it takes only about 2 hours to reach the geological wonders of the Mývatn area (173km), or 3.5 hours to reach Akureyri (247km), Iceland's largest city outside Reykjavík. Travel 3.5 hours in the other direction and you'll reach Höfn (254km), the gateway to the glaciers of the scenic southeast.
Here are 10 reasons why you should fly into Egilsstaðir and begin your journey in Austurland, Iceland's beautiful eastern region.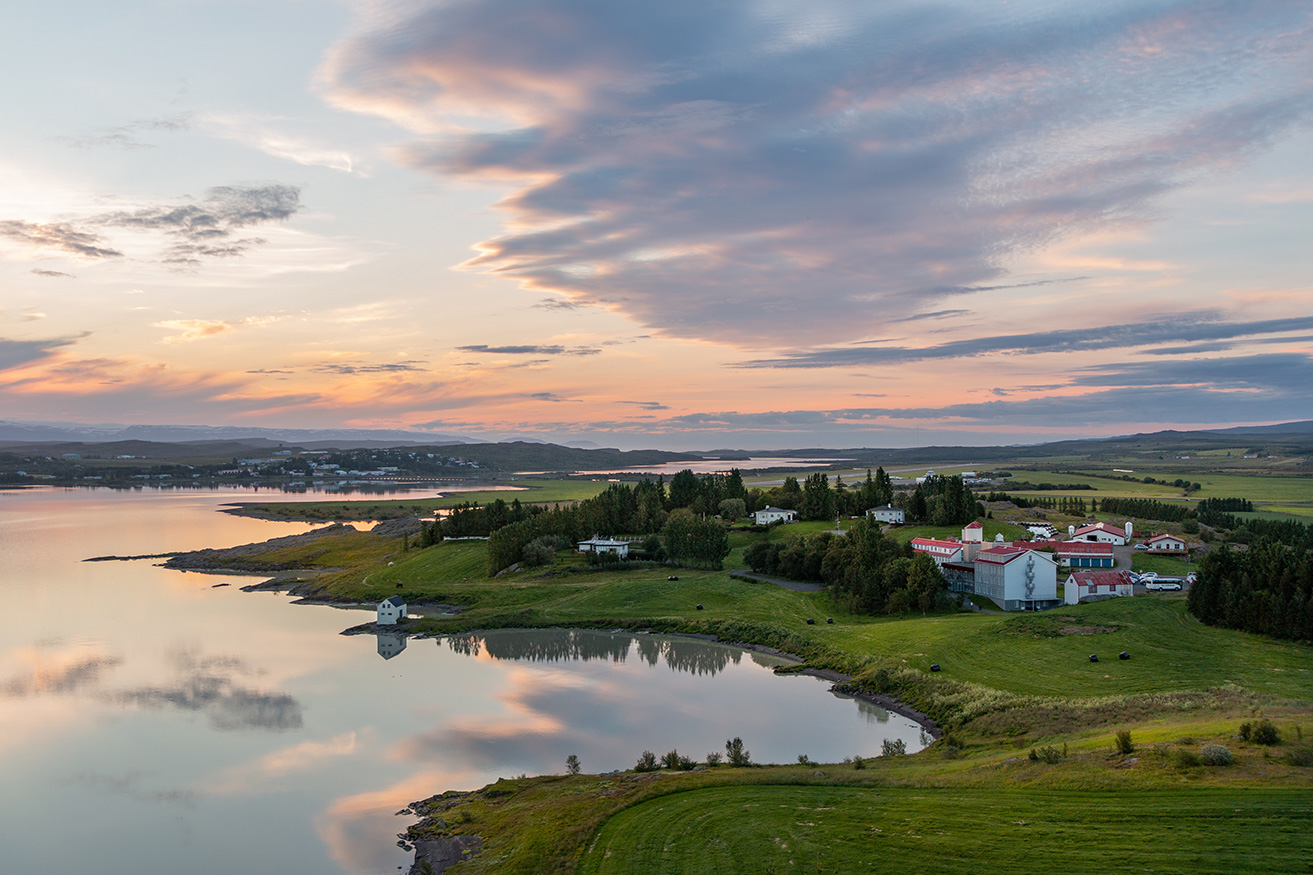 Egilsstaðir. Photo: Páll Guðmundur Ásgeirsson
1: Embrace a new experience
There's a lot to love about being ground-breakers! This is a new airport route, and Egilsstaðir is eager to welcome you and give you a great experience.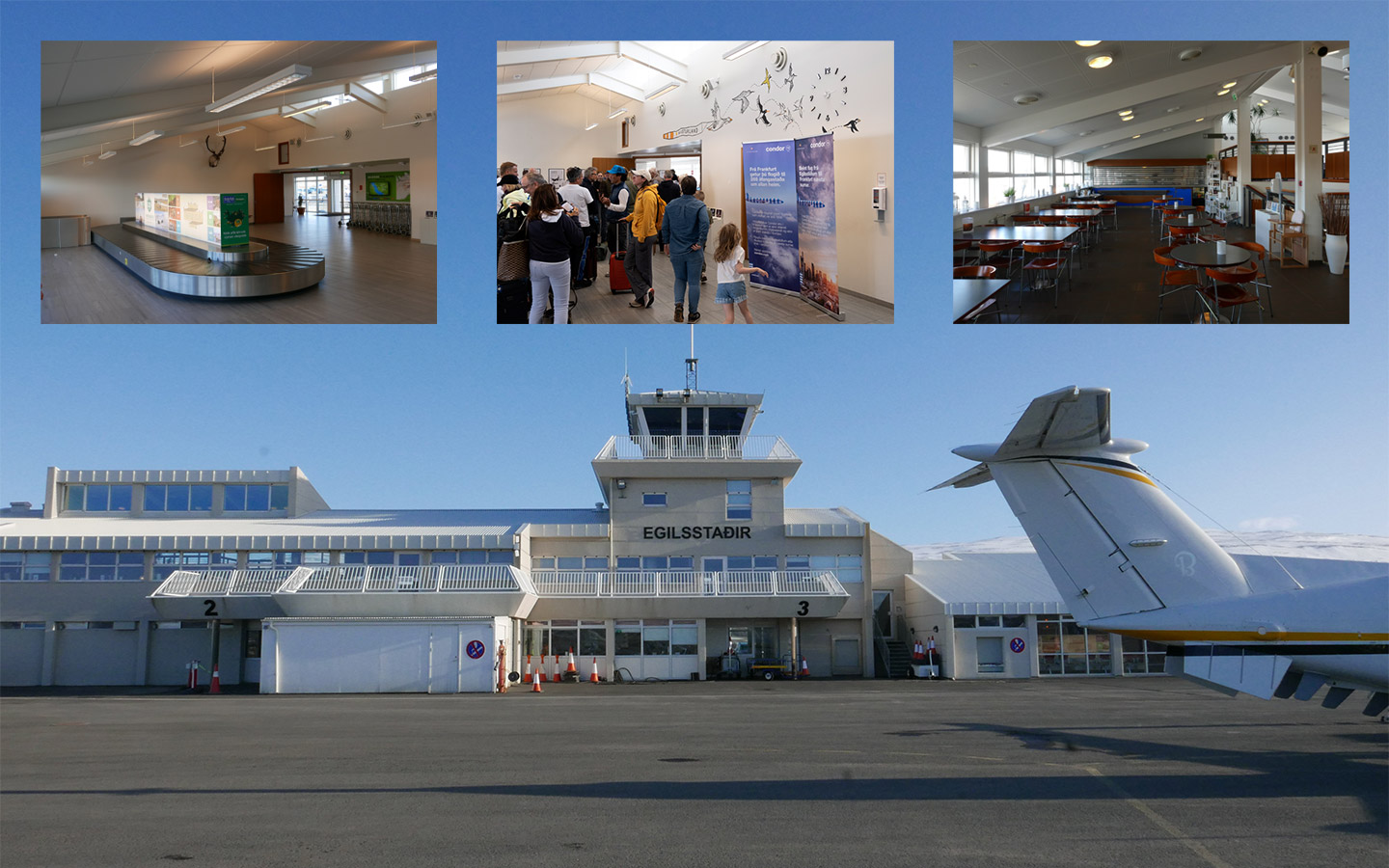 Egilsstaðir airport. Photos: Ingvi Örn Þorsteinsson
2: A small airport that's super easy to navigate
Egilsstaðir airport (code EGS) is compact and friendly, and with just one terminal it couldn't be easier to navigate. It primarily handles domestic flights between Reykjavík and Egilsstaðir, so it's got all you need (special assistance, a café, car rental desks) but nothing that will cause distraction. You can land and be out the airport door within 20 minutes!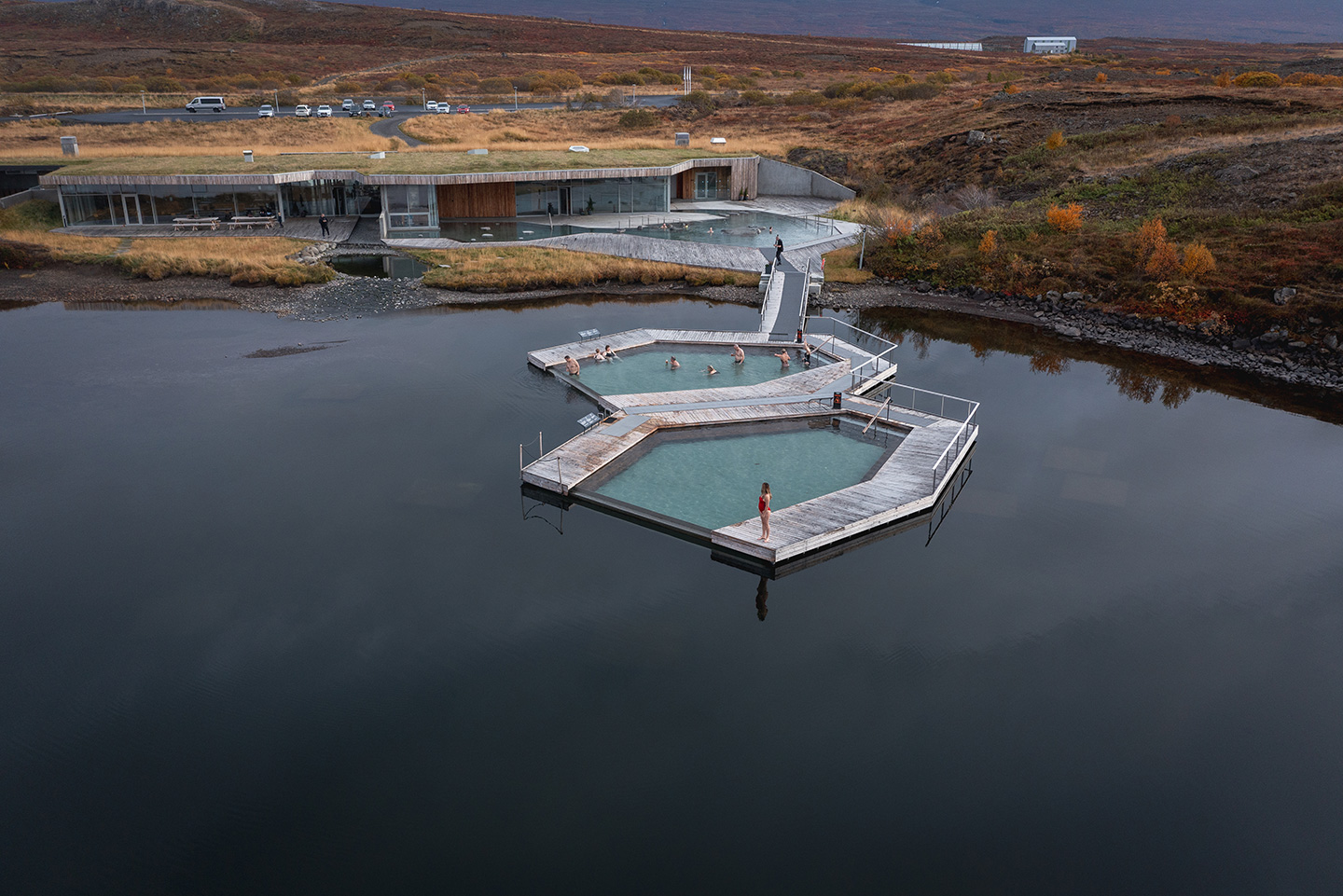 Vök Baths. Photo: Gunnar Freyr Gunnarsson | @icelandic_explorer
3: Quickly begin unwinding
It's just 5km from Egilsstaðir airport to Vök Baths, one of the loveliest spots in the country to join the Icelandic custom of soaking in warm geothermal water. This is no ordinary swimming spot: two infinity pools float in lake waters, drawing on the pure, warm water flowing from the ground at Urriðavatn lake.
4: Easy, exhilarating road trips
Want to explore more local treats? We don't blame you! Austurland is full of hidden gems, from a mysterious elephant to hairy houses, tiny towns, secluded swimming pools, and lost lighthouses. We've outlined some excellent travel routes in the east for you, with tips on how to tackle them in all seasons.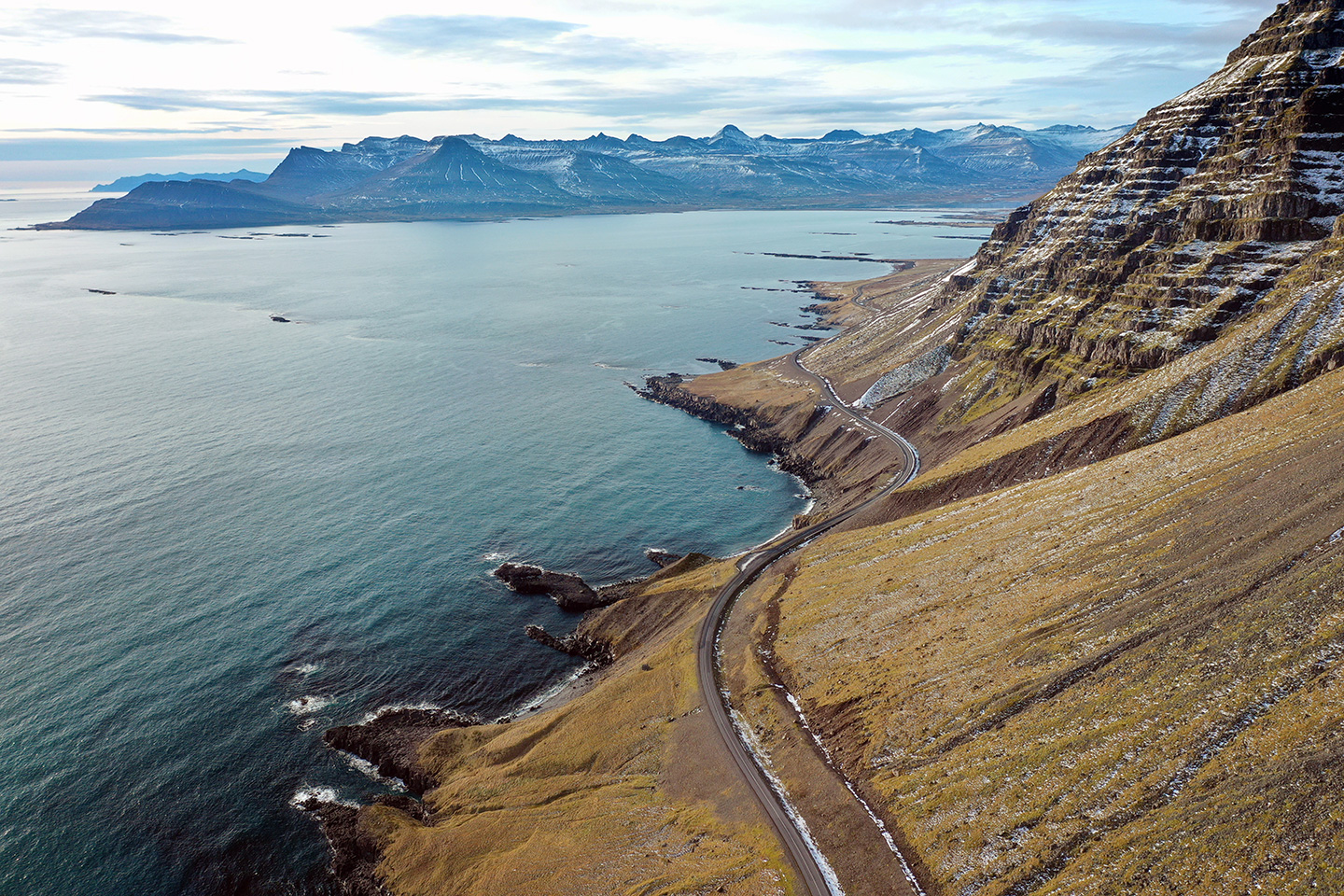 Road trip ready? Photo: Páll Guðmundur Ásgeirsson
Here are some driving distances from Egilsstaðir airport – with a note to check road conditions on the excellent website road.is. Most highland routes require a 4-wheel-drive vehicle.
Austurland highlights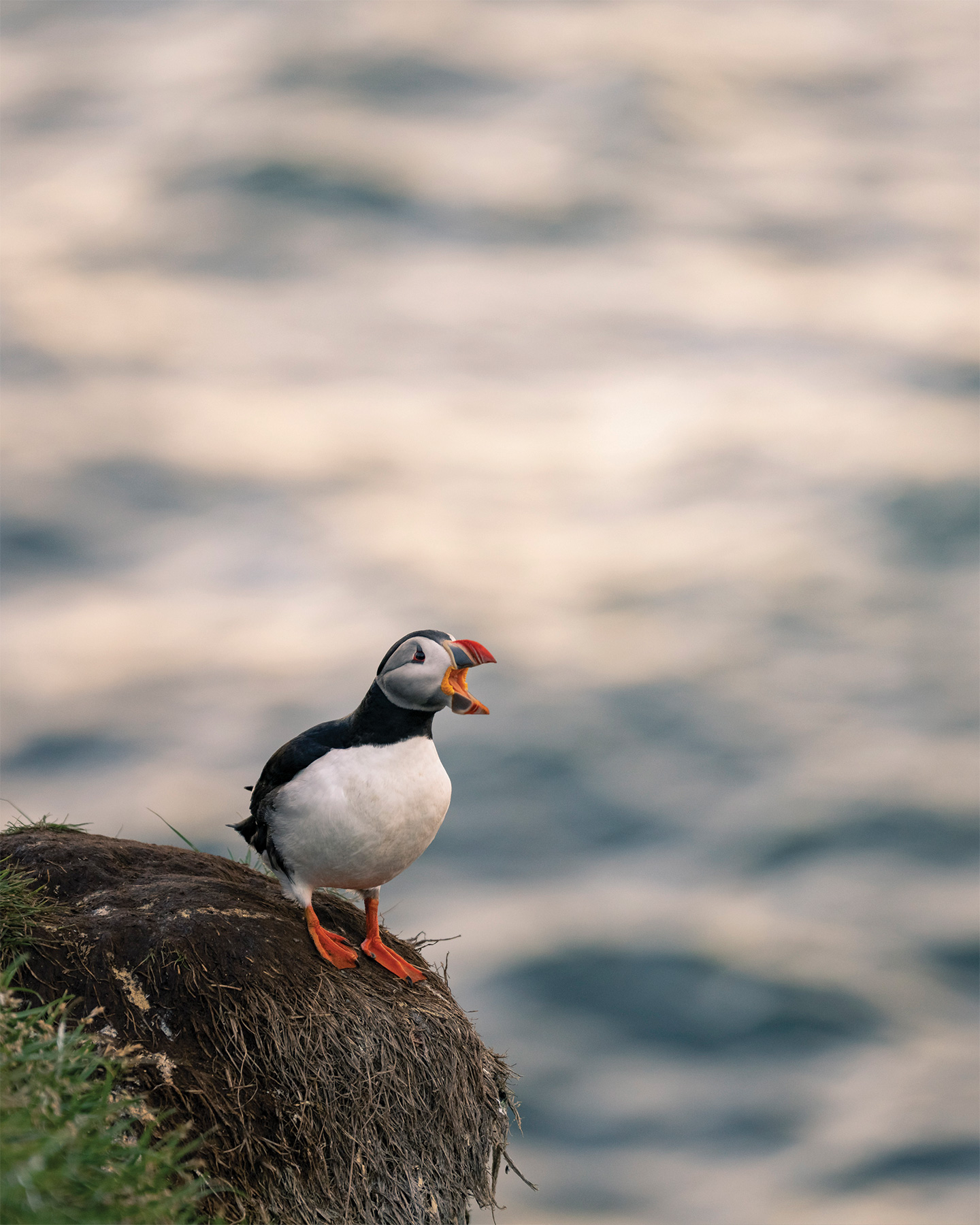 Did you know that one of the best places in Iceland to see puffins is in Borgarfjörður eystri? Photo: Þorsteinn Roy | @thorsteinnroy
5: Start your wildlife spotting
Within a few kilometers of the airport you can start the search for local wildlife – especially reindeer, unique to East Iceland. You can visit orphaned reindeer being raised at a local farm, or look out for them grazing on hillsides. Travel further afield (for 78 scenic kilometers) and you'll find the country's best place to see puffins and lots of different bird species. If you're lucky, you might encounter an arctic fox in Austurland too.
6: Landscapes to impress
You don't need to travel far to start admiring the Icelandic landscapes you've probably travelled for. Fjords, mountains, waterfalls, black beaches and more are within easy reach. One of Egilsstaðir's landmarks is Lagarfljót lake – you might see it out the airplane window as you land. Circumnavigating the lake is a wonderful way to begin your Austurland explorations, and we've got a handy guide. Look out for the lake's legendary sea monster!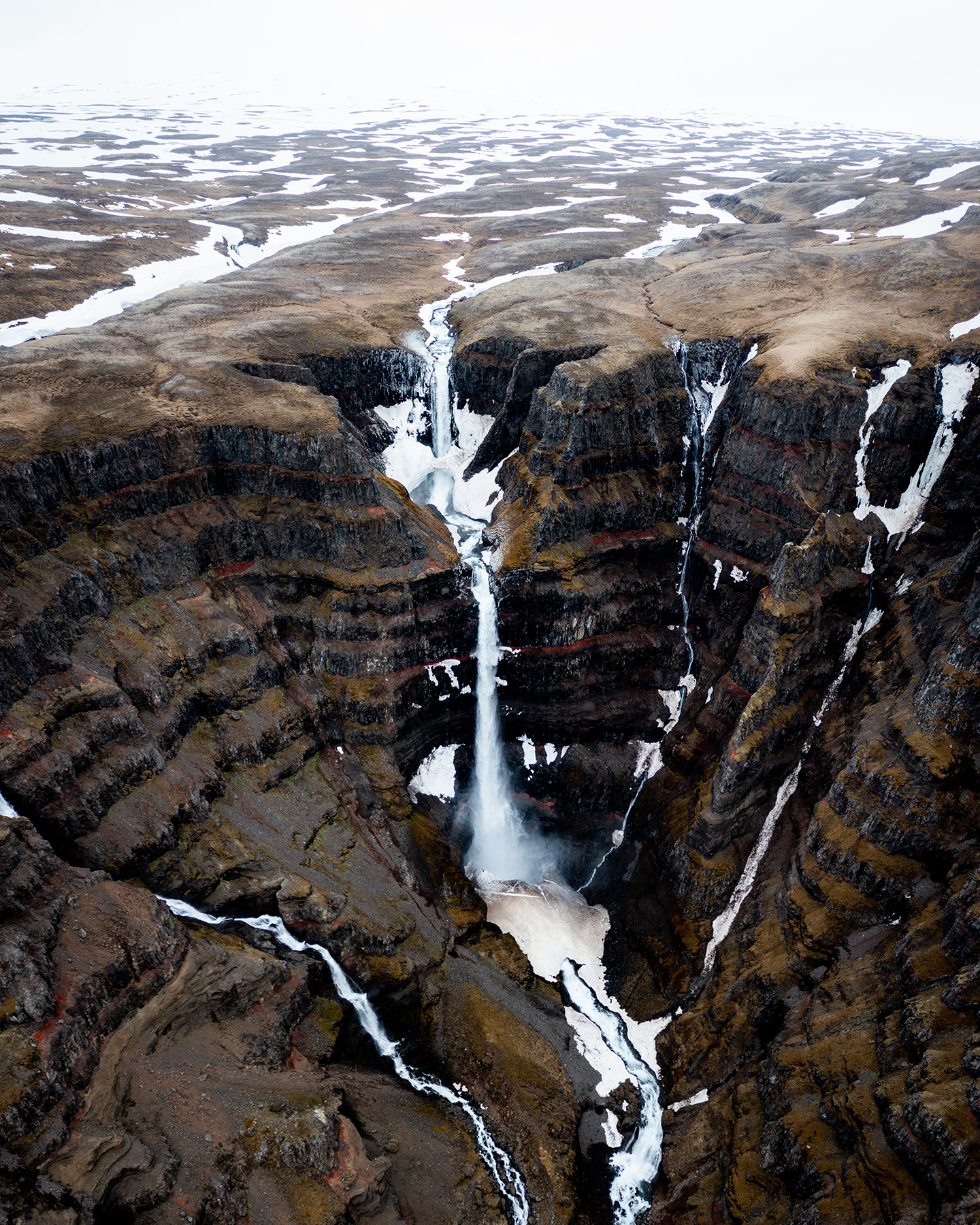 Strútsfoss. Photo: Gunnar Freyr Gunnarsson | @icelandic_explorer
7: Abundant adventure and activities
We're proud of our access to beautiful nature, and we invite you to come and share it. We've got activities to suit all, from wild to mild, and we're especially family friendly. We can give you a natural high, whether it's on walking paths to dramatic waterfalls or skiing down snowy peaks.
8: All the services you need
Our region may be small in population, but our communities are big on warm welcomes. We have accommodation to suit all tastes and budgets, from camping grounds to hostels, hotels and stylish apartments. We have some great farm stays, too, where you can discover authentic Icelandic rural life.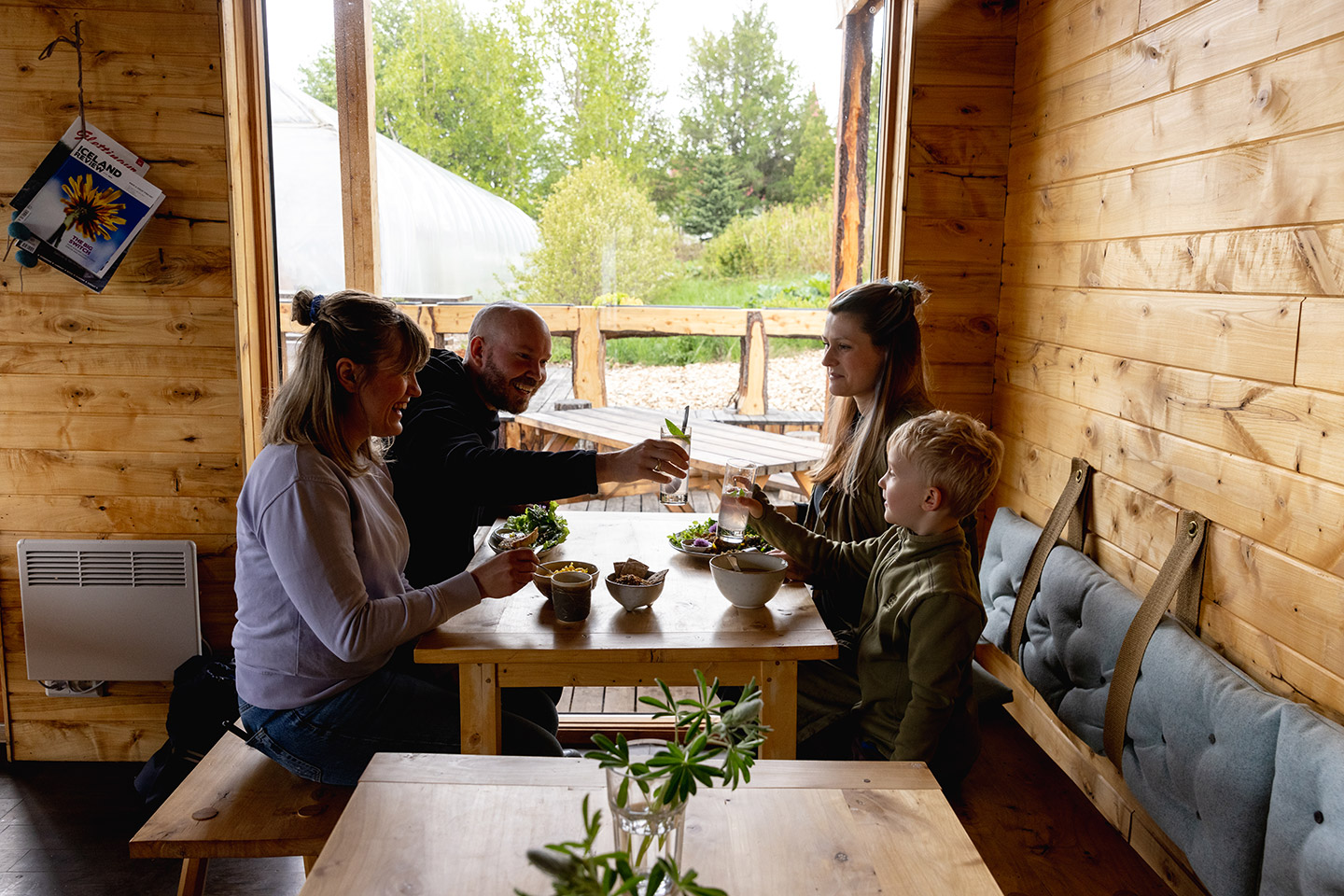 Vallanes. Photo: Gunnar Freyr Gunnarsson | @icelandic_explorer
9: Fine local flavors
If food is one of the things you love about travel, you've come to the right place! Austurland is full of delicious local produce, from cake buffets to fresh fish. We've got traditional and modern cafes and restaurants serving amazing sushi, farm-reared lamb and beef, wild game, organic vegetables, foraged herbs, and so much more. We've even got a handful of breweries making unique local craft beer!
10: Ring Road ready!
You can pick up your rental car at the airport and be on the road super-quick after arrival. Exit the airport's car park and you're on Route 1, Iceland's famous Ring Road. This is a 1323km long stretch of road that circumnavigates the country, with an incredible assortment of landscapes and natural wonders to enjoy (and if you follow it, it will bring you back to Egilsstaðir when you're done).
Here are more driving distances from Egilsstaðir airport, traveling on or via Route 1, the Ring Road. We always recommend checking road conditions on the excellent website road.is. Most highland routes require a 4-wheel-drive vehicle.
Traveling south:
Traveling north:

Epic Vestrahorn views 248km

The roar of Dettifoss waterfall 153km

Höfn in the southeast, for glacier views and
langoustine dishes 254km

Lake Mývatn's geological wonders 173km

Stunning Jökulsárlon glacier lagoon 325km

Highland highland Askja 183km

Scenic Skaftafell in Vatnajökull National Park 380km

Húsavík for superb whale-watching 218km

Reykjavík, Iceland's capital 702km

Akureyri, North Iceland's hub 247km

Reykjavík, Iceland's capital 639km

Have we convinced you to check out Condor's flights and fly from Frankfurt directly to us in Austurland in 2023? We hope so! We can't wait to welcome you.
Words: Carolyn Bain