Shortcuts
Technical Museum of East Iceland
Technical museum
The museum´s main focus is on the influx of modern times around 1880 to 1950. Technical innovations in areas such as mechanics, electricity, communications, telephony, commerce, and architecture are interlaced with changes in lifestyle and milieu. We also serve as a museum for Seyðisfjörður local heritage. Exhibitions are animate and seek to recreate the atmosphere of the times they portray. The museum surroundings are an open-air recreation area, outstanding for taking walks and enjoying each other's company. We support a family-friendly policy and work progressively on producing informative settings as well as constructive and worthwhile entertainment for guests of all ages.
How to get here
The museum is situated on the south shore of Seyðisfjörður town about 800 meters from the town center and about 500 meters from the Ferry Terminal/ Information Center. If you arrive via the mountain road you will cross the first bridge on the right side and drive about 1 km along the shore road, you will find the museum on the left-hand side.
The technical Museum of East Iceland is a non-profit organization. Our costs are mostly paid by public funds and donations from the general public. We are grateful for any support given.
Accessibility
A large part of our permanent exhibitions are on the ground floor and can be traversed in wheelchairs. The telegraph station has nevertheless been on the upper floor has no access to wheelchairs. None of the museum buildings were originally designed to be accessible to all and therefore present challenges in providing easy and independent access. We will keep working so the access to this space can be guaranteed to everybody
Get directions
Technical Museum of East Iceland
GPS Points
N65° 15' 56.417" W13° 59' 29.107"
Travel directory for Technical Museum of East Iceland
The official travel index of Iceland
Camping
1.30 km
The campsite is located close to the center of town. It is surrounded by trees and divided into smaller areas. It is well located but close to the campsite, there is a grocery store, craftsman's mar
Guesthouses
1.86 km
Nestled in the mountainous landscape of the Eastfjords, Seyðisfjörður is a true gem of a town with colorful little houses and a vibrant arts community. It was the site of the internationally acclai
Hotels
1.11 km
Hótel Aldan of Seyðisfjörður consists of three old but extensively renovated houses two of which are located by the little pond in the heart of this quaint old town in the Norwegian Schweitzer-sty
Others
Media Luna Guesthouse
Guesthouses
Hafnargata 2
710 Seyðisfjörður
864-3082
Báran, Studio by the Sea
Apartments
Ránargata 8
710 Seyðisfjörður
897-7163
Við Lónið
Guesthouses
Norðurgata 8
710 Seyðisfjörður
899-9429
Hafaldan HI Hostel - Old Hospital
Guesthouses
Suðurgata 8
710 Seyðisfjörður
611-4410
Lónsleira apartments
Apartments
Lónsleira
710 Seyðisfjörður
849-3381, 849-7094
Winter adventure
8.61 km
In the snowy glen of Stafdalur situated only 10 min. drive above the village of Seyðisfjörður, there is an excellent ski resort operated jointly by the skiing clubs of Seyðisfjörður and Fljótsd
Swimming Pools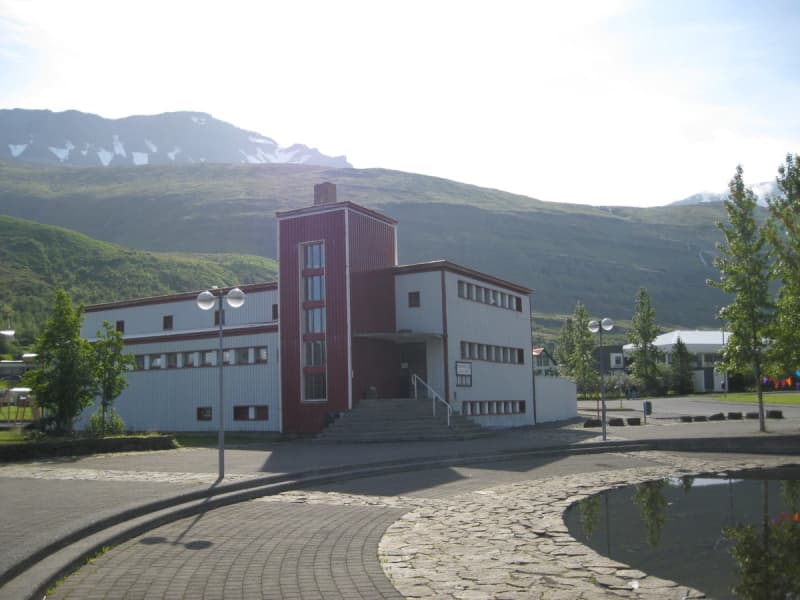 1.23 km
Seyðisfjörður swimming hall is a charismatic indoor swimming pool with hot tubs and sauna. Seyðisfjörður Swimming Hall was built in 1948 and was designed by Gudjón Samúelsson, the State House
Others
Seyðisfjörður Golf club
Golf Courses
Kúahagi / Vesturvegi
710 Seyðisfjörður
893-6243
Seyðisfjörður Tours
Hiking Tours - Hiking
Skálanes
Day Tour Provider
Suðurgata 2
710 Seyðisfjörður
info@skalanes.com