Shortcuts
Gljúfursá river
The Gljúfursár waterfall runs down a colorful ravine just below our starting point. From there is a marked walking path that takes you along the river Gljúfursá, down to the sea and around Drangsnes.
Walking along the precipitous cliffs is a great experience and leaves few visitors unmoved. The trail goes past Krummsholt where you can see ancient ruins dating back to Viking times. In fact, a Viking named Þorsteinn Uxafótur is thought to have lived there. Looking at such ancient habitats leaves one wondering about the lives lived here centuries ago, wishing the earth could talk and tell us the stories of our ancestors.
Across the fjord, you can see glimpses of the village of Vopnafjordur standing on a peninsula reaching out in the fjord. The peninsula itself is called Kolbeinstangi.
The river Gljúfursá used to be a major obstacle to travelers heading east over Hellisheiði. Many accidents occurred when people tried to cross the river by foot or on horseback.
You can walk along the river to the old bridge over Gljúfursá, built around 1900 and at the time considered to be a great marvel. The story goes that construction began on the bridge after a man on horseback died while attempting to cross the river during winter.
Get directions
Gljúfursá river
GPS Points
N65° 45' 8.934" W14° 40' 45.533"
Travel directory for Gljúfursá river
The official travel index of Iceland
Swimming Pools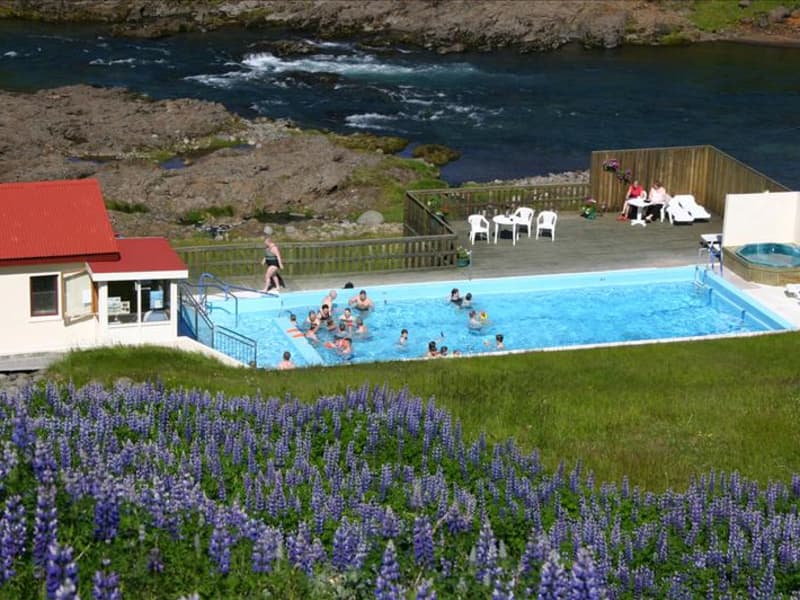 24.94 km
Selárdalur Swimming Pool Phone: 473 1499 - 473 1331 e-mail: info@vopnafjardarhreppur.is The swimming pool is 3.5 km. from road 85 on the way to Bakkafjörður, 12 km. from central Vopnafjörður. T
Hiking Tours - Hiking
20.09 km
Bird watching A visit to eiderdown farmers We invite you to visit our farm-takes for about 3 hrs. Guests learn how the eider ducks live and nest, and how the eiderdown is cleaned. Guests can examine h
Guesthouses
24.27 km
You will find the farm Síreksstaðir in glen Sunnudalur, a small and peaceful haven off valley Hofsárdalur in Vopnafjörður. The farm boasts a small guesthouse with 7 rooms along with two summerhou
Others
BergEy Ferðir
Day Tour Provider
Skálanesgata 4
690 Vopnafjörður
844-1153