Shortcuts
Seyðisfjörður Camping Ground
The campsite is located close to the center of town. It is surrounded by trees and divided into smaller areas. It is well located but close to the campsite, there is a grocery store, craftsman's market, swimming pool, restaurants, a sports center, sauna, and hot tubs. Shorter and longer walkways are close by as well as the possibility of fishing from the pier or going to the shore. Close by is also the technical museum of east Iceland, Skaftfell cultural center and many cultural events taking place all year round.
The campsite has great facilities for tents, mobile homes, and folding campers. A new service house has showers, washing machine, tumble dryer, cooking facilities, and a seating area.
The age limit is 18 years unless traveling with adults.
Get directions
Seyðisfjörður Camping Ground
Ránargata 5
GPS Points
N65° 15' 38.153" W14° 0' 43.459"
Opening period
01/05 - 30/09
Service
Travel directory for Seyðisfjörður Camping Ground
The official travel index of Iceland
Winter adventure
7.56 km
In the snowy glen of Stafdalur situated only 10 min. drive above the village of Seyðisfjörður, there is an excellent ski resort operated jointly by the skiing clubs of Seyðisfjörður and Fljótsd
Swimming Pools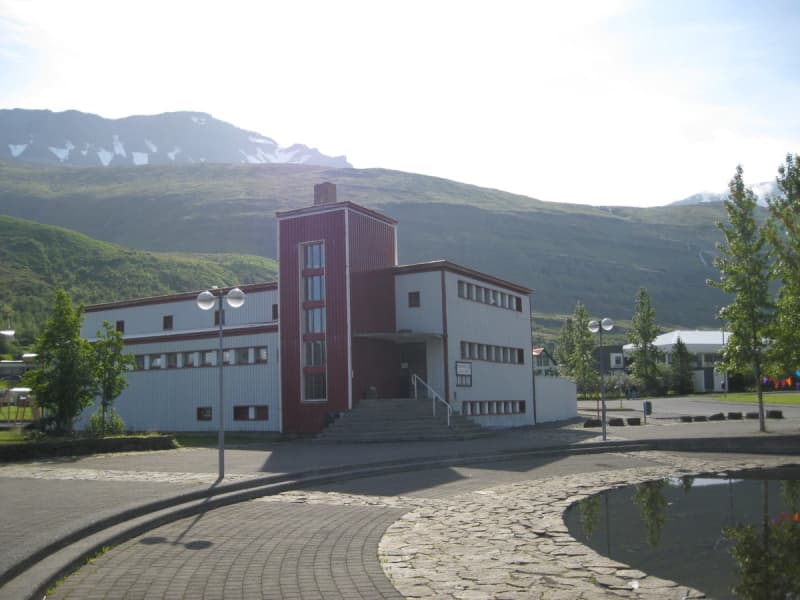 0.32 km
Seyðisfjörður swimming hall is a charismatic indoor swimming pool with hot tubs and sauna. Seyðisfjörður Swimming Hall was built in 1948 and was designed by Gudjón Samúelsson, the State House
Others
Seyðisfjörður Tours
Hiking Tours - Hiking
Seyðisfjörður Golf club
Golf Courses
Kúahagi / Vesturvegi
710 Seyðisfjörður
893-6243
Skálanes
Day Tour Provider
Suðurgata 2
710 Seyðisfjörður
info@skalanes.com
Museums
0.68 km
Skaftfell Center for Visual Art is situated in Austurvegur 42 in Seyðisfjörður, in a grand timber house built-in 1907. The house contains the Skaftfell gallery and bookshop on the middle floor, the
Museums
1.25 km
Technical museum The museum´s main focus is on the influx of modern times around 1880 to 1950. Technical innovations in areas such as mechanics, electricity, communications, telephony, commerce, an
Others
Icelandic craft Eik
Exhibitions
Miðhús
701 Egilsstaðir
471-1320
Hotels
0.14 km
Hótel Aldan of Seyðisfjörður consists of three old but extensively renovated houses two of which are located by the little pond in the heart of this quaint old town in the Norwegian Schweitzer-sty
Farm Holidays
24.98 km
Hotel Eyvindará is a peaceful and forested haven in the close vicinity of town Egilsstaðir. The site enjoys a scenic view over the surrounding region; Egilsstaðir and neighboring village Fellabær.
Museums
0.68 km
Skaftfell Center for Visual Art is situated in Austurvegur 42 in Seyðisfjörður, in a grand timber house built-in 1907. The house contains the Skaftfell gallery and bookshop on the middle floor, the
Others
Icelandic craft Eik
Exhibitions
Miðhús
701 Egilsstaðir
471-1320
Café Lára - El Grillo Bar
Pubs & Clubs
Norðurgata 3
710 Seyðisfjörður
4721703, 472-1703