Shortcuts
7. October - 26. November
Pollur-spegill - Skaftfell - Seyðisfjörður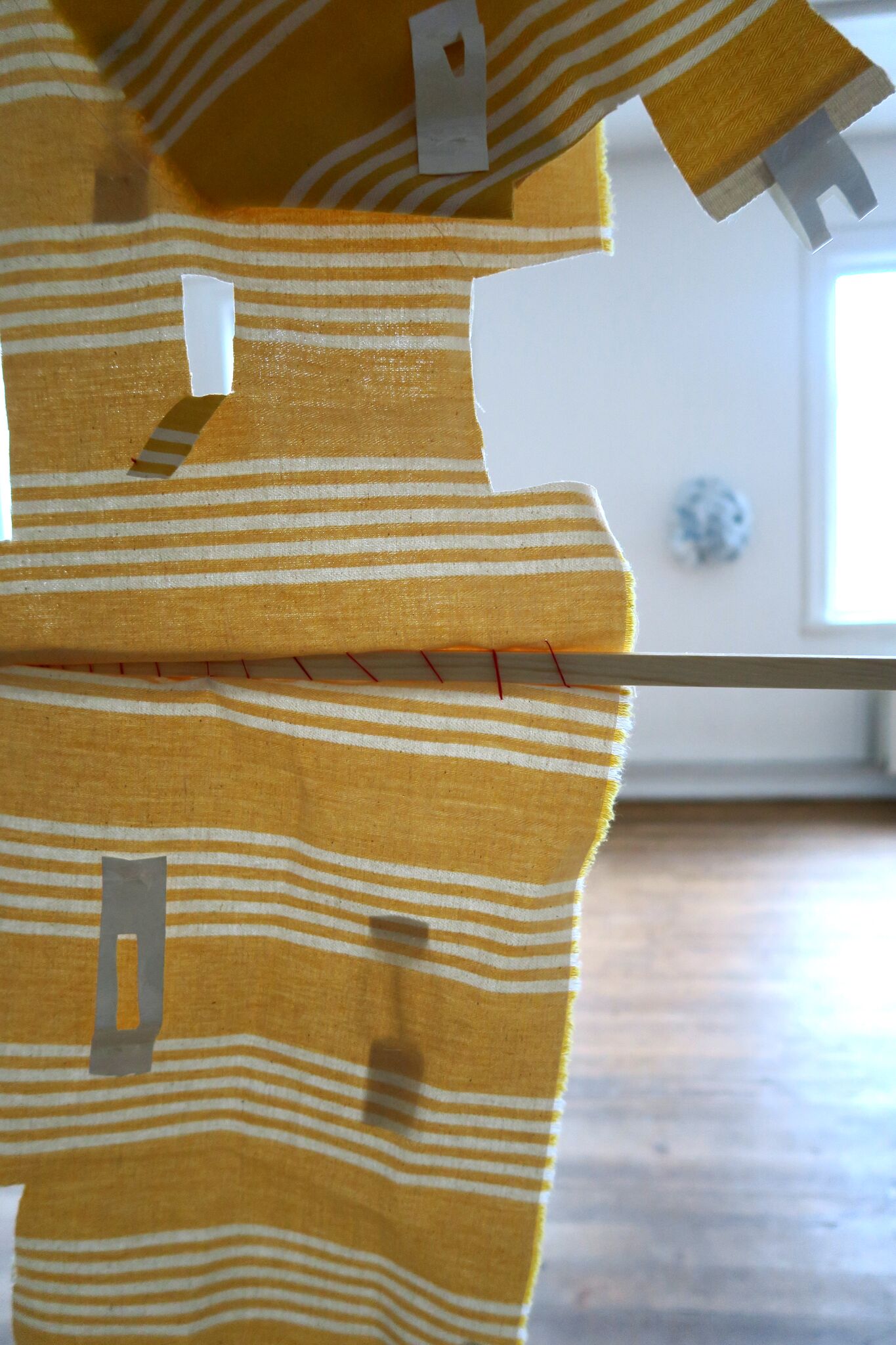 Næstkomandi laugardag, 7. okt kl. 17:00, opnar einkasýning Margrétar H. Blöndal í sýningarsal Skaftfells sem ber heitið pollur – spegill. Þetta í fyrsta skipti sem Margrét dvelur og sýnir á Seyðisfirði.
Ég var á ferð fótgangandi, áverkar á stígum mynduðu dældir fyrir vatn sem hefur fossað frá himninum síðustu daga.  Spegill spegill herm þú mér.  Sumir eru drullug díki, aðrir grárri og svo getur glitt í tæran botninn.  Pollur er djúpur, gljúpur sem gleypir og fær eitthvað til að hverfa.  Spegill flatur – tví- og þrívítt á víxl - samt getur maður horft inn í óendanleikann - eða ekki.  Pollur er hjúpur um áverka, hylur eða undirstrikar – allt eftir því hvað þú vilt og vilt. Pollur er dulargervi – spegill - þú felur þig eða framkallast í eigin ímynd.   
Stundum er ég snekkja - stútfull af káetum í ýmsum stærðum. Kýraugun stöðugt á höttum eftir vísbendingum. Hoppa og skoppa yfir heljarbrú, opna út á dekk, ryð niður veggjum og færi til vistarverur. Hér er hægt að dansa og hér er möguleiki að vinna aflann; ein ég eima og flokka, flaka líka og stokka. 
Til sýnis eru sex ný verk sem öll urðu til á síðustu dögum. Í vinnuferlinu byrjaði Margrét á því að innbyrða sýningarsalinn, lögun hans og andrúmsloft. Í kjölfarið raðar hún og stillir handvöldum og umbreyttum efnisföngum, snúrum, plasti, tróði, prikum, o.s.frv. víðsvegar um salinn. Úr verða hárfínar samsetningar sem saman mynda ljóðræna og fínstillta innsetningu í rýmið. Hið einfalda og látlausa verður að einhverju forvitnilegu sem býr þó yfir kunnugleika, sem kveikir ný hugsanatengsl hjá áhorfendum og jafnvel veitir þeim innblástur inn í aðvífandi vetur.
Á vegferð sinni er Margrét árvökul en um leið rænulaust reiðubúin að viða að sér efni til úrvinnslu og nýtingar í óorðin verk og á birgðir frá öllum heimshornum. Hún tók úrval með sér til Seyðisfjarðar auk þess sem hún fór í leiðangra í firðinum, í heimahús með leyfi, geymslur og skemmur í efnisleit.
Margrét H. Blöndal býr og starfar í Reykjavík. Hún lauk námi frá fjöltæknideild Myndlista – og handíðaskóla Íslands árið 1993 og lauk síðar meistaraprófi frá Rutgers háskólanum í New Jersey. Af nýlegum sýningum hennar má nefna einkasýningu hjá Galerie Thomas Fischer, Berlín (2017), i8 Gallery, Reykjavík (2016); Felldur, Harbinger, Reykjavík (2015); Listasafn Reykjavíkur (2014); og Fort Worth Contemporary Arts, USA (2009). Verk hennar hafa verið sýnd á fjölda samsýninga, meðal annarra: Entangled: Material and Making, Turner Contemporary, Margate (2017),  6th Momentum, Moss, Noregi (2011); Manifesta 7, Trentino, Ítalíu (2008) og Kunstverein Baselland, Sviss (2006). Árið 2009 var hún residensíulistamaður hjá Laurenz Haus Stiftung, Basel. Margrét hefur allan sinn feril stundað kennslu.  Vefsíða: http://www.margrethblondal.net
Í tilefni af opnuninni verður bókin Teikningar/Drawings, sem kom út í fyrra, til sölu á sérstöku opnunarverði, 7.900 kr.
Sýningarsalurinn er opin á sama tíma og Bistróið, sjá www.skaftfell.is/bistro.
pollur - spegill stendur til 26. nóv, 2017, og er styrkt af Uppbyggingarsjóðu Austurlands, Myndlistarsjóði og Sílarvinnslunni.
__________
This Saturday, October 7. at 5 pm, Margrét H. Blöndal opens the solo exhibition pollur – spegill in the Skaftfell gallery. This is the first time Margrét resides and exhibits in Seyðisfjörður.
 I was moving along on foot, water that had pored from the sky filled the dents in the paths. Mirror, mirror on my way. Some are muddy holes, others opaque and then somewhere the clear bottom glitters through. A puddle is deep, sodden which swallows and makes something vanish. A mirror is flat - true or free dimensional - still you can look into the infinity - or not. A puddle coats a damage, it covers or emphasizes - depending on what you want and want. A puddle is a disguise - the reflection - you appear or disappear behind your own image.
The exhibition consists of six works that all were made in the last few days. The artist's work process began with examining the gallery, its shape and atmosphere, followed by a process of arranging and placing around the space, detailed objects made out of everyday material, wire, plastic, thread, stick etc. These are transformed and animated into curious objects that contain a familiar presence and together weave a poetic and fine tuned installation.
In her travells Margrét is alert and, at the same time, subconsciously ready to collect materials to process and animate into new objects. She brought with her a selection of her global stock to Seyðisfjörður as well as gathering new material in the fjord when visiting local homes, storages and storehouses.
Margrét H. Blöndal lives and works in Reykjavík. She graduated from the Icelandic College of Arts and Crafts in 1993 and completed her masters from Mason Gross School of the Arts, Rutgers University, USA, in 1997. Recent exhibitions include a solo exhibition at Galerie Thomas Fischer, Berlin (2017); i8 Gallery, Reykjavík (2016); Felldur, Harbinger, Reykjavík (2015); Listasafn Reykjavíkur (2014) and Fort Worth Contemporary Arts, USA (2009). Her work has been exhibited in various group exhibitions, including: Entangled: Material and Making, Turner Contemporary, Margate (2017); 6th Momentum, Moss, Norway (2011); Manifesta 7, Trentino, Italy (2008) and Kunstverein Baselland, Swiss (2006). In 2009 she stayed as an artists-in-residence at Laurenz Haus Stiftung, Basel. Alongside her practice Margrét has worked as a teacher. http://www.margrethblondal.net
 Her newly published book Drawings, 2016, will be on a special opening offer, 7.900 ISK.
The gallery is open concurrent with the Bistro: www.skaftfell.is/bistro.
pollur - spegill is ongoing until Nov 26. nóv, 2017. The exhibition is supported by the Regional Development Fund of East Iceland, the Visual Art Fund and Síldarvinnslan.
Images