Shortcuts
Seyðisfjörður Incoming Information Office
The Seyðisfjörður Information Centre / Immigration Control at the Ferry Premises, Ferjuleira 1, 710 Seyðisfjörður.
The Seyðisfjörður Information Centre is located at the Ferry harbour at Ferjuleiru 1. In summer it is open from 8.00-16.00 on weekdays. At other times it is open on Tuesdays and Wednesdays from These are the days during which the ferry Norröna is scheduled to dock. During the off-season information can be obtained at other time at the Office of Travel and Cultural Affairs. It is based at Hafnargata 44 ( the municipal offices).
Ms. Aðalheiður Borgþórsdóttir, travel and cultural affairs officer, is head of the Centre.
Tel: 472 1551 / 470-2308 / 861-7789 Fax: 472-1588
Location: Information Centre Ferjuleira 1, 710 Seyðisfirði
Email: ferdamenning@sfk.isÞetta netfang er varið fyrir ruslrafpósti, þú þarft að hafa Javascript virkt til að skoða það og ferjuhus@simnet.isÞetta netfang er varið fyrir ruslrafpósti, þú þarft að hafa Javascript virkt til að skoða það
Information regarding the schedule of ferry Norröna is obtainable at Austfar, the representative of Smyril Line, at Fjarðargata 8, Seyðisfjörður. Their office is open on weekdays from 09:00 - 17:00. It is closed during lunch hour 12:00 -13:00.
Tel 472-1111 Email austfar@smyril-line.is
Opening hours
Week days:
Saturdays:
Sundays:
May 1st - September 30th:
08:00-16:00
Closed
Closed
March, April and October the office is open Tuesdays and Wednesdays during the stops of the Smyril Line ferry. The office is also open during chuise ship visits. November through February the office is closed but phone calls and e-mails will be answered.


Get directions
Seyðisfjörður Incoming Information Office
Ferjuleira 1
GPS Points
N65° 15' 47.479" W14° 0' 7.218"
Opening period
01/01 - 01/01
Travel directory for Seyðisfjörður Incoming Information Office
The official travel index of Iceland
Swimming Pools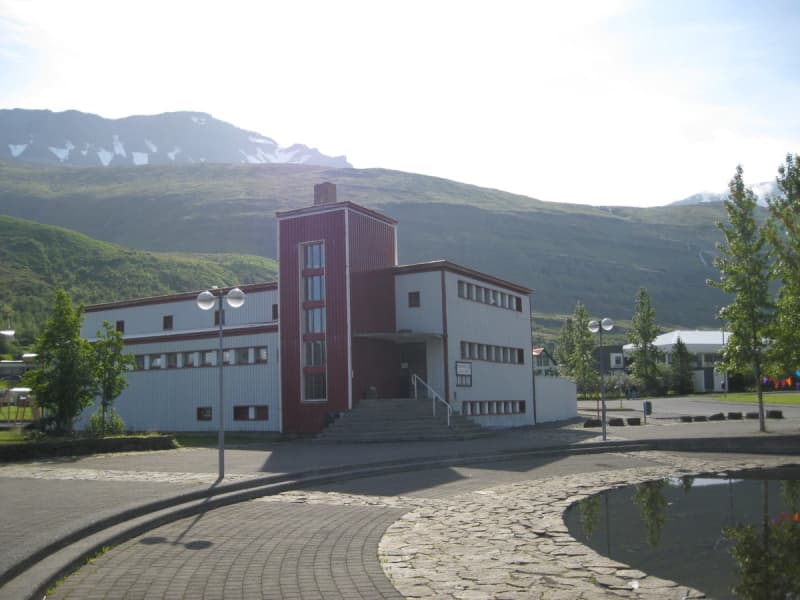 0.73 km
Seyðisfjörður swimming hall is a charismatic indoor swimming pool with hot tubs and sauna. Seyðisfjörður Swimming Hall was built in 1948 and was designed by Gudjón Samúelsson, the State House
Winter adventure
8.13 km
In the snowy glen of Stafdalur situated only 10 min. drive above the village of Seyðisfjörður, there is an excellent ski resort operated jointly by the skiing clubs of Seyðisfjörður and Fljótsd
Others
Skálanes
Day Tour Provider
Suðurgata 2
710 Seyðisfjörður
info@skalanes.com
Seyðisfjörður Tours
Hiking Tours - Hiking
Seyðisfjörður Golf club
Golf Courses
Kúahagi / Vesturvegi
710 Seyðisfjörður
893-6243
Fjarðará river
Angling
Hafnargata 2
710 Seyðisfjörður
472-1700