Iceland's really wild side
Last summer a new flight opened up the country's most mysterious coastline to travellers with a taste for adventure — and a faith in elvish magic.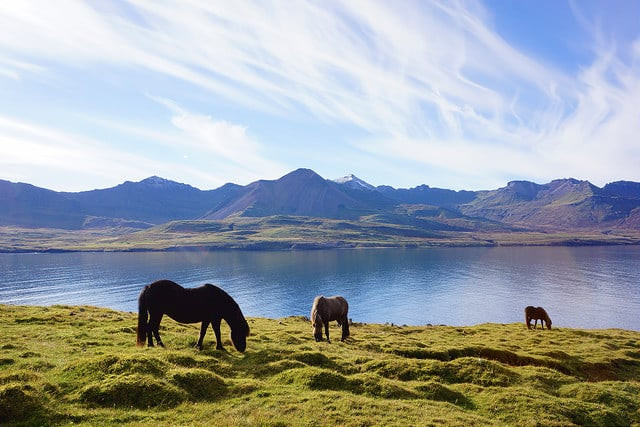 Arni was adamant: "You cannot take the mountain pass. You must wait." I know enough Lord of the Rings to realise that when a man of gigantic proportions is standing at the foot of a mountain, bellowing out orders into frenzied winds, you take heed. Bad things come to those who don't.
So I followed Arni, our trekking guide, down to a hot tub overlooking an inky sea and clambered in. And for the next hour I sat, enchanted, as he regaled us with a recent report of an elf from the surrounding hills that had brought its sick child into the village. The villagers, naturally, left out food, blankets and medicine to help cure the junior elf. Now the villagers are protected for ever.
I was in Borgarfjordur Eystri, but everyone you meet in east Iceland has a similar elvish story to tell — it's what comes of living in such a savagely inhospitable yet deeply magical place. An hour's flight or eight hours' drive from Reykjavik, it used to be a faff coming here. So few did. That is about to change: in May, the British adventure tour operator Discover the World is laying on a twice-weekly charter flight from Gatwick to Egilsstadir.
While west Iceland's geysers, glaciers and the Blue Lagoon are relatively well known, the east isn't. It doesn't have the equivalent string of attractions, chic hotels or smart restaurants, but you do feel, for much of the time at least, as if you have wandered into Middle-earth. And if, like me, your idea of a brilliant holiday is one that features trekking up troll-shaped boulders, kayaking among seals, spotting reindeer, galloping over plains on tiny horses and jumping into geothermal waterfalls, you should go.
I took my friend Kate. We picked up our 4x4 hire car from the tiny airport and headed south to Djupivogur. In two hours' driving, we saw all of two other cars, about 200 woolly sheep and everything Kate had covered in three years of a geography degree. The squeals from the passenger seat were constant: "Ooh, textbook fjord formation... OMG, I'm pretty sure that's a moraine — do you think that's tholeiite or rhyolite?"
Non-geographers will just see "otherworldly".
Wild and untouched, this is an adventurer's paradise. The vast, empty fjords sparkle as if they've been sculpted with kayakers in mind. At Neskaupstadur, furnished with woolly hats, paddle mitts and a less consoling brief about what to do should we topple into the heart attack-inducing cold water, we glided alongside the snowcapped rocky coast. Luminous jellyfish lolloped beneath us, inquisitive seals popped up at a safe distance and fluffy eider ducks sashayed overhead. Some Sunday morning.
Unsurprisingly, trekking is a huge draw here — you can walk for hours in undisturbed silence without seeing another soul — but a Superjeep tour of the Vatnajokull icecap is a good alternative for the more sedentary. Expect a heavy onslaught of nature: canyons, waterfalls, reindeer, arctic foxes, birds.
The highlight came at our lunch stop. We pulled off a dirt track near a wooden shepherd's hut. "Just go down there," our guide told us, pointing to a muddy path that followed a stream around the side of the mountain. Before I knew it, I was naked, hopping through the cold air and swearing loudly before I sploshed, with warming relief, into a 40C geothermal pool with its own waterfall. As I lay back, gazing out at the empty landscape, even I started to wonder how many elves were holed up around here.
In my view, Icelandic horses offer the finest means to combat the mountains. Odin Tours, a stables in a valley 16 miles from the nearest "town", has some of the best in the country. "I am taking your scent," explained Maria, the owner, as I fumbled to put on as many layers as possible. "It's horses for humans, not humans for horses, here."
I was encouraged when she came back with Gola, a pretty, good-natured mare; I lost confidence when I was told firmly to wipe my mind of everything I knew about riding. As with everything here, the Icelandic way is different.
But Gola took good care of me. I breathed sweet and soothing-sounding Icelandic words, while she trotted carefully up an old post route through purpling gorse bushes; plunged me, not particularly considerately, across a river that came up to my ankles; and tolted (a gait unique to Icelandic horses) over pumpkin-orange, scraggly plains. We parted ways in epic fashion when, just as I'd tucked her up in her stable, the brooding skies released a 30-minute barrage of hail.
You realise pretty quickly why the locals are obsessed with the forecast. The weather here is notoriously changeable, a dicey trait for a place where temperatures can reach -30C and winds hit 50mph without warning. It has bred a race of straight-talking, look-out-for-thy-neighbour people. "You either get it or you move away," explained a local in Djupivogur, who turned out to be the mayor.
They also know how to party. At Eskifjordur — the spooky setting for the TV drama Fortitude — we started our evening with a fortifying bathe in a hot tub in a motorboat perched on dry land, overlooking a fjord. (You read that right.) By 9pm, we had been introduced to brennivin, a local brew that tastes, not unpleasantly, of caraway seeds. By midnight, we were in a karaoke bar, offering a tone-deaf rendition of Chesney Hawkes. By 2am, we'd stepped outside to find a glimmer of green as the northern lights swooshed across the sky. And at 8am, I was awoken by a text from a newly made friend asking if he could take us up on our promise of a lift to the airport that morning. We'd had a good night.
Often, though, you'd be forgiven for thinking that you'd stepped into a time capsule here. It's not down to a resolute commitment to keep things as they've always been; it's more that the trappings of modern life have yet to reach this unspoilt, barren outpost of the world. It's all the better for it.
Francesca Angelini was a guest of Discover the World and Visit East Iceland (east.is). She writes for the Sunday Times and recently won the AITO Travel Writer of the Year - prize for this article on East Iceland (AITO is the Association of Independent Tour Operators in the UK).