Shortcuts
Recommendations from the locals
Have a look at the videos from Austurland and see what it has to offer.music, culture, food and its nature you name it! 
Blog
This summer, Nature Relaxation Films came to Austurland to film this amazing video. Nature Relaxation Films have over 600.000 followers on Youtube and specialize in making videos like this. Check this out :)

Skaftfell Art Center is pleased to announce the opening of its autumn exhibition: PREFAB / FORSMÍÐ Prefabricated houses and artistic expression from one century to another Skaftfell gallery, Skaftfell Center for Visual Art, Austurvegur 42, Seyðisfjörður Curator: Guja Dögg Hauksdóttir Opening: September 26, 2020, 14:00-18:00. Light refreshments and short guided tours will be offered throughout the afternoon. Due to Covid regulations and the nature of the exhibition only 25 people can be in the gallery at the same time, but to accommodate everyone we have expanded the opening time across the afternoon. We kindly ask visitors to keep a 1m distance from each other and to sprit their hands before entering the gallery. The exhibition will be on view from September 26 to December 20, 2020. Opening times: Wed - Sat 12:00 - 16:00. Closed Sun - Tue.
East Iceland - It's oh so quiet
Fáskrúðsfjörður dishes up a Gallic surprise in the middle of the Eastfjords: a strong historical connection to France that today is showcased and celebrated. The village road signs are even in French!
The fjord's town is called Búðir, but everyone calls it Fáskrúðsfjörður. It became a trading post in 1880, and from the latter part of the 19th century until 1935 it was the main hub for French fishermen working off Iceland's east coast. The town is well known for its French heritage and has a strong connection to its counterpart in northern France, Gravelines (where most of the seafarers sailed from).
Just outside the town is a graveyard, the burial place of French (and Belgian) sailors. The town's hub is the former French hospital, built in 1903. Today it is a beautifully restored hotel and restaurant, with an award-winning museum on-site that details the French seafaring life in East Iceland.
A tunnel connects Fáskrúðsfjörður and Reyðarfjörður, but the longer coastal route, along Road 955, delivers scenic views – look out for the legend-filled island of Skrúður, home to thousands of puffins and gannets in summer. The island is surrounded by high cliffs accessible only to the bold and the brave; it's home to a sizeable cave that was occasionally used by sailors seeking shelter.
Highlights:
Walk: Feeling energetic? Climb Sandfell, a 743-meter rhyolite mountain on the southern side the fjord. With less ambition, it's fun to stroll around town to see French connections in buildings, street names and monuments.
Taste: look for French influences in the menu of the Fosshotel restaurant, and dine with grand views over the fjord.
Road-trip: opt for the longer scenic route instead of the convenient Route 1 tunnel. Take Road 955 for sweeping views.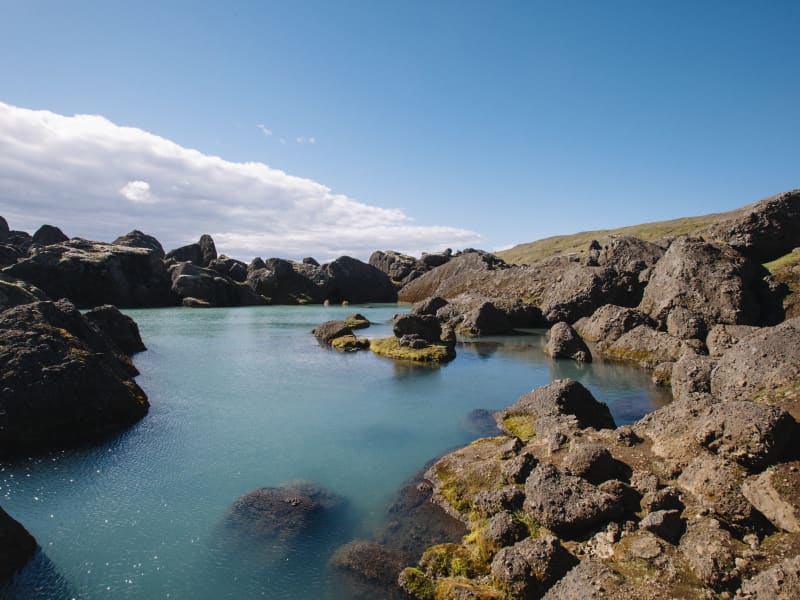 Stórurð boulders is one of Icelands most spectacular sights and has gained more popularity amongst hikers in recent years. The expansive surroundings offer plenty to see and experience; blue-green ponds contrast with flat, vegetated meadows surrounded by sheer-sloped and jagged tuff Dyrfjöll mountain peaks. As the name suggests, the area is strewn with many enormous boulders, likely abandoned by retreating glaciers.
Five marked trails lead to and from Stórurð. Two from Vatnsskarð pass, one from Njarðvík and two from Borgarfjörður Eystri. Since Stórurð is located over 400 m above sea level, snow often lingers far into summer so best time for exploring this magnificent area is from mid-July to first appreciable snows of autumn. The hike back and forth takes about 4-5 hours so consider this a day tour.
Hallormsstaðaskógur National Forest is considered to be Iceland's largest forest. The forest covers an area of 740 hectares, most of which is native birch. The birchwood remnants at Hallormsstaður farm were declared protected in 1905 and thereby became Iceland's first national forest and is now managed by the Icelandic Forest Service.
Hallormsstaðaskógur is a popular outdoor recreational area for both locals and travellers, with its diverse landscapes and over 40 kms of versatile hiking routes and marked trails, camp sites, open spaces and playgrounds. The Hallormsstaður Arboretum is unique in Iceland, comprising a collection of around 80 tree species from all over the world.
The forest provides food, nest sites and protection from predators for several bird species. Year-round residents include redpoll, wren, goldcrest, ptarmigan, and raven. In summer the forest fills with redwings, snipes and meadow pipits along with woodcocks and wagtails. Besides birding, the forest offers opportunities for botanising and picking berries and mushrooms.
Helgustaðanáma is an old Icelandic spar mine, located above the trail leading from Eskifjörður til Vödlavík inlet. It is partially open to visitors, and there is an excellent walking path leading up to it.
All removal of the spar is forbidden, and the area is a protected nature reserve.
Scientific discoveries made with the aid of Iceland spar from Iceland directly influenced the development of modern society. Progress since its discovery in the 17th century until 1930 in various important fields of the natural sciences and technology would have been delayed by decades if Iceland spar had not been available at that time. As the sole supplier of first-class spar crystals for scientific purposes, Helgustaðir in Reyðarfjörður may, therefore, be considered the most valuable location in Iceland in an international context.
Ljósbjörg Petra María Sveinsdóttir was interested in stones all her life and started to collect them in earnest in 1946. Most of her stones were found in Stöðvarfjörður and other places in Eas
The way to Dalatangi takes one along a rough and narrow trail along the northern coast of Mjóifjörður. A spectacular symphony awaits the traveler at the edge of the high and rugged shore: Waterfalls, steep cliffs vales with the roaring ocean below are not cut out for those suffering from vertigo!
At the end of the road - as far eastward as possible - awaits the farm and the lighthouses. The newcomer is seized with an insular impression, all while contemplating the spectacular view of Loðmundarfjörður and Seydisfjörður, at times extending as far as the and at Mt. Glettingur in the far north.