Spring highlights in Austurland
In Iceland in recent weeks we've celebrated a handful of events heralding the arrival of spring, such as the spring equinox in late March and Easter in early April.
The puffins have arrived! Photographer: Þorsteinn Roy.
The hours of daylight are increasing every day, and the temperature is trying to nudge a little higher (and sometimes succeeding!). Soon our favorite landscapes will take on a fresh green hue after shaking off their snowy winter blanket.
It's time to start looking forward to the summer season in Austurland – and on the way to the endless nights and fun festivals of June and July, let's savor the best of springtime.
Puffin arrival
We are so excited to welcome back our favorite springtime visitors: puffins!
Borgarfjörður Eystri is one of the best places in Iceland to get close to these cute and colorful birds. Every year, about 10,000 puffin pairs nest at Hafnarhólmi marina, and you'll find facilities to make your puffin viewing easy, from stairs and platforms to a shelter if the weather is bad. There's also a great café with a marina view.
In 2023, the first puffin sighting in Borgarfjörður Eystri was on April 12. They stay until mid-August, so there's plenty of time for you to plan a summer visit to Iceland's puffin capital. If you can't make it in person, you can get your fill of puffin antics on the livestream from Hafnarhólmi.
They may hog the limelight but puffins aren't the only feathered visitors to the region. We've got all sorts of birds dropping by for the summer, including guillemot, razorbill, fulmar, kittiwakes and common eider.
First day of summer
Sumardagurinn fyrsti is the Icelandic name for 'the first day of summer'. It's an annual public holiday that's celebrated on the first Thursday that occurs after April 18. In 2023, it falls on April 20.
Before you accuse the Icelanders of being a little crazy (summer in April?!), you need to know that this holiday comes from the old Icelandic calendar, from a time when there were just 2 seasons: 6 months of short days (winter) and 6 months of long days (summer).
It may still be cool weather, but this 'first day of summer' acknowledges the end of winter and the lengthening of the daylight hours. Each year there are events to mark it: come and join in!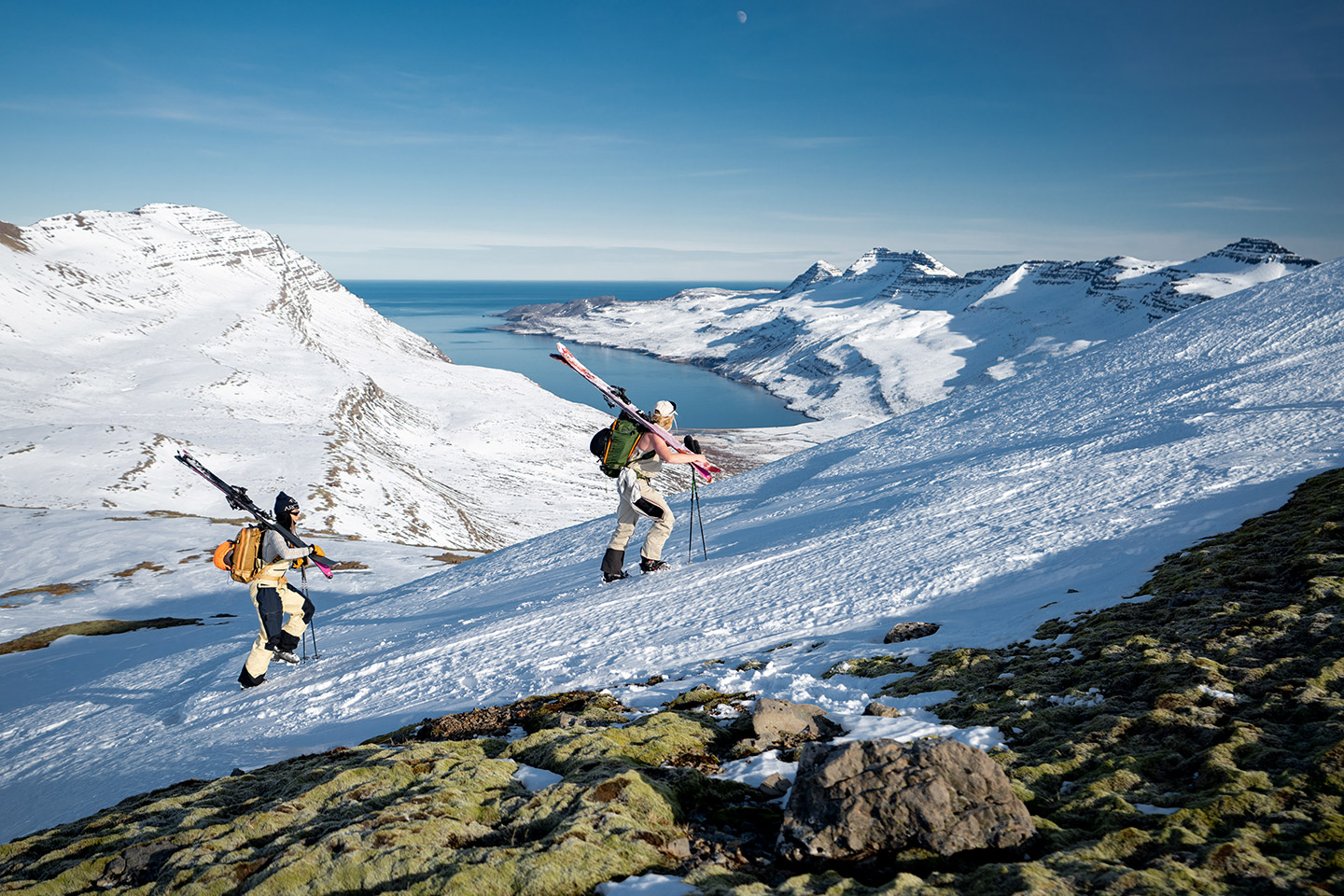 The region is a must visit for adventure seekers and nature lovers. Photographer: Chris Burkard.
Snowy slopes
It's been a long winter in Austurland – and there has been a lot of snow!
That's potentially good news for skiers and snowboarders – you can enjoy the last days of the ski resorts at Oddsskarð (near Eskifjörður) and Stafdalur (near Seyðisfjörður) before they close for the season. Then, if you have the experience or a local guide, turn your attention to ski touring and enjoying East Iceland's backcountry. There are great spots to discover in the region for off-piste action.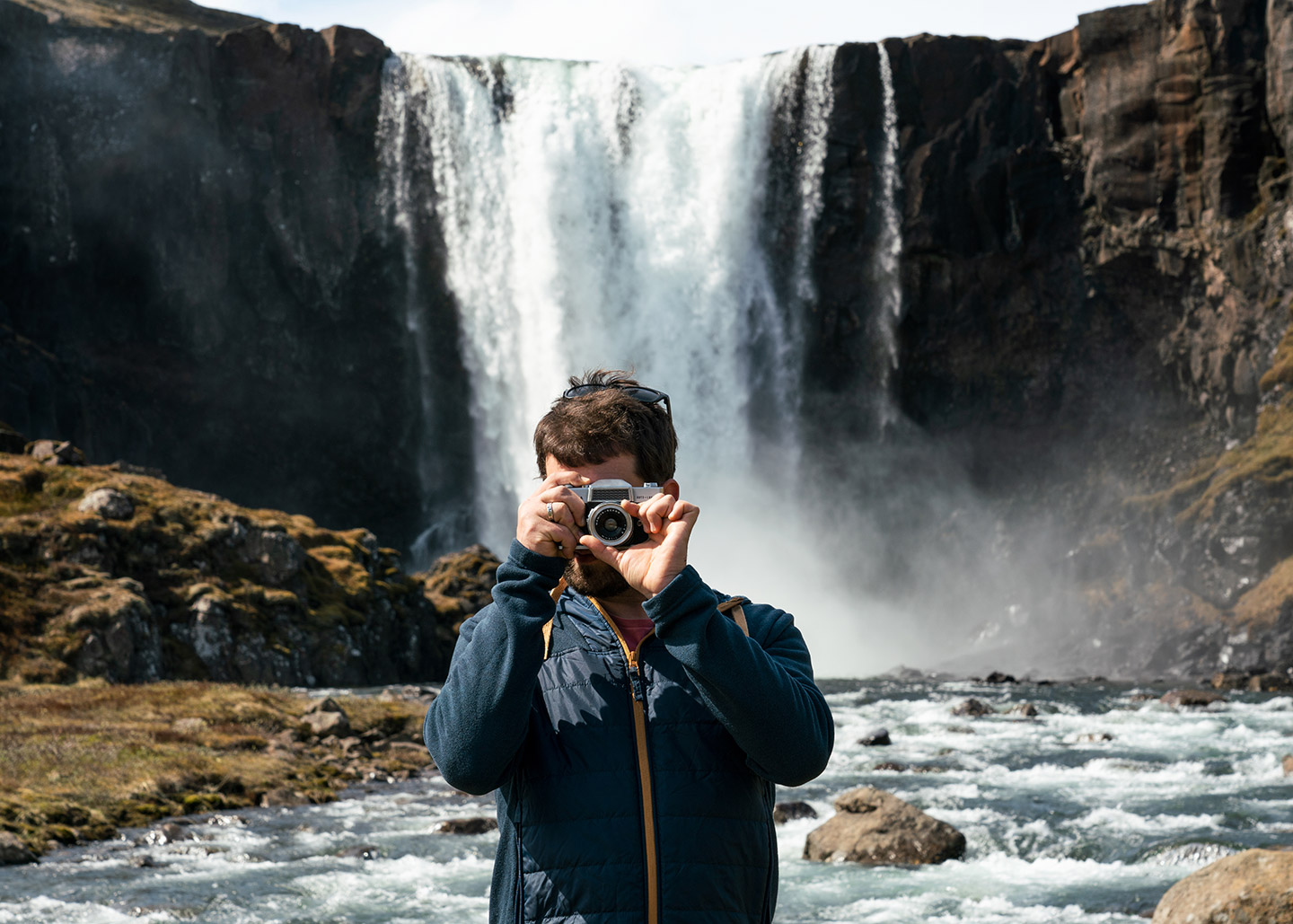 Gufufoss waterfall. Photographer: Jessica Auer.
Weather and waterfall action
All that snowfall over the winter means that as temperatures increase, there will be a big thaw.
Expect hiking trails to be quite muddy as the snow melts (come prepared!), and stand by to see some of our best waterfalls in full gushing glory! We've got a lot of them to admire, ranging in size from small to large, and scenically located by roadsides or at the end of hiking paths.
Hengifoss is always a crowd favorite thanks to its immense height and colorful surrounding canyon. Klifbrekkufossar in remote Mjóifjörður is a stunner, and in the coming month or so the road to this fjord will open up again – it's closed for all of winter.
In these in-between months, it always pays to check road conditions and road closures before setting off for your day of exploring. The website road.is is a great resource. Check out vedur.is for all you need to know about weather conditions.
A good way to describe Iceland's spring weather is 'changeable'! We've got weather advice plus recommendations for what to pack for the spring months: check out April and May for what's in store.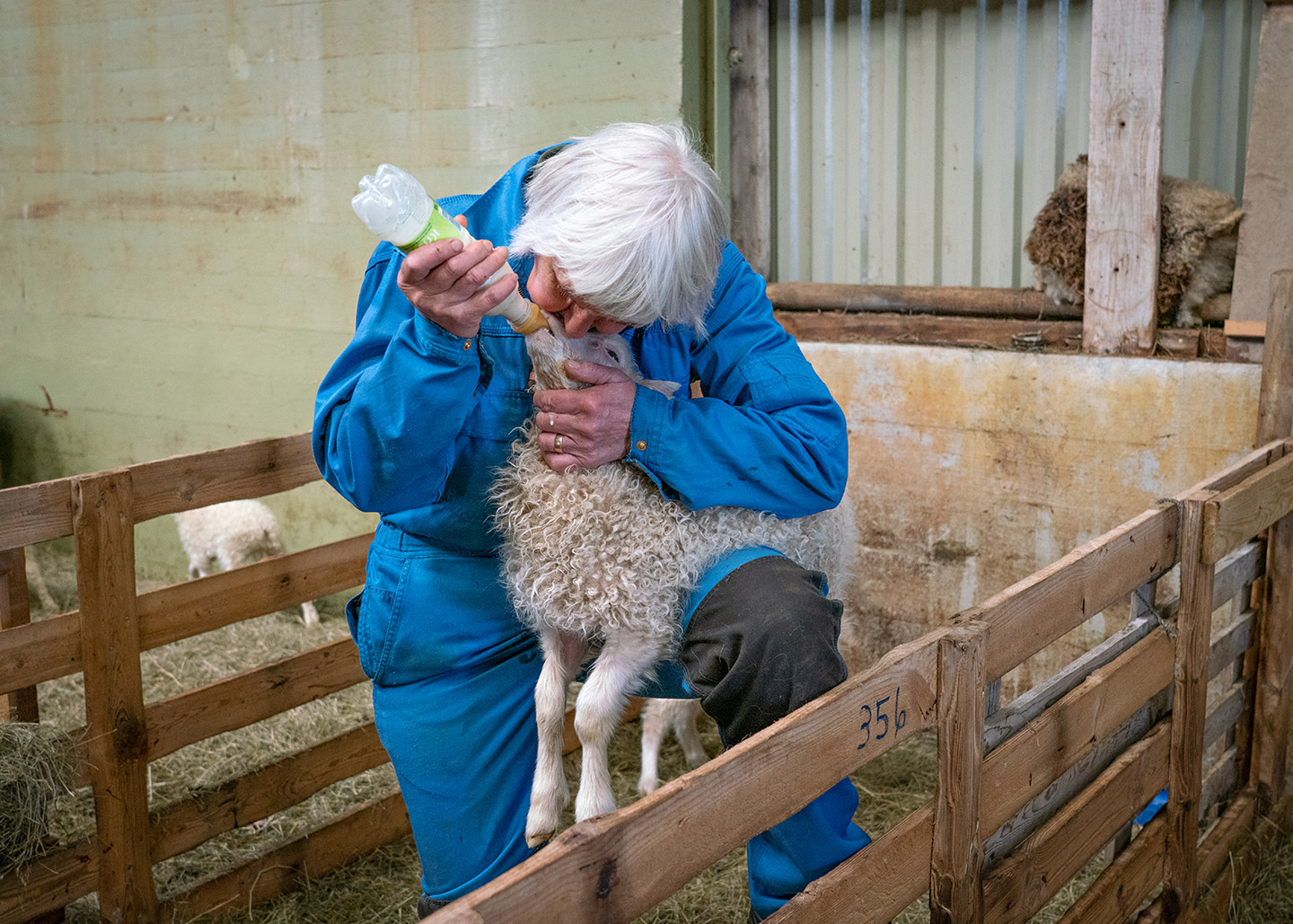 Lambing season. Photographer: Jessica Auer.
Lambing season
The start of May sees the beginning of the lambing season. It's a very busy time for Icelandic farmers as they help their sheep to deliver cute new additions to the family. Most commonly, ewes give birth to two lambs. Soon the sheep will be released to spend their summers grazing in open pastures and mountainsides – drive carefully, as you may see them on the roadsides. Keep your eyes peeled for other Austurland residents too, like reindeer.
Timeless appeal
No matter the season, Austurland's favorites beckon. Spend part of your sightseeing days soaking in warm geothermal pools and dining on super-fresh local produce.
Take road trips where you can admire awesome views around every corner. And make sure to stop and explore the local communities of the region, where you're guaranteed a warm welcome.
We look forward to seeing you!
Words: Carolyn Bain