The puffin capital of Iceland
Puffins are among the biggest crowd-pleasers in Iceland each spring and summer. In Austurland, the very best place to see them is in Borgarfjörður eystri.
Photo: Gunnar Freyr Gunnarsson | @icelandic_explorer
Puffins of Iceland
The Atlantic puffin (species name Fratercula arctica) is also known as the common puffin. It's a species of seabird in the auk family, and as their name suggests, they are native to the North Atlantic region.
Their iconic appearance has inspired a huge range of souvenirs you can find in stores all over Iceland, but nothing beats seeing their beautiful black and white plumage and bright orange beaks in person. Thanks to their expressive faces, colorful beaks, and their cutely clumsy manner when on land, the birds have the nickname 'the clowns of the sea'. Watch as they take a run-up to achieve flight, flapping their wings, and you'll probably understand the 'clown' description.
These colorful, comical birds return to Iceland each spring, after spending the winter at sea. They return to their favorite nesting areas to breed together with their partner. Fun fact: puffins mate with the same partner all their life, and their average lifespan is about 20 to 25 years.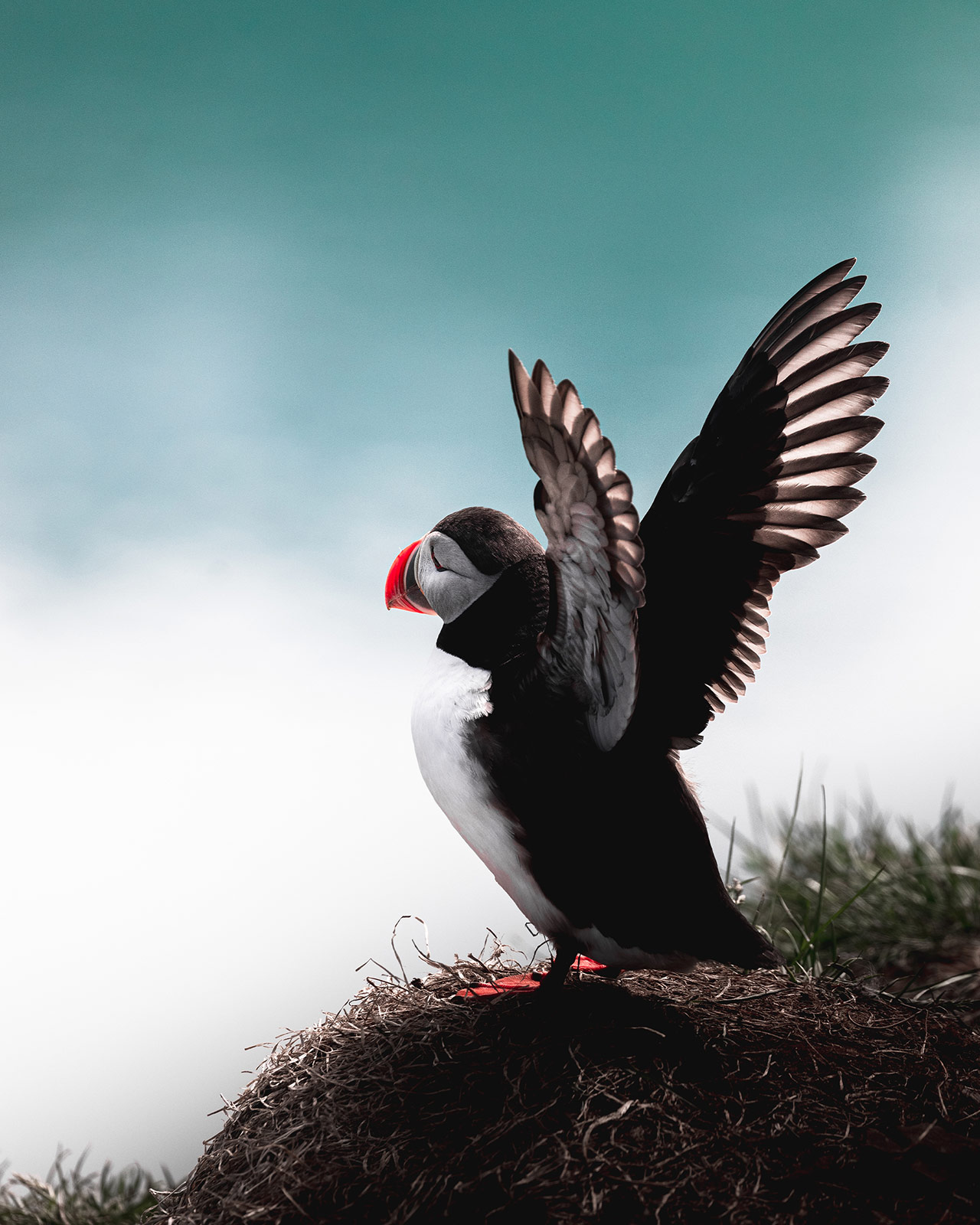 Photo: Gunnar Freyr Gunnarsson | @icelandic_explorer
When to see puffins in Iceland
Puffins spend about 8 months of the year far from land. In winter, they live at sea, and only make their way to land to mate and nest.
Their return to their nesting grounds generally takes place in early to mid-April each year. Here, they reunite with their mate, and with luck produce a baby (the perfect name for a baby puffin is 'puffling').
Once child-rearing duties are done, the birds all depart for another winter at sea by the end of August.
In 2023, the first puffin sighting in Borgarfjörður Eystri was on 12th April. Every year on the First day of summer (April 20 this year), locals of Borgarfjörður Eystri meet up in Hafnarhólmi to celebrate their arrival. The birds usually depart from the east around mid-August.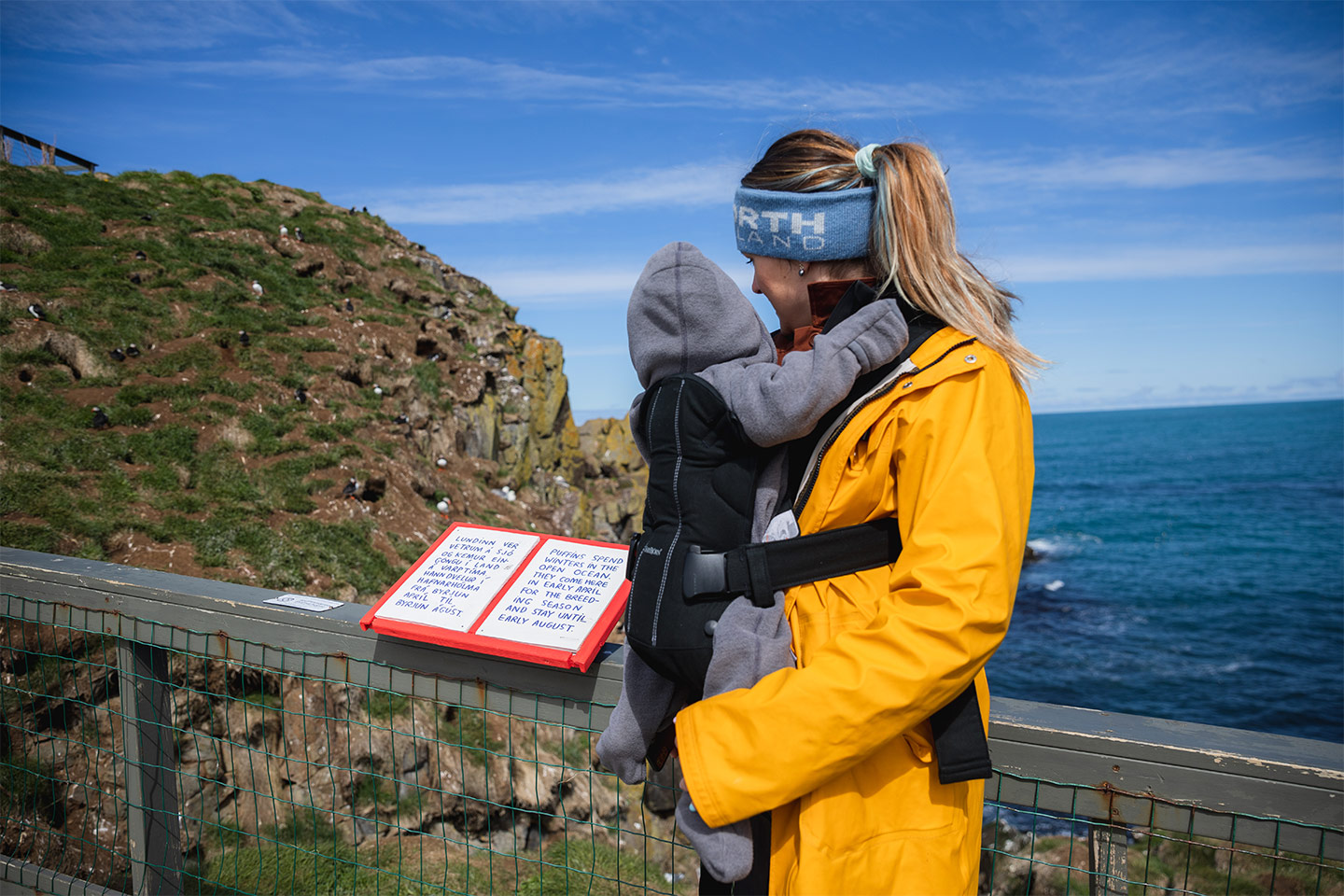 Photo: Gunnar Freyr Gunnarsson | @icelandic_explorer
Where to see puffins in Iceland
There are some impressive estimates of just how many puffins come to Iceland each summer. Eight to 10 million birds nest here each year, flocking to breeding grounds on steep rocky cliffs by the ocean.
We think the very best place to come face-to-face with the birds is in the beautiful Austurland fjord called Borgarfjörður eystri.
About 5km from the small village of Borgarfjörður eystri is Hafnarhólmi, a puffin-watching paradise!
Hafnarhólmi was once a small island just offshore, but in the 1970s the island was connected to the mainland and a small marina was built here. The islet's hilly terrain and cliffsides continue to attract puffins, who build burrows here. About 10,000 pairs of puffins nest here each summer.
That's great news for visitors, who can climb the wooden staircases that have been built on the small 'island', and from here you have the perfect view of the birds that call Hafnarhólmi home!
There are platforms where you can stop and admire, and also a shelter where you can sit amongst the burrows if the weather is bad. It's a great option for families and offers a safer option compared to some steep puffin-watching clifftops!
It's not just puffins that are drawn to Hafnarhólmi. Other feathered friends include the fulmar, kittiwake and common eider, so it's a noisy, lively area to visit and maybe even start a new birdwatching hobby.
As well as the great staircases and viewing platforms, Hafnarhólmi also has Hafnarhús Café, a welcoming spot with a great view of the marina and bird colony, and excellent coffee and cake!
You can check the webcam for Hafnarhólmi online here.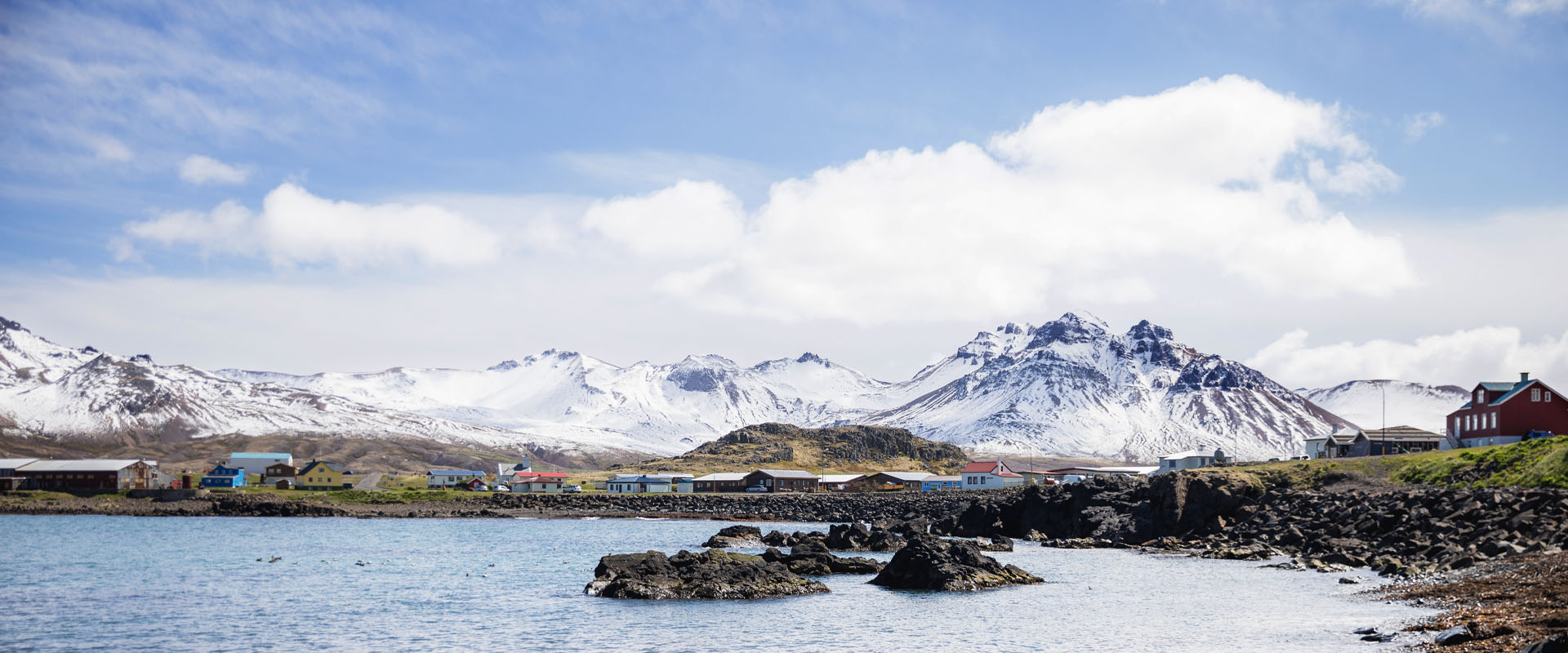 Photo: Gunnar Freyr Gunnarsson | @icelandic_explorer
Borgarfjörður eystri: puffin capital
It's only 70km (44 miles) to reach Borgarfjörður eystri from Egilsstaðir, Austurland's main town on the Ring Road. For a town with a population of only about 100 people, there's a lot going on in Borgarfjörður eystri, including great accommodation and eating options.
In recent years the area has built a big reputation for its stellar hiking opportunities and the surrounding mountains have also become a magnet for mountain-bikers.
Fresh seafood flavors, a wonderful spa-with-a-view, a 'hairy' house, elf royalty, and a renowned summer music festival all offer more reasons to visit.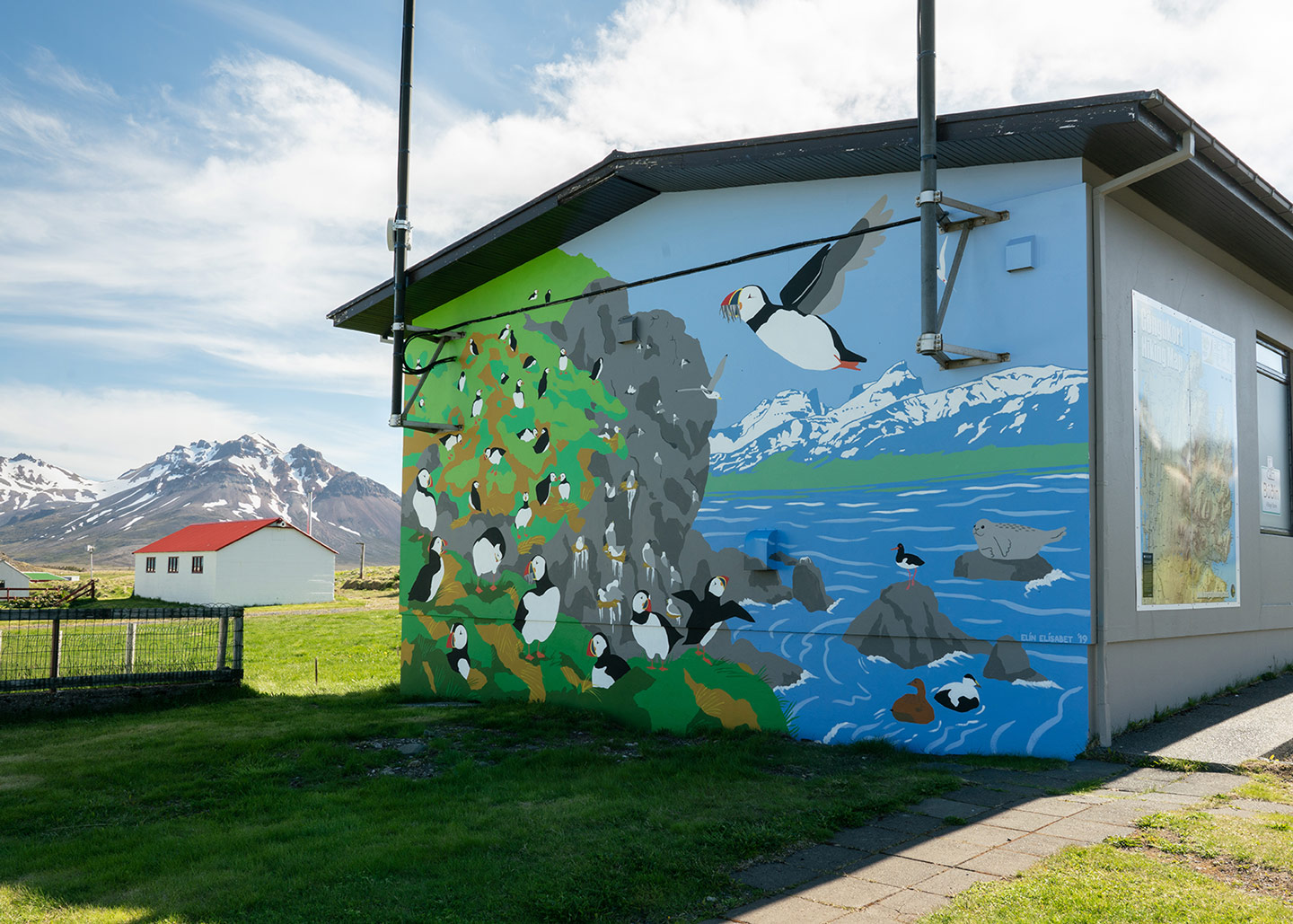 Photo: Jessica Auer | @jessica.auer
April activities
The big news is of course the arrival of the puffins, but April has other events of note:
Easter
Easter Sunday falls on April 9, 2023. Easter in Iceland is a nice, extra-long weekend that starts on Holy Thursday (Skírdagur) and ends on Easter Monday (Annar í páskum). Most people are off work during those days and schools are closed, so many people decide to leave town with family or friends, and enjoy the holiday at a summerhouse somewhere in the countryside.
Lamb is the Easter dish of choice, and many breweries produce an Easter beer (Páskabjór). But the very best part of Easter are the chocolate eggs (Páskaegg)! They're made from Icelandic chocolate and are hollow, but filled with candy including licorice, caramel balls, toffees, boiled sweets, or jelly beans. On top of the egg there's usually a small yellow toy chick, and Inside you'll also find a small note with an Icelandic proverb.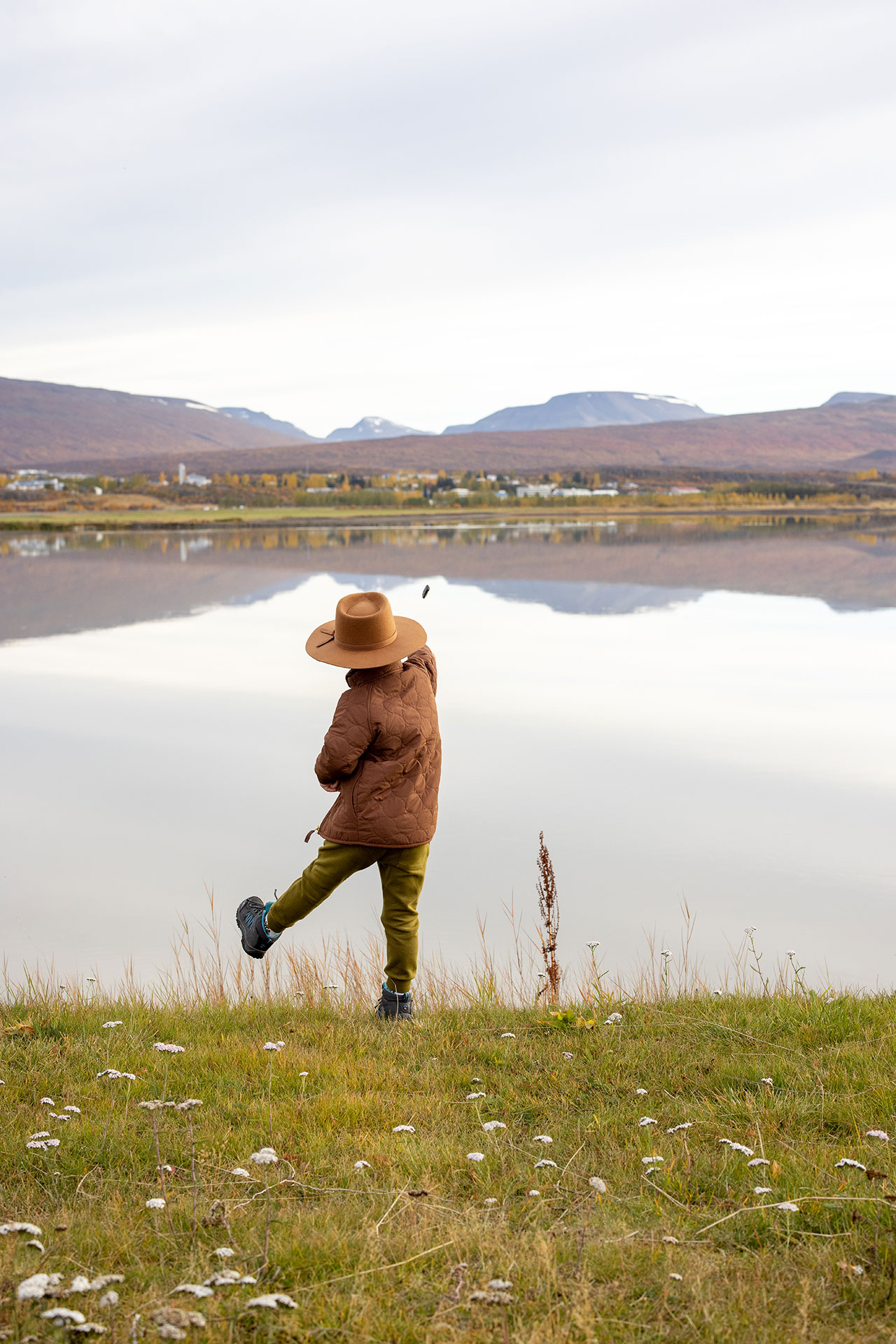 Photo: Gunnar Freyr Gunnarsson | @icelandic_explorer
The first day of summer
First day of summer is called Sumardagurinn fyrsti in Icelandic. It's an annual public holiday in Iceland that's celebrated on the first Thursday after April 18. In 2023 it falls on April 20.
Before you accuse the Icelanders of being a little crazy (summer in April?!), you need to know that this holiday comes from the old Icelandic calendar, from a time when there were just 2 seasons: 6 months of short days (winter) and 6 months of long days (summer). It may still be very cool weather, but this 'first day of summer' acknowledges the end of winter and the lengthening of the daylight hours. There'll be parades and other events to mark it. Come and join in!