Spectacular Stuðlagil canyon
Austurland's Stuðlagil canyon recently gained a big moment in the spotlight, thanks to visitors (domestic and foreign) blown away by its beauty. You can see why, can't you? There's simply no bad angle to this gorgeous gorge in East Iceland.
Photo: Gunnar Freyr Gunnarsson
From the new viewing platform on the canyon's north side, or from ground level after a hike on the east side, Stuðlagil's spectacular basalt columns and bright blue-green water (in the right conditions) are a photographer's dream – and evidence of nature's inspired handiwork.
Stuðlagil: what does it mean?
A couple of small language lessons:
ð is a unique Icelandic letter, pronounced like the 'th' in weather. So: Stuth-lagil is a rough pronunciation of the canyon. You might also see it written as 'Studlagil', as the Icelandic ð is often written as a simple d in other languages.
Stuðlaberg in Icelandic means 'basalt column'. Gil means ravine or gorge.
If you walk to the east side of Stuðlagil, you will pass a lovely waterfall named Stuðlafoss. It's also named for its basalt, and foss is the Icelandic word for waterfall.
Stuðlagil canyon is in Jökuldalur, which is another combination of words: Jökla (the name of the river flowing through the canyon) and dalur, which means valley.
Read on for all the important details of how to visit – including the super-important details of which side of the canyon you might want to visit (why not both?!).

Photo: Esther Ösp Gunnarsdóttir
What is Stuðlagil canyon?
One of Austurland's pearls, Stuðlagil is a narrow canyon whose main feature is beautiful basalt rock columns.
Through the canyon runs a glacial river named Jökulsá á Dal, also called Jökla. It's one of the longest rivers in Iceland, stretching over 150 km (93 miles) from its source at the mighty Vatnajökull glacier, winding its way east towards the sea.
Where is Stuðlagil canyon?
Stuðlagil's location is relatively remote. It lies off road number 923, south of Hwy 1 (the Ring Road).
The turn-off to road 923 is just west of a small settlement (basically a guesthouse and petrol pump) called Skjöldólfsstaðir. The closest town is Egilsstaðir, the hub town of Austurland (East Iceland).
Access from East Iceland (Egilsstaðir, Seyðisfjörður)
Travel approximately 52 km (32 miles) west from Egilsstaðir along Hwy 1 to reach the turn to Rte 923.
Access from North Iceland (Akureyri, Húsavík, Mývatn, Dettifoss):
Travel approximately 112 km (70 miles) east from the Mývatn area along Hwy 1 to reach the turn to Rte 923.
You need to drive 15–20 km (9–12 miles) along Rte 923 to reach the access points to Stuðlagil.
Rte 923 is a gravel road, so travel safely. It is open year-round, but winter access may be difficult in snowy or stormy conditions. Drivers should always check the road openings and conditions before setting out at road.is.
Highland access
There is another, less common way to reach the canyon: traveling north along Rte 923 from Rte F910 and Rte F907. Note that a 4x4 vehicle is required for this rugged option, and the F roads are generally only open from around mid-June for a few months.
For more on this option, check out our Highland Circle travel route.
How should I visit Stuðlagil?
Ok, this part is important!! There are 2 ways to visit the canyon.

North side of the canyon: Visit an observation platform, for the fastest, easiest view over the canyon
Drive south of the Ring Road on Rte 923 about 19 km (12 miles) to the farm known as Grund.
At Grund, there are parking spaces, toilets and safe access to the gorge with stairs and platforms. It only takes about 5 minutes to walk to Stuðlagil canyon. There is an excellent view down into the gorge and over the basalt columns. Note that you cannot get down into the canyon from this side.
East side: A hike provides access to the canyon
Drive south of the Ring Road on Rte 923 about 14 km to the farm known as Klaustursel.
A new parking area has been added on the east side of the river in 2021, close to the beautiful Stuðlafoss waterfall. It's accessed by crossing the bridge at the farmhouse area, and then driving approximately 2.5 km (1.5 miles). From this new parking area, it's a 2.5 km walk to reach the access point for entering the canyon.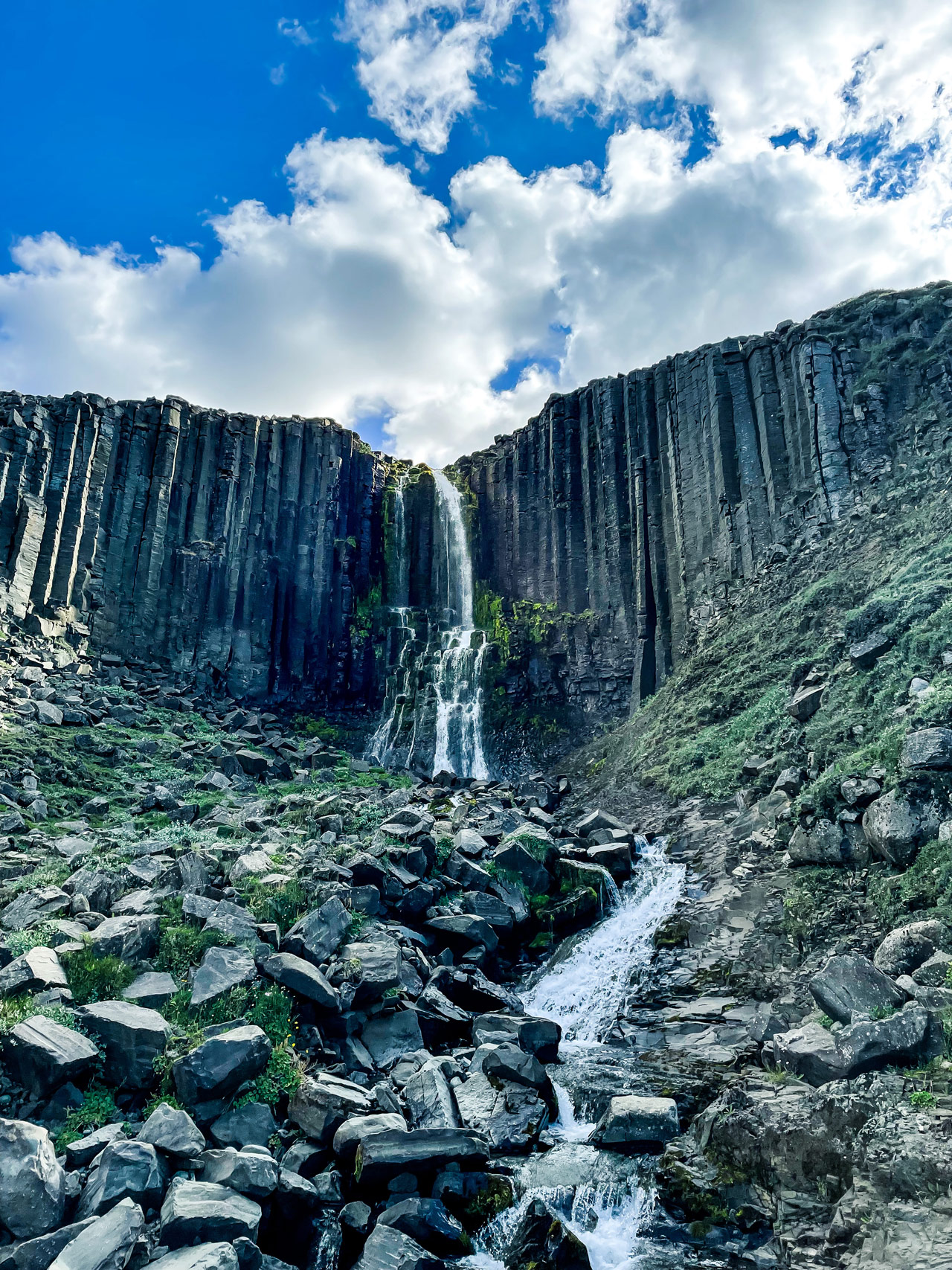 Stuðlafoss. Photo: Esther Ösp Gunnarsdóttir
This round-trip hike is about 5 km (3 miles) in total and could easily take 2-3 hours, including stops at Stuðlagil and Stuðlafoss. The walk is not too challenging.
It's a fantastic experience to go down into the gorge and see the basalt columns all around. However, when reaching the gorge, keep in mind that rocks and cliffs can be wet and very slippery.
Do not swim, kayak or canoe in the river. It's not safe to do so. The water is very cold, and the currents are strong.
What is special about Stuðlagil canyon?
Well, you've seen the photos! It's rather beautiful, wouldn't you agree?
The basalt columns
The canyon's rock formations make it special: This is considered to be one of Iceland's largest collections of basalt columns on land.
Basalt columns are natural pillars made of hardened lava, caused by the contraction of volcanic rock as it cools. As it cools down, the magma separates in columnar joints, often shaped as hexagons. At Stuðlagil, you can admire both vertical and horizontal columns.
You can see this amazing natural feature in a number of places in Iceland, including at Svartifoss waterfall in Vatnajökull National Park, by Reynisfjara black beach near Vík on the south coast, and at Gerðuberg cliffs on the Snæfellsnes peninsula.
The geological wonder of basalt rocks has even inspired Icelandic architecture: check out the landmark church Hallgrímskirkja in Reykjavík.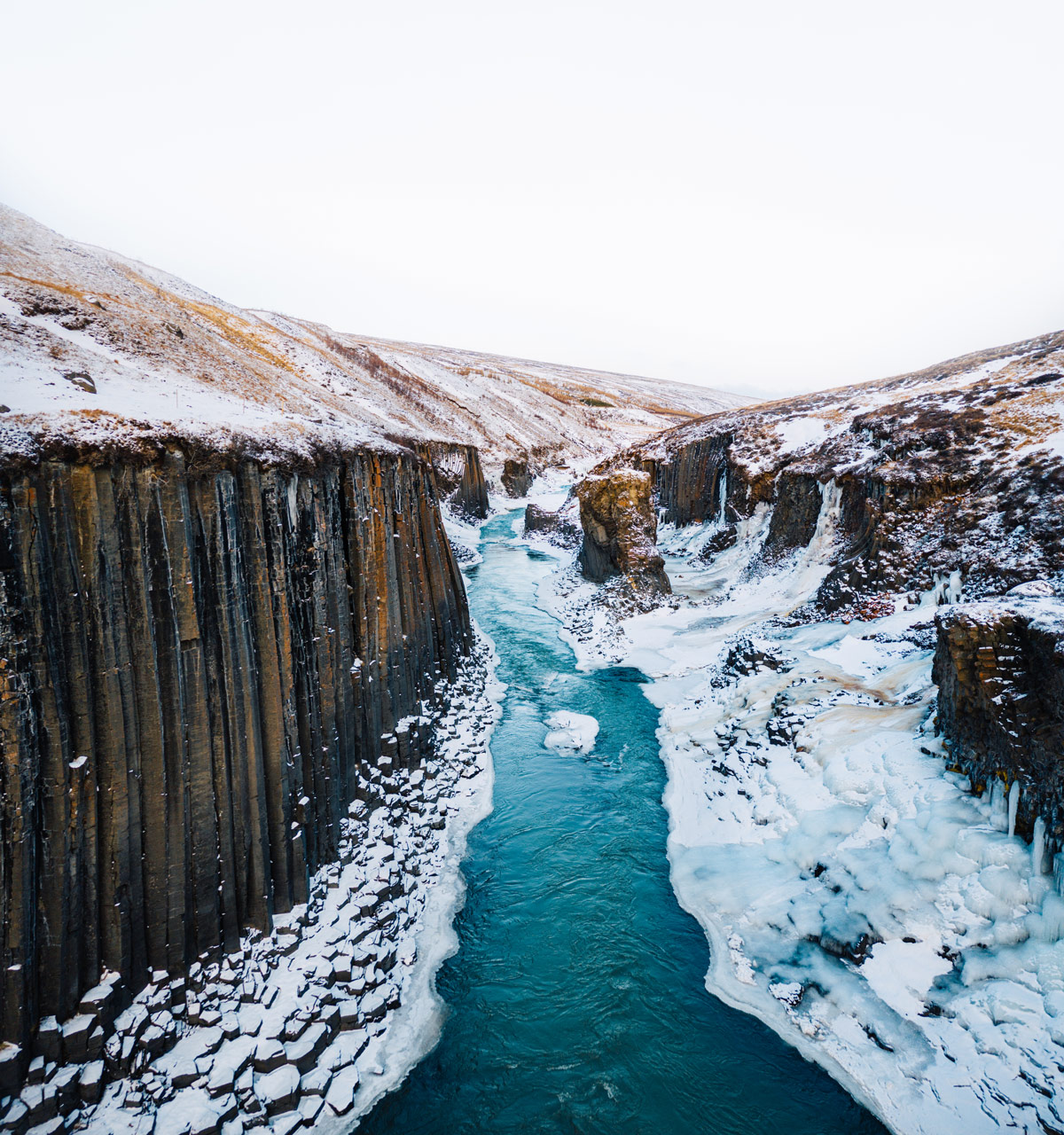 Photo: Björn Steinbekk
The color of the river
Photos of the clear, blue-green river flowing through the canyon are indeed spectacular.
It's quite different from its former incarnation: The river was once a raging glacial river transporting tonnes of sediment. However, the construction of the Kárahnjúkar Dam between 2003 and 2007 closed off the river, and the water that once flowed through here was diverted to a tunnel for energy.
Visitors should be aware that the river can change color and appear a gray-brown hue when there is melting snow in spring, and if there is an overflow in Hálslón, the reservoir upriver. Overflow is most common from the beginning of August until October, but it can happen at other times.
Its secret status
The gorge was little known for a long time, as it was not fully revealed until after the Kárahnjúkar Power Plant was put into use and the water level in Jökulsá á Dal (Jökla) decreased. Then the beauty of the canyon was discovered, and awestruck visitors and social media did the rest!
What else do I need to know?
The canyon rocks may be slippery, so wear appropriate footwear.
From May 1 to June 10, pink-footed geese nest in the area of Stuðlagil. During that time, visitors need to stay within marked walking paths and give the birds enough space.
Services in the immediate area are limited, but food, camping and some accommodations are possible. See the official Stuðlagil Canyon and Jökuldalur website for more details.
What else should I see in the area?
We can also recommend:
Rjúkandi waterfall, also known as Rjúkandafoss: Park your car here and take the short walk to this lovely waterfall, by the Ring Road just 3 km (2 miles) east of Skjöldólfsstaðir.
Sænautasel farm: For a rustic slice of old Iceland, drop by this farm in summer for pancakes and coffee in the turf buildings, or lakeside camping amid serene nature. It's on road F907, but if you're driving from the north, the road is usually passable in summer in regular vehicles (it's 4.3 km / 2 miles from the turn-off).
Möðrudalur farm: Another very special place, this is the highest settled farm in Iceland, serving as a gateway to the highlands. The family that owns the farm operates a tourism service called Fjalladýrð, offering tours, farm-fresh meals, and a range of accommodation here (from camping to hotel-standard rooms).
Vopnafjörður: If you like your fjord towns scenic and almost-undiscovered, Vopnafjörður is a great option. Head north off Hwy 1 at Rte 85 to explore fun rock formations, bird-filled cliffs, a fantastic folk museum and an awesome swimming pool.