Active Austurland
The sun is shining, and barely setting. Do you feel the need to put all that daylight to good use? Austurland has you covered.
The fjord view from MT. Bjólfur in Seyðisfjörður. Photo: Thrainn Kolbeinsson | @thrainnko
There's a rewarding summer ahead for those who like to get out and experience nature (and maybe work up a bit of a sweat!) on the scenery-loaded trails and tracks throughout the region. Read on to find out how you can meet up with like-minded adventure-seekers, be guided by them, or maybe even compete against them.
Don't be put off if you prefer your adventures more on the mild side. There are plenty of other ways to get involved in summer activities, from soaks in geothermal pools to puffin watching or sampling local craft brews. Check out Summer of culture in Austurland for some of the cultural highlights scheduled for the coming months, from rocking festivals and concerts in glorious settings to exhibitions and community gatherings.
2023 summer competition events
Put these dates in your calendar – and perhaps it's smart to schedule a little training beforehand too!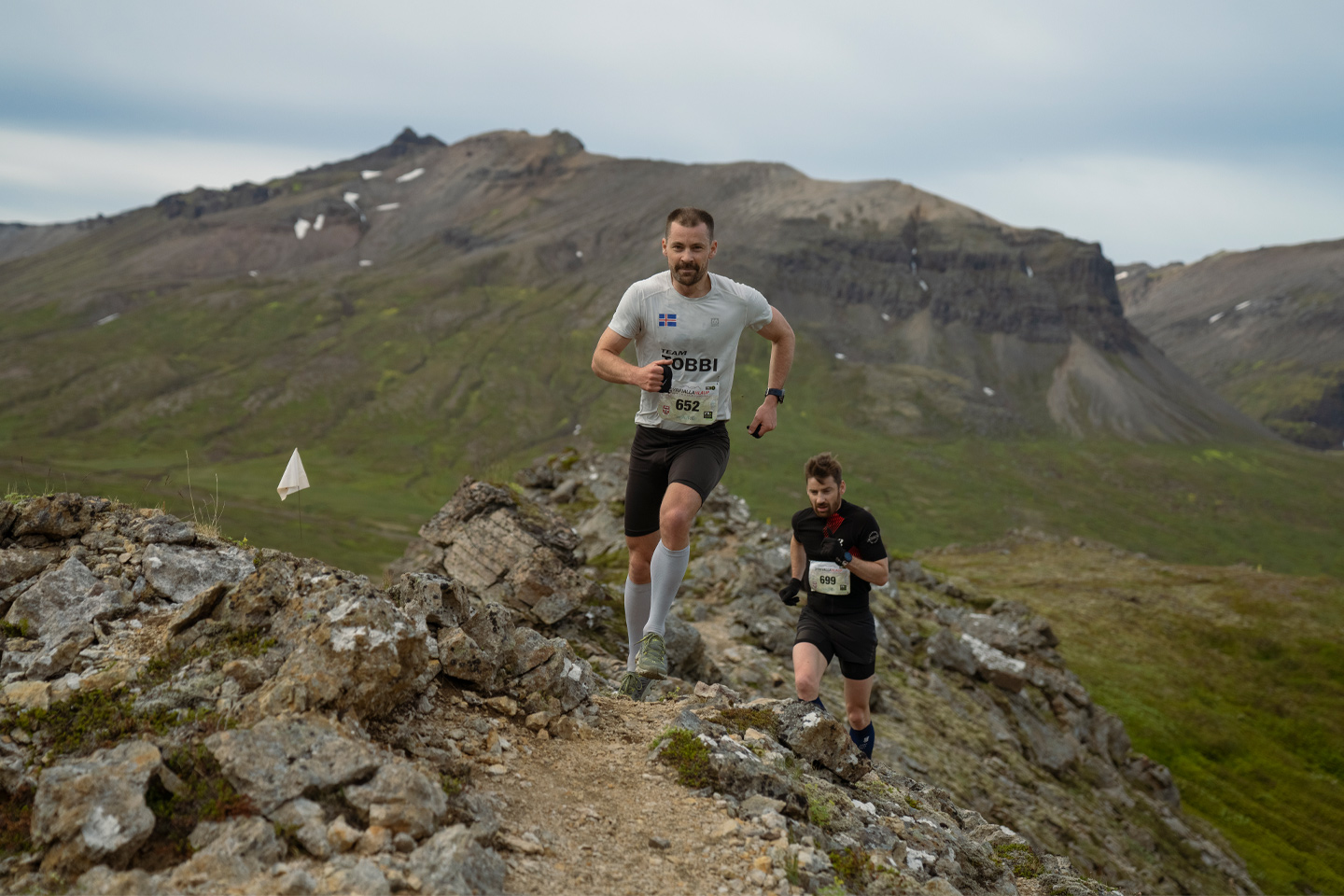 Dyrfjallahlaup. Photo: Þorsteinn Roy.
Saturday 8 July: Dyrfjallahlaup
Trail running in Borgafjörður eystri
Dyrfjallahlaup is an annual trail-running event held in the magical mountainous surrounds of Borgarfjörður eystri.
Runners can choose from scenic 12km or 24km routes (with an ascent of 700 meters or 1074 meters, respectively), and there's a new 50km ultramarathon.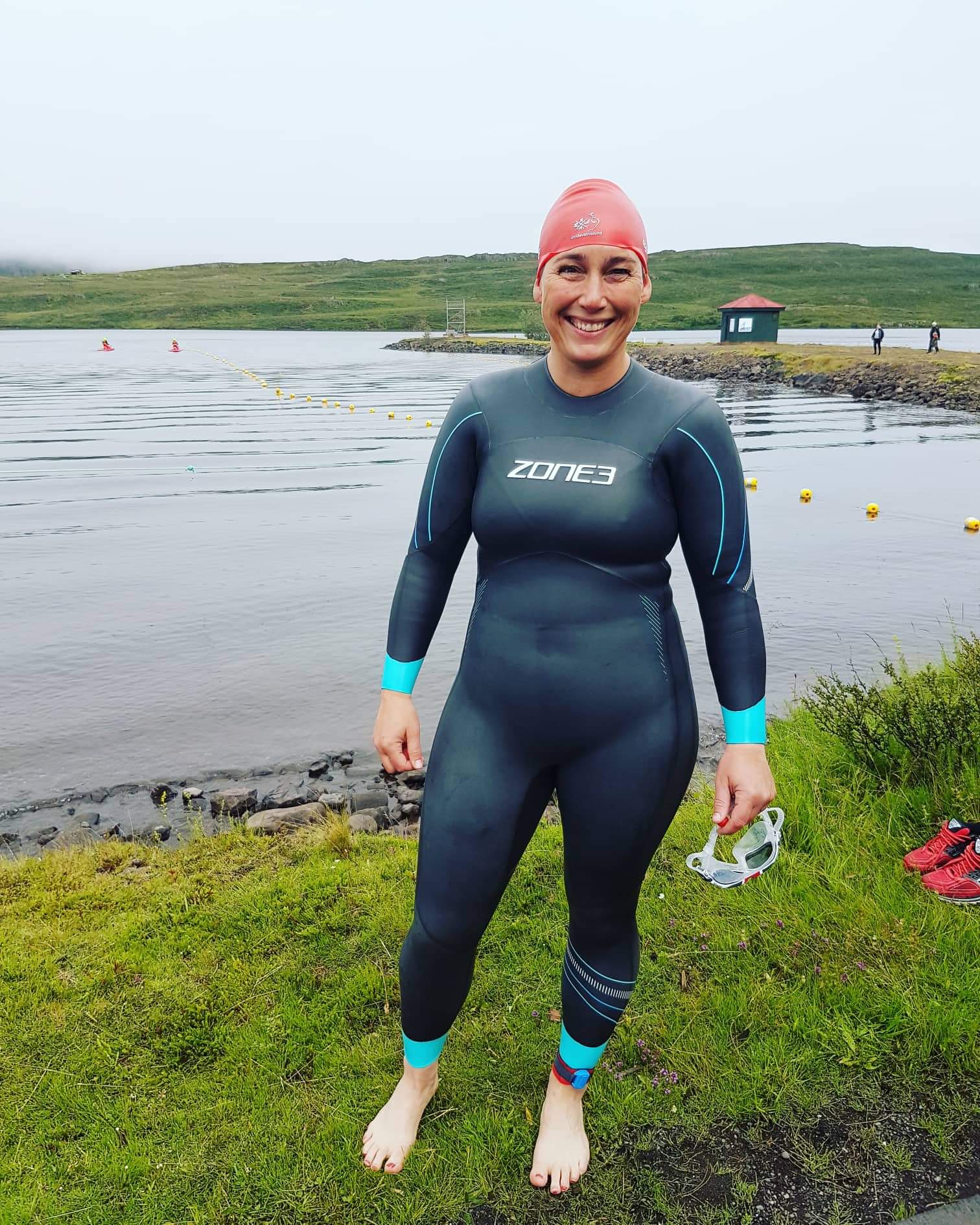 Urriðavatnssund. Photo Þorbjörg Ólöf Jónsdóttir
Saturday 29 July: Urriðavatnssund
Lake swimming at Urriðavatn
A swim event at Urriðavatn lake, not far from Egilsstaðir, is held each summer, and this year is the 10-year anniversary of the first official swim.
There are three distances to select from: 500 meters, 1250 meters, and 2500 meters. The temperature of the lake's water in summer hovers around the low teens (Celsius). Swim organizers recommend a wetsuit and a cap for warmth.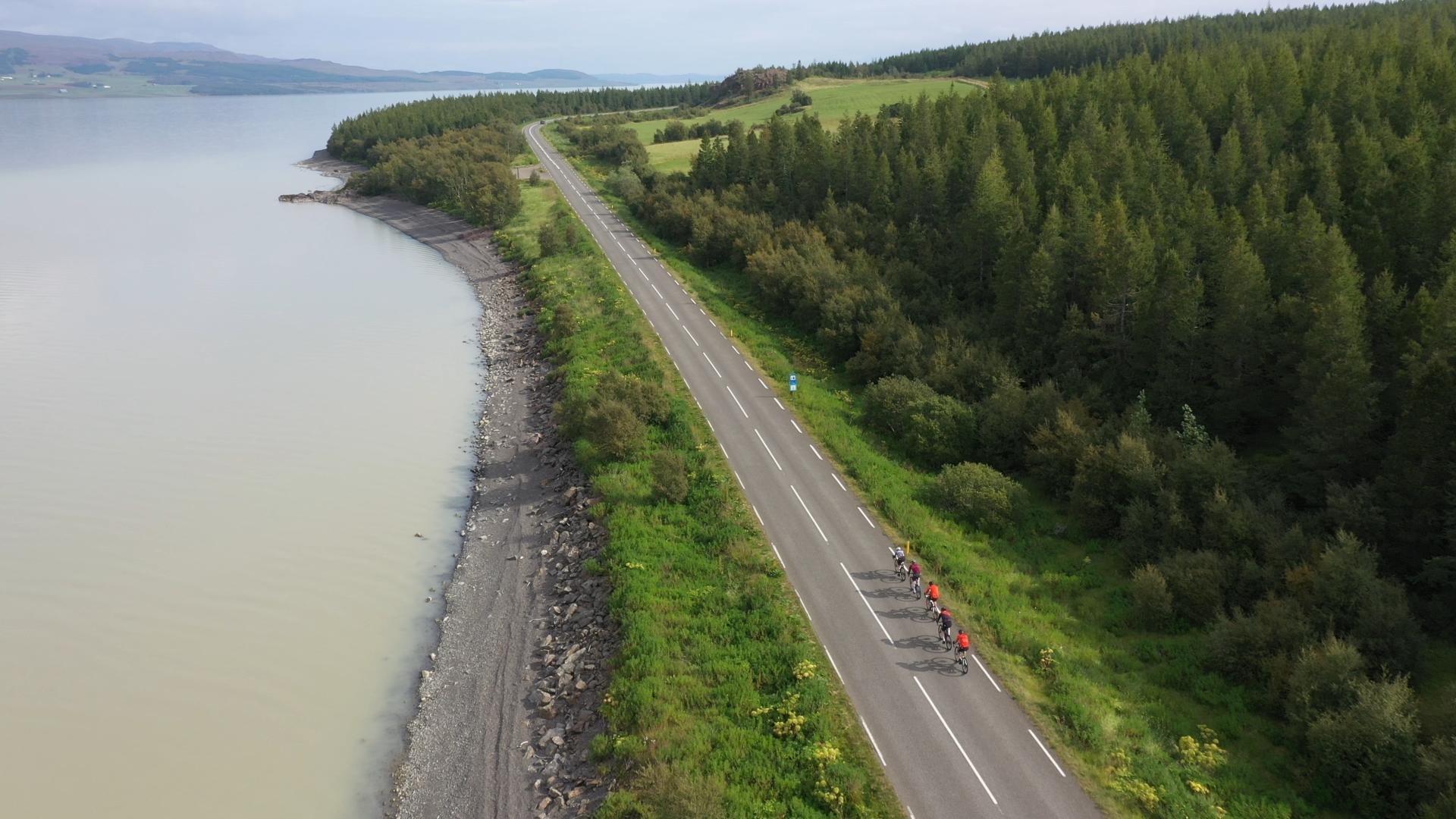 Tour de Ormurinn. Photo: Hjalti Stefánsson.
Saturday 19 August: Tour de Ormurinn
Cycling around Lagarfljót
You know the Tour de France? Well, take that as an inspiration – but without the killer hills! And the name is inspired by Ormurinn, the mysterious lake monster resident in Lagarfljót.
Beginning in Egilsstaðir, the Tour de Ormurinn has two options: the most popular is the 68km loop of Lagarfljót lake (suitable for racing bikes), and a 103km option that takes the 68km itinerary and adds in a ride to Norðudalur valley (part of this is gravel).
There is also a 26km route that begins from Hallormstaður.
Saturday 5 August: Barðsneshlaup
Trail running in Neskaupstaður
Another annual off-road running adventure, Barðsneshlaup covers 27km in and around the town of Neskaupstaður. There's a shorter 13km option too.
Hiking, biking and more
You don't have to join scheduled competitions to increase your heart rate and experience the best of Austurland's nature. Hiking and biking trails are plentiful!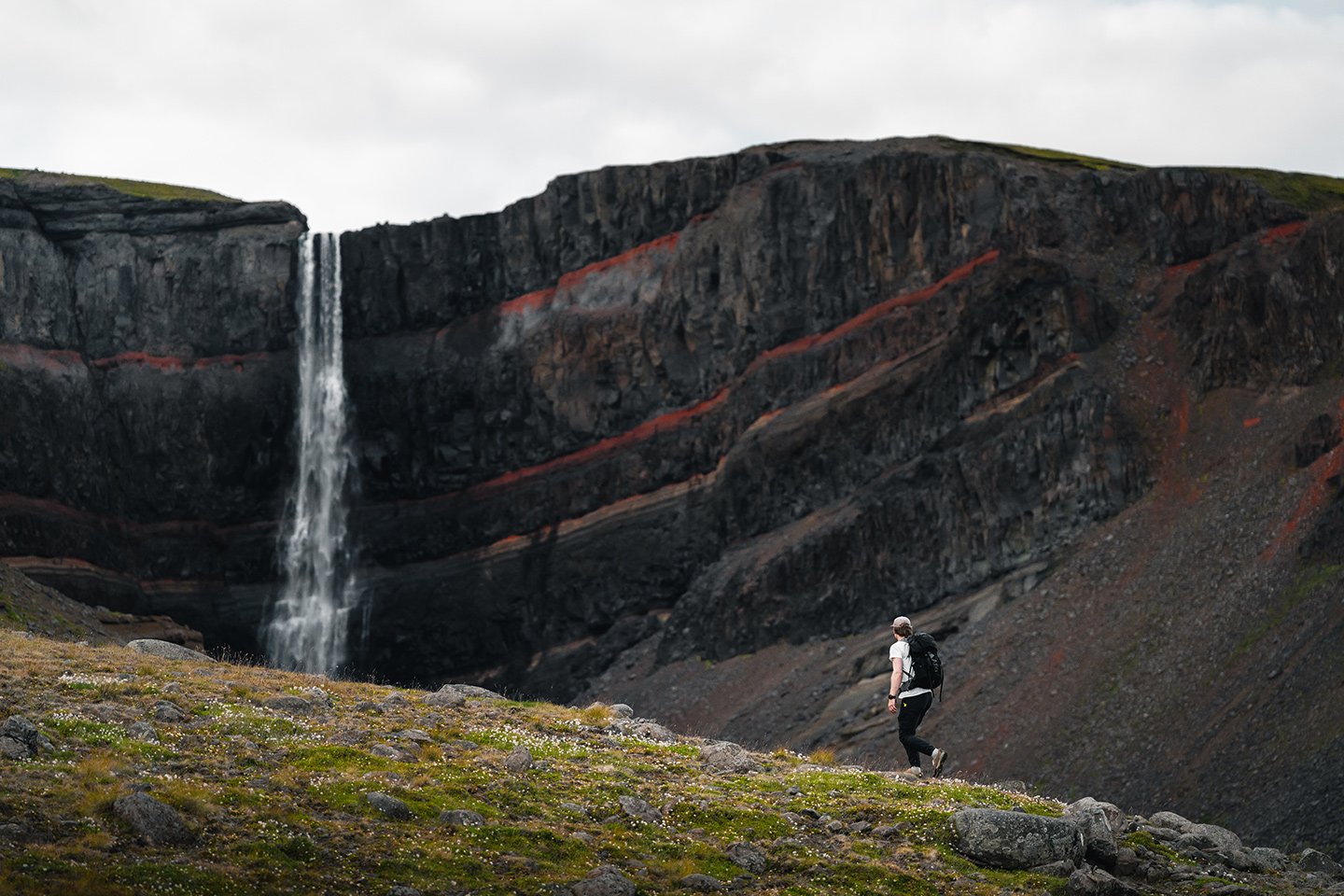 Hengifoss. Photo: Þorsteinn Roy.
Hiking in Austurland
Austurland is a hiker's paradise, and all across the region you'll find paths and trails catering to different skill levels. We outline some of the trail options on our Hiking trails page.
Another first-class resource is the Hiking Treasures in Egilsstaðir Region brochure, which you can download online or pick up in various information centers across the region.
The brochure outlines 30 wonderful trails, with destinations including mountain tracks and peaks, waterfalls, lakes, creeks, canyons, small caves, and inlets by the seaside. Walks range in length from 500 meters to 15km.
The local Touring Club of Fljótsdalshérað has contributed most of the effort and information to the selection of hiking trails, and the invaluable information includes GPS coordinates, trail length (in km, both ways), elevation, and difficulty level (from easy to difficult).
The touring club operates six mountain huts where hikers can get sleeping-bag accommodation. One hut is at Kverkfjöll in Vatnajökull National Park, two huts are in Lónsöræfi at the edge of Vatnajökull glacier, and three huts are in secluded inlets and fjords south Borgarfjörður eystri. These huts are primarily accessible in summer, and a bed must be pre-booked.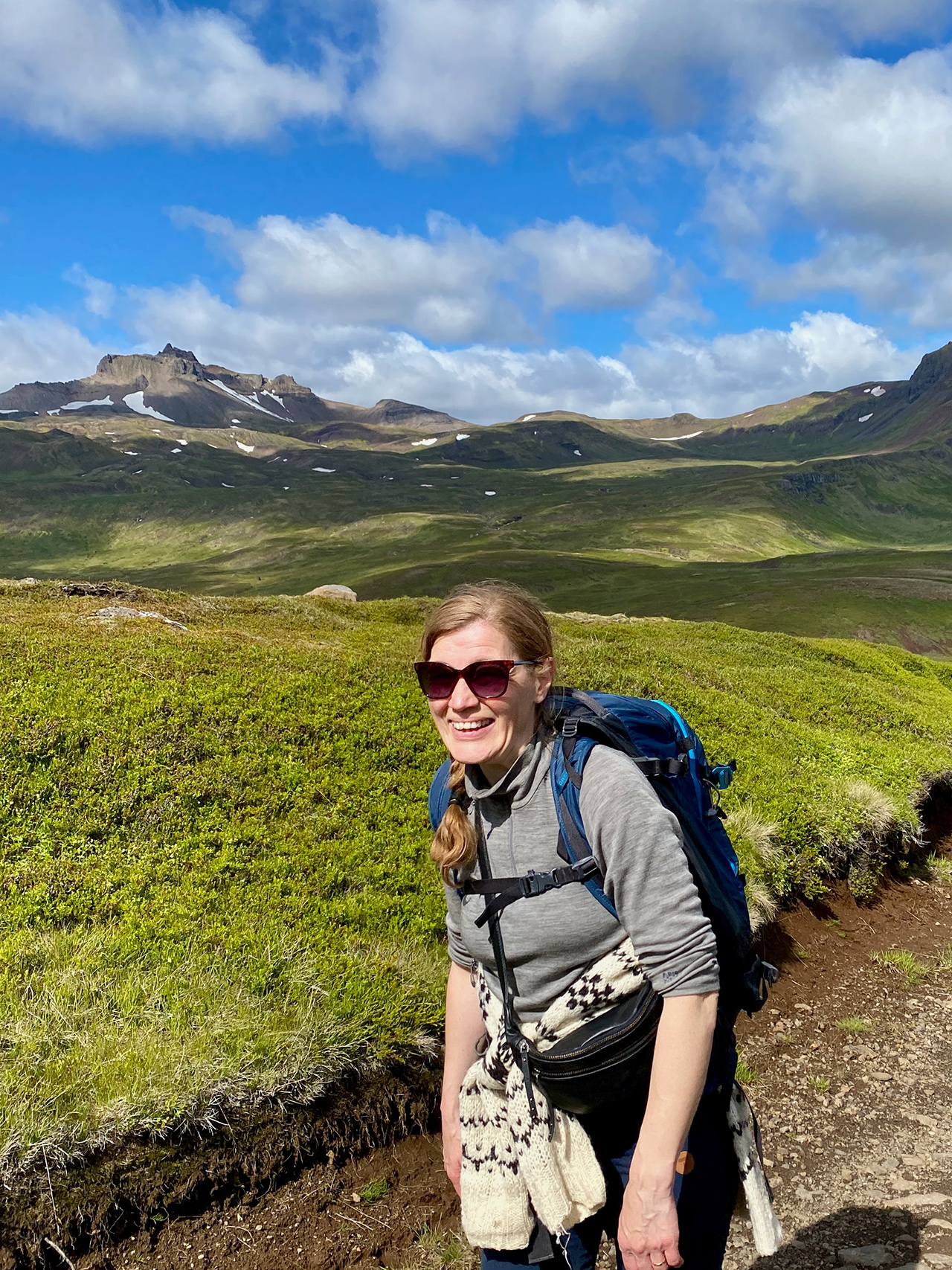 Víknaslóðir. Photo: Ingvi Örn.
Viknaslóðir
Víknaslóðir, sometimes referred to in English as 'Trails of the Inlets', is a vast network of well-marked hiking routes that reach from the village in Borgarfjörður eystri south to Loðmundarfjörður.
Through the years, locals have marked out and maintained numerous trails, making the area a true hiking paradise. There's a high-quality hiking map, and for people up for a multi-day adventure, there are comfortable mountain huts with facilities in the deserted inlets of Breiðavík, Húsavík and Loðmundarfjörður, south of Borgarfjörður eystri.Companies in the east will help you build an itinerary, and offering guiding services.
Stórurð
As Borgarfjörður eystri's reputation for exceptional hiking has grown, one destination has received plenty of attention: Stórurð is an oasis of meadows, ponds and giant boulders that sits below the jagged peaks of the Dyrfjöll mountains.
Five marked trails lead to and from Stórurð. Two lead from Vatnsskarð pass, one from Njarðvík, and two from Borgarfjörður Eystri. Since Stórurð is located over 400 meters above sea level, snow often lingers far into summer so best time for exploring this magnificent area is from mid-July to first appreciable snows of fall. The hike back and forth takes about four to five hours, so consider this a day tour.
Seven peaks: Seyðisfjörður
Want to earn the title of 'Seyðisfjörður Mountain Viking'? Of course you do! However, this is no easy feat: you must climb seven notable peaks surrounding the fjord, which range in height from 938 meters to 1154 meters. Read more on the challenge on the Visit Seyðisfjörður website, and do come prepared! You'll likely encounter some variable weather, and also some breathtaking panoramas.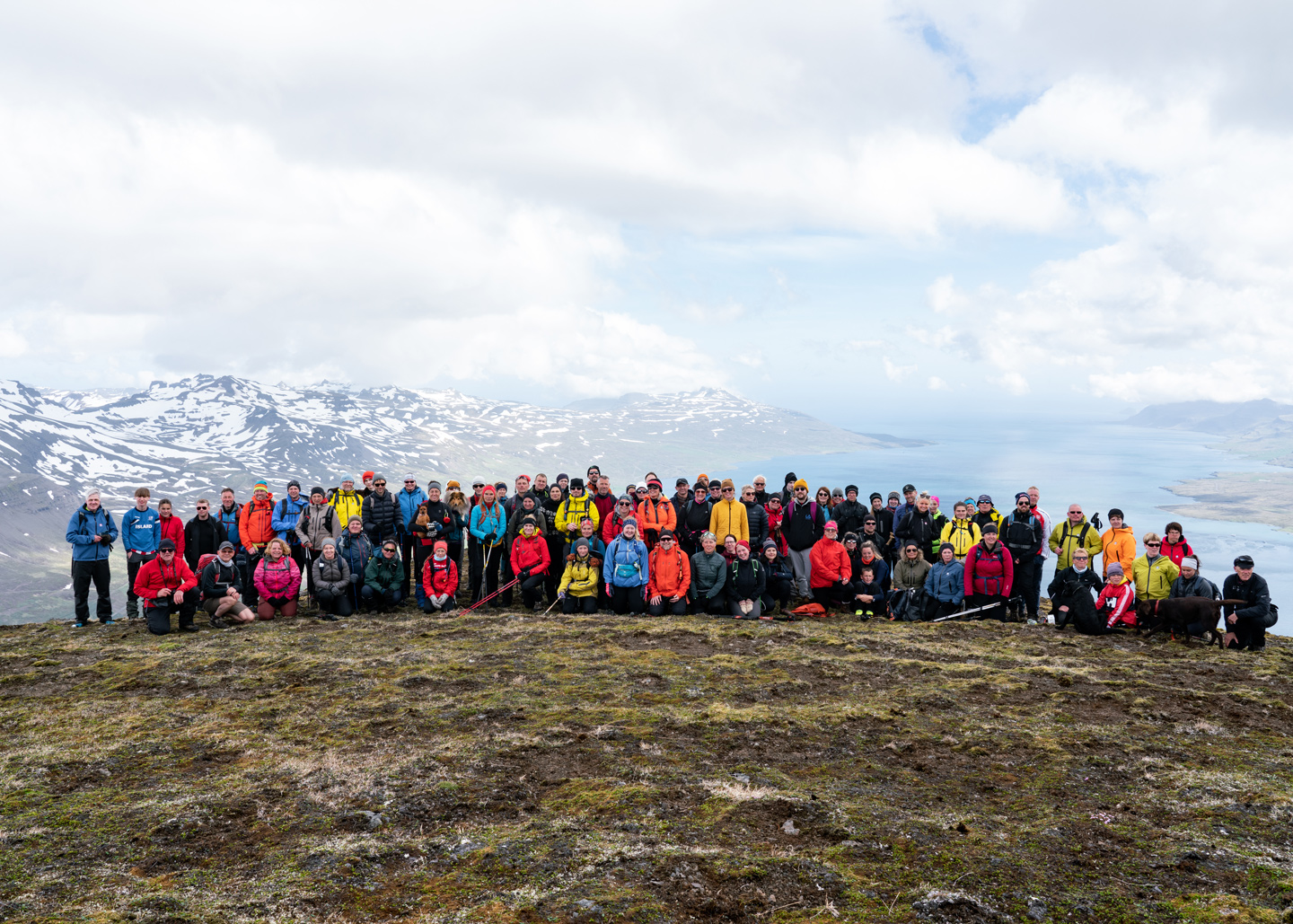 Hólmatindur is one of the peaks scheduled for Fjarðabyggð hiking week. Photo: Jessica Auer.
Fjarðabyggð Hiking Week: 24 June to 1 July
Each year, Austurland's Fjarðabyggð municipality hosts a popular hiking week designed to celebrate the walks and hikes of the fjord- and mountain-rich area, with events covering all ages and skill levels.
The week's program ranges from family walks and nature activities, to guided historical walks and even challenges for mountaineers. Evening entertainment is provided every day, including singing, music and parties.
The municipality covers Eskifjörður, Neskaupstaður, Reyðarfjörður, Fáskrúðsfjörður, Stöðvarfjörður and Mjóifjörður, with the bulk of the week's non-hiking activities based in Eskifjörður.
Check the event's Facebook page for program details, or contact Mjóeyri Travel Service in Eskifjörður.
Cycling in Austurland
Do you know we have stellar mountain biking in Austurland? Our hiking trails get a lot of well-deserved attention, but our biking trails are just as cool.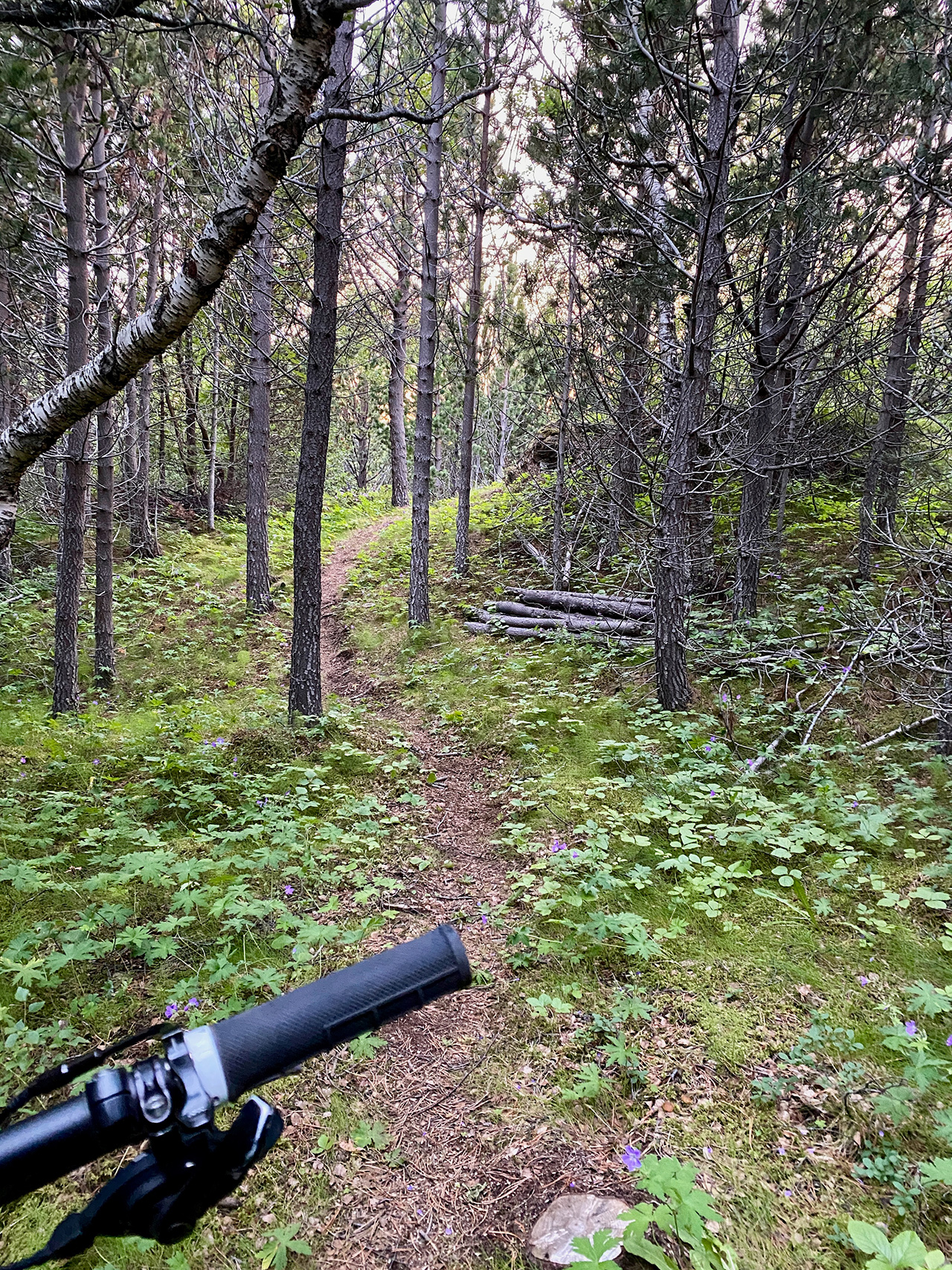 From one of the MTB trails in Hallormsstaðaskógur. Photo: Ingvi Örn.
Hallormsstaðaskógur
Hallormsstaðaskógur is not just Iceland's largest forest, but a playground of activity. A 10km family-friendly cycling track begins at Hotel Hallormsstaður, then takes a circuit around the lower part of the forest, with 200 meter elevation. There's a more difficult path too, departing from Hallormsstaðaskóli school.
You can check out some of the new trail options in the forest and nearby – through the birch forest of Ranaskógur and in the valley of Norðurdalur, for example – on the aptly named 'Gems and trails' section of the Hengifoss website. Trails are also outlined on the Visit Egilsstaðir website.
In the area, bike rental (and local advice) can be arranged through the information center at Egilsstaðir camping site, Hotel Hallormsstaður, and the Wilderness Center.
Borgarfjörður eystri
Puffins and hiking trails aren't enough for this lovely area. A company called Fjord Bikes is primed to get visitors onto two wheels and out among nature. Visitors can simply hire bikes and helmets and tap into local advice, or they can organize a guided village ride or more in-depth mountain-trail exploration.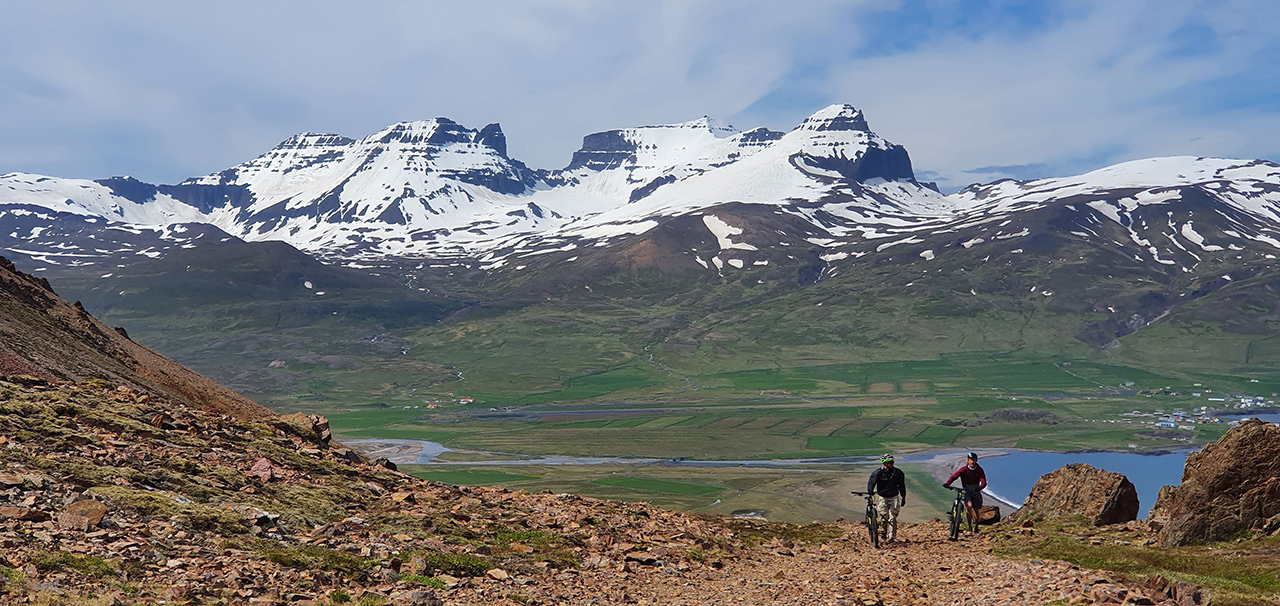 Borgarfjörður eystri. Photo: Fjord bikes.
Elsewhere in Austurland
Head off the main roads almost anywhere in Austurland for knock-out views and great trails.
Instead of driving through the tunnel for the 20km Hwy 1 route between Reyðarfjörður and Fáskrúðsfjörður, take the scenic route via the Vattarnes peninsula along Route 955 (52km, mostly paved but some gravel). Or if you're after gravel, cycle the rugged road and hairpin bends to beautiful Mjóifjörður – and save some energy for the uphill climb on the return journey!
Looking for more inspiration? Put this article (in Icelandic) through Google Translate to get the picture.
Tour options
Don't overlook the tour operators in Austurland who can help get you on a bike, in a jeep, on a horse, or in a kayak, and out into nature in so many ways. It's a great way to meet locals who have regional expertise and the desire to show you the best of the area.
They can take you on private jeep tours to discover hard-to-reach spots, on helicopter sightseeing for an entirely new perspective, and into the highlands to explore canyons and waterfalls. They can be expert guides to tackle some of the more challenging hiking or biking trails, and great storytellers too.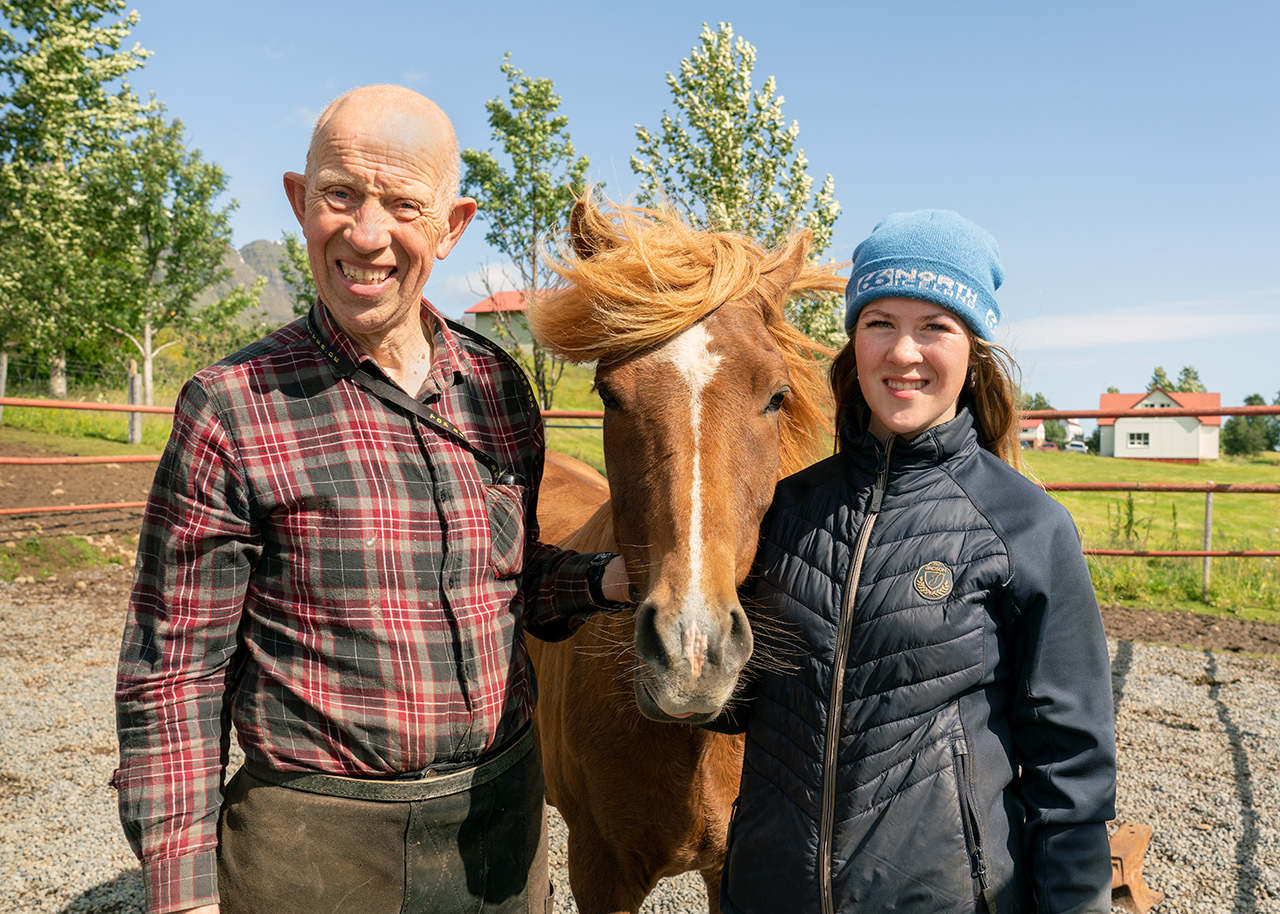 Skorrahestar farm. Photo: Jessica Auer.
Some super summer suggestions – just a handful of what's possible!
Words: Carolyn Bain