Seyðisfjörður's celebration of light
One of Austurland's highlights is Seyðisfjörður, the pretty fjord town that offers year-round art and creativity with lots of color and flair. Its rainbow-painted main street is a traveler favorite, and the unspoiled nature in its surrounding mountains and valleys is a joy to explore.
Herðubreið, 2019. Boris Vitásek (SK). Second Litany. Photographer: Chantal Anderson
Every year in mid-February, Seyðisfjörður hosts a glowing, award-winning festival called List í ljósi, a name that translates as 'Art in Light'. This year, List í ljósi will be held on February 11 and 12. A program will be released soon, but in the meantime you can check out highlights from previous events in the photo galleries on the festival website.
Celebrating light
Seyðisfjörður's setting – at the end of a 17km-long (10-mile) fjord, ringed by mountains – is itself a visual feast, but those dazzling peaks cast long shadows. In the depths of winter, the sun sits low in the sky and the tall mountains block the sun's rays from reaching the town. It's a similar story in many parts of Austurland, where mountains soar over towns and obstruct direct sunlight.
When the sun finally peeks over the mountains after its months-long absence in mid-February, it's time to celebrate! In a number of towns, a charming tradition known as sólarkaffi (which literally means 'sun coffee') is held - a gathering at the local community center for coffee and cake. As well as sólarkaffi, Seyðisfjörður welcomes the sun's return with the List í ljósi festival.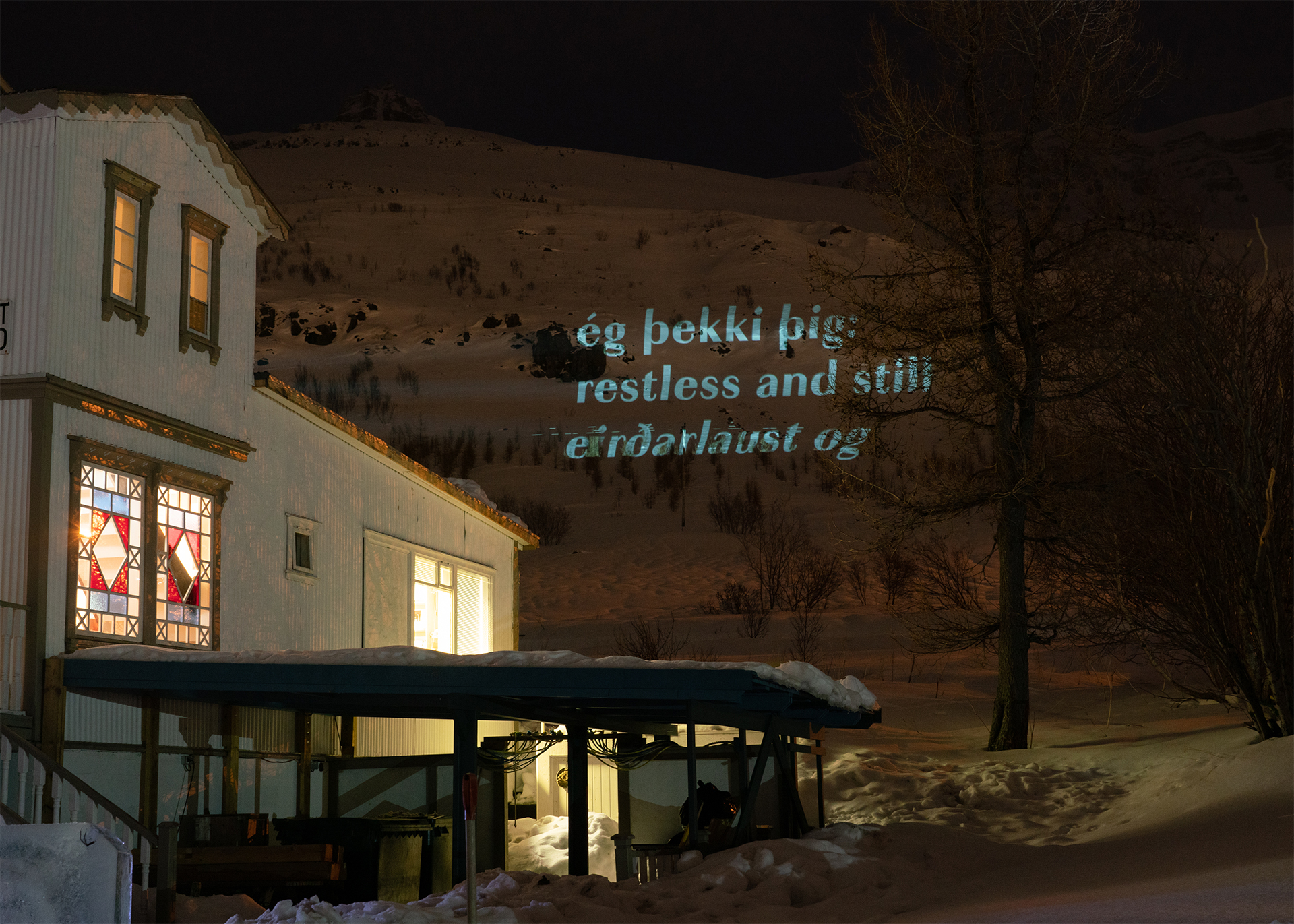 Mountain, 2021. Artists: Fríða Ísberg (IS) and Nanna Vibe S Juelsbo (DK). Photographer: Jessica Auer
Seyðisfjörður's artistry
Despite a small population of only around 700 people, Seyðisfjörður has built an impressive reputation as one of Iceland's creative hubs. A growing list of projects and events have helped to build this distinction: festivals, artist residencies, the LungA art school and workshops, galleries, and even art installations high in the hills.
The seventh celebration of List í ljósi will be held in 2022, after the event's founding in 2016 by Celia Harrison from New Zealand, together with local Sesselja Jónasardóttir. In 2019 it received the Eyrarrósin Award, awarded to outstanding cultural projects in Iceland's rural areas.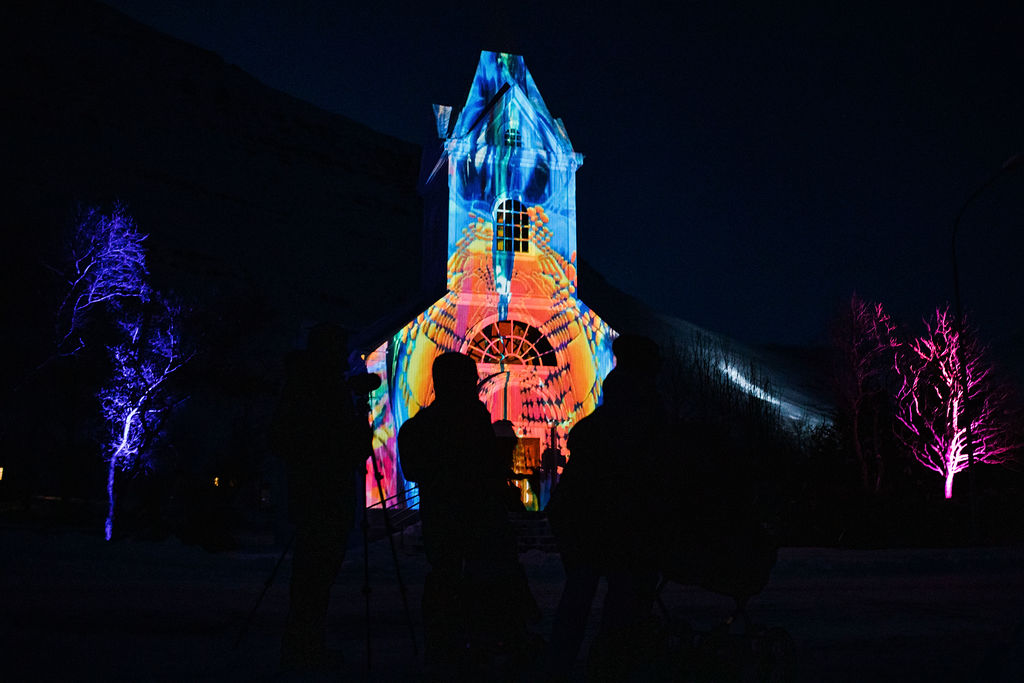 Church, 2019. Samuel Miro (NZ). By Wikipedia. Photographer: Juliette Rowland

List í ljósi highlights
The free festival lights up Seyðisfjörður with unique contemporary works from local and international artists. Outdoor installations, projections and live performances vary each year, and locals and visitors rug up to walk the streets after dusk, pausing to admire buildings that glow with animations or hillsides that reflect profound messages. Anything is possible, from oversized illuminated chickens roosting by the lagoon to shiny disco balls suspended from a bridge. This year the festival's theme is connecting with our environment.
The Blue Church, at the northern end of the photogenic Rainbow Street, is often a beacon for projections, but look out for them on hillsides, houses, and on the walls of Herðubreið, the town's community center and culture house (named after Iceland's favorite mountain).
The community works together to ensure the weekend is a calendar highlight. Inside Herðubreið, the Flat Earth Film Festival screens a selection of offbeat international films, and performances, talks, and panels are held. The local power company turns off central streetlights so the light of the art shines extra bright. If the weather gods are kind, northern lights might glimmer overhead to add extra radiance.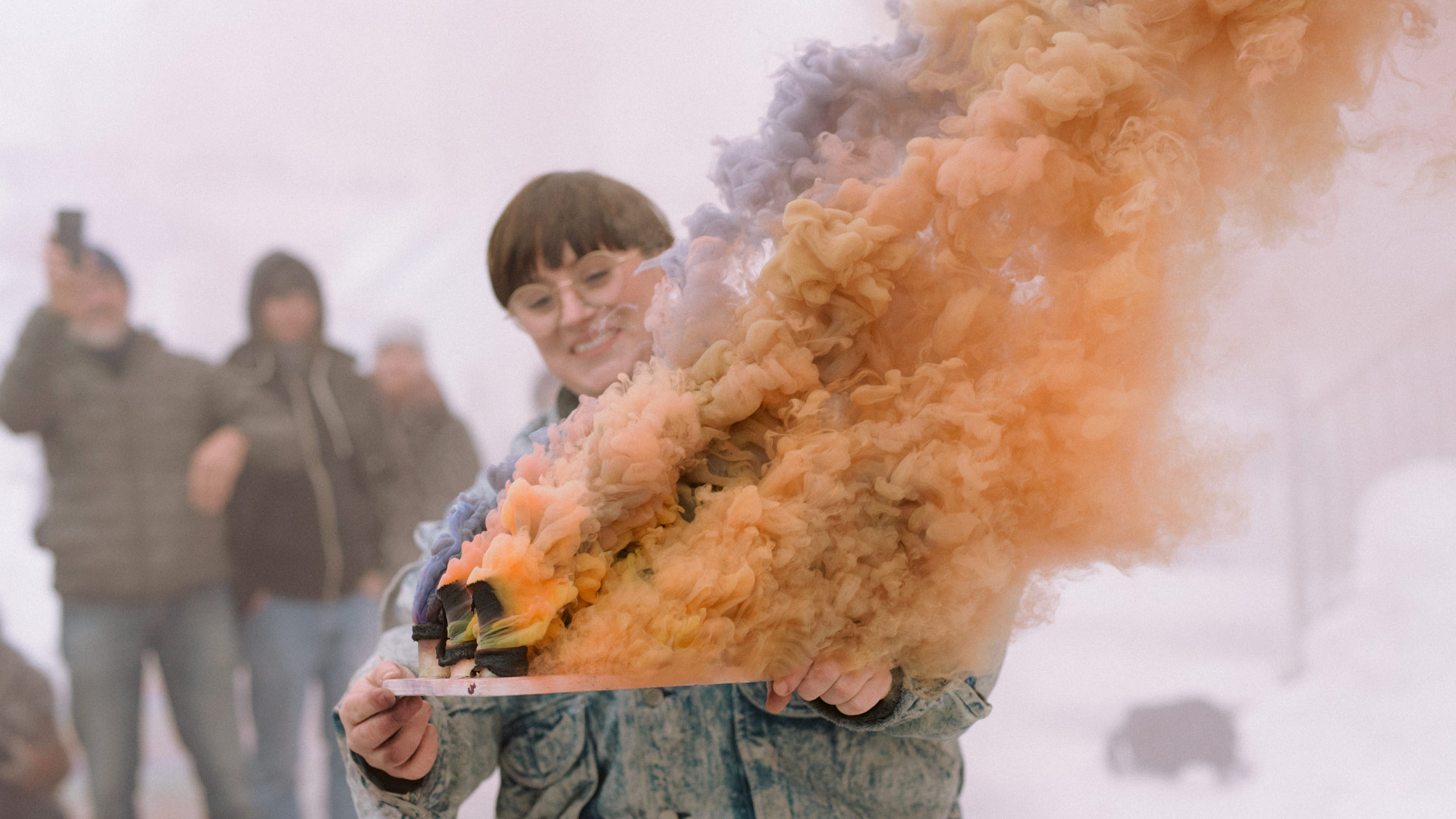 Smoke, 2019. Emily Parsons-Lord (AU). Photographer: Chantal Anderson
Experience Seyðisfjörður's creativity
The Visit Seyðisfjörður website lists the stores and galleries in town, and has information on the full calendar of arts and culture events. Here are some of the best ways to tap into the Seyðisfjörður spirit. Come and see for yourself!
The LungA School is an independent, artist-led institution based in Seyðisfjörður. Every spring and fall the school opens its doors for 12 weeks of adventure and experimentation.
The LungA summer festival is held in mid-July, and young people are drawn to the creative philosophy of the event. The week-long festival ends with a celebration, exhibitions and concerts.
Skaftfell Center for Visual Art runs an exhibition, education and residency program throughout the year. There's also an excellent bistro-café-bar here – stop by for a pizza and to see what's happening.
Herðubíó is Austurland's only cinema, run year-round at the Herðubreið community center.
Held in peak summer, the Blue Church Summer Concert Series is a series of musical events held in the church on Wednesday nights in July and early August.
High on a hillside above town, Tvísöngur is a sound sculpture by German artist Lukas Kühne. To hike there, start from the gravel road across from the Síldarvinnslan Fish Factory. The hike takes about 15-20 minutes each way, and the elevated views over the fjord are a knockout.
Words: Carolyn Bain