AUSTURLAND: The perfect destination for a family trip
Thrainn Kolbeinsson is an Icelandic adventure and travel photographer. Recently he went on a vacation with his family in East Iceland. With his wife and two children (8 months and 3 years old) he recently visited some of their favourite locations in the Eastfjords. Here he shares why he thinks the Eastfjords might be the perfect destination for a family trip and shares a few tips for people traveling with children in Iceland.
The happy family
One of the trickiest things about planning a trip to Iceland, with so many unique locations, is making the itinerary. Add a baby or two (or more...) into the mix and you might start feeling like you need a drink or two (or more...). Traveling with young children doesn't always feel like you're on a relaxing vacation but with good planning and a few tricks you can get pretty far. Being Icelandic locals with many family trips under our belts I'd like explain why we picked the Eastfjords for our summer holiday and how we balanced outdoor adventures and relaxation.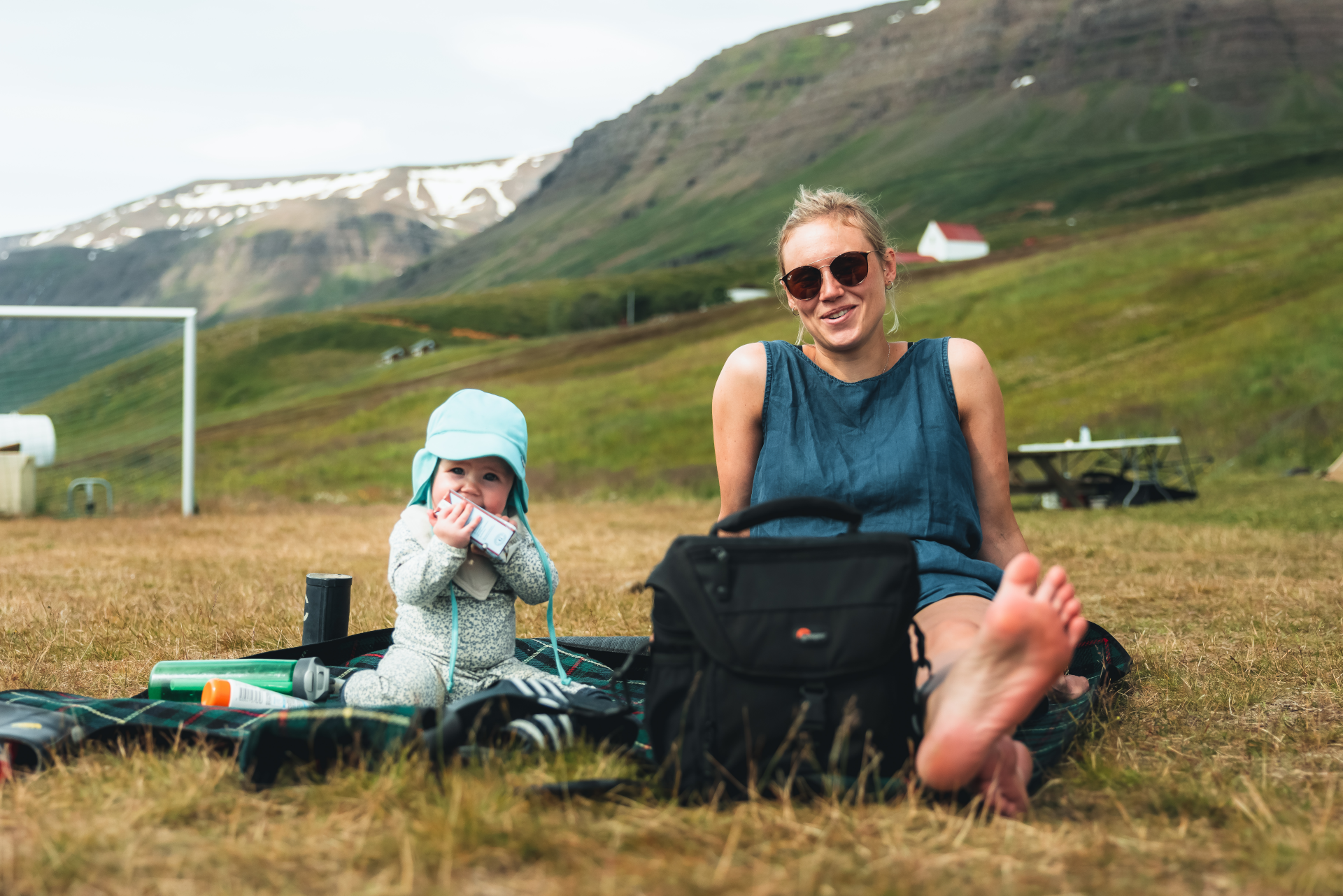 Mother and daughter
Something for everyone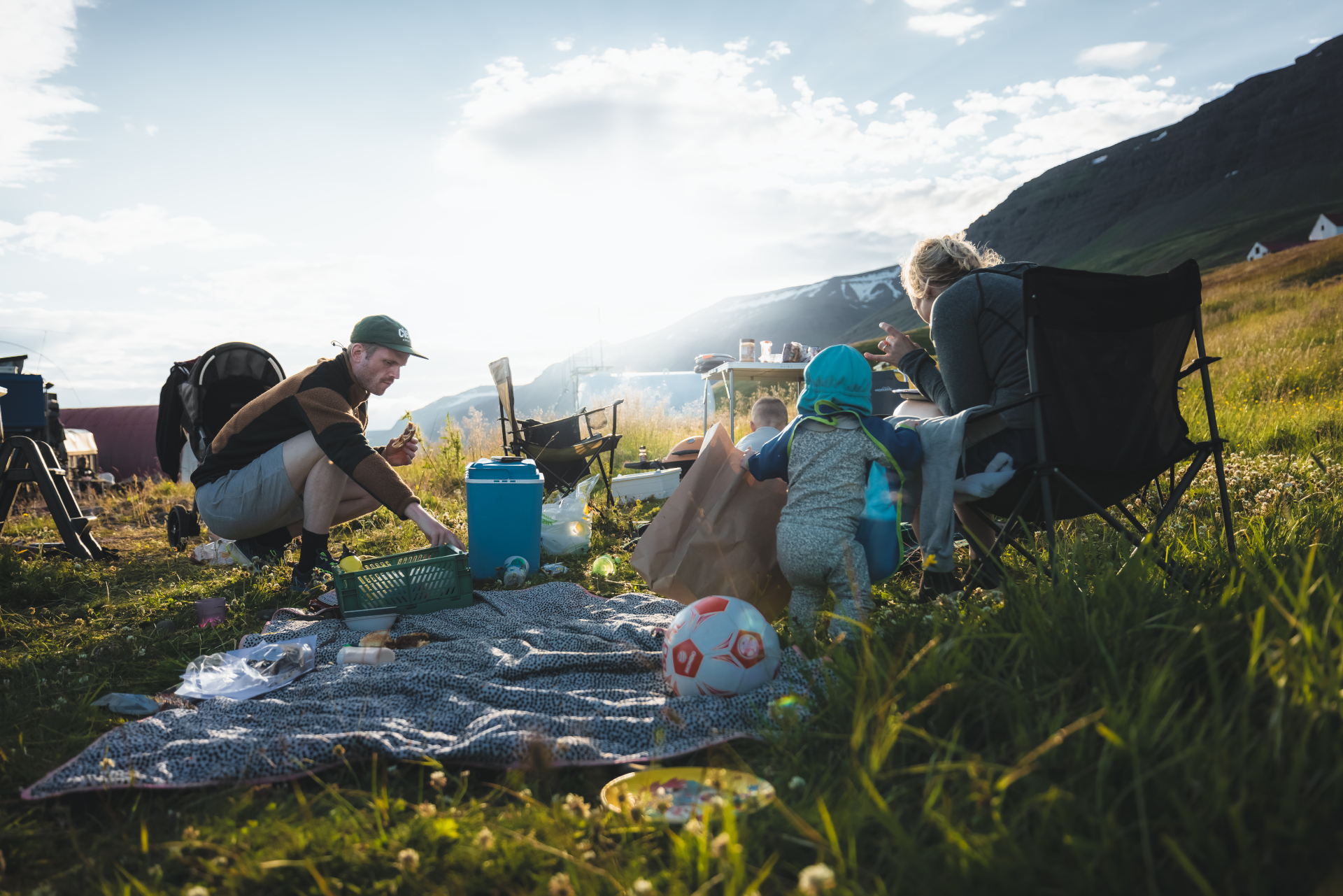 Picnic
Families usually have different interests when it comes to activities and attractions. That's why picking a location that has a lot of variety is an important part of the planning. In general, Iceland is a pretty diverse country and wherever you go you'll find some waterfalls, some mountains to hike, beautiful beaches, etc. But each part has something special and I believe the Eastfjords have some things that make it an especially wonderful place to travel around with the family.
Getting away from the crowds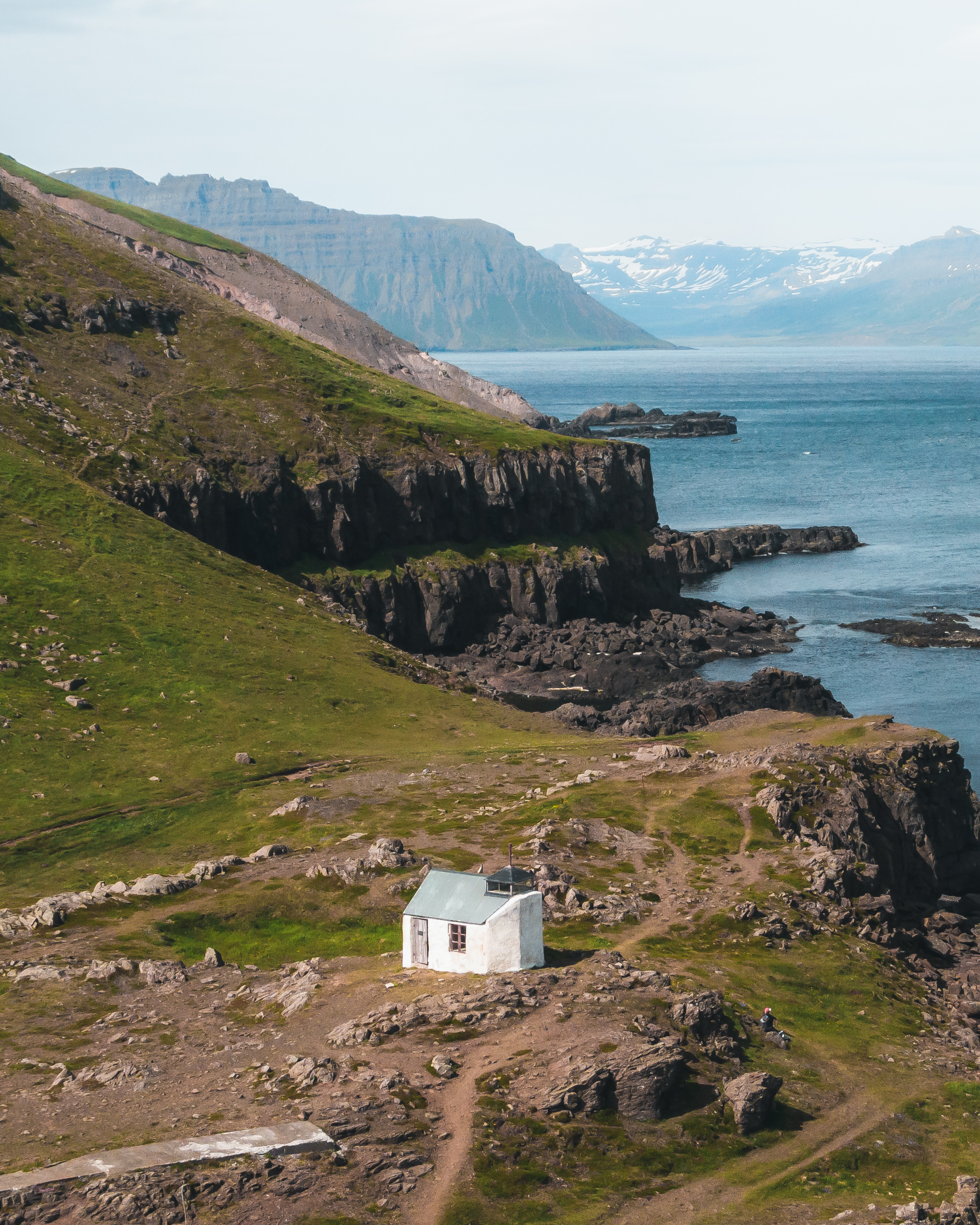 The old lighthouse at Dalatangi
This will always be a bit of a challenge when traveling in Iceland but there are some obvious hot spots. Personally, we aim for places with fewer people and in general the rule of thumb is that the further you travel from the airport, the fewer people. That's why East Iceland is a great region to visit if you want to get away from the big crowds of people and enjoy what Iceland is all about. Even though the biggest attractions might have a lot of people during high season you can always find beautiful fjords and short hikes that you might even have all to yourself.
Activities/Adventures and leisure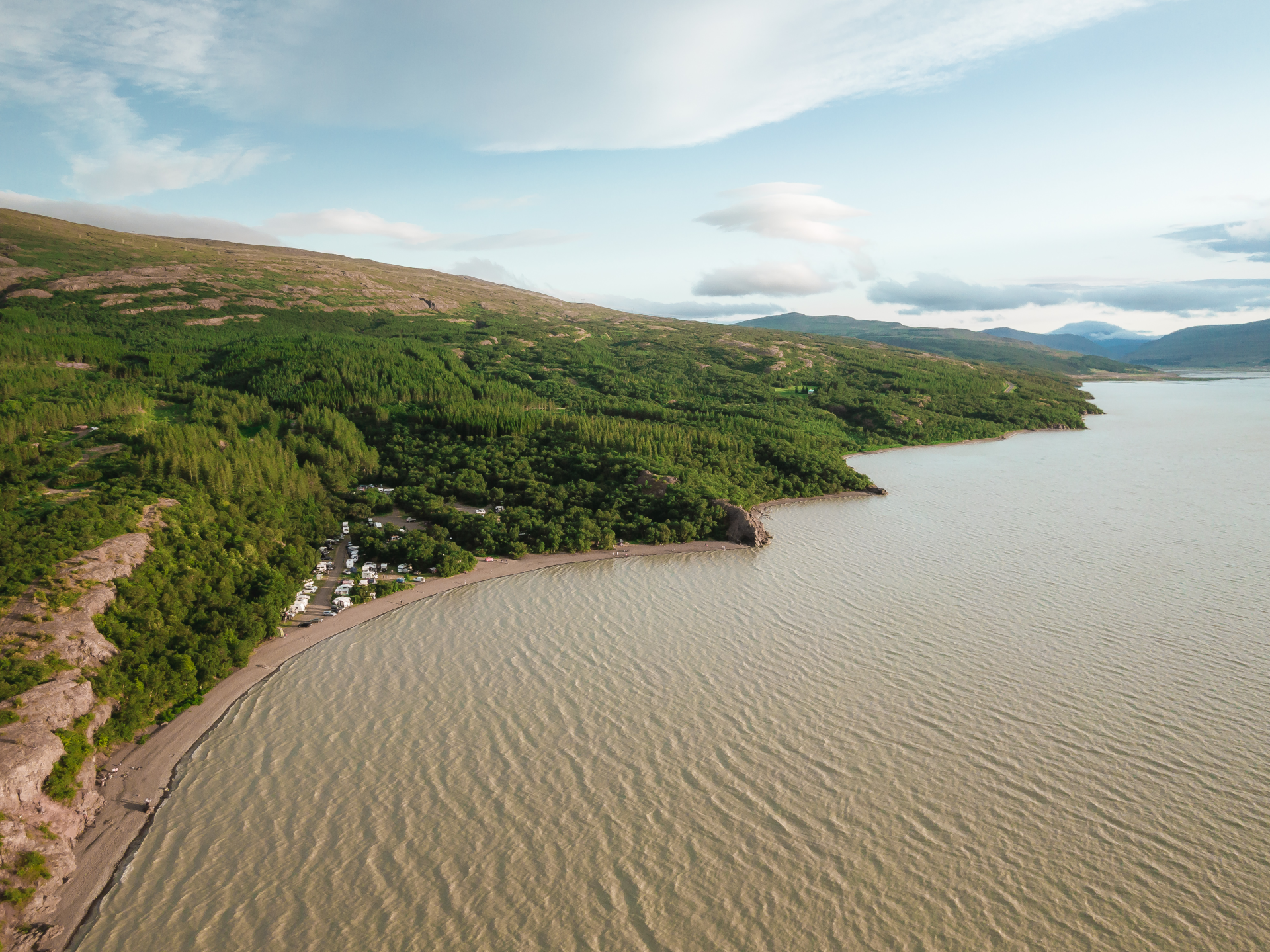 Atlavík
We all have different hobbies and interests. Some people are more into activities and adventures while others lean more towards leisure & relaxation. This can make vacation planning a bit tricky so it's important to choose an area that has something for everyone. This is where the Eastfjords definitely shine. We like to start our days pretty slow, then go for some sort of action before ending the day with some good food and relaxation. For families looking for activities and adventures, I'd recommend the Wilderness Center, Laugavallalaug & the hike to Stapavík (or Stórurð if you're looking for a more difficult trail). For families that are more into relaxation and leisure I'd go for Vök Baths, Musterið Spa & Laugarfell hot springs.
Wildlife and not-so-wild life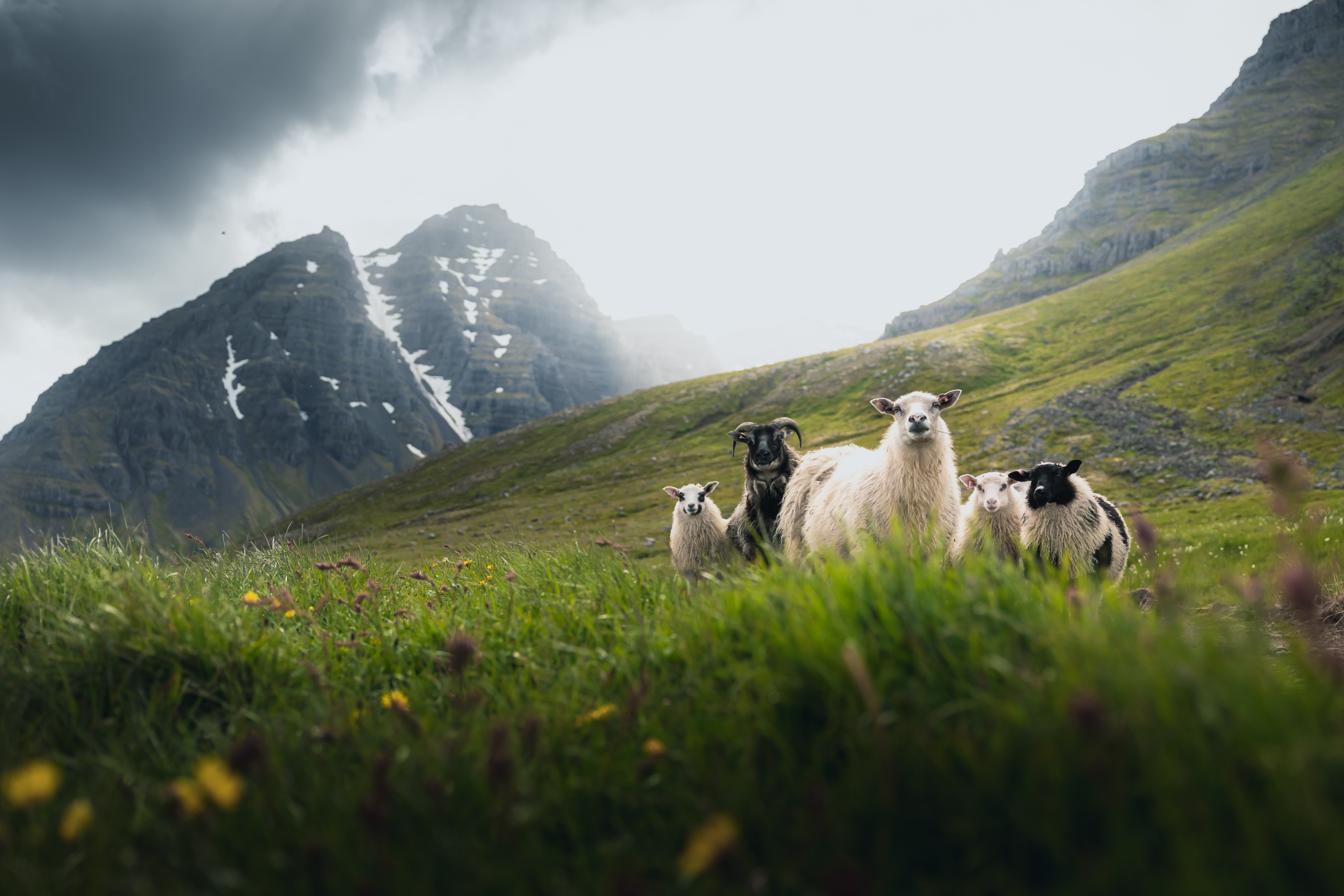 Icelandic sheep and lambs
Iceland is basically like a big nordic safari. Simply driving the ring road you'll see loads of farm animals by the side of the road, birds flying around and if you're lucky you might see a whale blowing in the distance. What makes the wildlife of East Iceland particularly special are the reindeers and the puffins.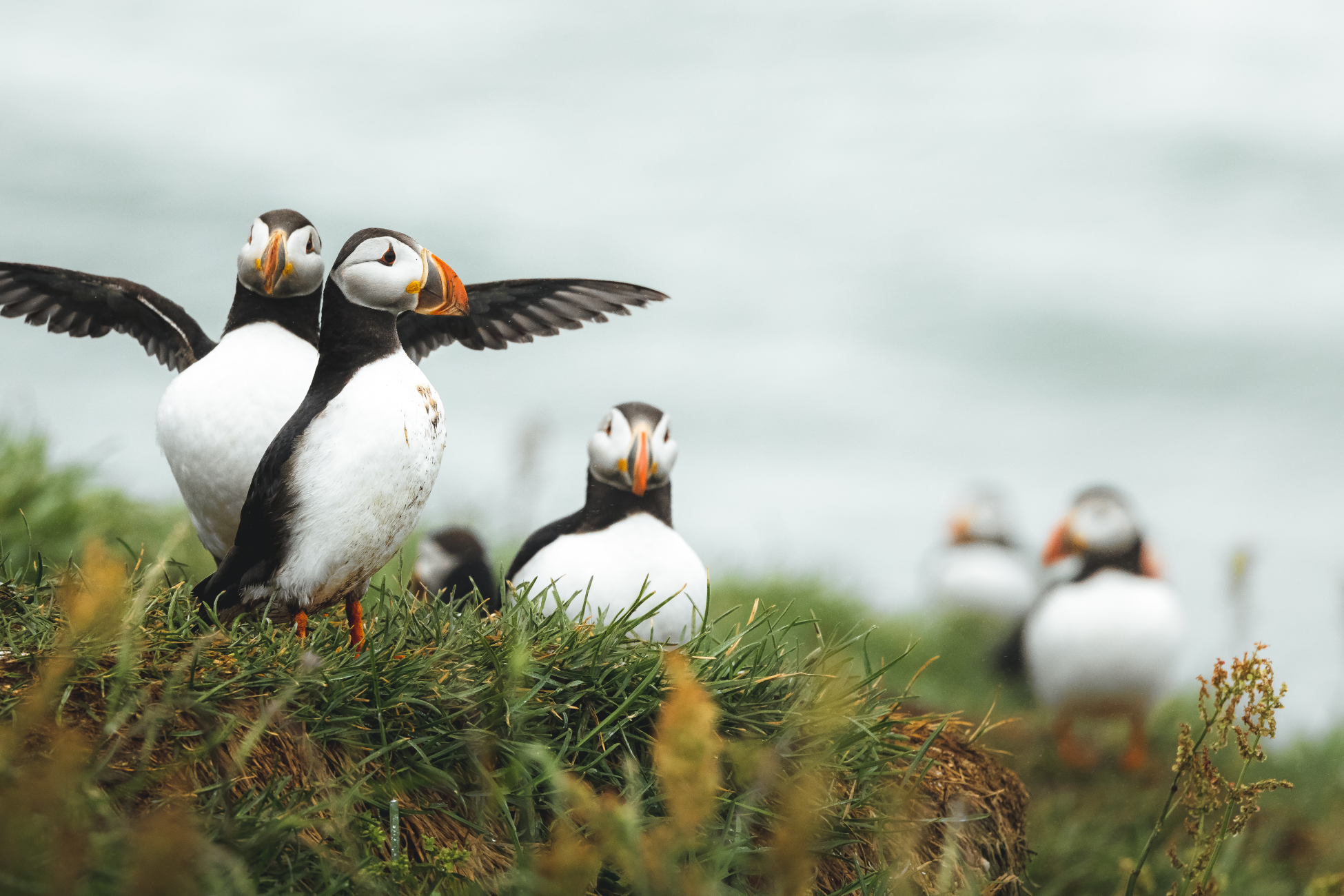 Puffins in Hafnarhólmi
You can only see reindeers in the east and as you travel around you're very likely to see some roaming around freely. Even though there are other places in Iceland where you can see puffins, it's hard to compete with Hafnarhólmi in Borgarfjörður Eystri. Wooden stairs and platforms allow you to get very close to them and if the weather isn't on your side you can enter a bird watching shelter (perfect for photographers).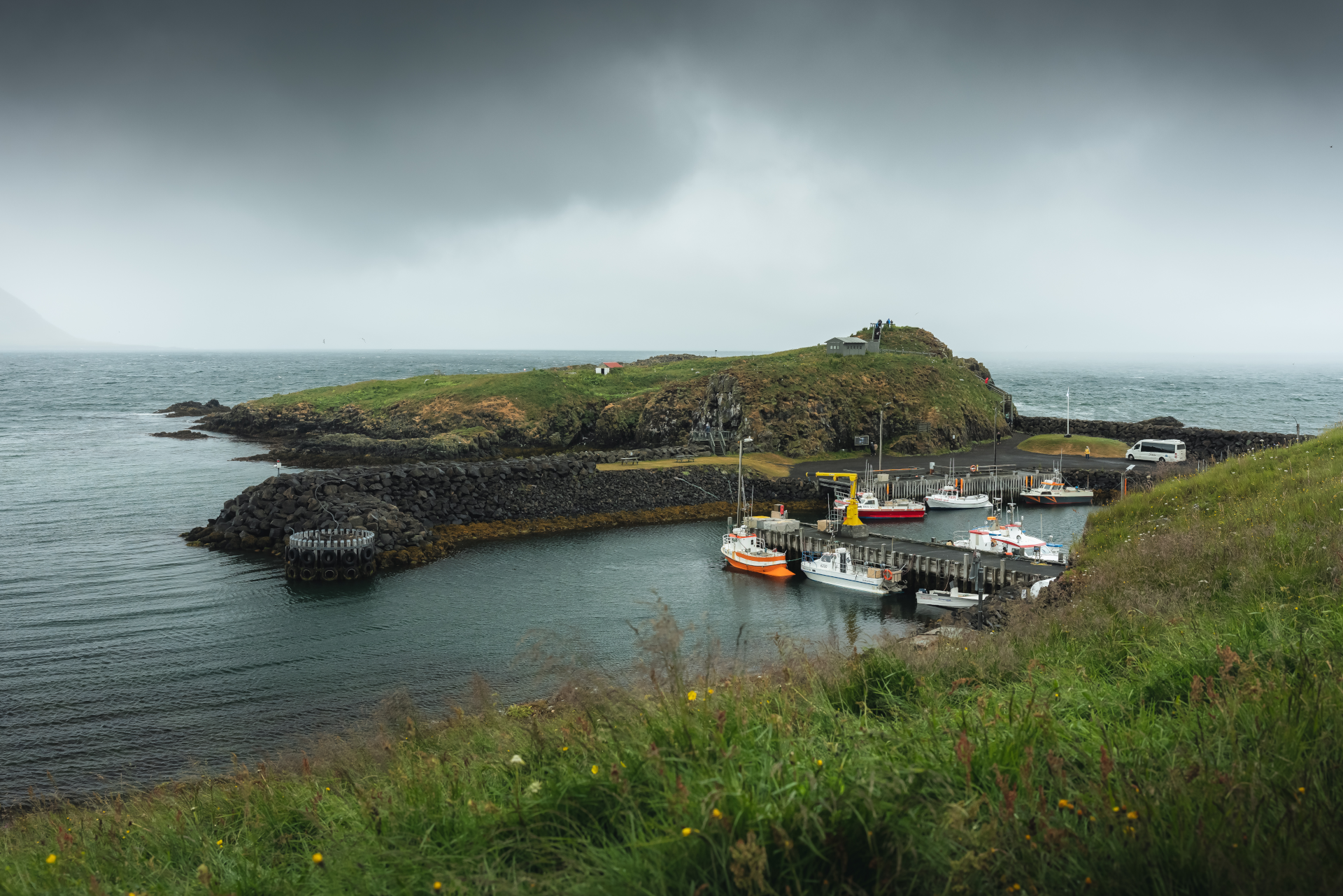 Hafnarhólmi in Borgarfjörður Eystri
But it's not all about the wildlife because as you travel around the country side you're likely to meet some furry locals as well. We stayed in Mjóifjörður for two nights where our son spent most of the time playing with a local dog called Villi. Make sure to throw some sticks for him if you're in the area.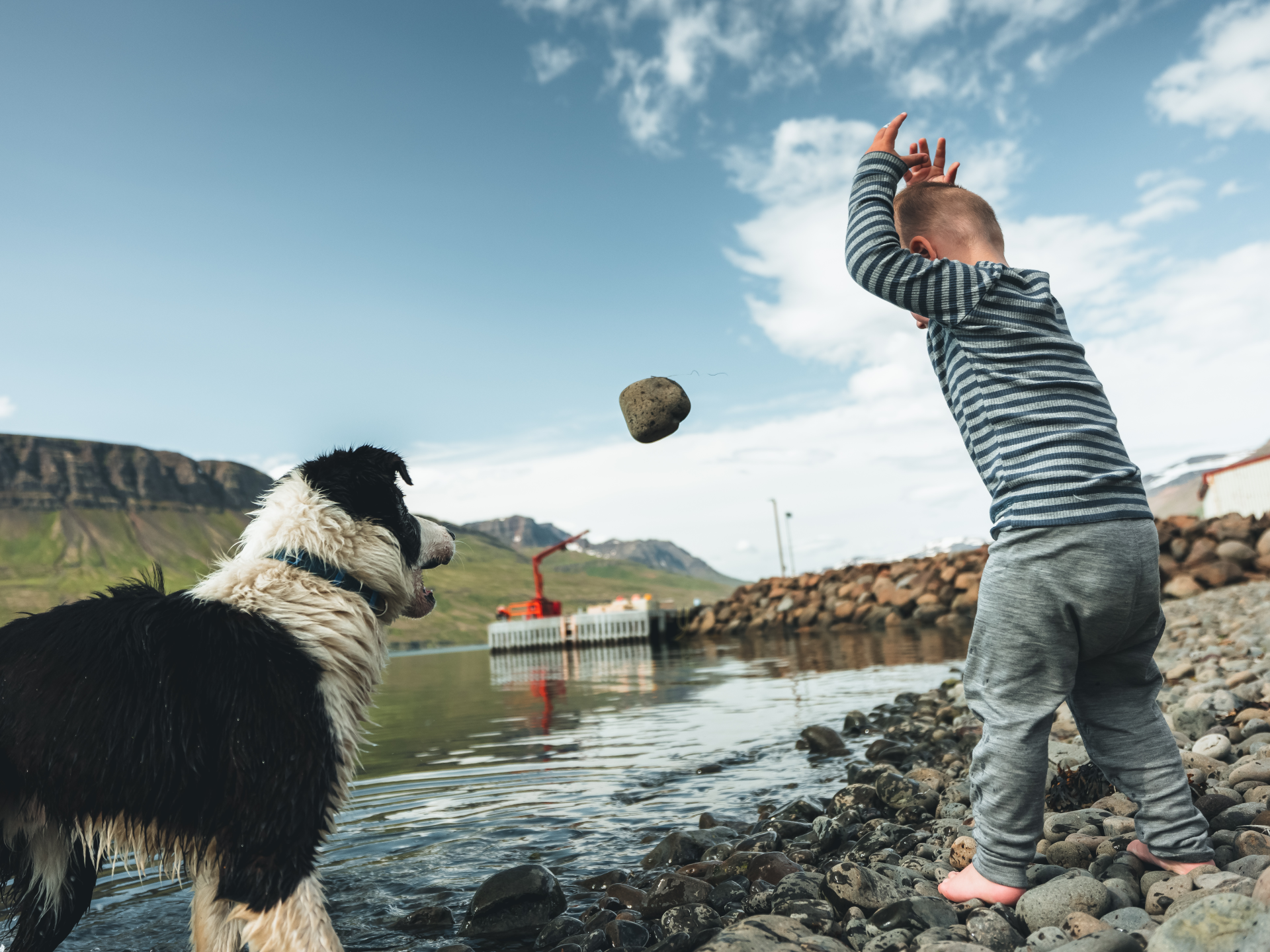 Villi the dog and my son playing by the harbor in Mjóifjörður
Hikes for all ages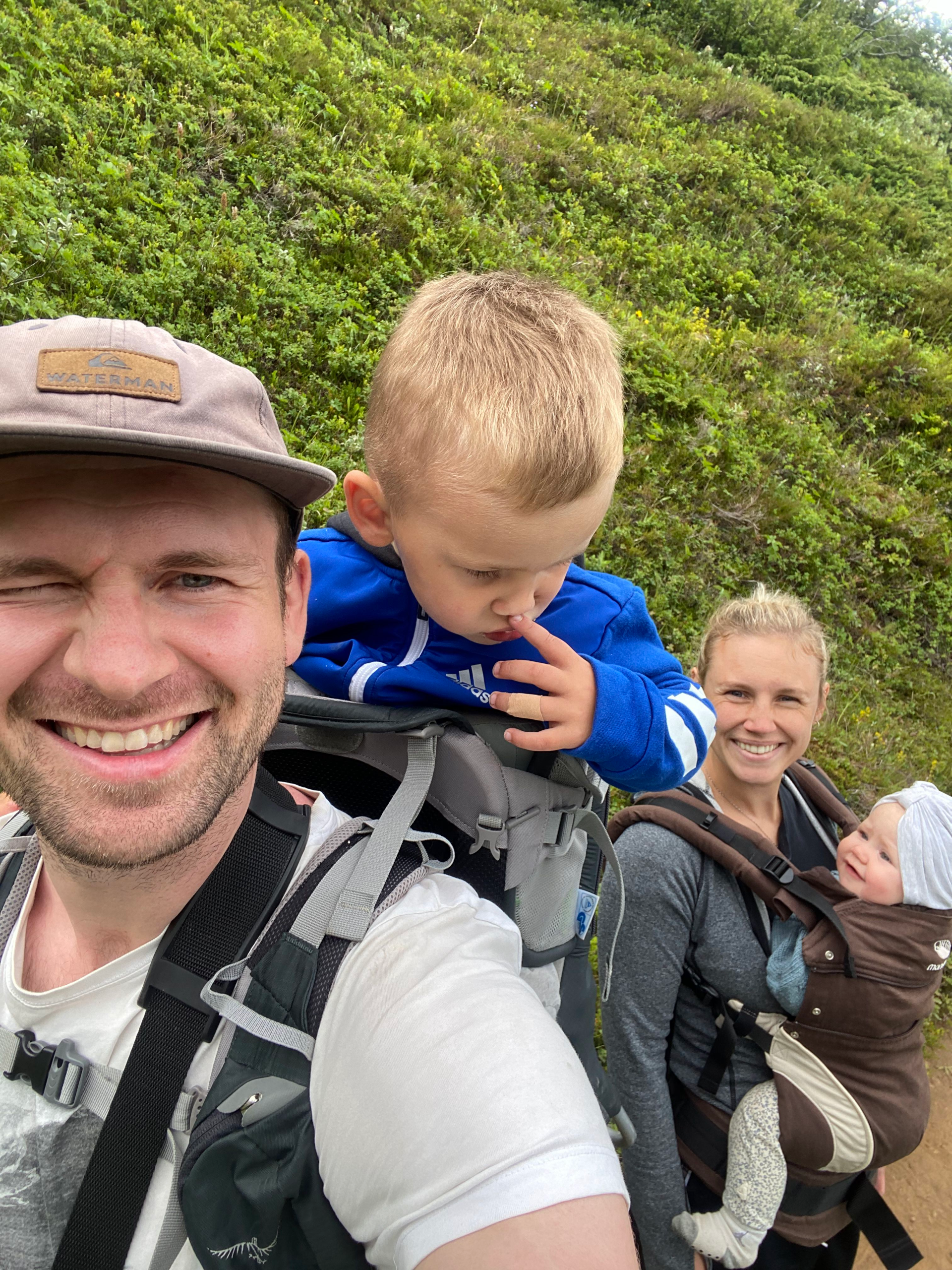 Family hike
Hiking is one of my personal favourite activities when traveling. You get to see things from a new perspective and exercise while at it. But like people, hikes come in all shapes and sizes, and we all have our preferences. This is another spot where the East is your friend. Whether it be a short one with baby on your back or a full day's hike you should always be able to find something for the whole family. Here's a few I'd recommend: Stórurð, Súlur & Hengifoss. Note that it doesn't always have to be long and hard to be a fun adventure, sometimes simply hiking up to a small waterfall by the road can count as a nice little hike.
Highlights of our trip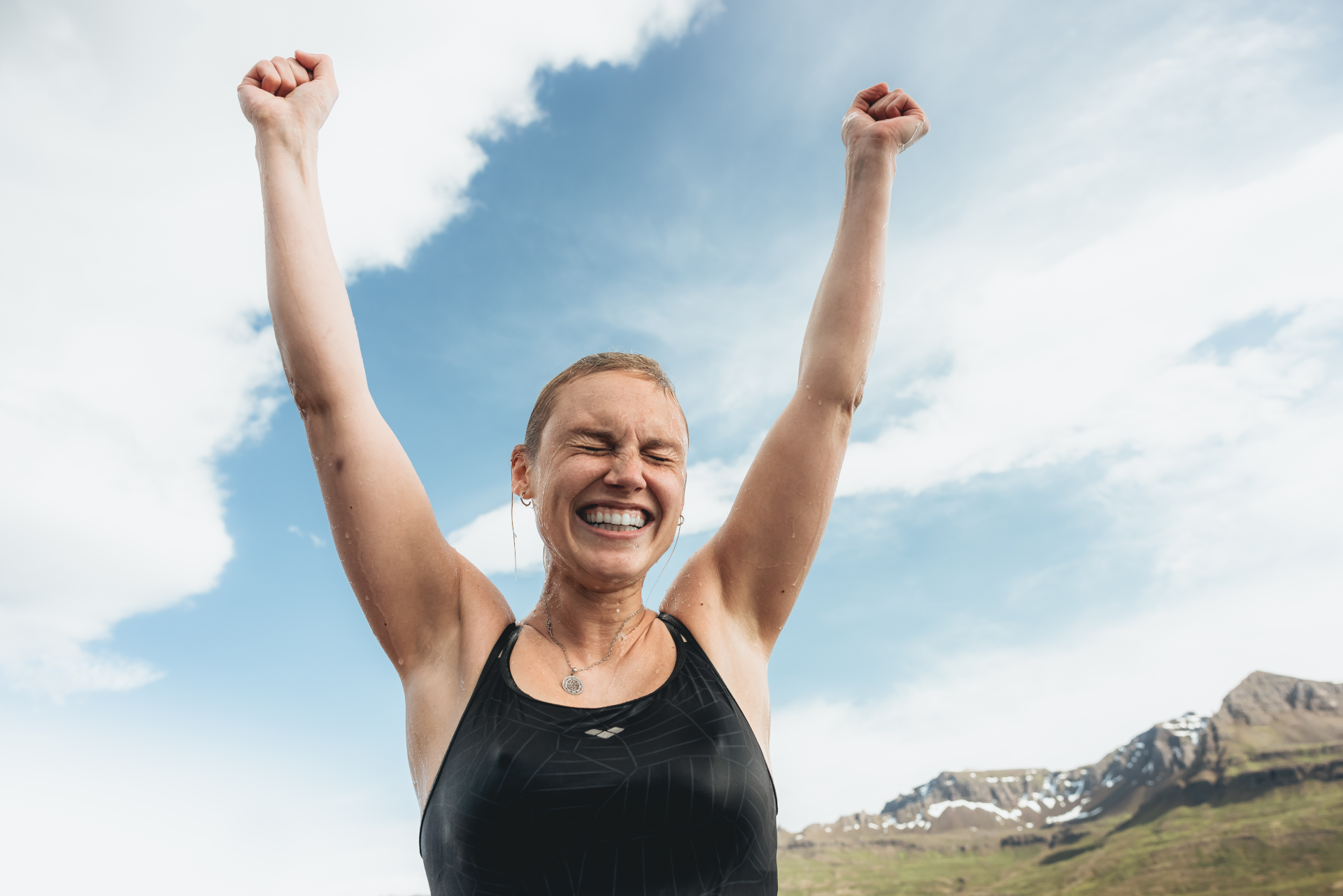 Berglind Anna happy with a dip in the sea
I'd like to have the images do most of the talking when it comes to our trip. In short, we started in Mjóifjörður where we spent two days enjoying the laid back atmosphere in the sun. Just driving in Mjóifjörður is an experience in itself and as you work your way down the winding road leading into the fjord you'll see the beautiful Klifbrekkufossar.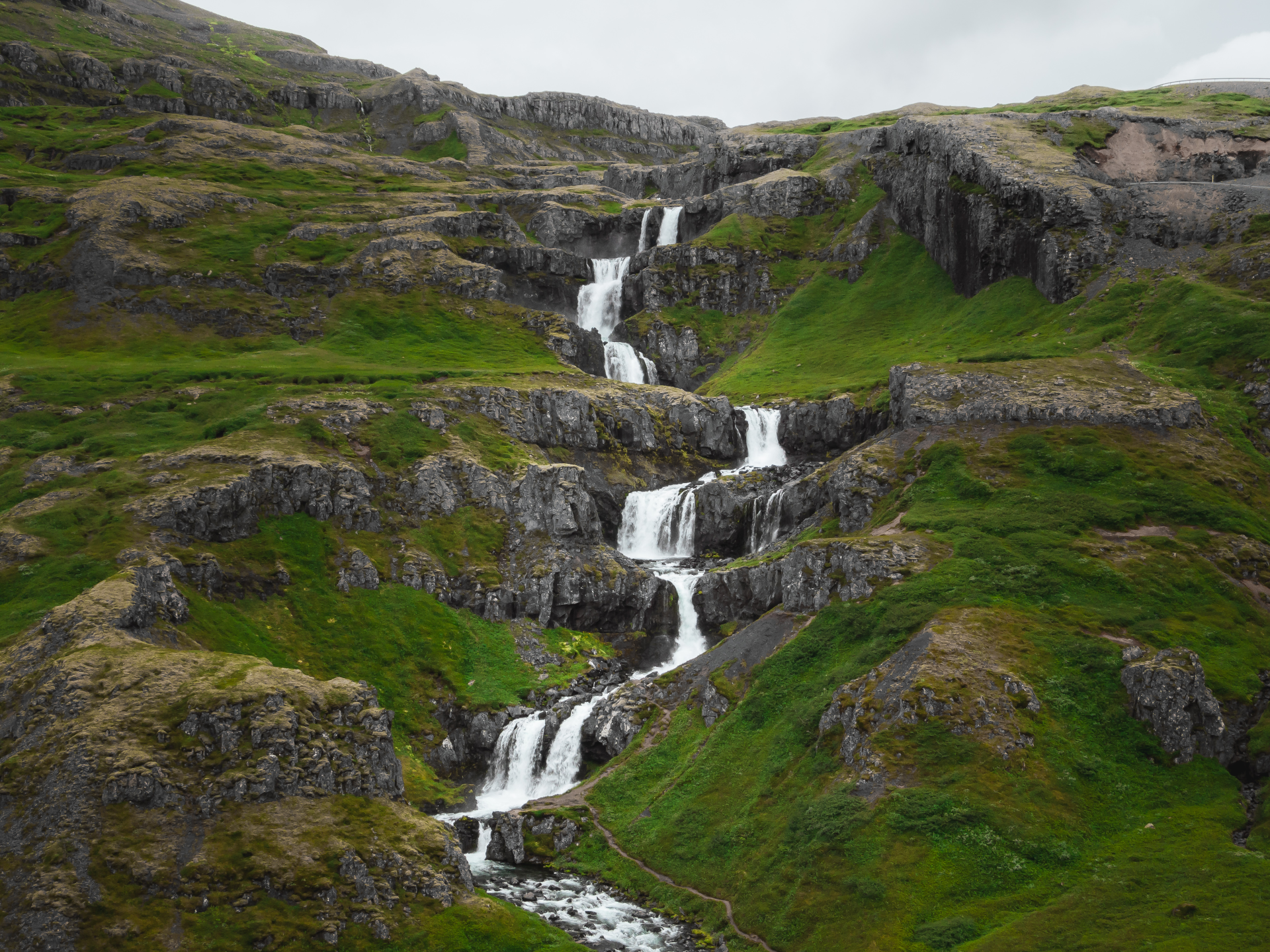 Klifbrekkufossar in Mjóifjörður
I'd also recommend driving all the way to Dalatangi to see one of Iceland's oldest lighthouses.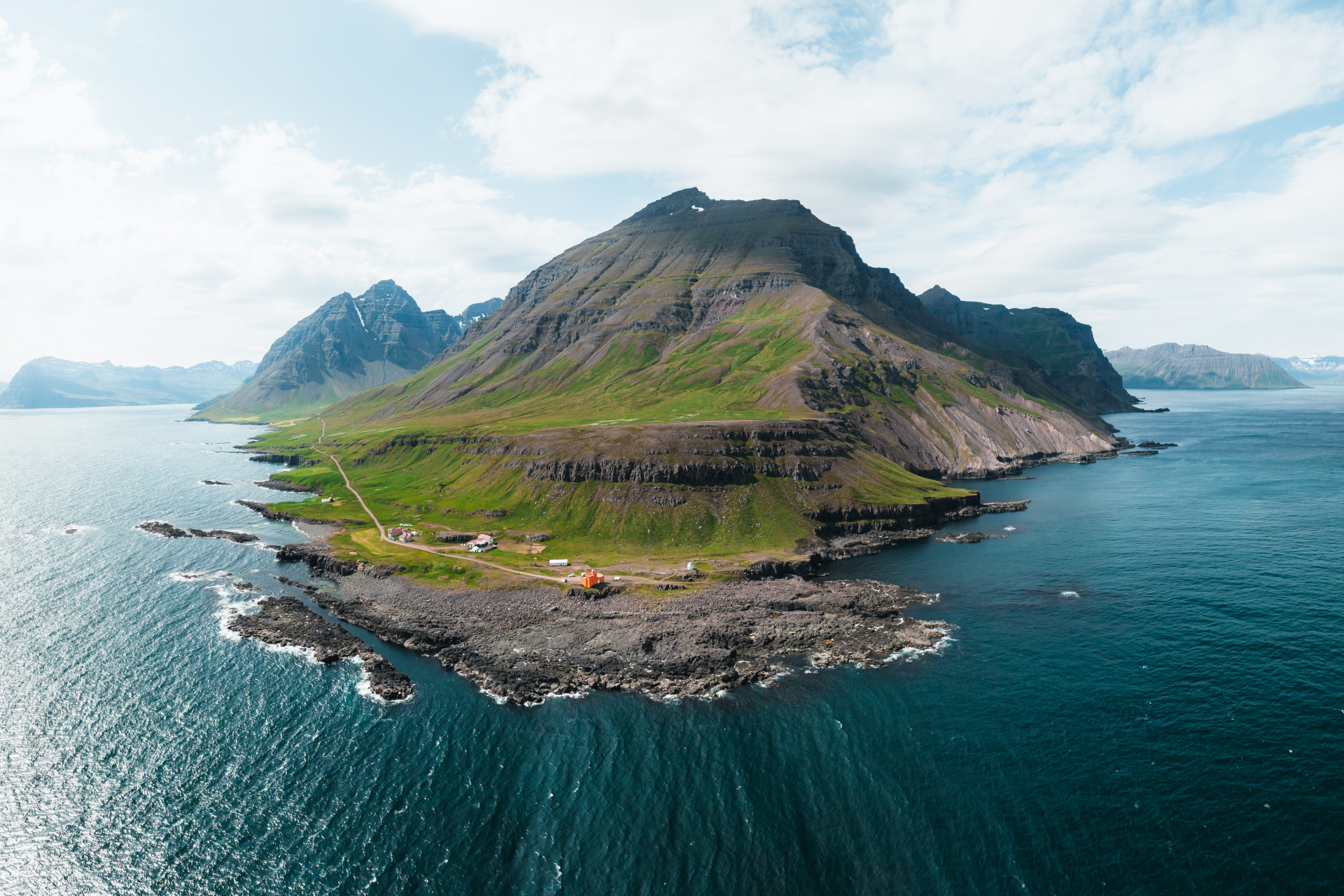 Dalatangi
After Mjóifjörður we went to the camping ground in Atlavík where we spent two days. What makes it pretty unique is that it's in the middle of a forest and right by a lake called Lagarfljót so you have a beautiful beach right by your camping spot. Since it's pretty much in the center of the Eastfjords it's also a good place to use as a base while you visit some other attractions.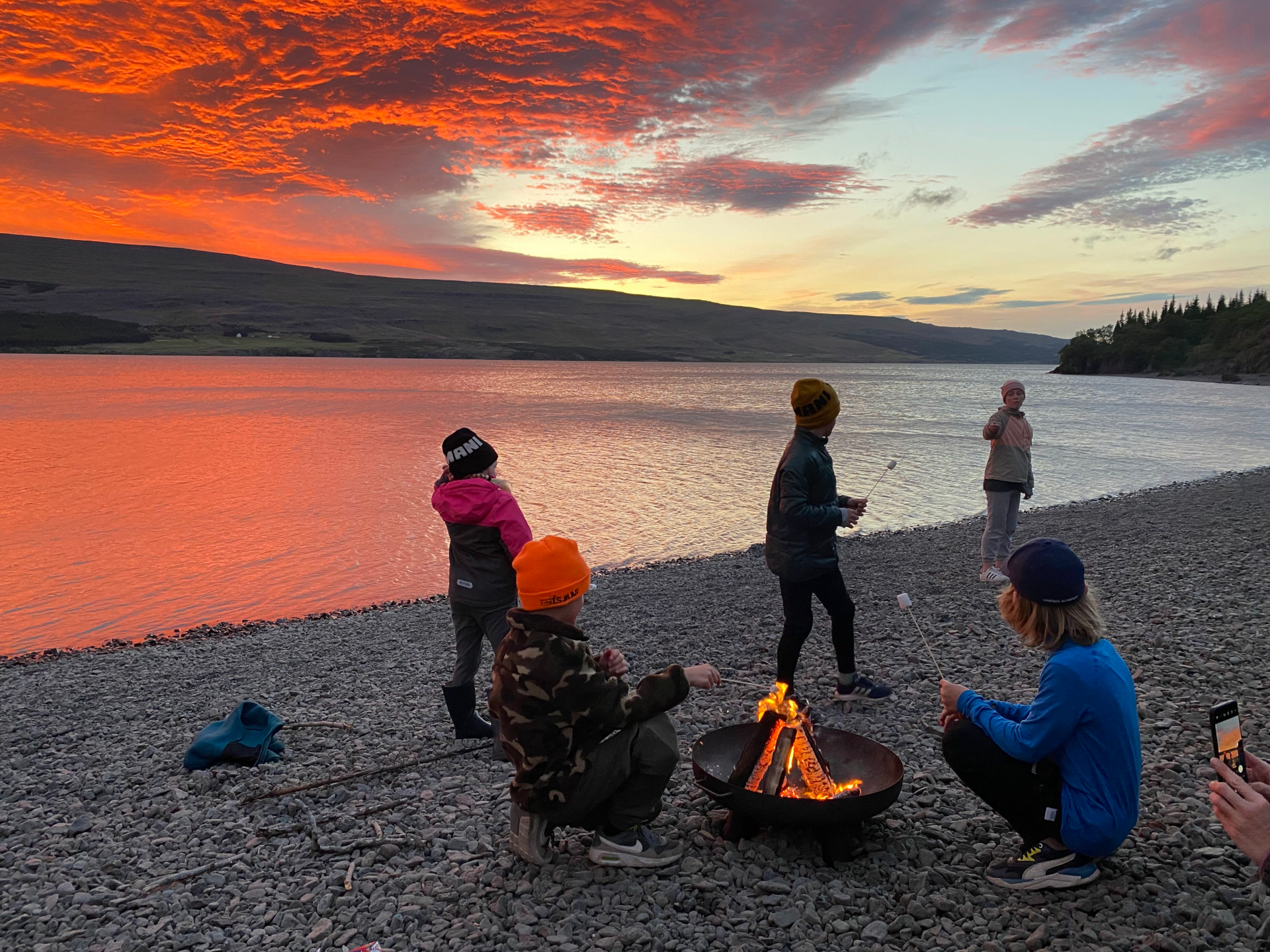 Grilling marshmallows in Atlavík
We started one day by going to an amazing natural hot spring called Laugavallalaug, had dinner at Askur and ended the day in Vök Baths which I'd always recommend visiting if you're in the east. Our final location of the trip was Borgarfjörður Eystri where we stayed at the fantastic guesthouse Blábjörg. Whether you like hiking, puffins, leisure, history or something else, I'd definitely put Borgarfjörður Eystri on your list when you start planning your Iceland trip.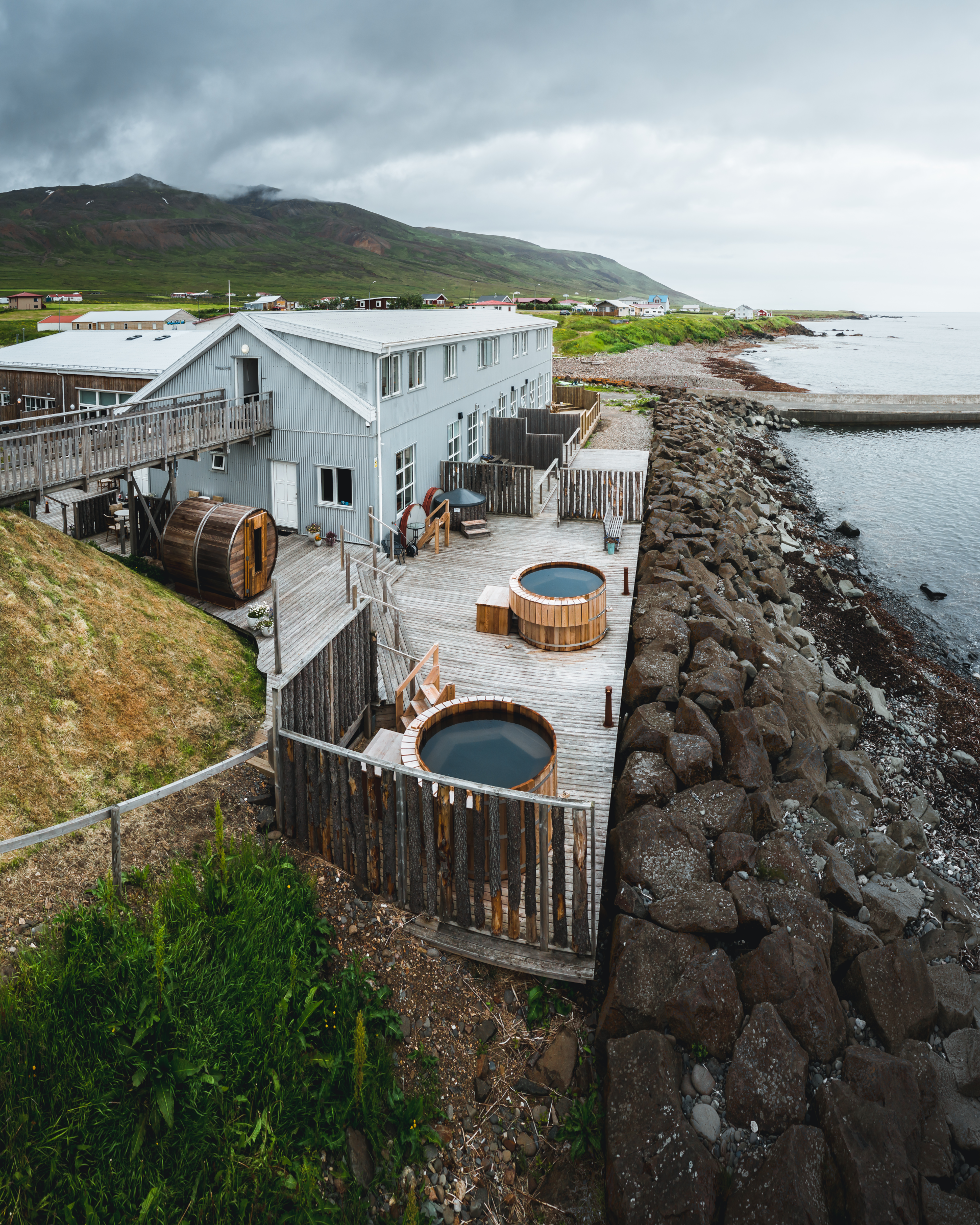 Blábjörg Guesthouse
A few tips & tricks for families traveling around Iceland
A few solid basics were covered in a previous blog so I'll add a few extra that we picked up during our recent trip in the Eastfjords.
Slow down: I know this is a challenge when traveling around Iceland. In a country with seemingly endless amazing locations we tend to want to see as many of them as we can. This can result in a lot of stress, long and frequent drives and tends to dampen the whole experience. I'd always recommend sacrificing 2-3 locations in return for a more relaxed trip. But as always, each to his own!
Give your little one/s a film camera: I might be a bit biased but this has become one of my favourite parts about traveling with the family and I'm always way more excited to see what my son has captured during our trips than myself. The camera doesn't have to be fancy at all and you can get them pretty cheap online. You could even go for disposable cameras to begin with.
Schedule your drives + random stops (tiny adventures): Making a general outline of your trip is always a good start to a family trip in Iceland. Listing the attractions you want to visit and the activities you want to do and then creating a general itinerary based on their locations. One of the things babies are ridiculously good at is screwing up plans. That's where the tiny adventures come into play. When you feel that it's time to park the car and blow a little steam, see if you can find a place nearby that offers a simple activity of some sort. Here's a few ideas: Find a beach where you can throw rocks into the ocean/lake and dip your toes in, do a short hike up to a random waterfall and have a sip from the stream (they're all over the Eastfjords) and picking berries (if it's the right season).
See the world through their eyes: Children are experiencing new things every day while we tend to focus on the bigger and more awe-inspiring attractions. It's a good practice to find things that might seem mundane to us but could be a highlight of the day for our children – get excited with them. Here's a few examples: Going behind a waterfall (maybe only mundane for Icelanders), playing with a local dog, drinking straight from a clean stream, getting their own flashlight/headlamp when it's dark or even just camping in the outdoors.
Snacks on snacks: Really doesn't need any explanation but crucial nontheless. Bring. A. Lot. Of. Snacks.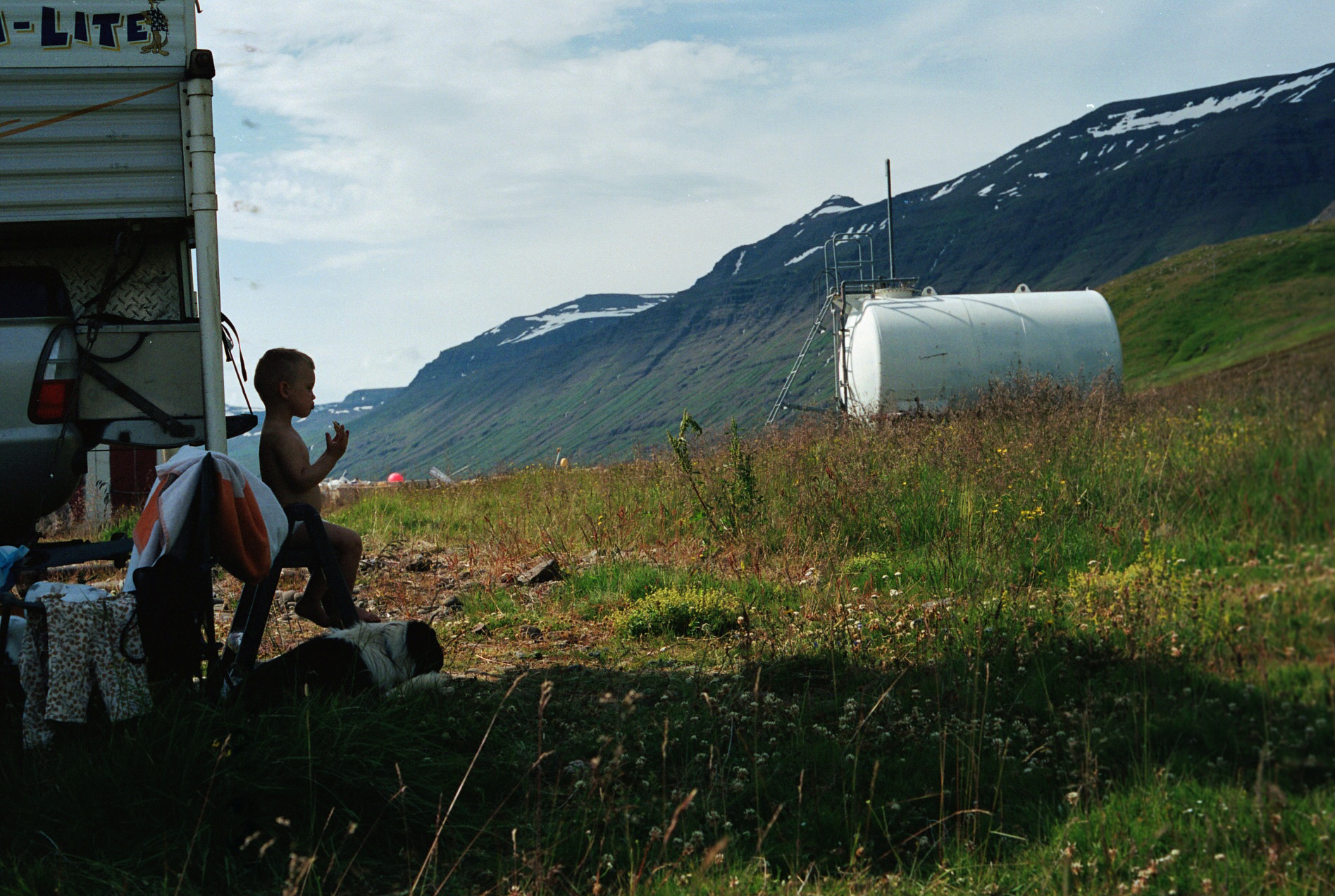 My son cooling of in a warm day in Mjóifjörður with Villi the dog by his side.
In my opinion, experiencing Iceland is best done at a slower pace opposed to frantically driving from one place to another. There are endless amazing locations and unless you'll be staying for a year or longer, you'll have to pick some and skip others. So I recommend you pick a few places, or a general area, and spend a few days exploring. I'd also like to encourage you to plan your trip according to what you're actually interested in – not just aiming for the most popular places just because they're popular. Take a few steps off the beaten path (mind the moss) and enjoy!
Author
Þráinn Kolbeinsson
Thrainn Kolbeinsson