Breweries in Austurland
East Iceland is home to a handful of breweries that make delicious craft beers from the country's pure water. Creativity is often on display, with beers that take inspiration from intriguing local ingredients (hello wasabi!), or perhaps are named for unique local features (from mountain peaks to hidden trolls). You can try Austurland's beers at these 3 fun, friendly breweries in unexpected locations, and look for them being served in local restaurants and bars.
Askur Taproom, a local brewery and bar in Egilsstaðir. Photo: Jessica Auer
Austri Brugghús, Egilsstaðir
Austri is a great little microbrewery in Egilsstaðir, creating beers named after Austurland landmarks: the India pale ale is named after Steinketill peak, the English bitter is called Slöttur, and so on.
Austri is also proud to use local produce: Its double IPA is named Skessa and is a taste sensation, infused from wasabi grown locally. Austri's collaboration with Vök Baths has produced 2 beers made from barley and lemon balm grown at Vallanes organic farm.
Where to try Austri beers
One of the best places to try Austri's creations is at Askur Taproom and Pizzeria in Egilsstaðir, a fun, relaxed place that shares its premises with the brewery itself. The taproom serves lots of interesting draft beer and is a local hangout for its board games, quiz nights and occasional live music.
Attached to the taproom is Askur Pizzeria, offering wood-fired pizzas - including a real Austurland flavor bomb, with a topping of wild goose meat and red onion jam.
Another great option is to head to Vök Baths and sample the 2 crafts beers Austri created for the geothermal pools and bistro, using pure hot water from lake Urriðavatn (the lake is also the source of the hot water filling the pools).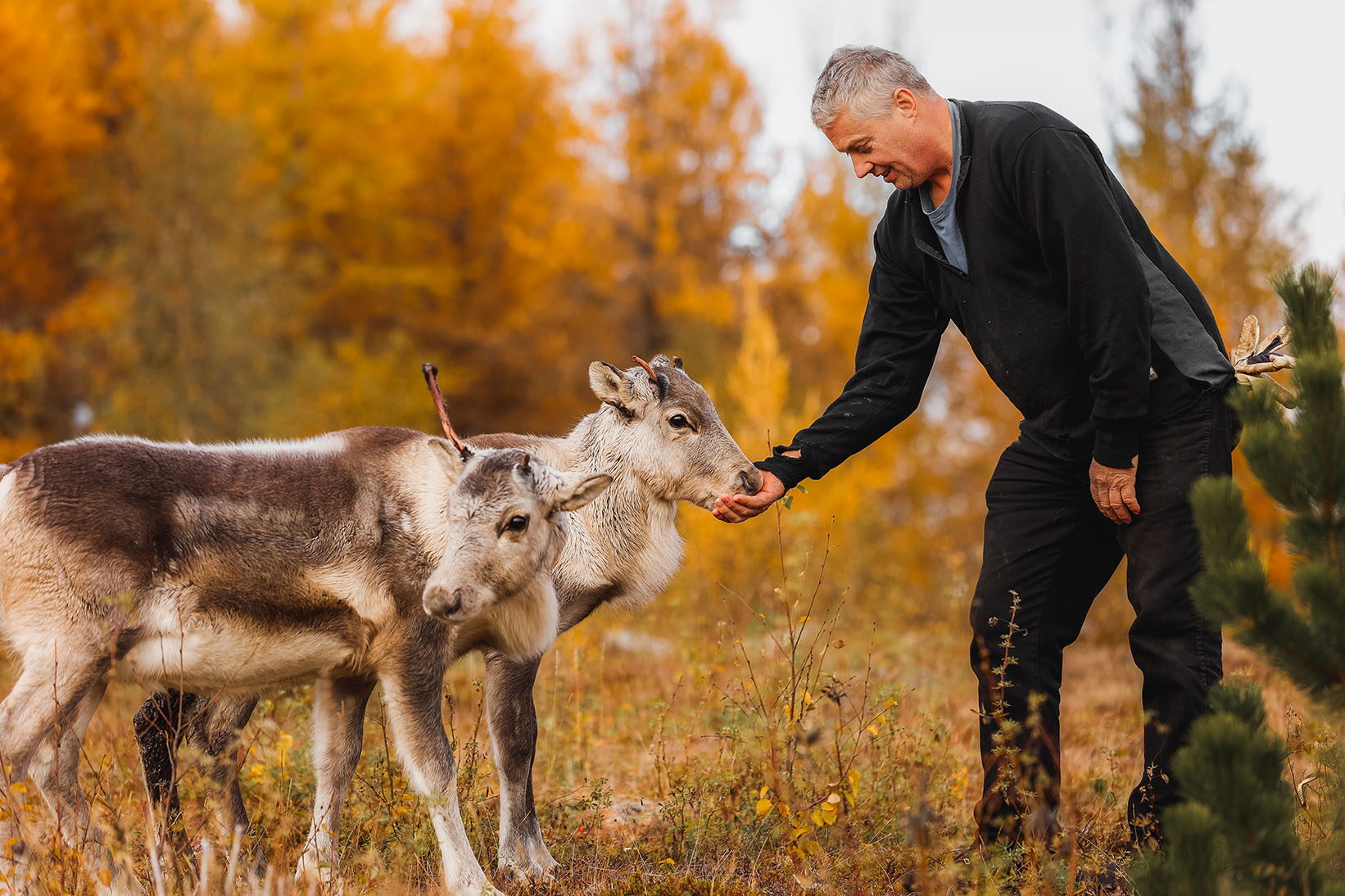 Garpur and Mosi live at the reindeer park located at Vínland guesthouse. Photo: Fannar Magnússon, @fannarmagg
What to see in the area
If you're visiting Egilsstaðir, there are plenty of things to check out. Visit Egilsstaðir has lots of information.
Fardagafoss: Take a hike to this beautiful waterfall, just out of town on the way to Seyðisfjörður. It's a light walk of about 1.5 hours.
Vínland Guesthouse: Stop by Vínland and its scenic property to visit Mosi and Garpur, reindeer that were rescued and raised here.
The Ring of Riverdale: Go road-tripping around Lagarfljót lake and stop at all the many highlights, from cake buffets to forest walks and spectacular waterfalls.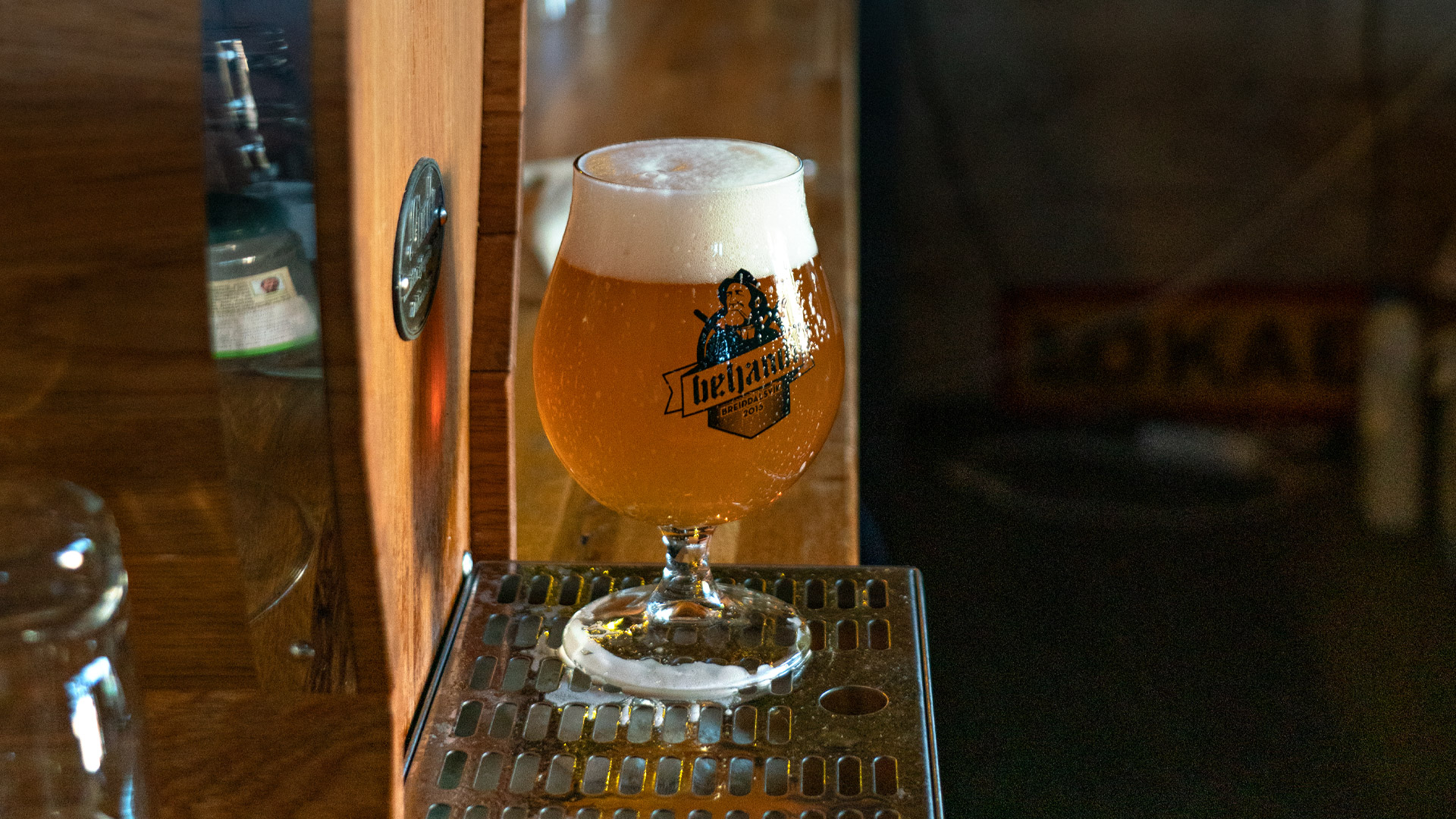 Beljandi brewery is located in the tiny town of Breiðdalsvík. Photo: Páll Guðmundur Ásgeirsson.
Beljandi Brugghús, Breiðdalsvík
A town with a population of only around 140, with its own brewery? Of course! Beljandi brewery is named after a pretty waterfall found in the Breiðdalur valley close to Breiðdalsvík town.
In its large friendly headquarters, there are usually 5 Beljandi brews available on tap (from the signature pale ale to porter and brown ale), together with other Icelandic beers and snacks. Live music, a big screen for events, and a general convivial vibe bring in curious road-trippers!
Where to try Beljandi beers
You can look for them in Vinbúðin (alcohol stores) in Iceland and in some bars and restaurants in Austurland. The best option is to stop in Breiðalsvík for a flight of beers at the brewery itself.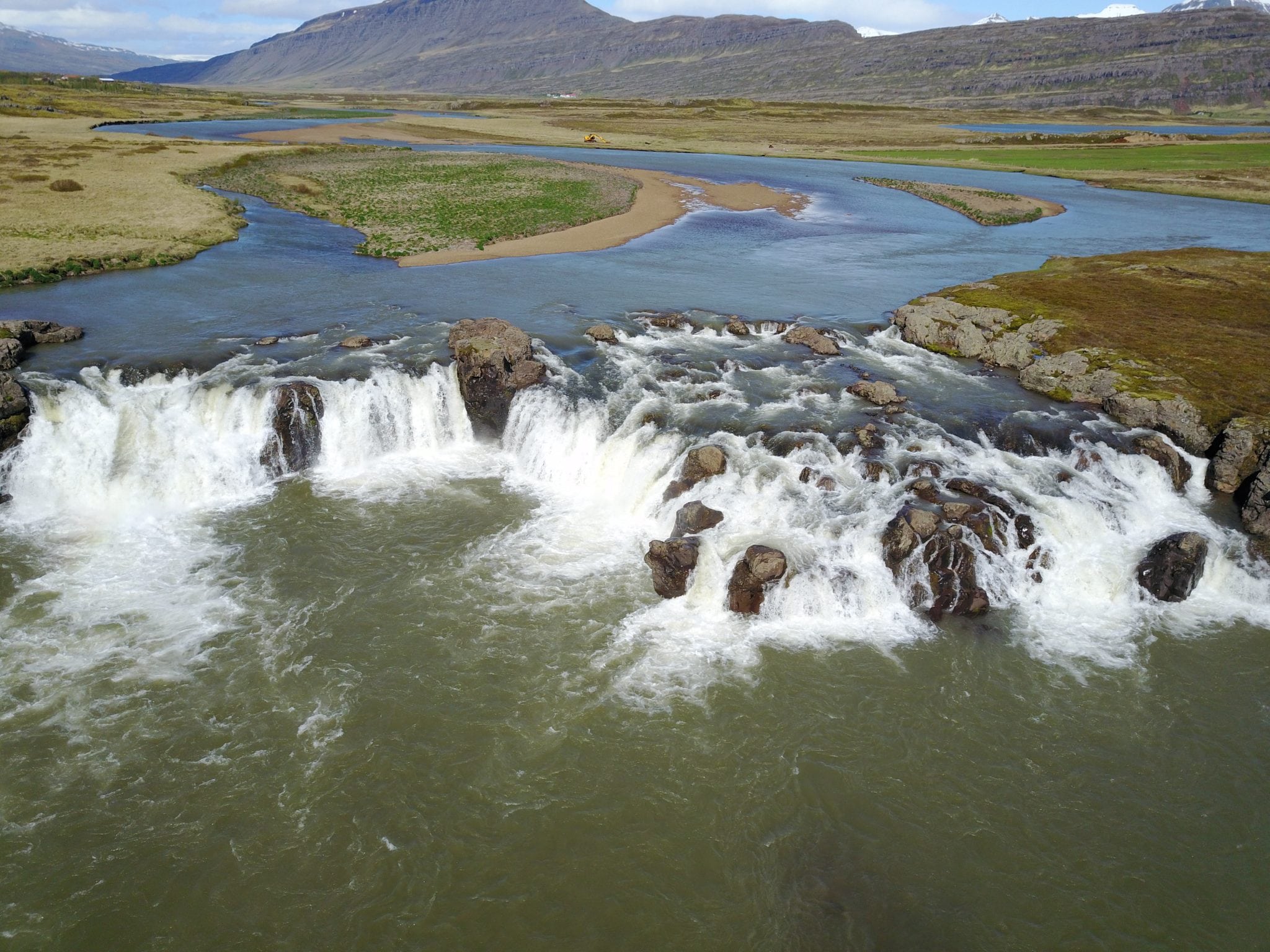 Beljandi waterfall. Photo: Páll Guðmundur Ásgeirsson.
What to see in the area
Well, it's perfect to visit the waterfall that inspired the brewery's name! Breiðdalur is a beautiful valley well worth exploring. The website Breiðdalsvík has good information on local highlights, and local family-operated company Tinna Adventure can help you explore the stunning surrounds.
Flögufoss: Another waterfall in Breiðdalur, this tall cascade has a dramatic backdrop.
Kaupfjelagíð: Stop for a look (and maybe a coffee and cake) at the old general store in Breiðdalsvík – it's like taking a trip back in time.
Factory Car Museum: Another unexpected find, this is a new museum in town, showcasing 20 cars of various types, spanning from 1936 to 2004.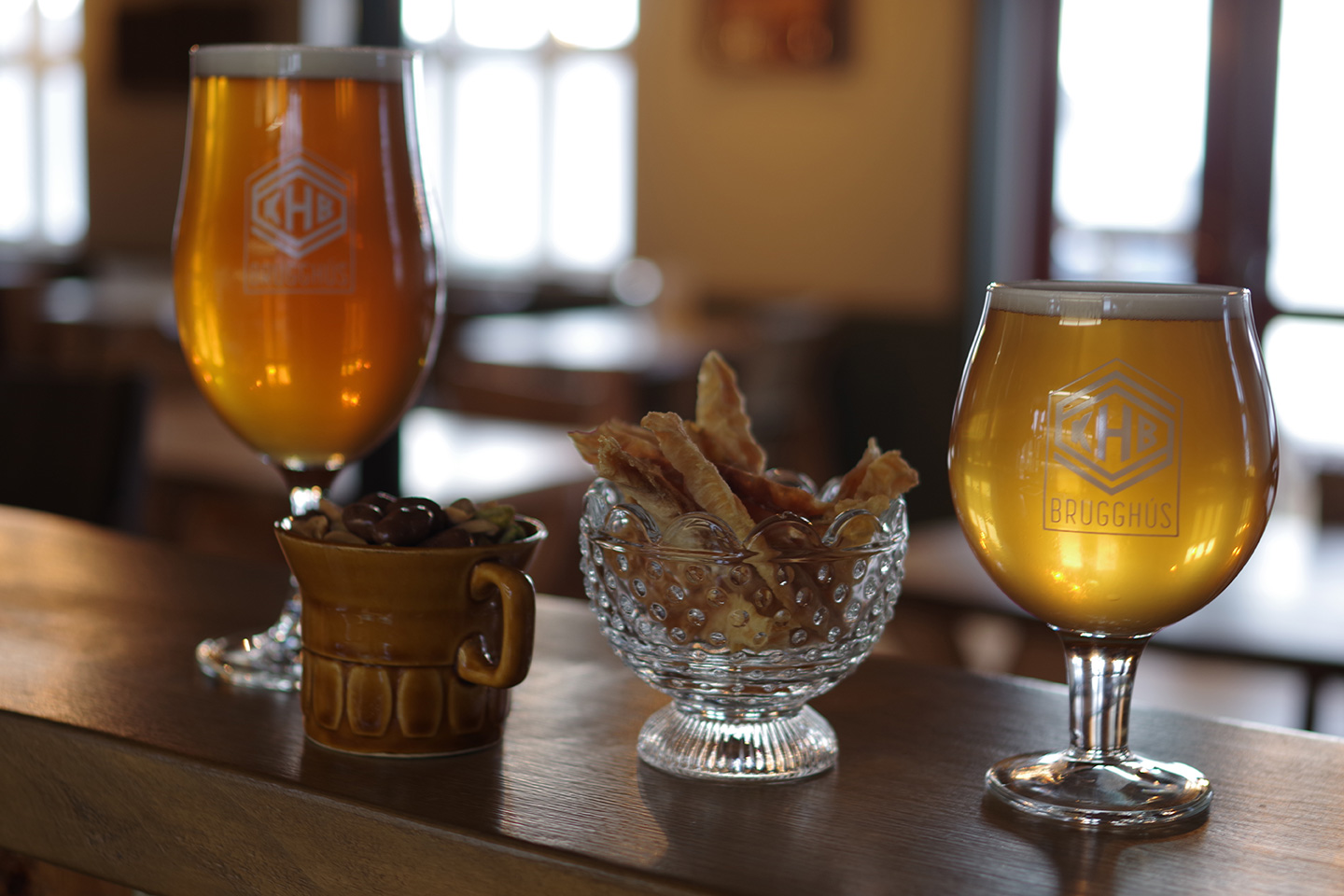 KHB brewery in Borgarfjörður eystri. Photo: Austen Sheen.
KHB Brugghús, Borgarfjörður eystri
If you thought Breiðalsvík was small, what about Borgarfjörður eystri? It's got just 90 inhabitants, and a new craft brewery and distillery concocting beer, small-batch gin and landi (Icelandic moonshine), with ciders soon to be added to the impressive selection.
The beers are brewed according to Czech traditions, and are named for local elf and ghost stories – Borghildur is a pilsner named for the Queen of the Elves, who resides in Borgarfjörður eystri. Naddi is an amber lager named after the monster that ambushed travelers on the road to the fjord, according to legend.
Where to try KHB beers and gin
The very best spot for visiting and learning about the company and its products is KHB Brugghús & Bar, newly opened in Borgarfjörður eystri.
You'll also find KHB products in a handful of Austurland restaurants and bars, including Bistro Skaftfell in Seyðisfjörður and Nielsen Restaurant in Egilsstaðir.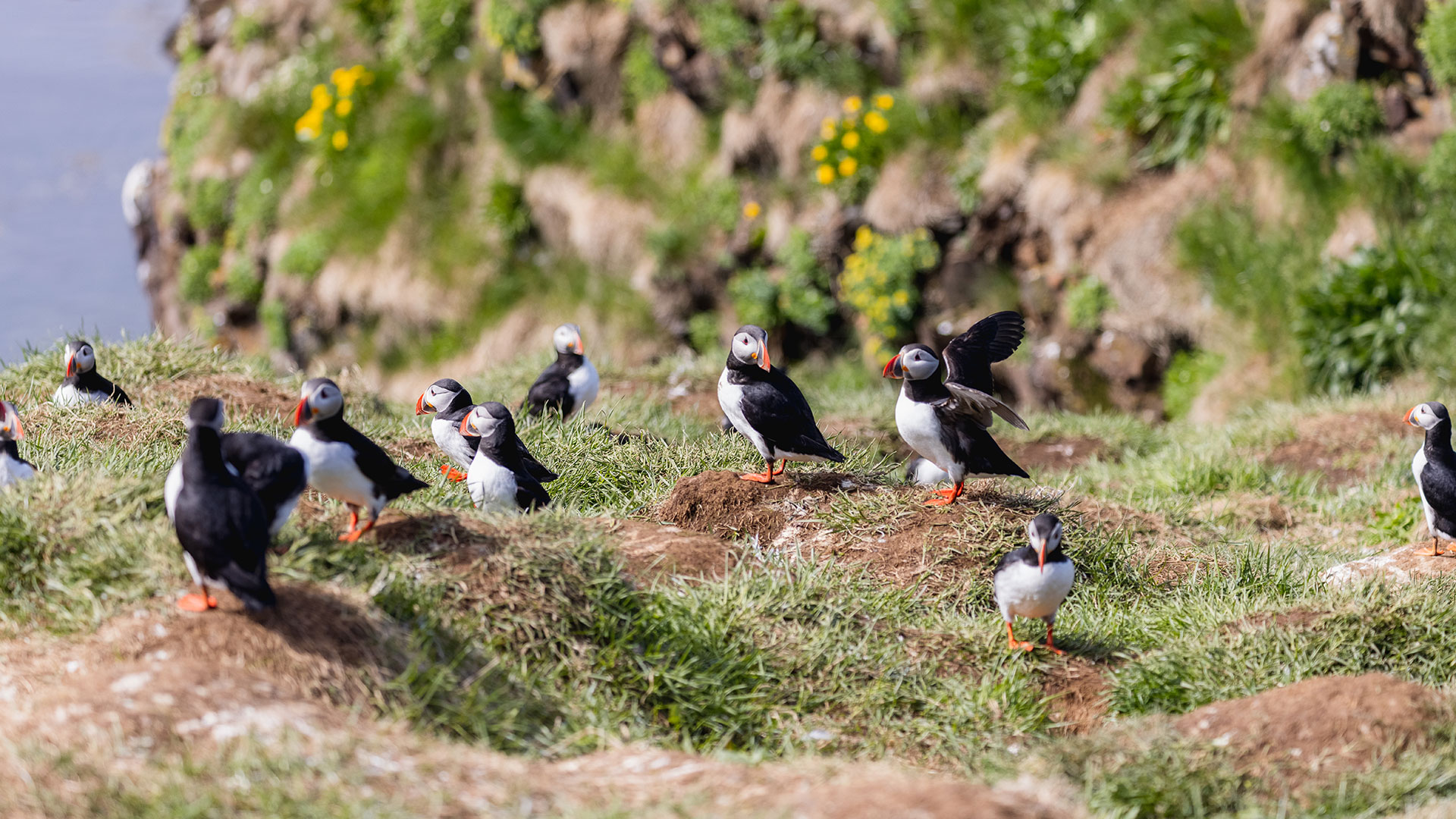 Hafnarhólmi in Borgarfjörður eystri is the perfect place to visit puffins. Photo: Gunnar Freyr Gunnarsson, @icelandic_explorer
What to see in the area
Borgarfjörður eystri is the puffin capital of Iceland. This is the perfect place to get up close to Iceland's favorite feathered visitors, at their nesting ground close to town.
The area is also home to superb hiking opportunities, for all skill levels. For more outdoor adventure, there's also good kayaking and mountain biking, and a superb spa with a view.
For a town of its size, there's plenty of good food and entertainment, especially in the summer months. The website Borgarfjörður eystri is a great resource.
Did you know?
Beer was illegal in Iceland for 74 years! It became legal again on March 1, 1989 – a date now celebrated annually in Iceland as Bjórdagurinn, or Beer Day. The beer ban is a curiosity for many visitors. In 1915, alcohol became illegal – a measure introduced because it was thought to prevent young people from starting to drink. Though certain alcoholic beverages were legalized not long after prohibition was introduced (wine in 1922, and spirits in the 1930s), the beer ban lasted for 74 years.
There's now a booming number of craft breweries around the country: check out the online map detailing their locations, produced by the Independent Craft Brewers of Iceland.
Icelandic breweries love producing seasonal brews at Christmas (jólabjór, or Christmas beer) and Easter (páskabjór), and the local beer connoisseurs love tasting them! Many also now produce summer brews, and midwinter beers for the Old Norse month of Þorri.