Fall highlights in Austurland
Time to show off our fall colors! September and October are great months to visit Austurland: temperatures are generally mild (for Iceland!), daylight hours are 'normal', and when conditions are right, the northern lights begin to appear.
Keep a watchful eye out for the aurora and stay updated on the aurora forecast while journeying through the area. Photo: Dušky Merčák @slovakian_dreamer, Eastfjords Adventures.
For many Icelanders, there's a slight air of bittersweet that comes with the month of August.
Landscapes are looking gorgeously green, but we farewell two big signifiers of summer: The midnight sun ends and the nights get longer, and the puffins depart their summer nesting grounds. As the weeks progress, school starts again for another year and it's back to normal routine.
Before you get too down about farewelling the summer, we're here to remind you that there's a lot to be excited about. It's time to start looking forward to the cooler months in Austurland – and on the way to the aurora-filled skies and snowy slopes of winter, let's savor the best of fall.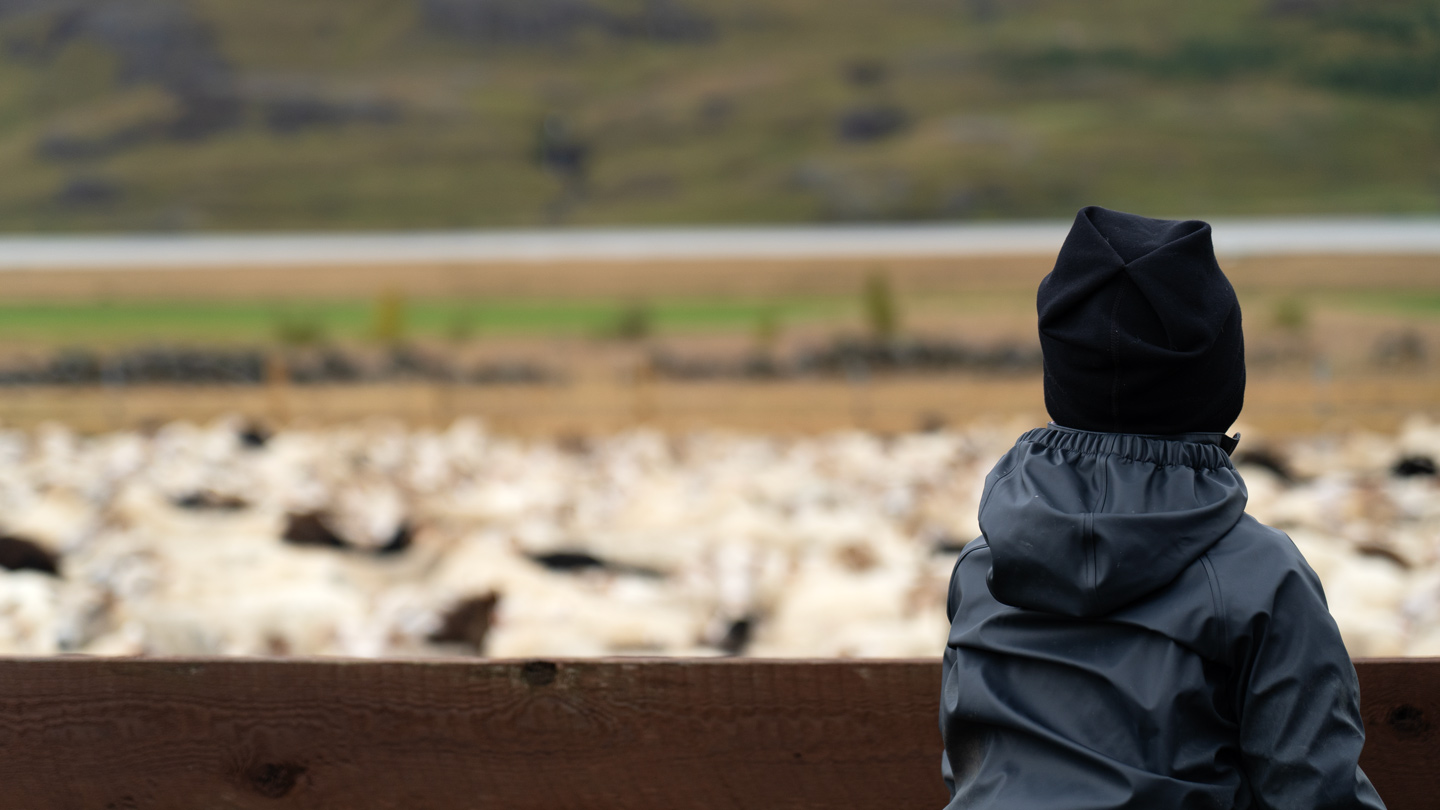 From réttir in Fljótsdalur. Photo. Sigrún Júnía
Weather tips
Traveling Austurland in fall might mean viewing the first northern lights of the season, and maybe experiencing the first snowfall. On certain days in September there's the opportunity to witness the rural Icelandic tradition of réttir, when local farmers round up their sheep after the summer spent roaming in the hillsides.
A good way to describe Iceland's spring weather is 'changeable'! You'll no doubt experience sunshine, but probably some rain too. We've got weather advice plus recommendations for what to pack: check out September and October for what's in store.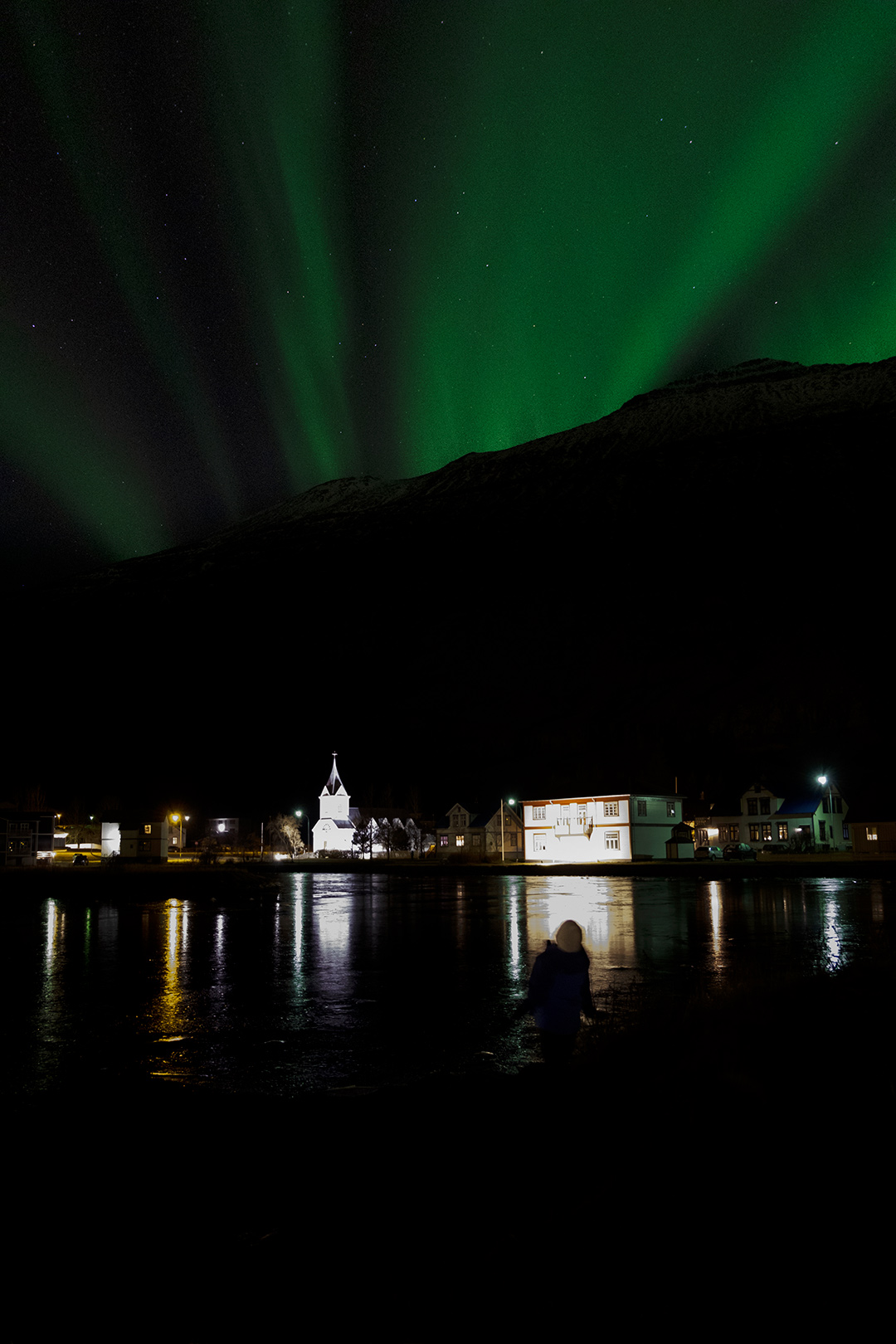 Dancing Aurora over the blue church in Seyðisfjörður. Photo. Ingvi Örn
Hello aurora!
The highlight of the changing season: the return of the magical northern lights!
You need dark, clear skies to view the northern lights. The season begins in earnest in September (although under the right conditions, the lights can be seen from mid-August) and continues until April.
Some studies show that Iceland's aurora are often most active around the time of the equinoxes, when the sun is directly above the Earth's equator and day and night are about the same length. The fall equinox generally falls around September 23.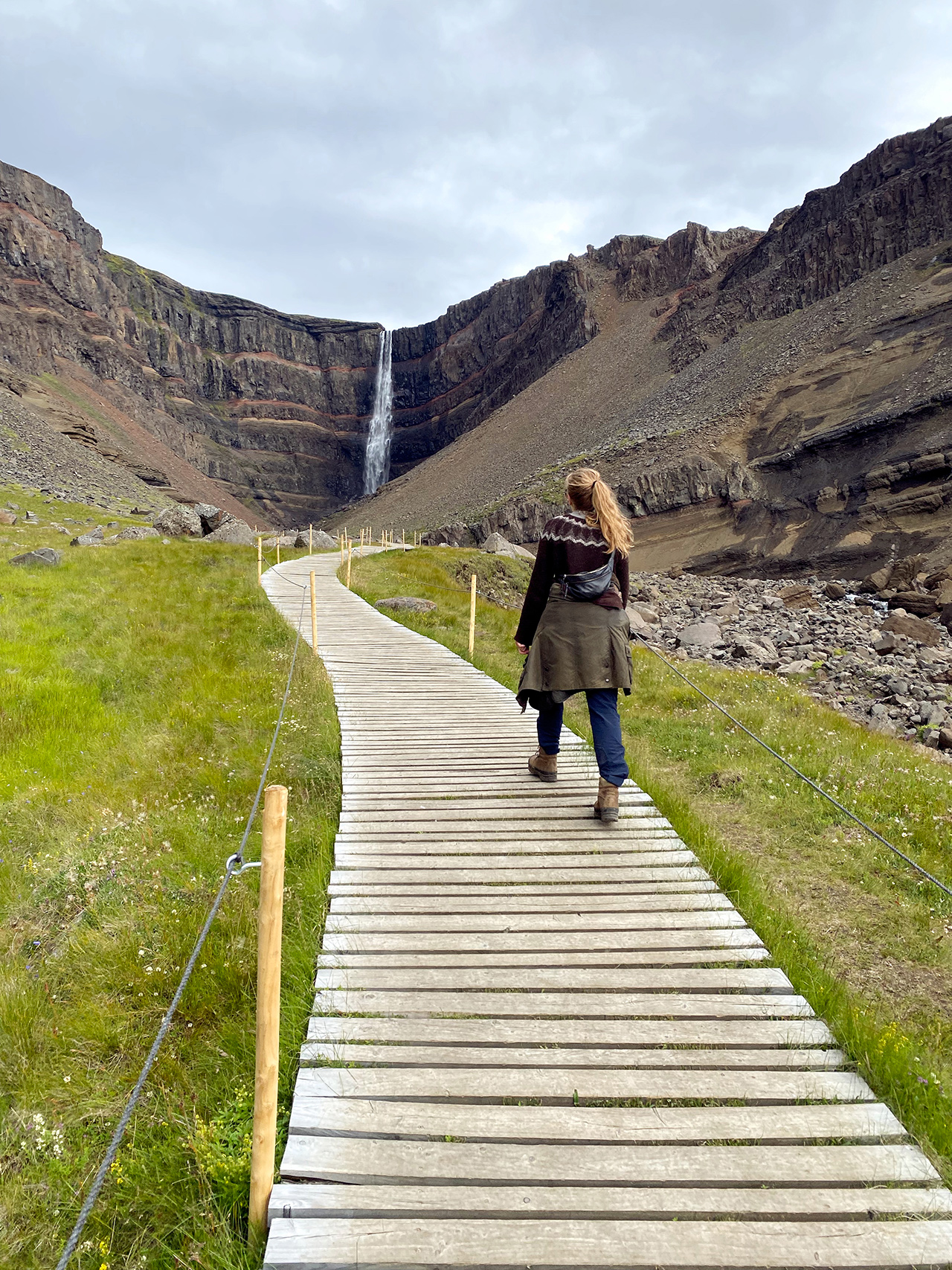 We reccomend a hike to Hengifoss waterfall in Fljótsdalur. Photo: Ingvi Örn

Hiking trails
There's no longer 24-hour daylight in Iceland, but that doesn't mean the sunshine has ended. For many visitors (and locals), the return of darker nights means getting a better night's sleep! If you're feeling better rested, feel free to use your extra energy on some of our beautiful walking and hiking trails.
One of our favorite places to explore as the foliage turns gold and orange is Hallormsstaðaskógur, Iceland's largest forest, set in a beautiful lakeside location. The forest is full of family-friendly walking trails, and cycling tracks too. This is a great place to indulge in some favorite fall pastimes: berry picking and mushroom collecting.
Hengifoss waterfall is always a favorite hiking spot thanks to its immense height and colorful surrounding canyon. The water and basalt columns of Stuðlagil canyon are stunning no matter the weather.
You can tackle longer trails, too. Late summer and early fall are perfect for a day hike to Stórurð, the oasis of meadows, ponds and giant boulders that sits below the jagged peaks of the Dyrfjöll mountains. It's accessed on the way to Borgarfjörður eystri – and while the puffins are no longer visiting the area, there are plenty of other things to keep you busy, from mountain-biking trails to spas and craft brews.
The 8km (5-mile) Waterfall Circle that sets off from Laugarfell in the highlands is beautiful in early fall – plus there's the enticement of soaking in a hot pool afterwards. Laugarfell's guesthouse is open until end of September.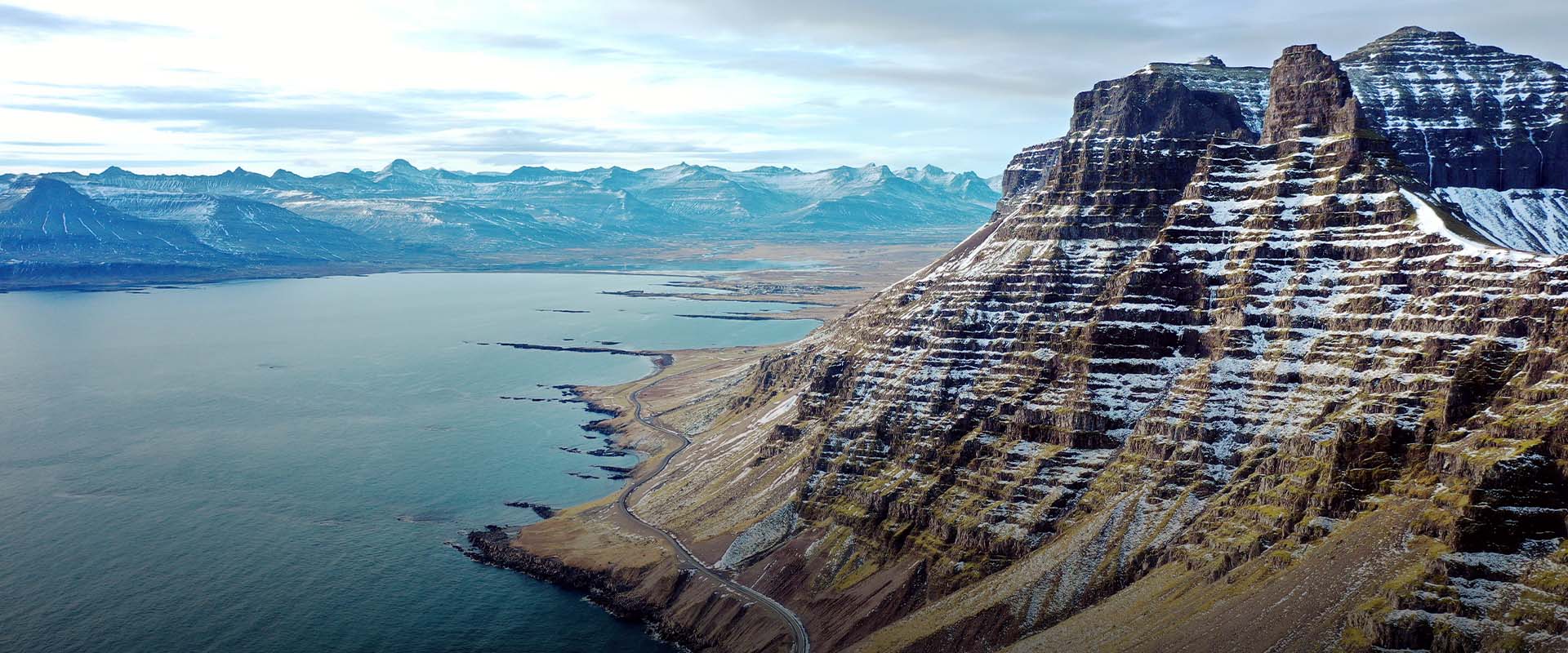 After the summer season, autumn months are less busy for tourism in Iceland, which means fewer people on the roads. Photo: Páll Guðmundur Ásgeirsson
Road trips
Take a day (or because we love slow travel, a week) to explore some of Austurland's highlights. We'd love to provide you with travel routes and season-specific recommendations, helping you explore everything from lake shores to remote fjords. In fact, you might like to take the scenic route to check out the natural splendor of Mjóifjörður before the winter closure of the only access road.

Usually, the Highland Circle route is open and accessible for most of September, possibly into early October, and places like Snæfell mountain area are still accessible in a 4x4 vehicle.
In fall the Highland Circle can be adapted and combined with the excellent, year-round Ring of Riverdale route. Circumnavigating Lagarfljót lake gives you the chance to stop and explore countless gems along the way, and it's one of the best drives in Iceland to enjoy fall's changing colors, thanks to the forested wonderland of Hallormsstaðaskógur.
In these in-between months, it pays to check road conditions and road closures before setting off for your day of exploring. The website road.is is a great resource, especially when storms or snowfall are predicted. Check out vedur.is for all you need to know about weather conditions.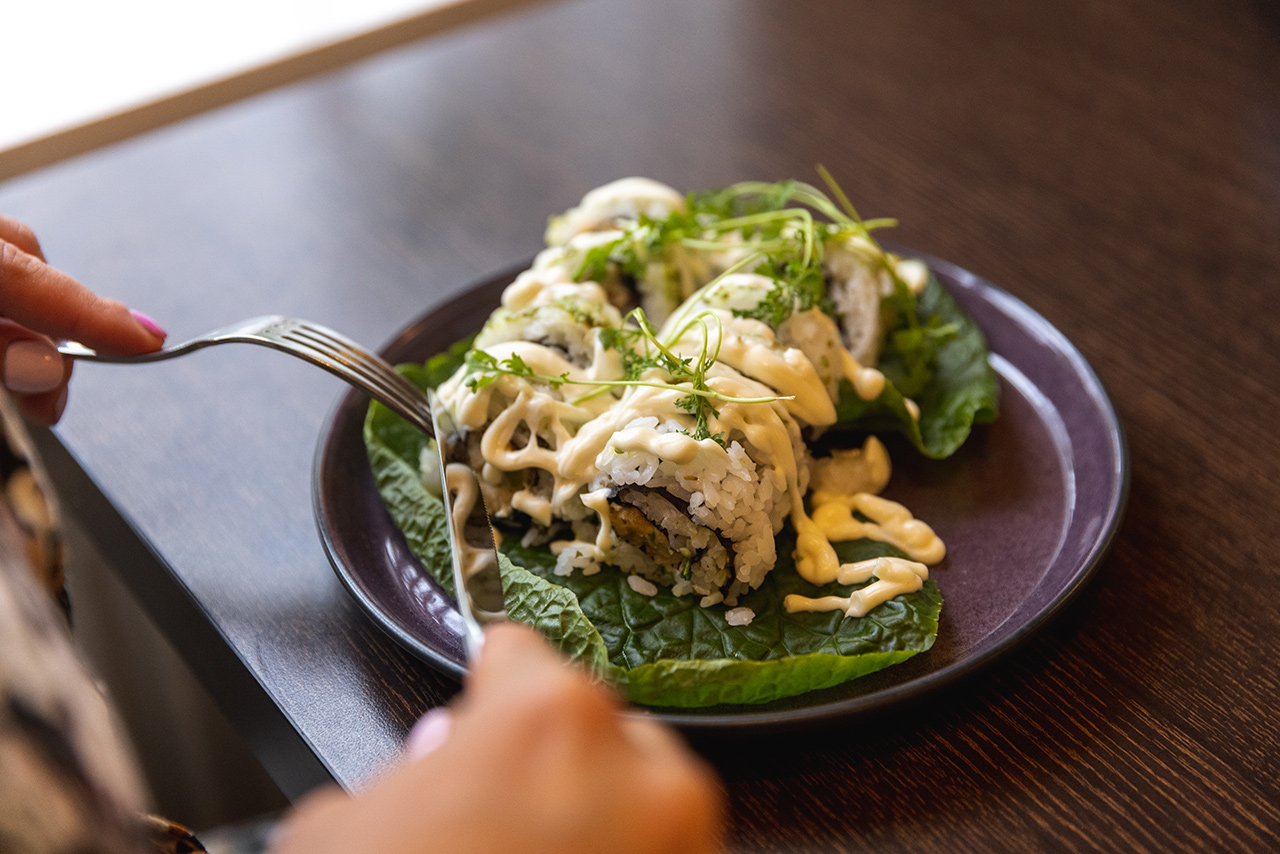 There is plenty of restaurants to choose from in the region. Photo: Gunnar Freyr Gunnarsson.
Food and foraging
If food is one of the things you love about travel, you've come to the right place! Austurland is full of delicious local produce, from cake buffets to fresh fish. On your travels you can enjoy super-fresh sushi, farm-reared lamb and beef, wild game, organic vegetables, and so much more.
Follow the lead of the locals and keep your eyes to the ground as you walk around the countryside in late August and September: berries are mushrooms are in season. If you're in the mood to pick your own bilberries and brambles, read Visit Iceland's super-helpful tips for berry picking.
Local restaurants will treat you to seasonal flavors fresh from the autumn harvest period. For a gourmet experience, book a table somewhere like Nielsen or Eldhúsið, both in Egilsstaðir. For more casual fare, you can't beat the array of tastes at Klausturkaffi, the buffet restaurant at Skriðuklaustur cultural center. Fjallakaffi (the 'Mountain Café') is another great place to savor local flavors, and Móðir Jörð, the café at Vallanes organic farm, is another pearl.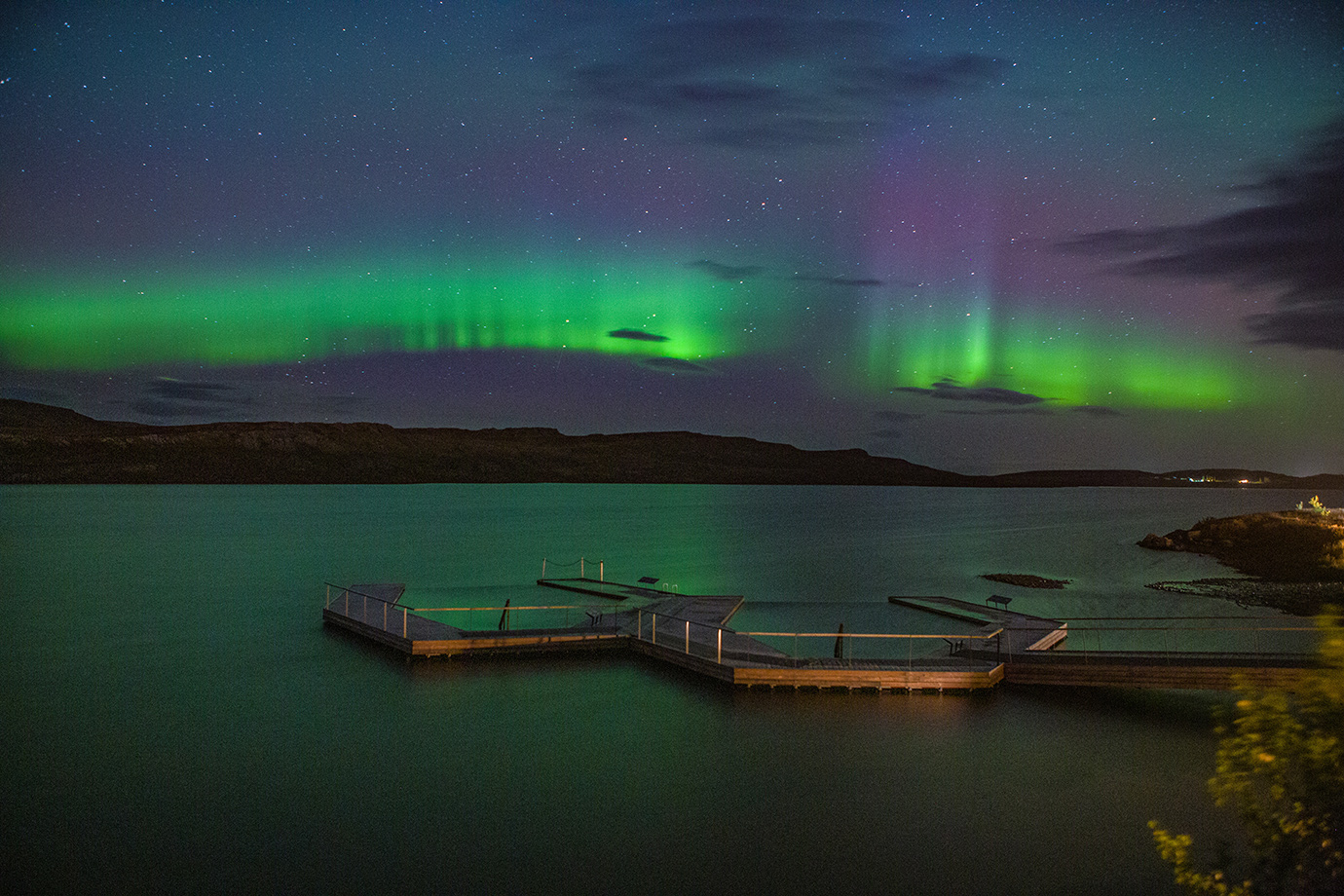 Vök baths. Photo: Vök baths
Timeless appeal
No matter the season, Austurland's favorites beckon. Any time is a good time to soak in warm geothermal pools and explore the local communities of the region, where you're guaranteed a warm welcome.
We look forward to seeing you!
Words: Carolyn Bain