Exploring The Ring of Riverdale with the entire family
A blog post by Gunnar Freyr, Icelandic Explorer about his family trip, the Ring of Riverdale.
---
My name is Gunnar Freyr and I'm a photographer known as Icelandic Explorer. Together with my wife Kasia Lifehobbyist, we have three little boys under the age of 5, and love to travel to new places in Iceland.
The Family
For most families, the thought of heading out on an adventurous road-trip with three little kids can seem like a stressful and daunting exercise. Luckily, Iceland – and in particular East Iceland - is one of the most family friendly places to explore. I have to be honest, it can be tough at times to travel with kids, but so can being at home. Our three kids, Markus 4 years old and the twins: Simon and Jakob almost 1 year old, all seem to thrive on the road however. There's nothing like wide open spaces and fresh air to restore sanity!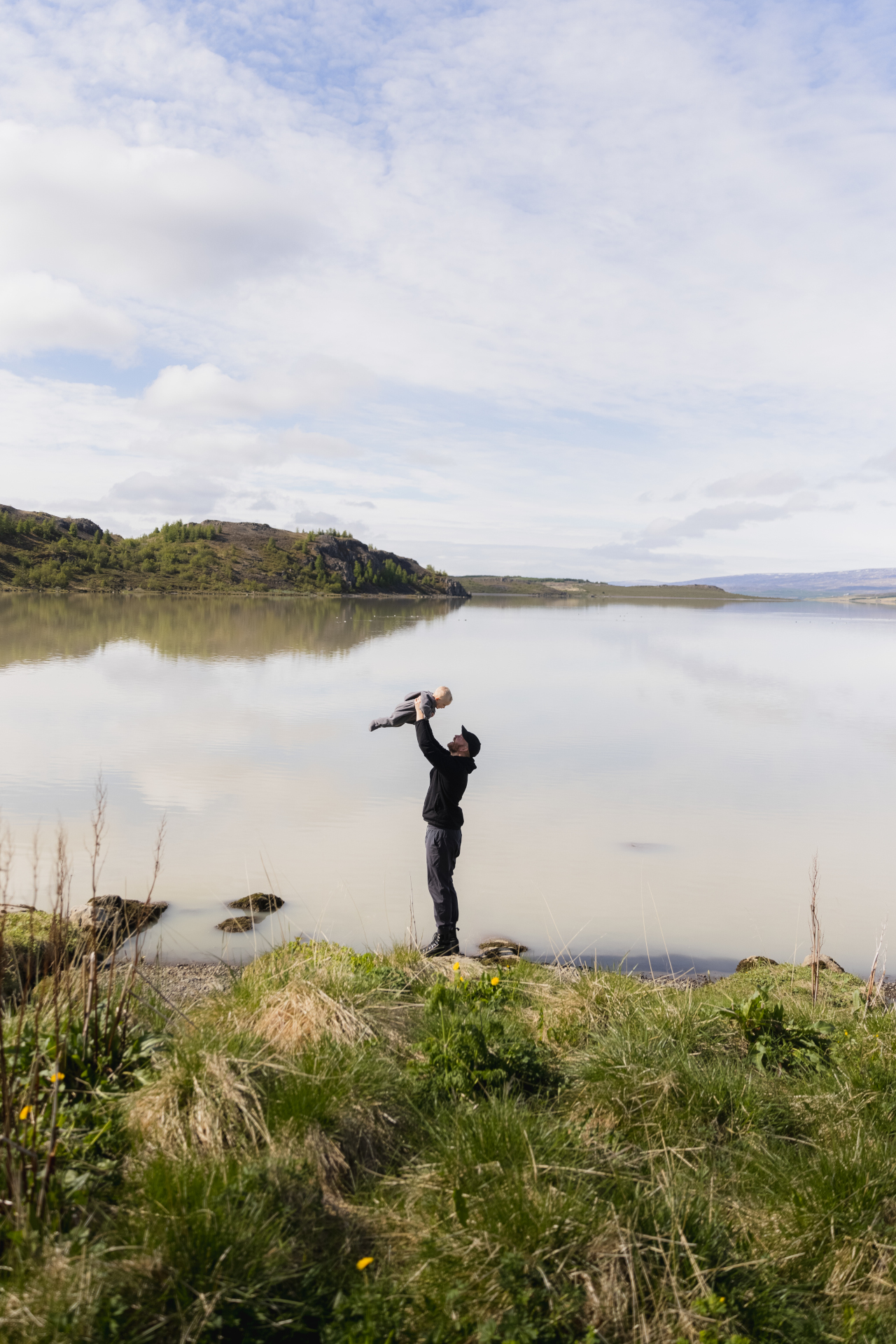 Father and son

We recently travelled to East Iceland to explore what is called Fljótsdalshringurinn, also known as the Ring of Riverdale. It easily lives up to it's fairy-tale name and here you'll find Iceland's largest forest called Hallormsstaðaskógur as well as many other magical sights, not to mention the mystical creature called Lagarfljóts Ormurinn – the worm of Lagarfljót. It's Iceland's version of the Loch Ness Monster. Having a fantasy theme like that on the trip really fuels the adventure for little explorers.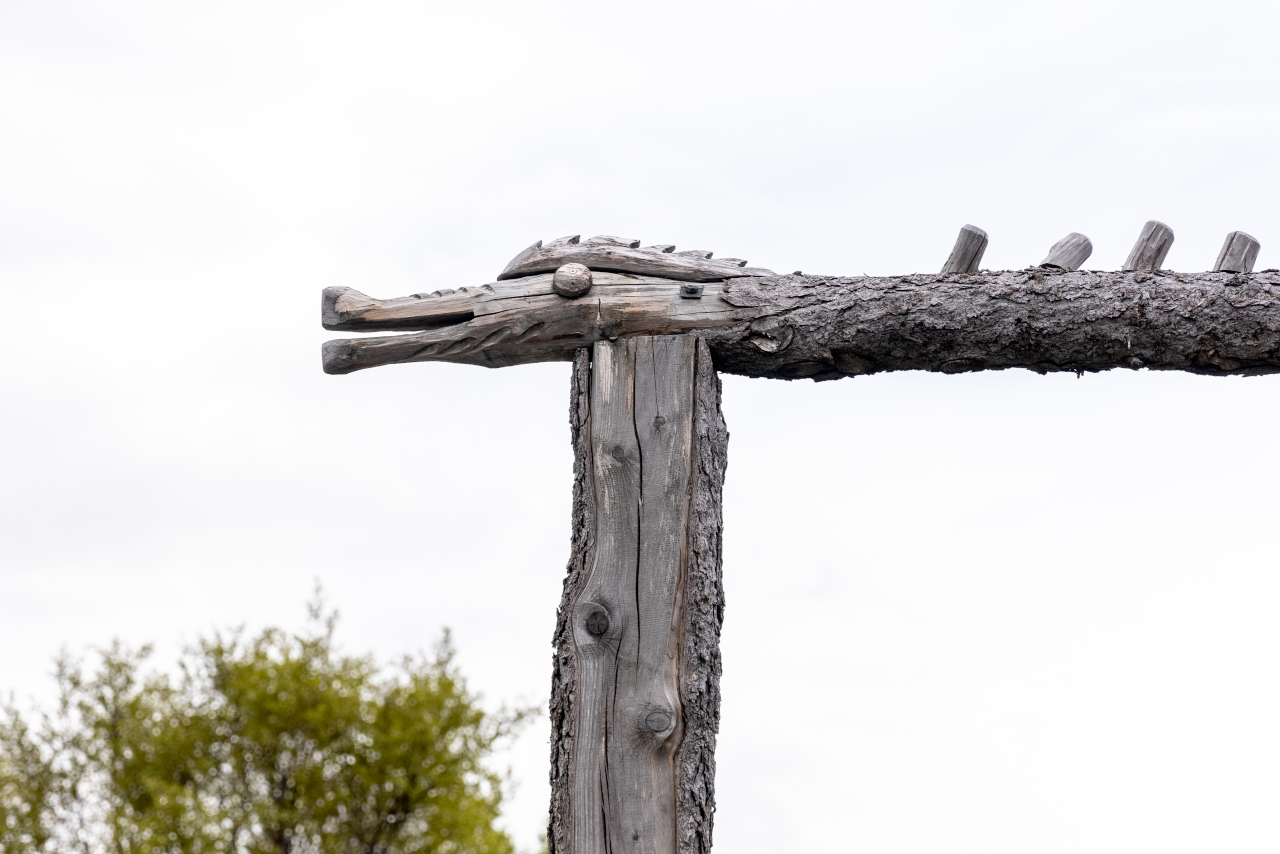 Ormurinn in Vallanes
In this post, I will share some of the things we experienced, as well as provide a possible itinerary that you can follow when traveling around the area.
But first a few tips and tricks we've learned along the way from traveling with young three children:
*Get a big car! You're going to be spending a lot of time on the road and it's important to have a lot of space for gear, luggage and all the car seats. The ease of getting in and out of the car multiple times is also something very important. The more space and flexibility you have, the better everyone will feel about the distances and stops. Something like the Toyota Land Cruiser or Land Rover Discovery are perfect options for cars that are both family friendly and capable in various conditions.
*Consider staying minimum 2 nights at one accommodation when possible to reduce the need of packing and maximise the amount of time to enjoy what´s around.
*Use a baby carrier for the little ones – this just makes your life so much easier and enables to walk through beautiful forests in the area with ease.
*Have a foldable and light weight stroller to enable your little ones to take their naps in the clean fresh air of East Iceland. That's how all the locals do it!
*Consider domestic flights. Domestic flights are extremely convenient in Iceland and relatively inexpensive. Most importantly, they save a lot of time when traveling to the remote corners of Iceland. East Iceland easily justifies a trip to Iceland in itself, so taking the flight straight to the East is definitely worth considering.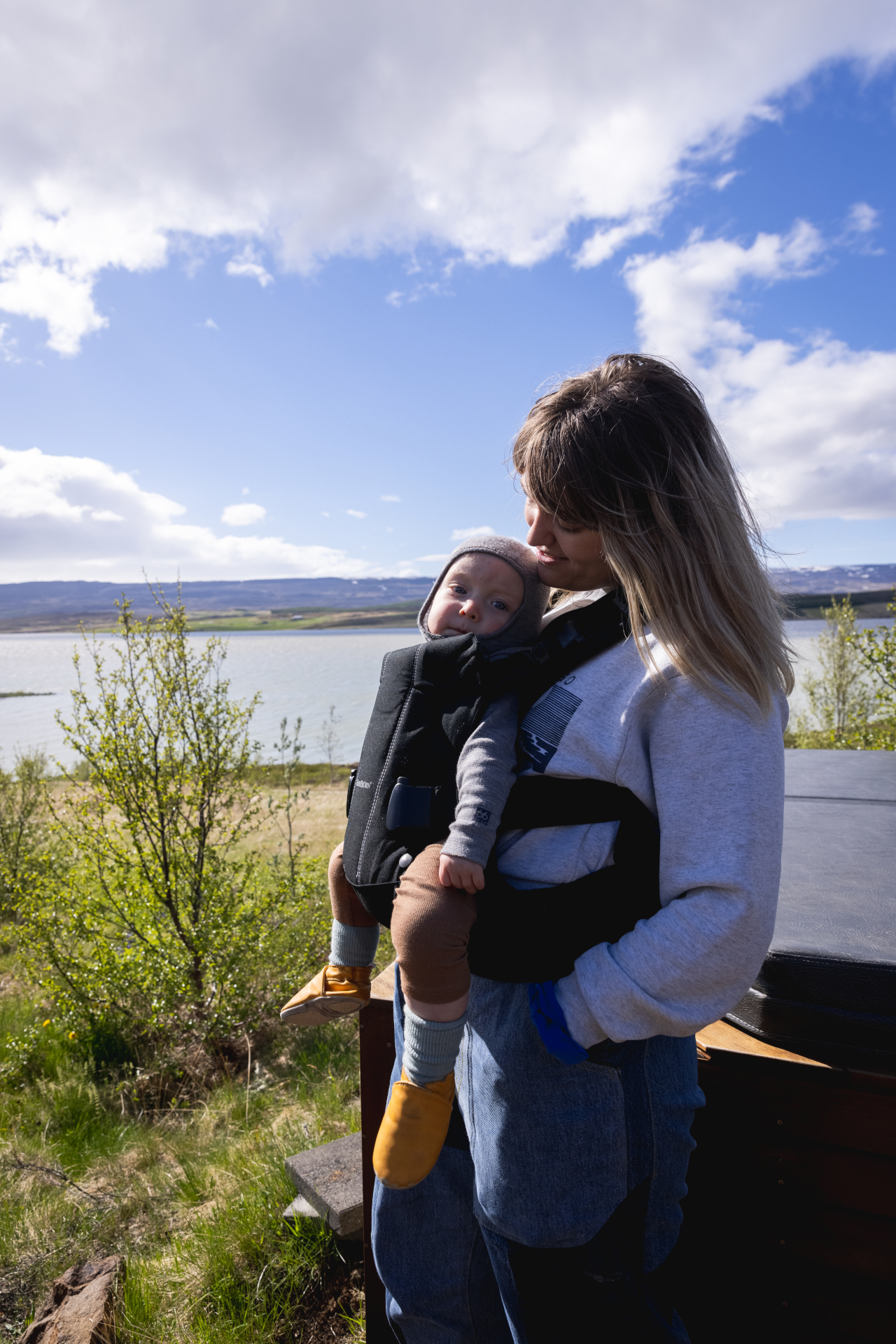 Mother and Son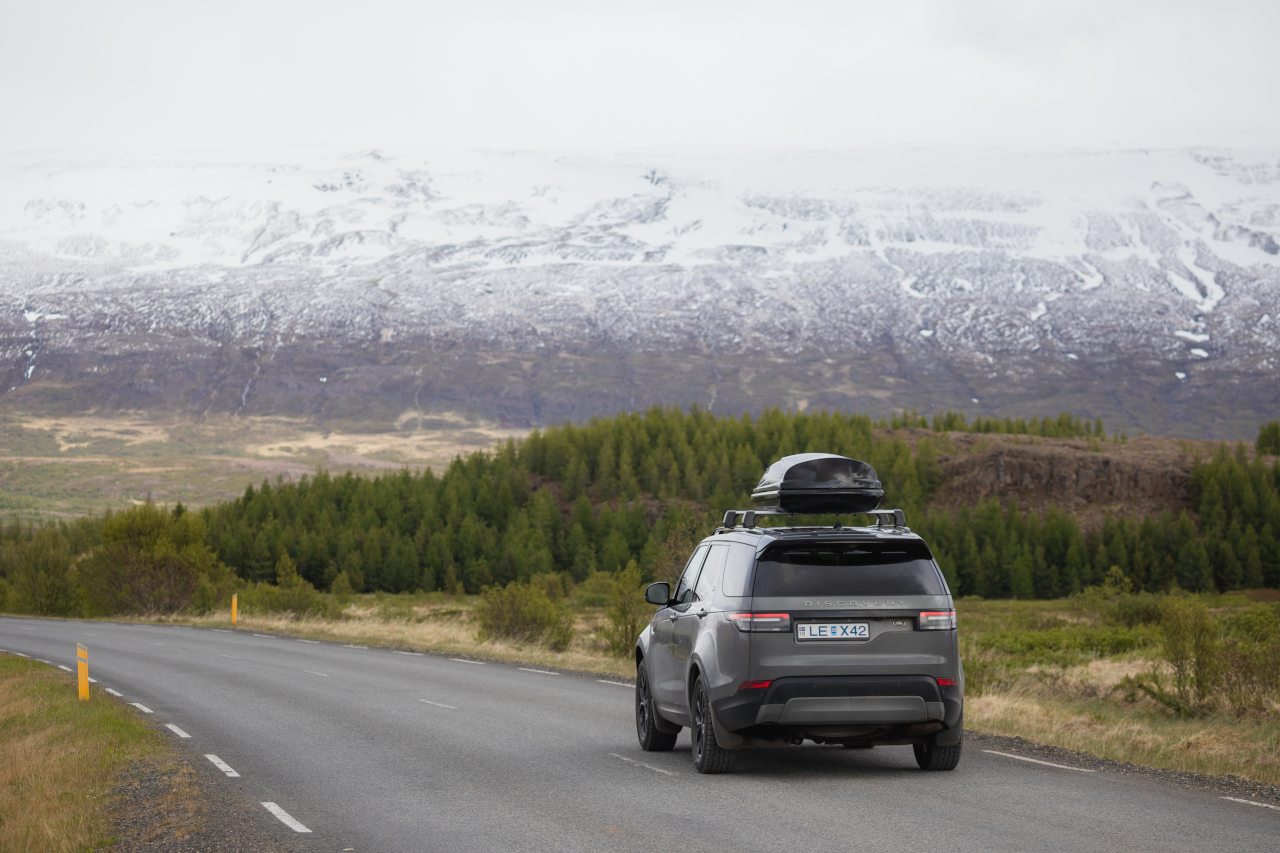 ---
The Ring of Riverdale
Now, about that adventure!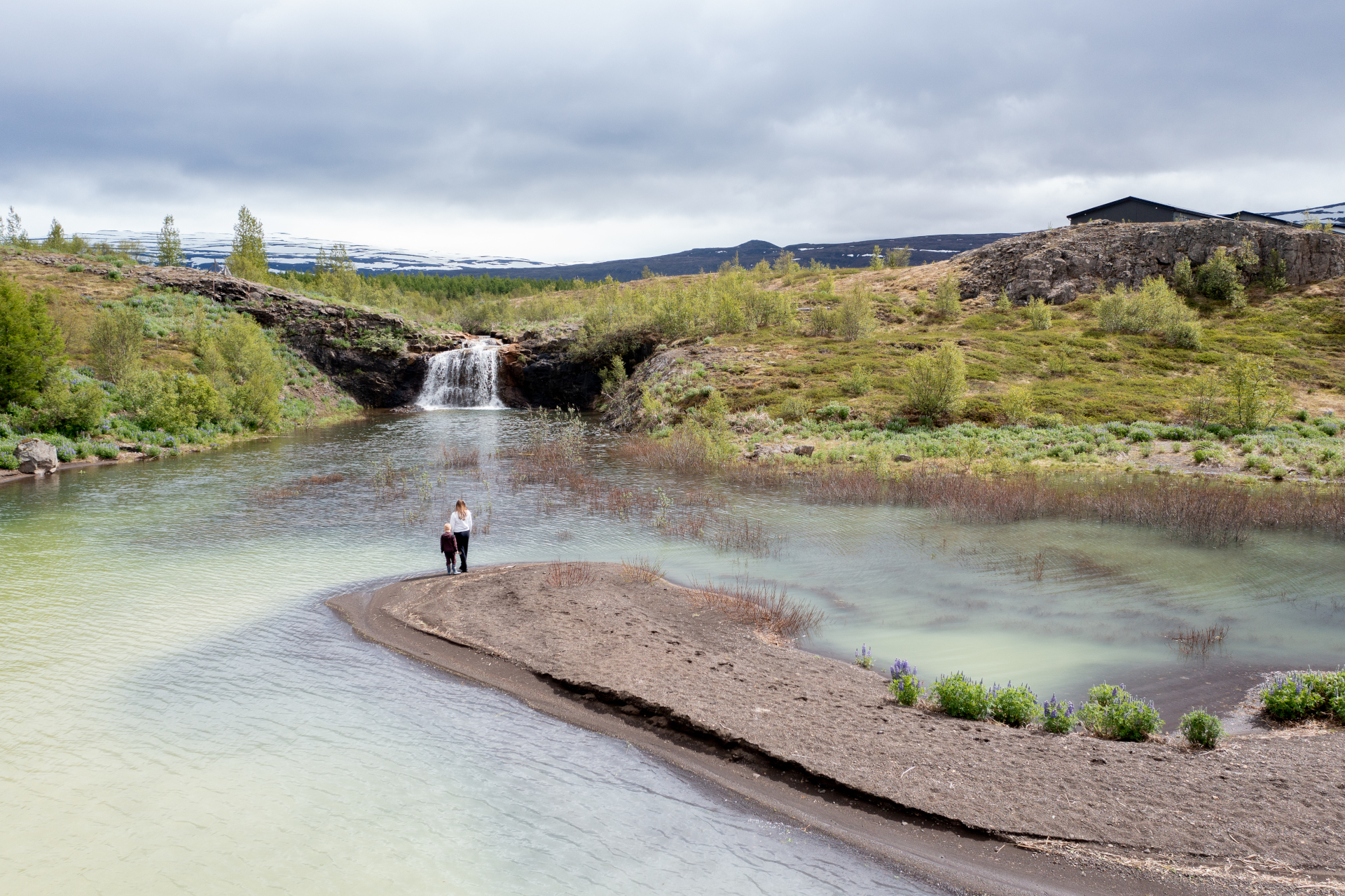 1001 Night Hotel
This journey is concentrated around the Lagarfljót lake, which is a long and narrow lake that stretches far into the country. The ring starts in Egilsstaðir, which is a very cosy town, filled with great places to eat and a laid-back vibe. We love staying in Gistihúsið-Lake Hotel Egilsstaðir, which is located just by the lake and offers beautiful views, an in-house spa, super fun play area (indoors and outdoors) and great restaurant serving food made with local ingredients. What´s, more there are cows in the barn next door, making it a fun activity with the kids. Consider staying there two nights so that you can eat once at the hotel restaurant and once at Nielsen – a local gourmet restaurant serving new-nordic cuisine. Ingredients at Nielsen include local reindeer, fermented and organic produce from the Móður Jörð farm in Vallanes and much more.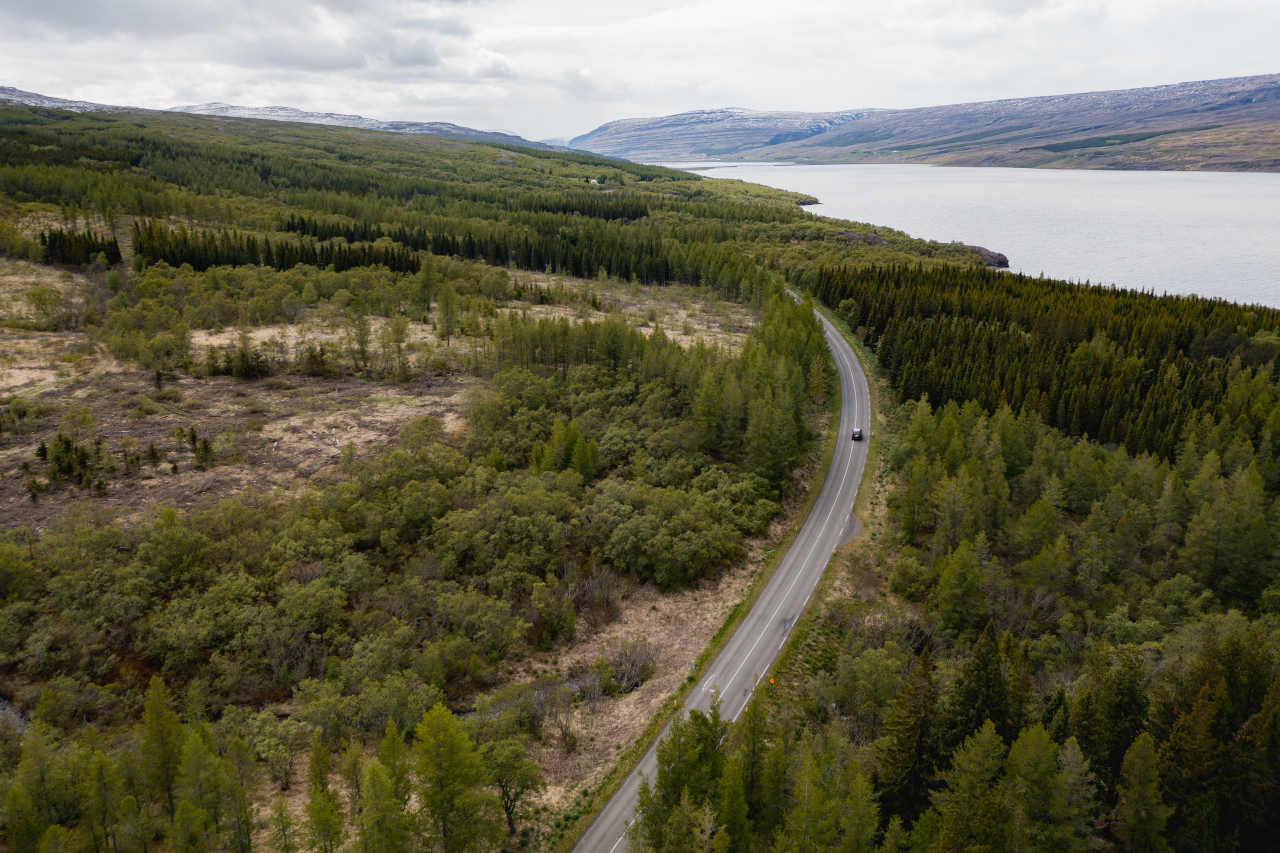 Road in Hallormsstaður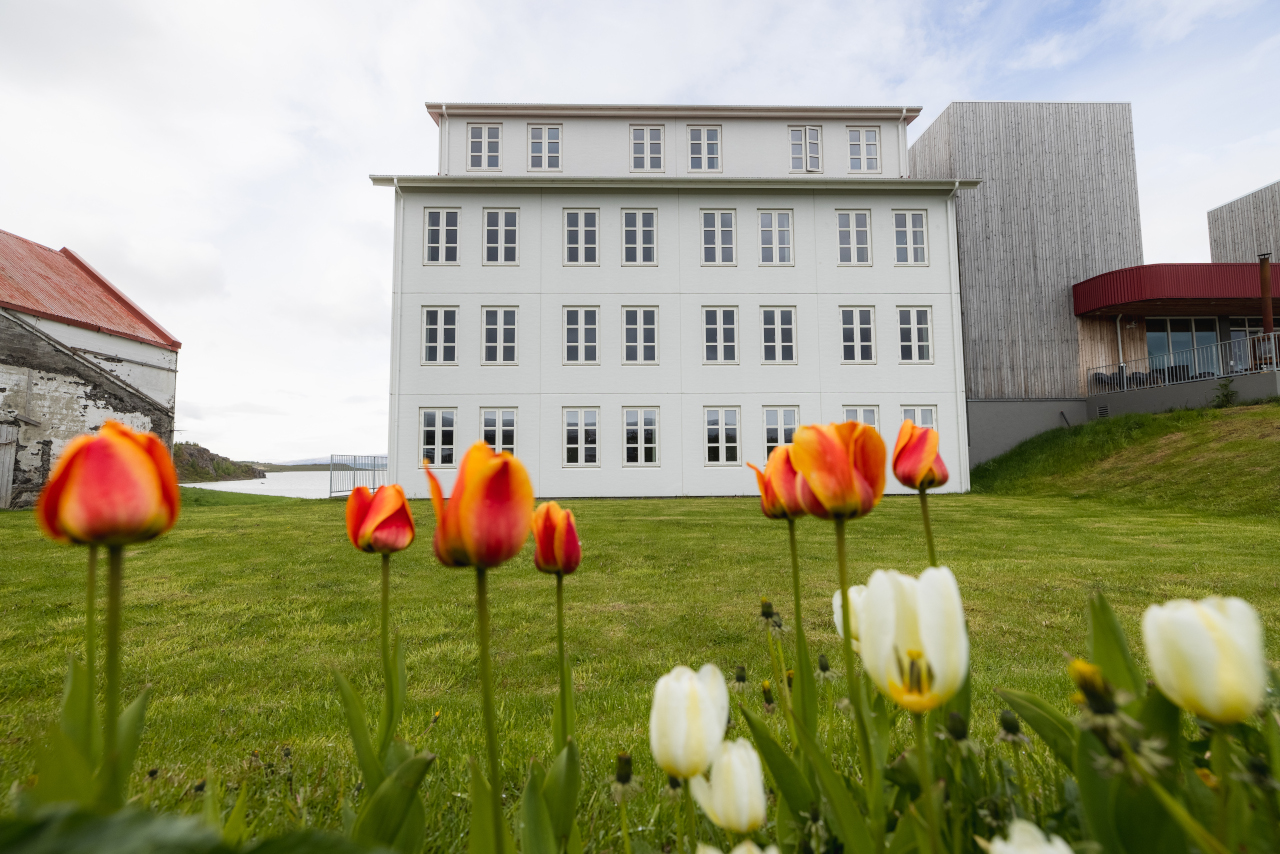 Gistihúsið Egilsstöðum - Lake Hotel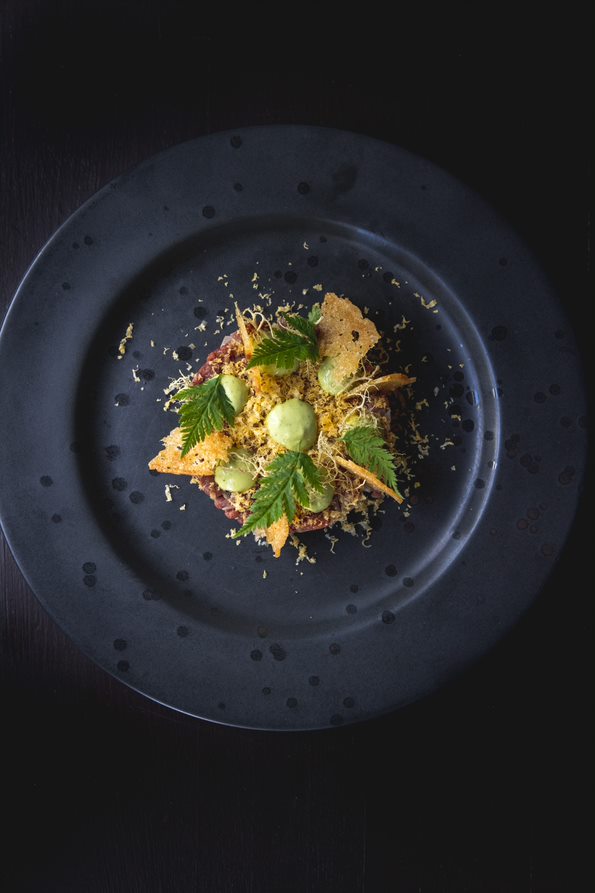 At Nielsen restaurant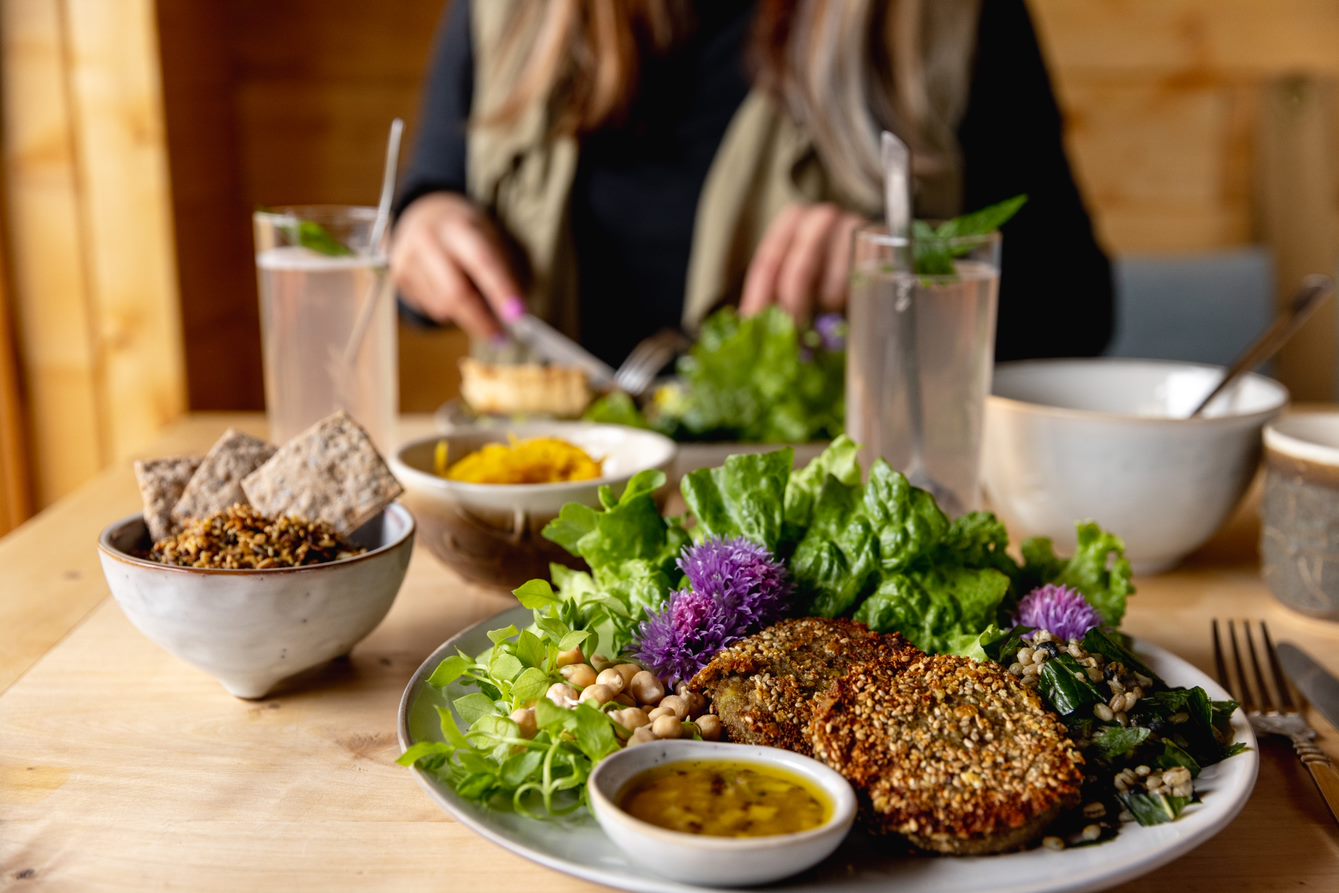 At Vallanes restaurant
Another great place to stay in the area is the 1001 Night Hotel, which has the perfect balance of being in pristine nature and just a few minutes away from Egilsstaðir – offering you the best of both worlds. There is a straight walk down to a secluded beach, giving the perfect opportunity for a fun play time.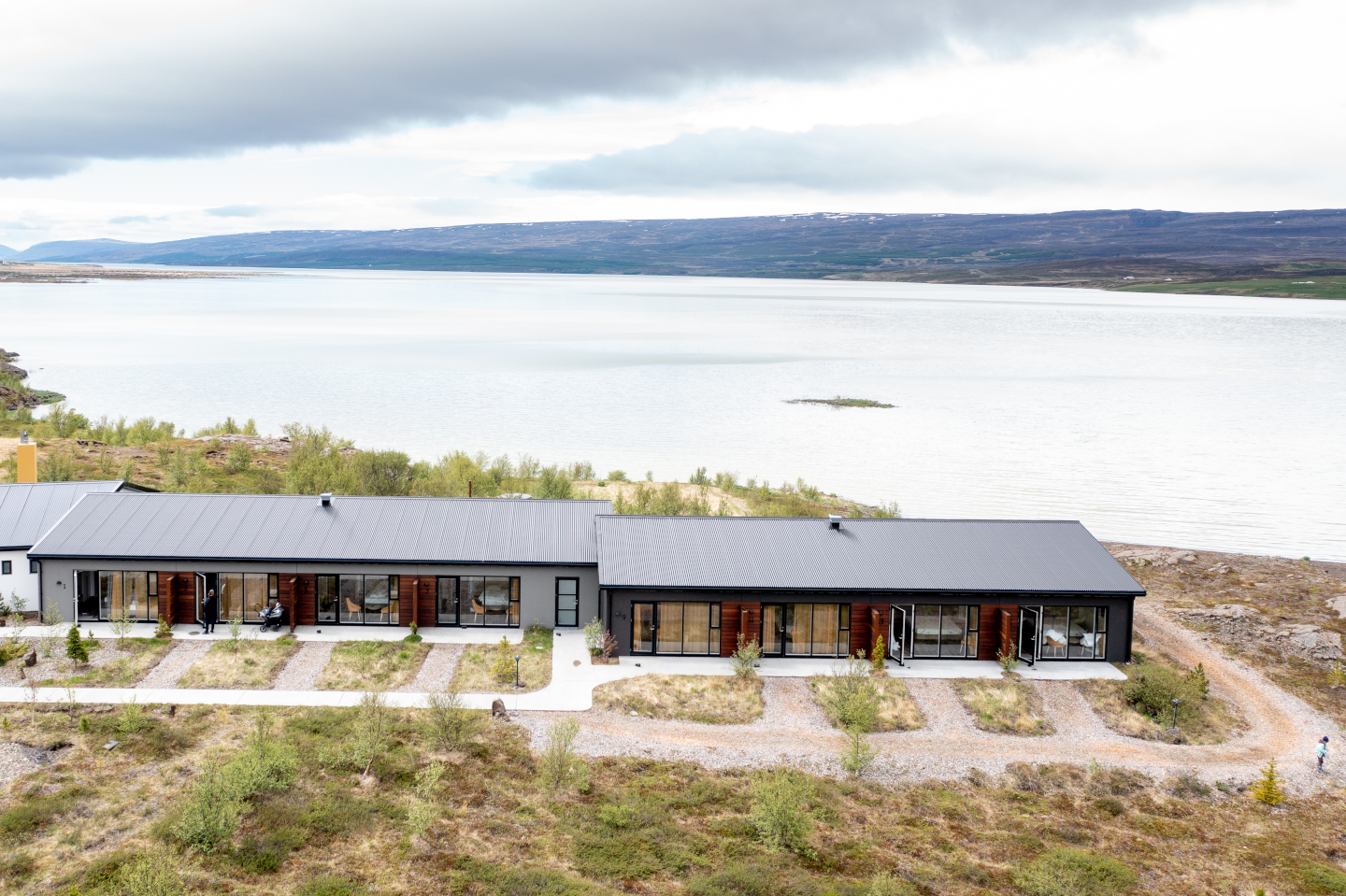 1001 Night Hotel
While in Egilsstaðir, don't forget to visit Vök Baths, which is one of the most beautiful geothermal spa's in Iceland. This place is extremely children friendly and you can bring in your stroller if needed, use baby chairs in the changing rooms and ask for floatation devices to make the most out of your visit.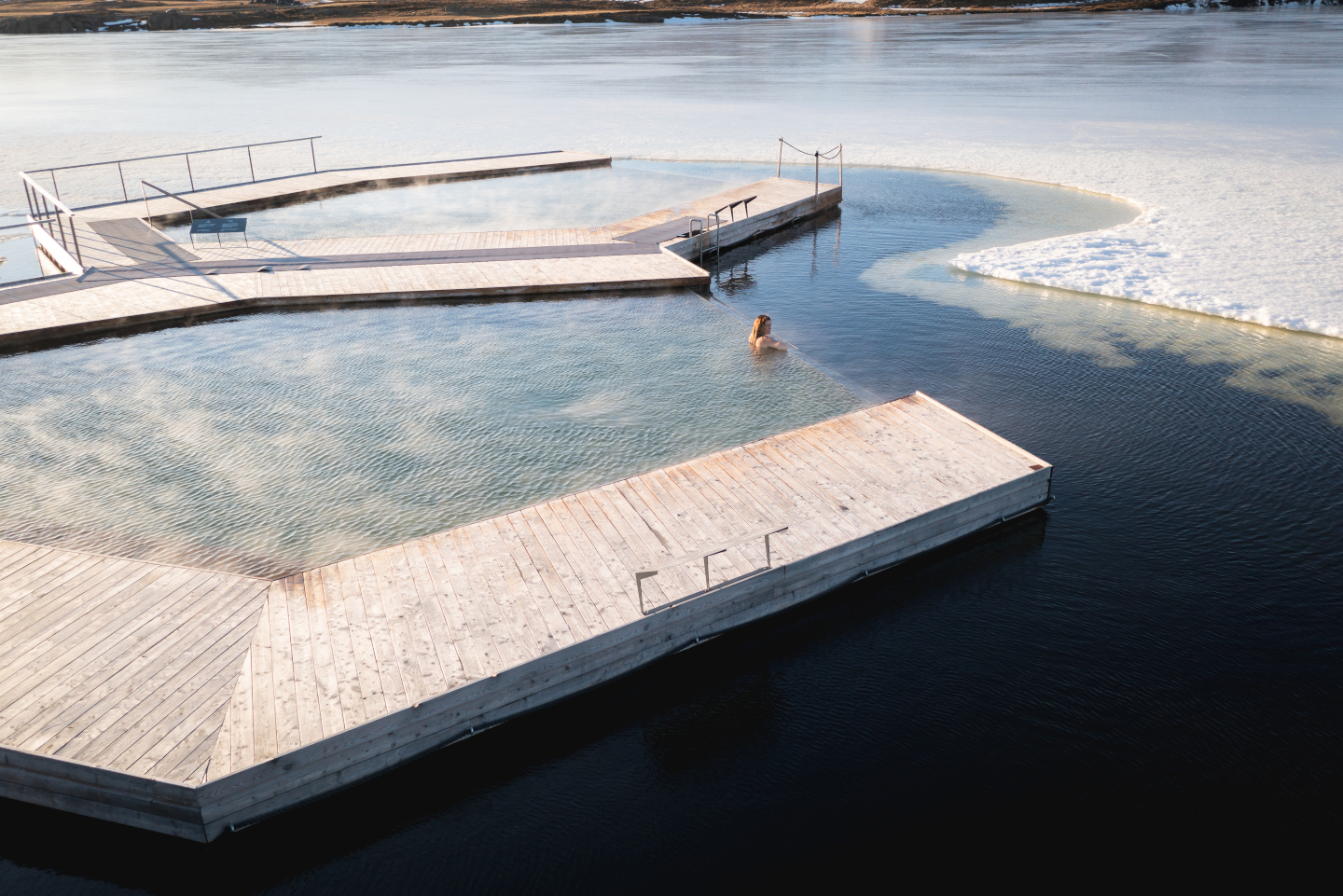 Vök Baths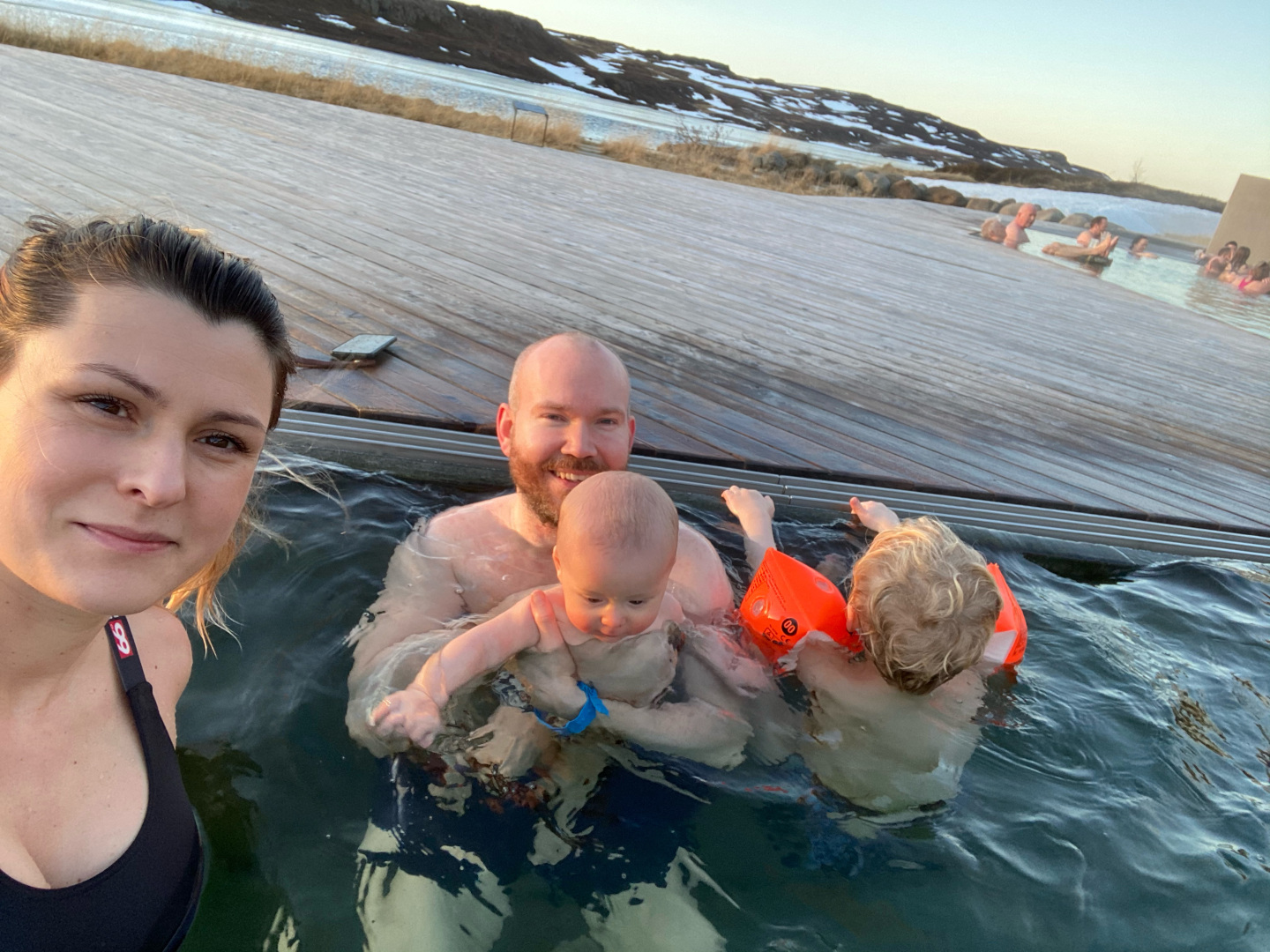 Vök Baths
---
The journey around the lake
Our journey around the lake started by a visit to the Ormurinn Forest. Named after the Worm of Lagarfljót, this walking route stretches like a worm through the forest and features hidden secrets along the way! I won't reveal all of them here, but it's safe to say that our 4-year old really enjoyed this adventure!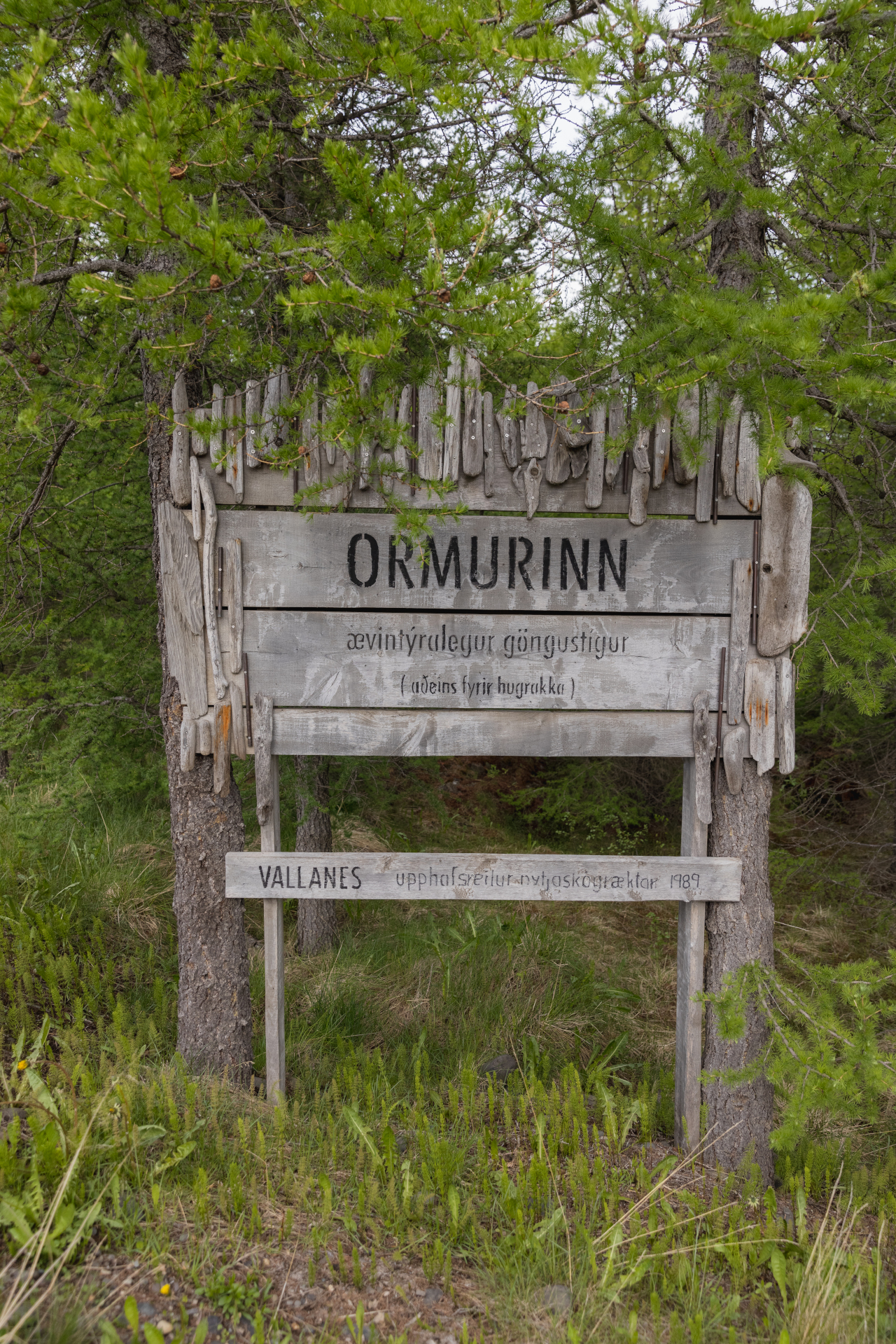 Ormurinn - Vallanes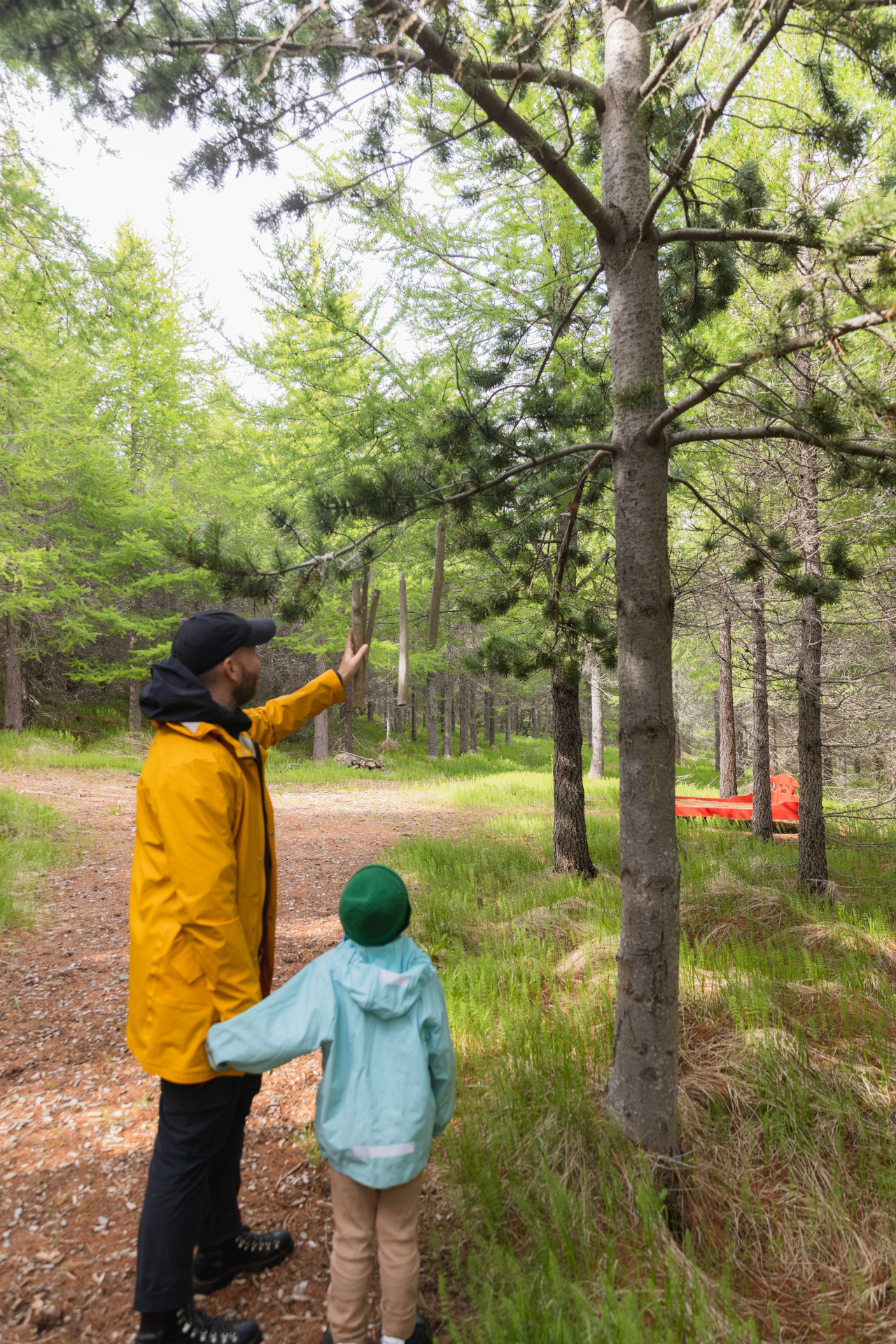 Ormurinn - Vallanes

After the walk, we visited the Vallanes farm for an amazing lunch by Móður Jörð. Who said you can´t grow beautiful produce in Iceland? Móðir Jörð definitely proves that it's possible. Lunch is equally much a treat for the eyes as for the taste buds as they use plenty of edible flowers to garnish all meals.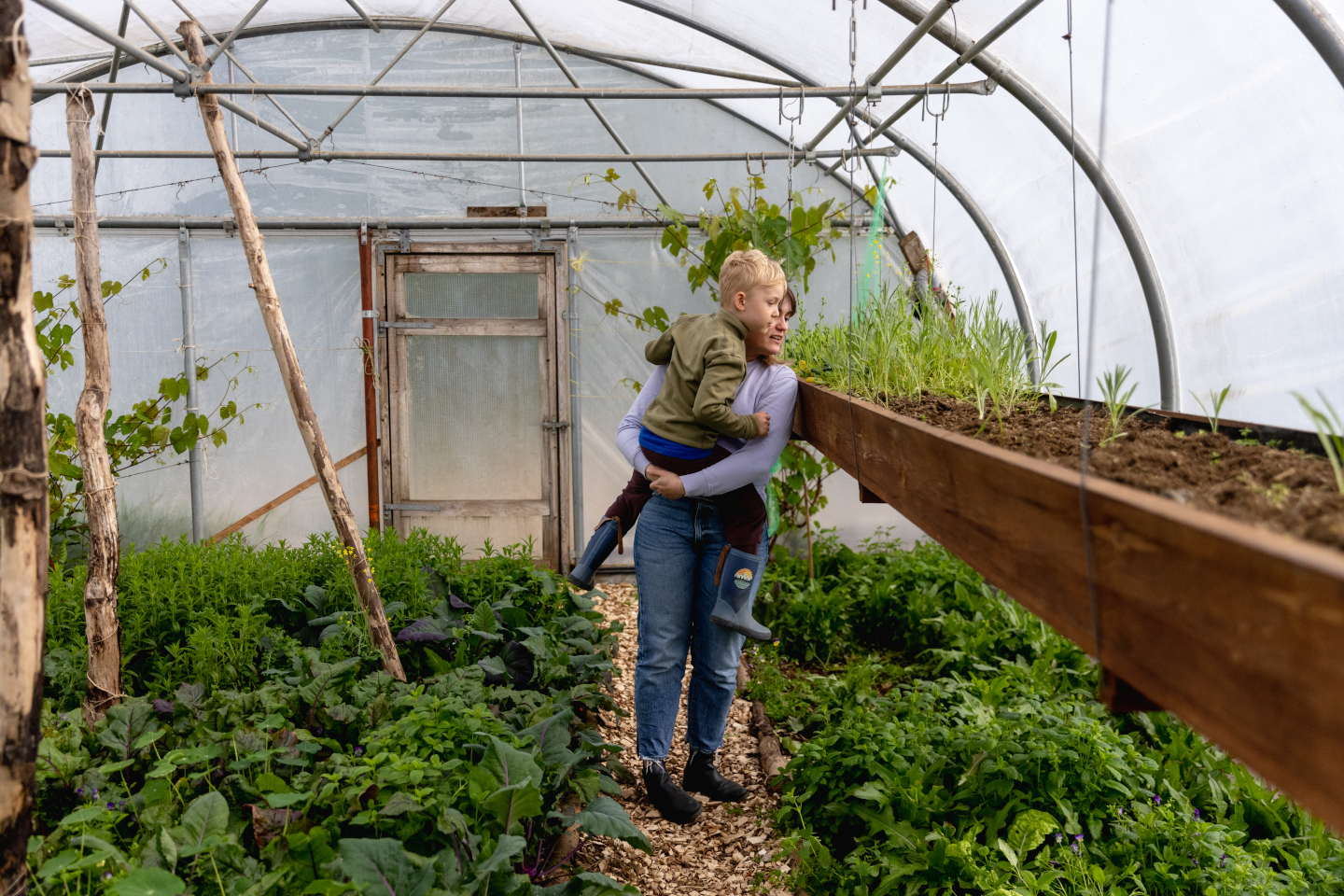 Móðir Jörð - Vallanes
Next stop, Hallormsstaðaskógur which is Iceland largest National forest. The drive through the forest is very scenic and stretches along the Lagarfljót Lake. We made a stop by Atlavík and took few of the many hiking paths there to go deep into forest, which features the Hallormsstaður Arboretum – a living tree museum. I have definitely never seen trees like these in Iceland before!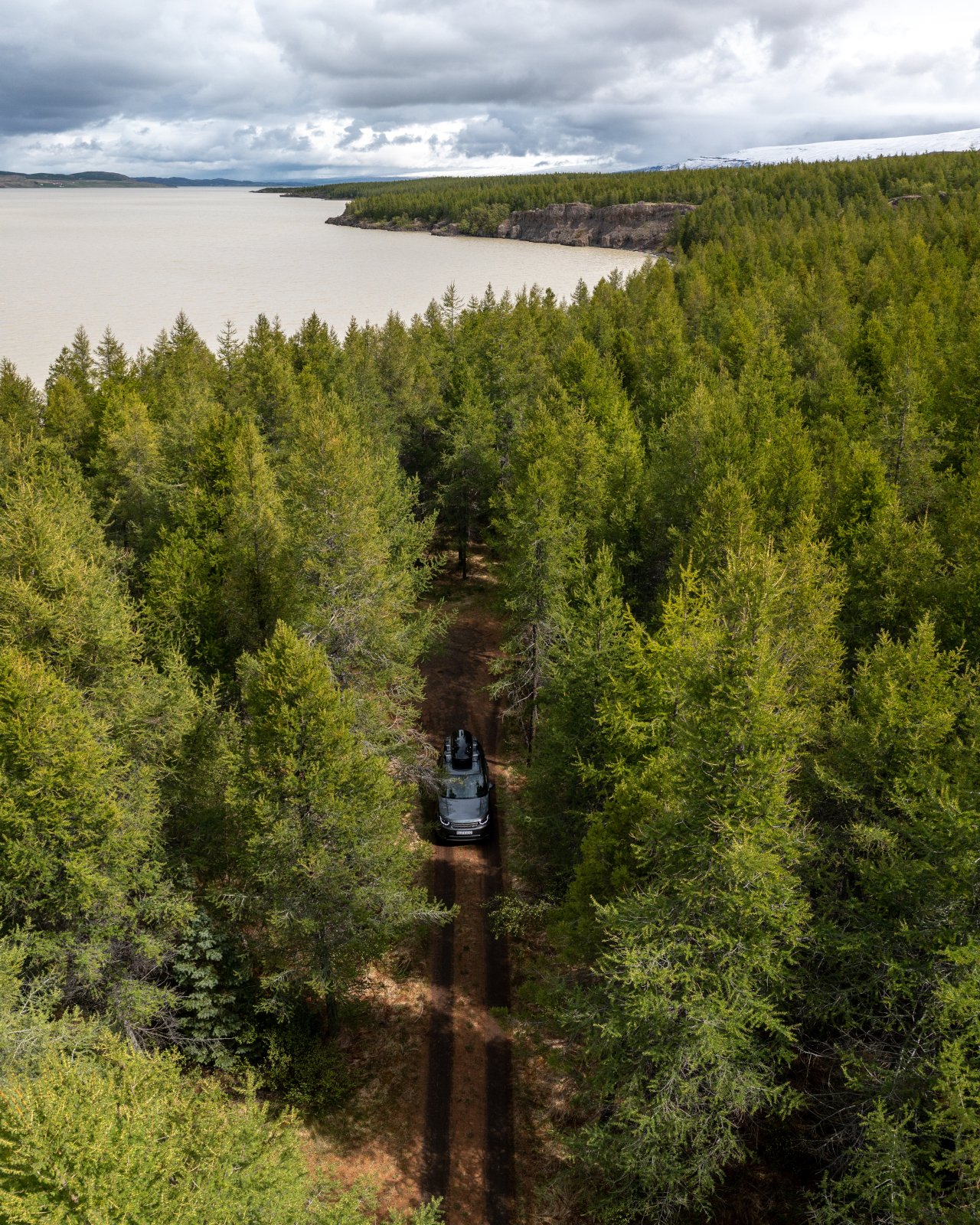 Hallormsstaðaskógur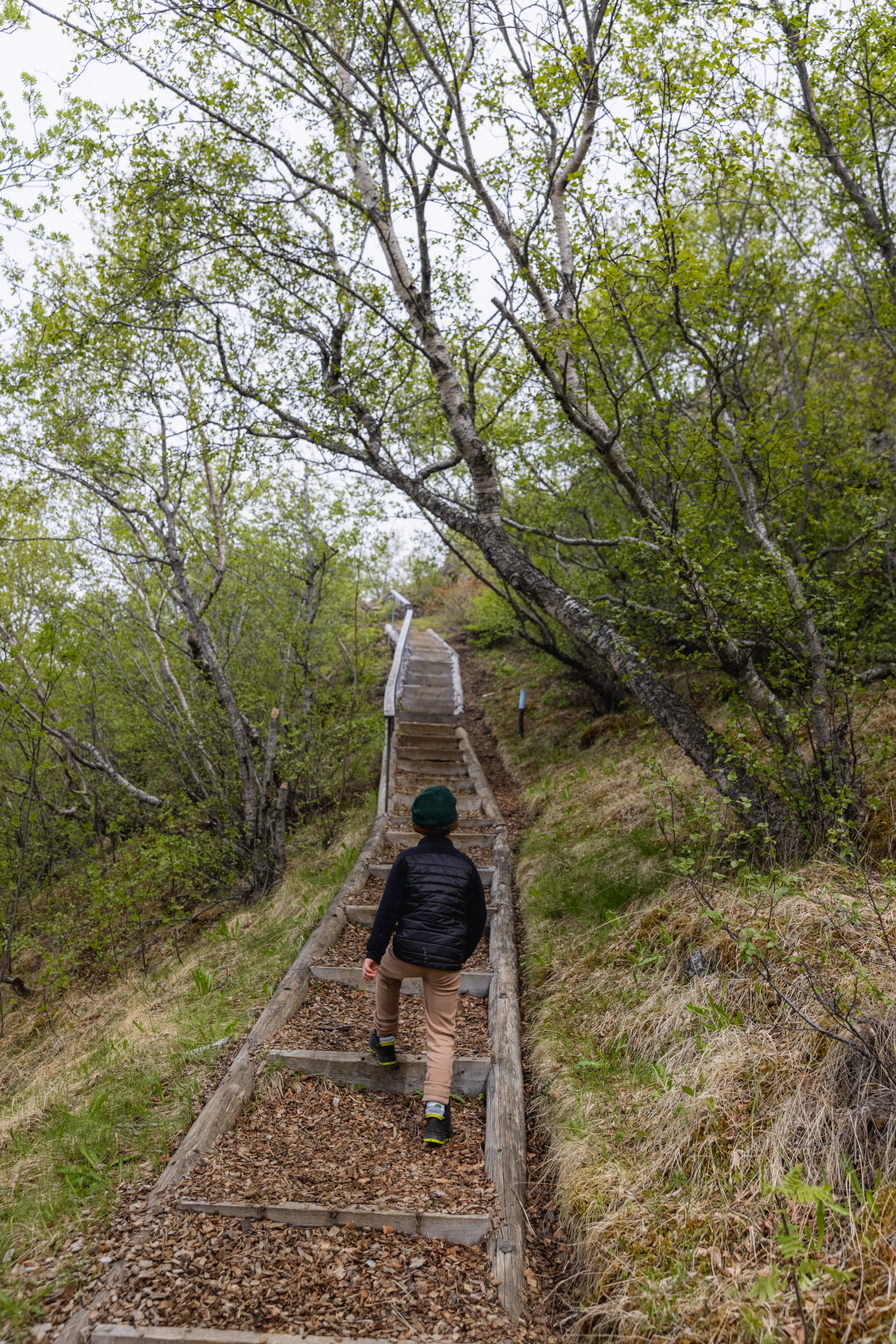 Hallormsstaðaskógur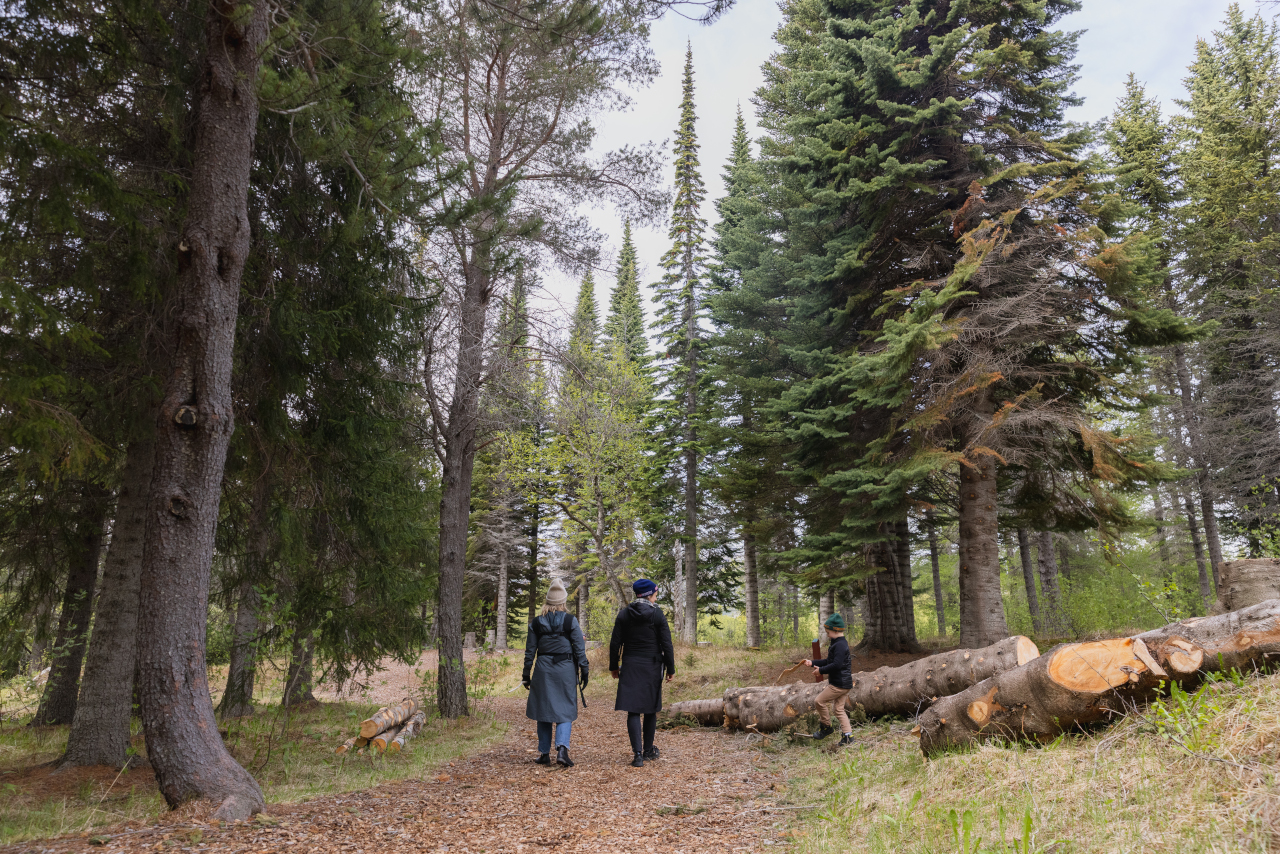 Hallormsstaðaskógur
Camping facilities by Atlavík are top notch, so if you´re considering that time of travel, you can easily spend a ton of time here.
---
Our journey continued to Skriðuklaustur, a unique cultural centre, which pays tribute to acclaimed Icelandic author Gunnar Gunnarsson (my name-sake by the way!) and location of an excavation site of an old monastery. You can visit the actual physical excavation site and also take a tour of the monastery via VR technology, which is a great adventure for both parents and kids!
The coffee house/restaurant located within Skriðuklaustur, called Klausturkaffi is famous for its lunch and cake-buffet and it is so for a very good reason, so don't forget to come hungry!
Last thing to mention about this particular place is that there is a plethora of outdoors activities for kids, from sandpit through rope walking, to climbing wall and getting lost in a wooden maze.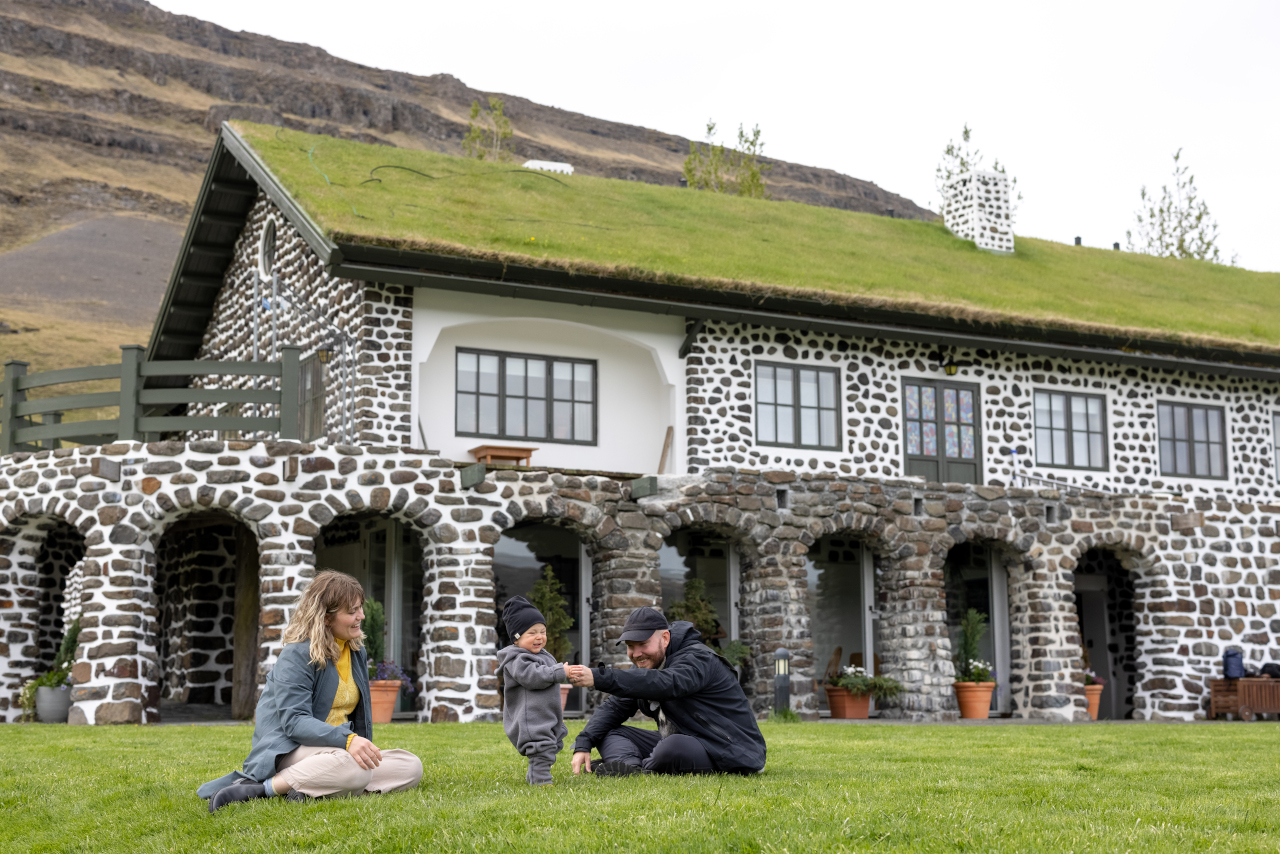 By Skriduklaustur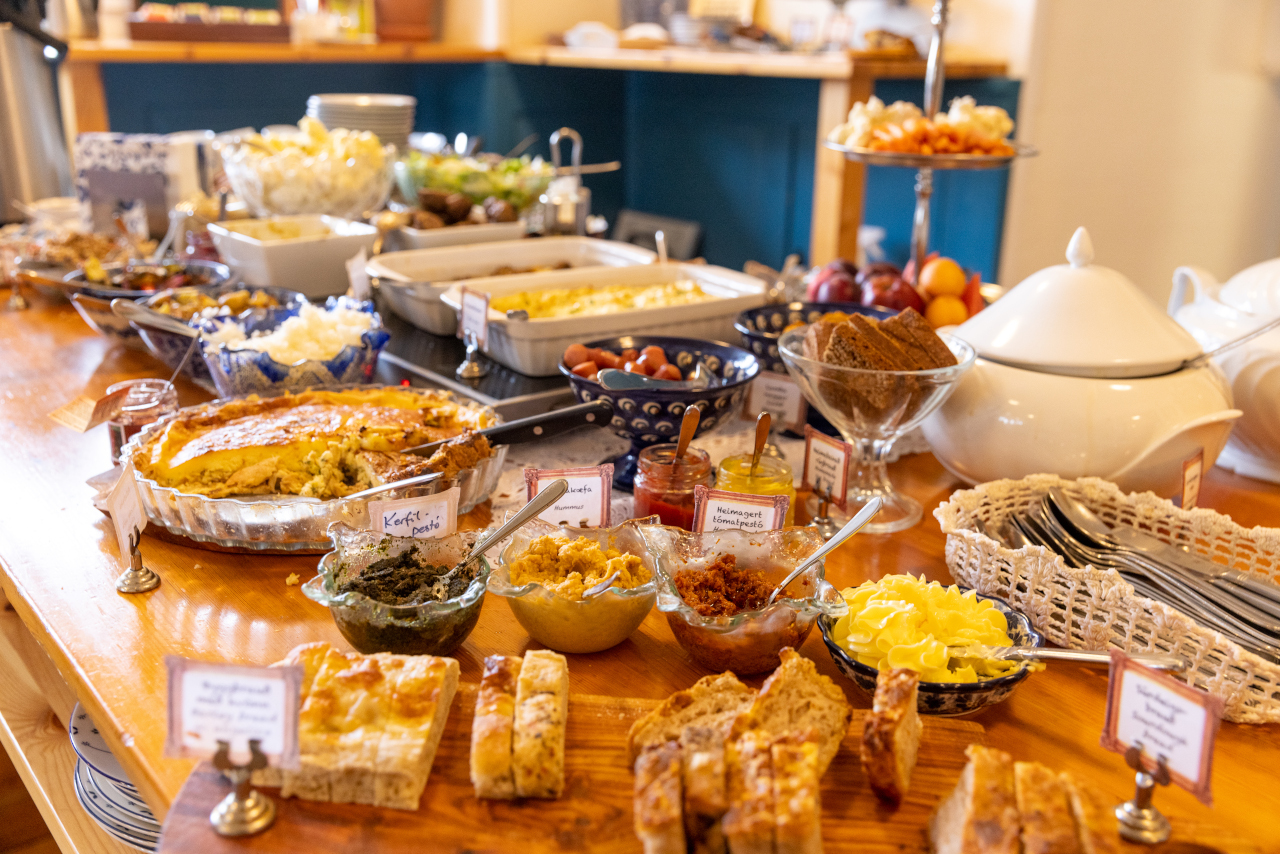 Launch buffet at Klausturkaffi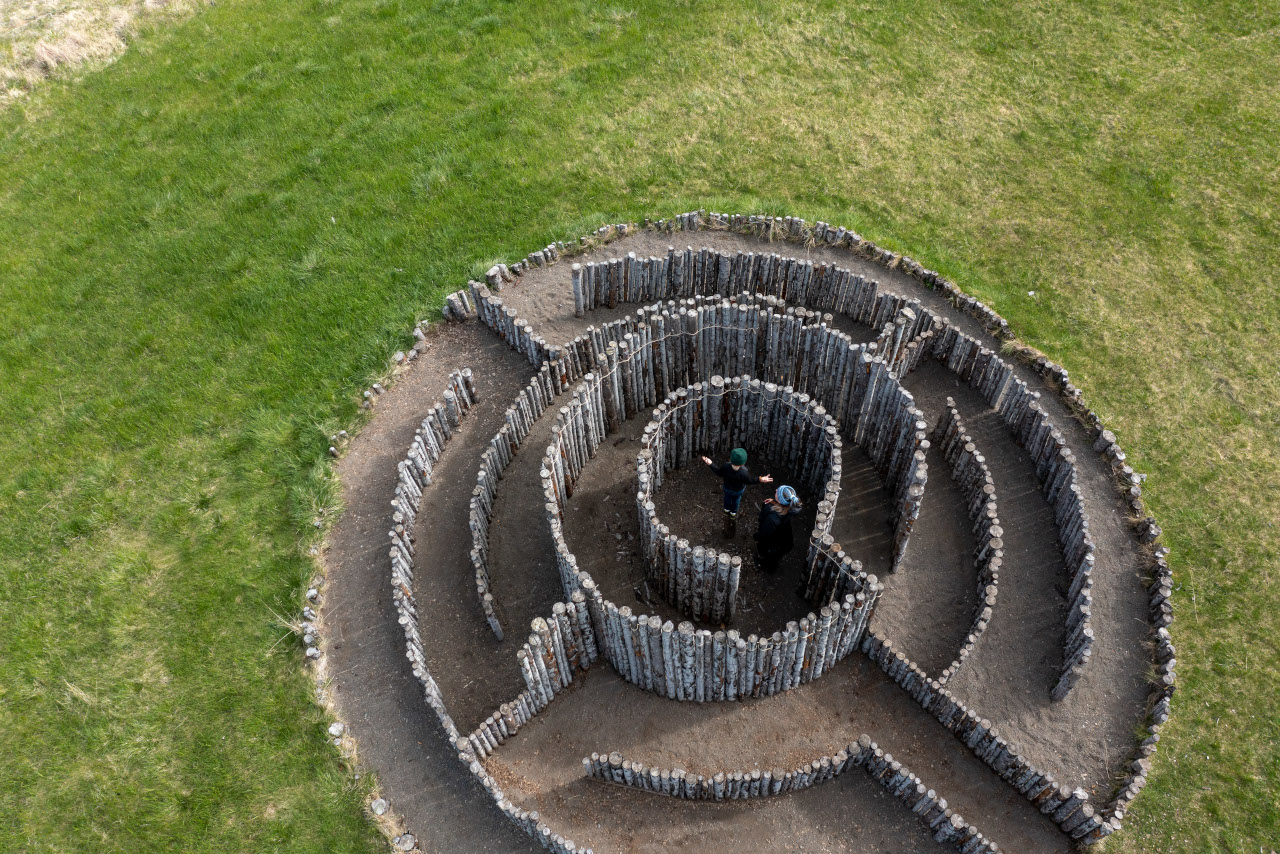 Maze by Skriduklaustur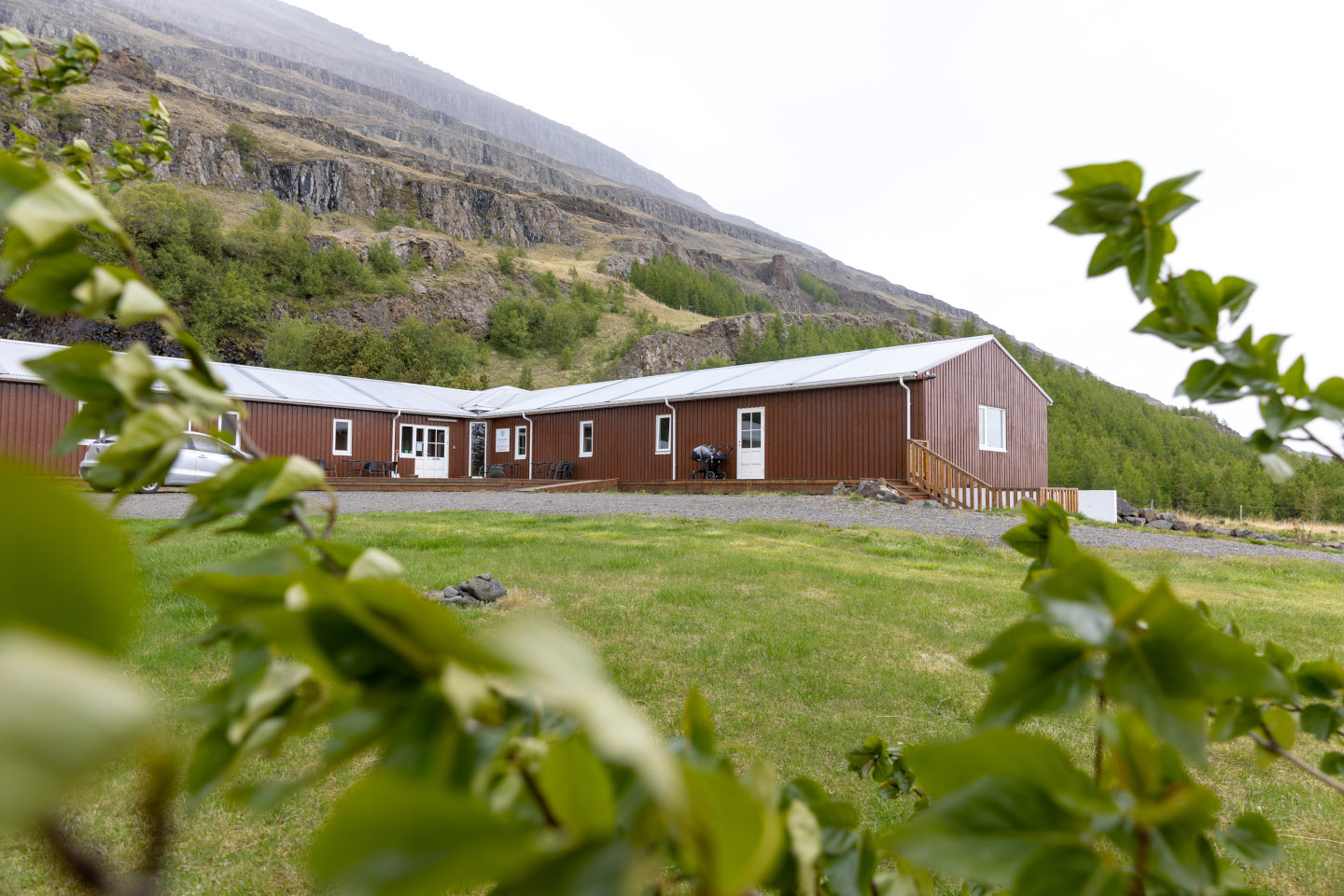 Hengifoss Guesthouse
We finished our day by Hengifoss Guesthouse, which is totally off the beaten path and has a very welcoming service! We enjoyed home-cooked dinner, which is something you really appreciate when traveling with little munchkins! To much joy of our little group, the hotel hosts cooked a home made meal for the kids while adults could choose a'la carte. That kind of service is very unique and much appreciated by most parents, if we can say so ourselves.
There are several beautiful waterfalls in the area, including Hengifoss as well as Strútsfoss. The former, definitely being the most famous one. But this time, I decided to visit Strútsfoss (it's a few hours hike so I wouldn't recommend bringing very young kids for this one), but it's a very unique sight and well worth it! Hengifoss is more easily accessible and very scenic! There are more places that should not be missed in the area, including the Wilderness Centre and the Snæfellsstofa Visitor Centre. The Wilderness Center is a great place to stay for the adventurous souls and features a beautiful exhibition giving insights into life in this remote part of Iceland. The Snæfellsstofa Visitor Center has an interactive exhibition, allowing the kids to learn about the local flora and fauna first-hand.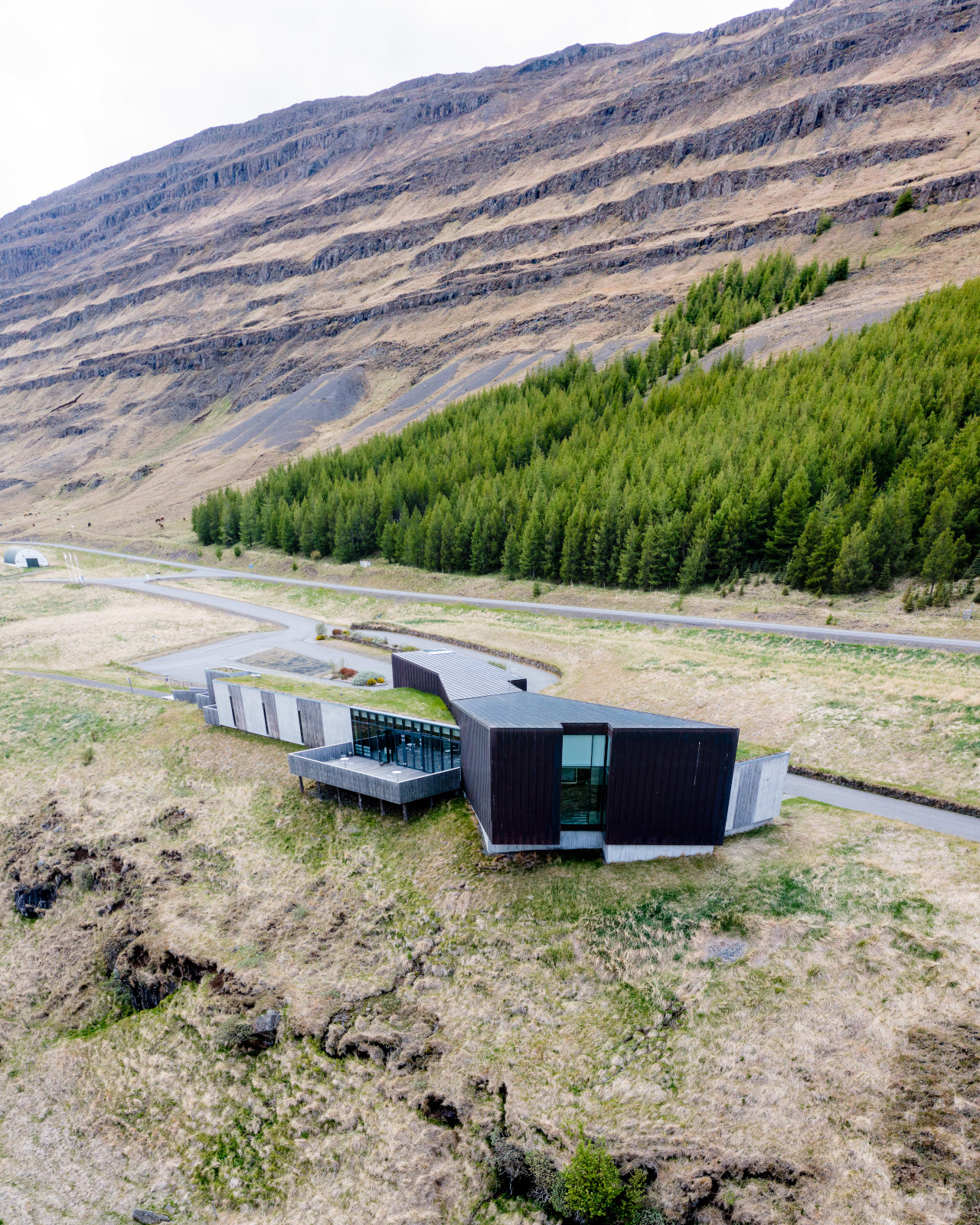 Snæfellsstofa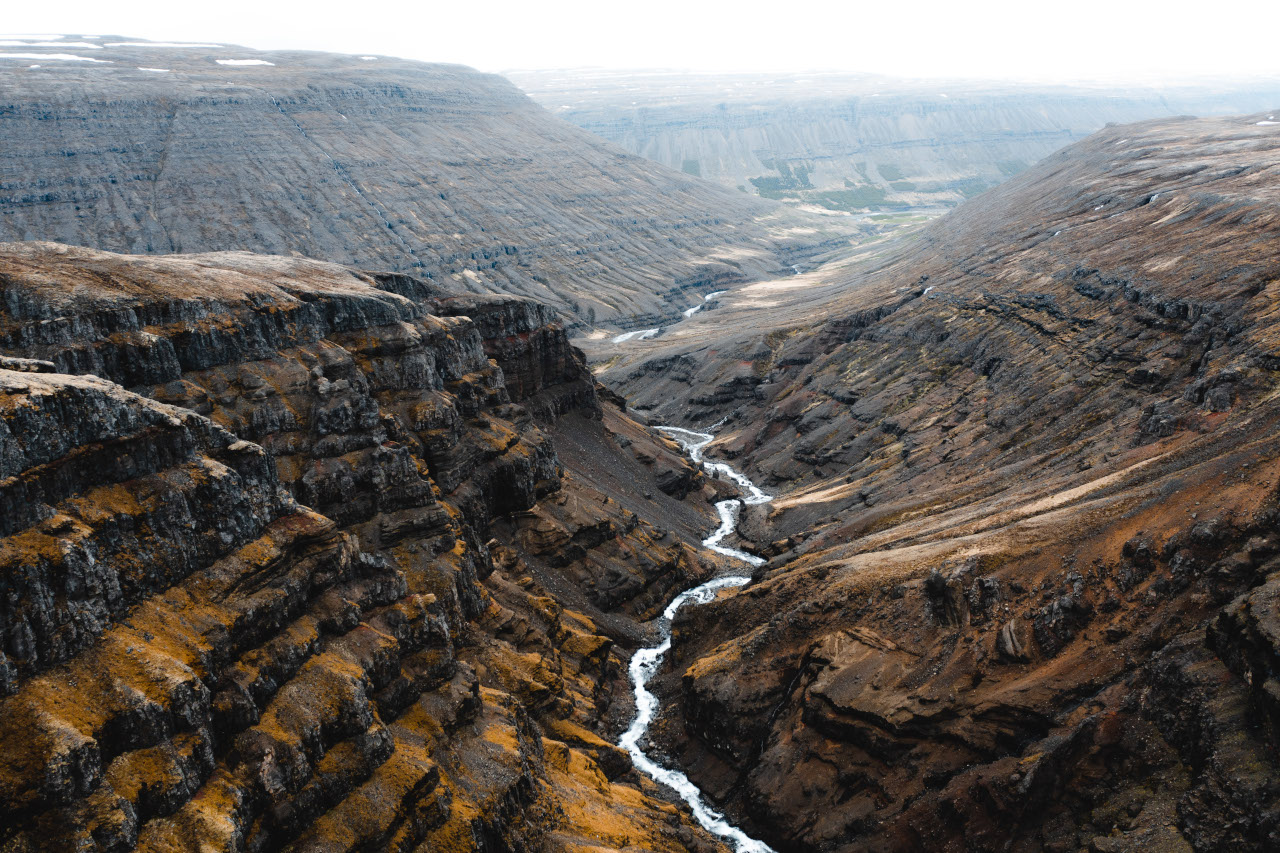 Strutsfoss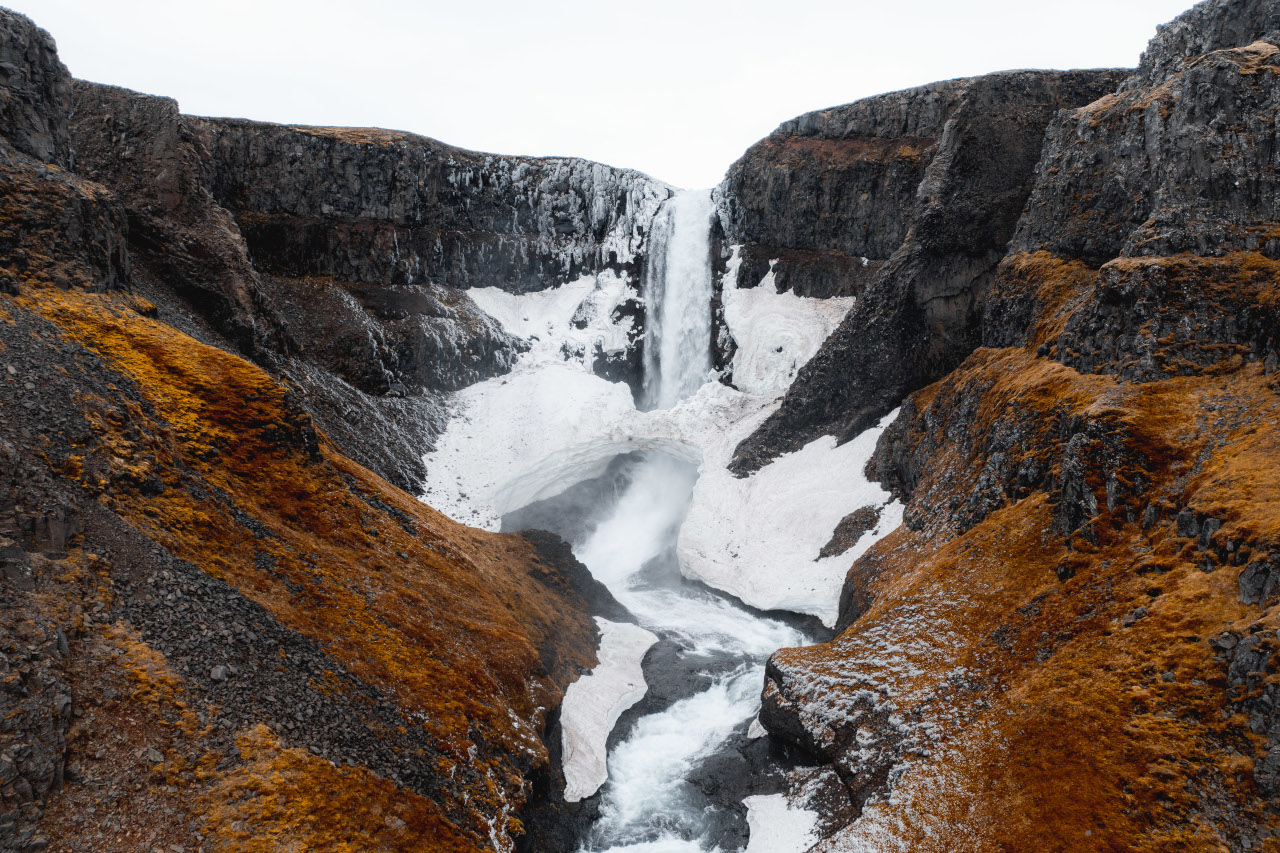 Strutsfoss
You can easily spend a couple of days here, exploring everything the area has to offer. Later, we made our way back to Egilsstaðir and visited the East Iceland Heritage Museum. Here we learned about local life in the area as well as got to learn more about the Iceland Reindeer, found in abundance in East Iceland. Well worth the visit.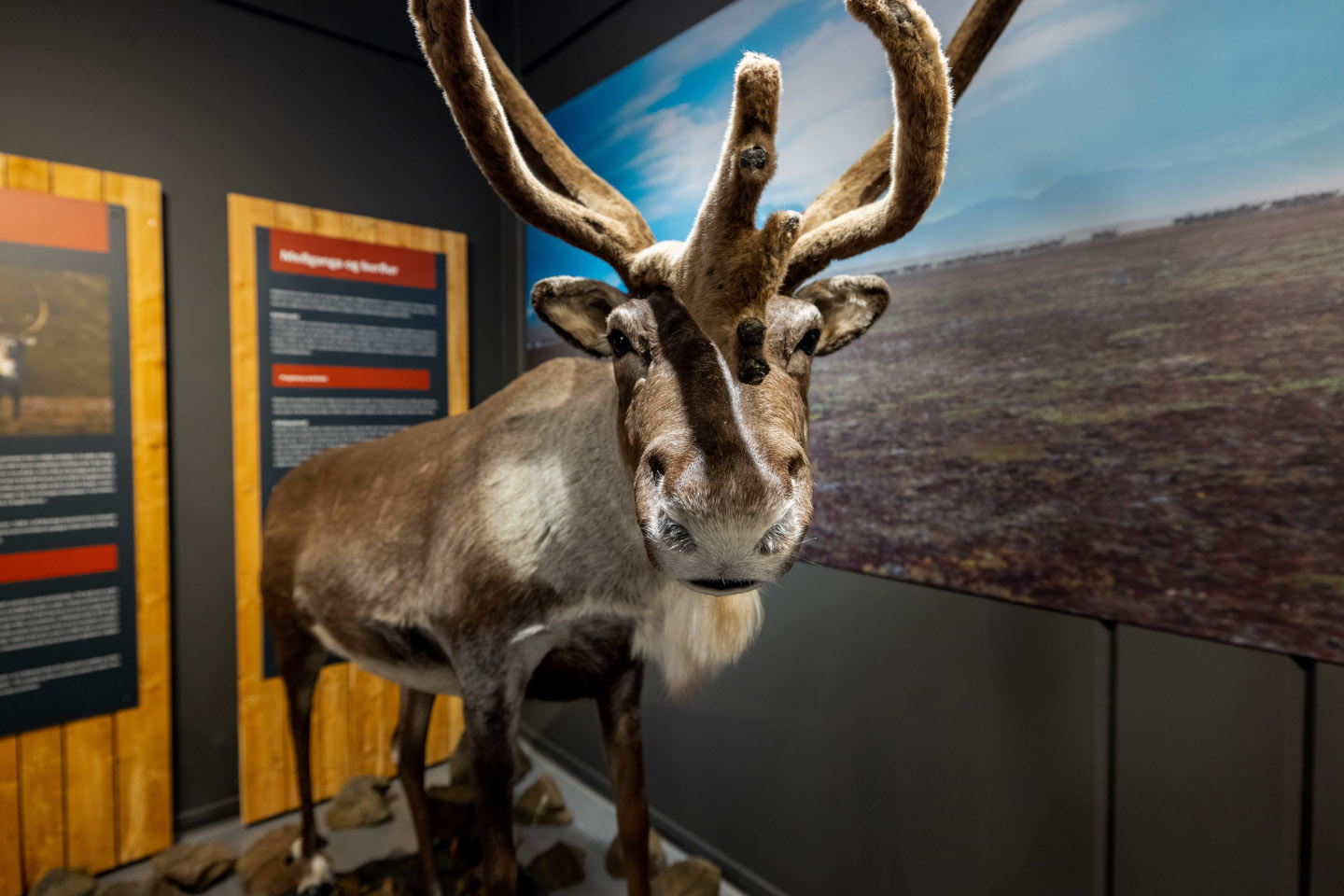 Reindeer at the East Iceland Heritage Museum
One of the best things about the Ring of Rivendale is that it's unique from anything else in Iceland and really gives fresh perspective on what an adventure in Iceland can look like. It's family friendly and very easy to explore. I hope you found our journey around the Lagarfljót Lake inspirational and will follow in our foot-steps.
Lagarfljotid seen from Fellabaer
Who knows, you might just get lucky and catch a glimpse of the Lagarfljóts worm. (our 4 year old sure did ;-))
Author

Gunnar Freyr
photographer
Icelandic Explorer
Kasia
Lifehobbyist