Slow travel in Austurland
"Why didn't I stay longer?" Or "I wish I had stayed another night." We hear that often in Austurland.
Tvísöngur sound sculpture in Seyðisfjörður. Photo: Ingvi Örn Þorsteinsson
Travelers stay on average less than 2 nights in East Iceland but often realize they should have stayed longer. Can we give you a small piece of advice? We recommend you slow down and give yourself time to enjoy all we have to offer. This is our advice for a visit at any time of year, but it's especially applicable to winter travel.
Winter's diminishing daylight and changeable weather automatically slow things down. While in the peak of summer you can hit a hiking trail at any hour and enjoy the views, in winter the light is limited: December and January are the darkest months, with only 3.5 hours of daylight around the winter solstice on December 21.
Never fear! The darkness invites cozy evenings enjoying local flavors, long conversations with locals or fellow travelers, warming soaks in hot pools, or adventures under clear skies looking for the northern lights.
In other words, winter is perfect for slow travel. It's all about authentic experiences and being in the moment. It's about connecting to your surroundings, immersing yourself in local communities, and discovering the joys of nature in all seasons.
Travel slow in Austurland and leave feeling recharged rather than rushed.
Slow down for the weather conditions
It's great to travel with some degree of flexibility, so you can adapt your plans if the weather calls for it.
Once you've checked the forecast, you'll know whether the day ahead is good for road tripping, outdoor exploration, soaking in a hot pool, hunting the northern lights, or getting cozy indoors, and you can plan your time accordingly, maybe embrace some new experiences that suit the weather best.
Here are some handy websites for checking the forecast, and the times for sunrise and sunset.
Weather forecast for the country
Aurora forecast for the coming 3 days
Time and date for detail of sunrise and sunset times, and the number of daylight hours you can expect
Give way for foot traffic. Photo: María Hjálmarsdóttir.
Slow down on the roads
Take your time when you're driving Austurland's mountains passes, valleys and fjord shores, and if the weather is suitable you can easily find a good place to stop and enjoy the nature. It all looks pretty as a picture with a dusting of snow, but be on the lookout for icy patches on paths and roads. Road conditions are outlined in detail online, and updated frequently.
You can make it easier to access the outdoors by packing the right gear – including sturdy waterproof footwear, hiking poles, and crampons or ice cleats if you plan to do some exploring.
Also keep your eyes open for reindeer on the roads, as they come down from the highlands in the winter in search of better grazing areas. Your own grazing opportunities may be more limited – some of the area's restaurants close during the winter, but you'll always find supermarkets and a couple of dining options in the towns. It's worth stocking up on snacks for the car!
Slow down to experience more
Keep your driving distances short so you can take in the gorgeous views during the day, and also to reach your next destination in daylight to check it out and enjoy it more, maybe even find where the locals love to hang out in the evening (hint: it might just be the local swimming pool).
If you're looking for itinerary inspiration, we can help. We've put together a number of travel routes within the region, where the distances are manageable. We've listed the highlights of each journey, and how to tackle them in different seasons.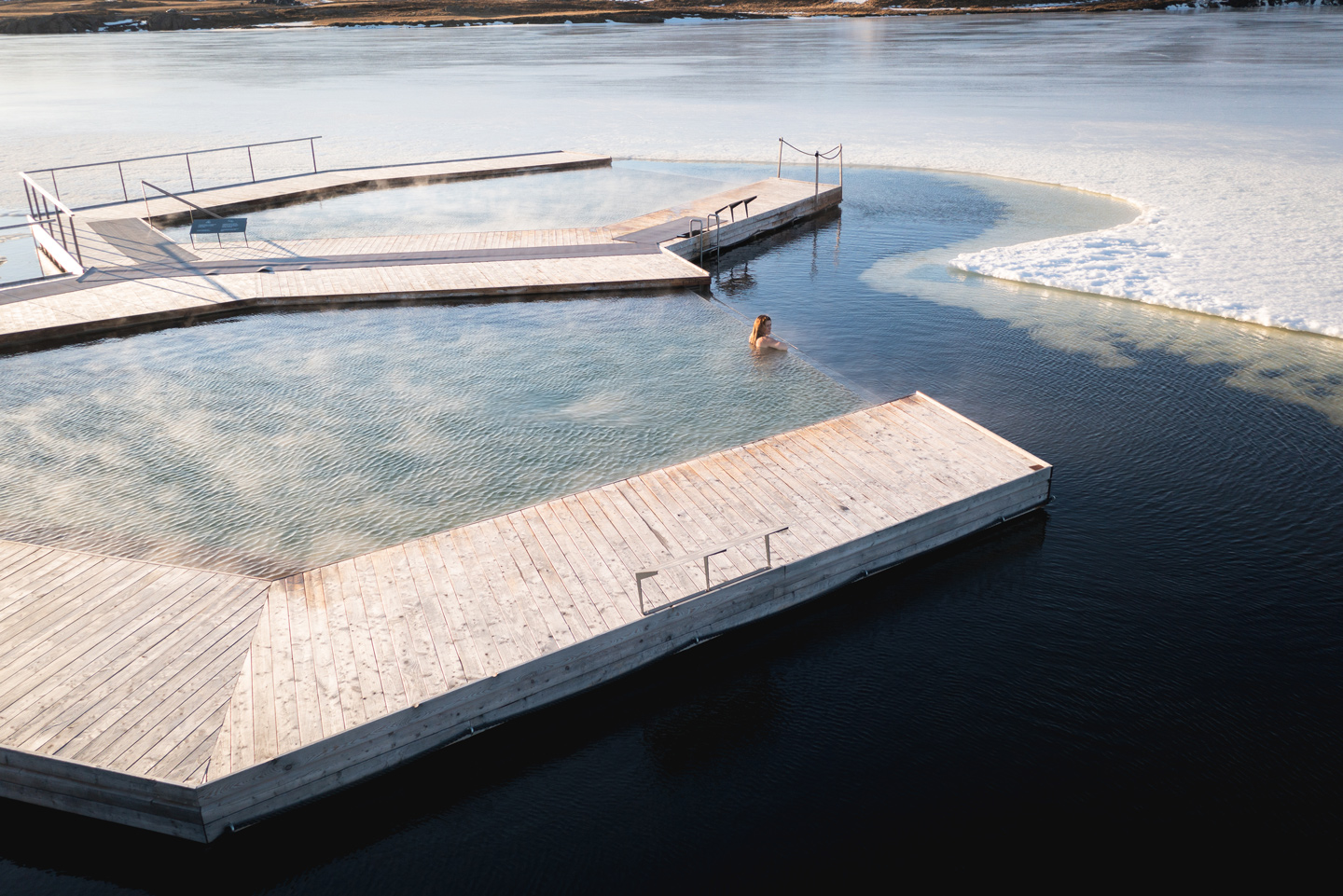 Vök baths. Photo: Gunnar Freyr Gunnarsson | @icelandic_explorer
Slow down to warm up
There's something quite wonderful about arriving at your base in the late afternoon, taking a walk to find somewhere special to eat or drink locally, and perhaps wrapping up the day with a soak at a hot-pot or swimming pool under the stars (or the aurora, if you're lucky).
One of the very best places to relax is Vök Baths. This is a stunning swimming spot, with two infinity pools filled with warm geothermal water, floating on a lake.
Some year-round Austurland accommodation have noteworthy hot pools and wellness offerings: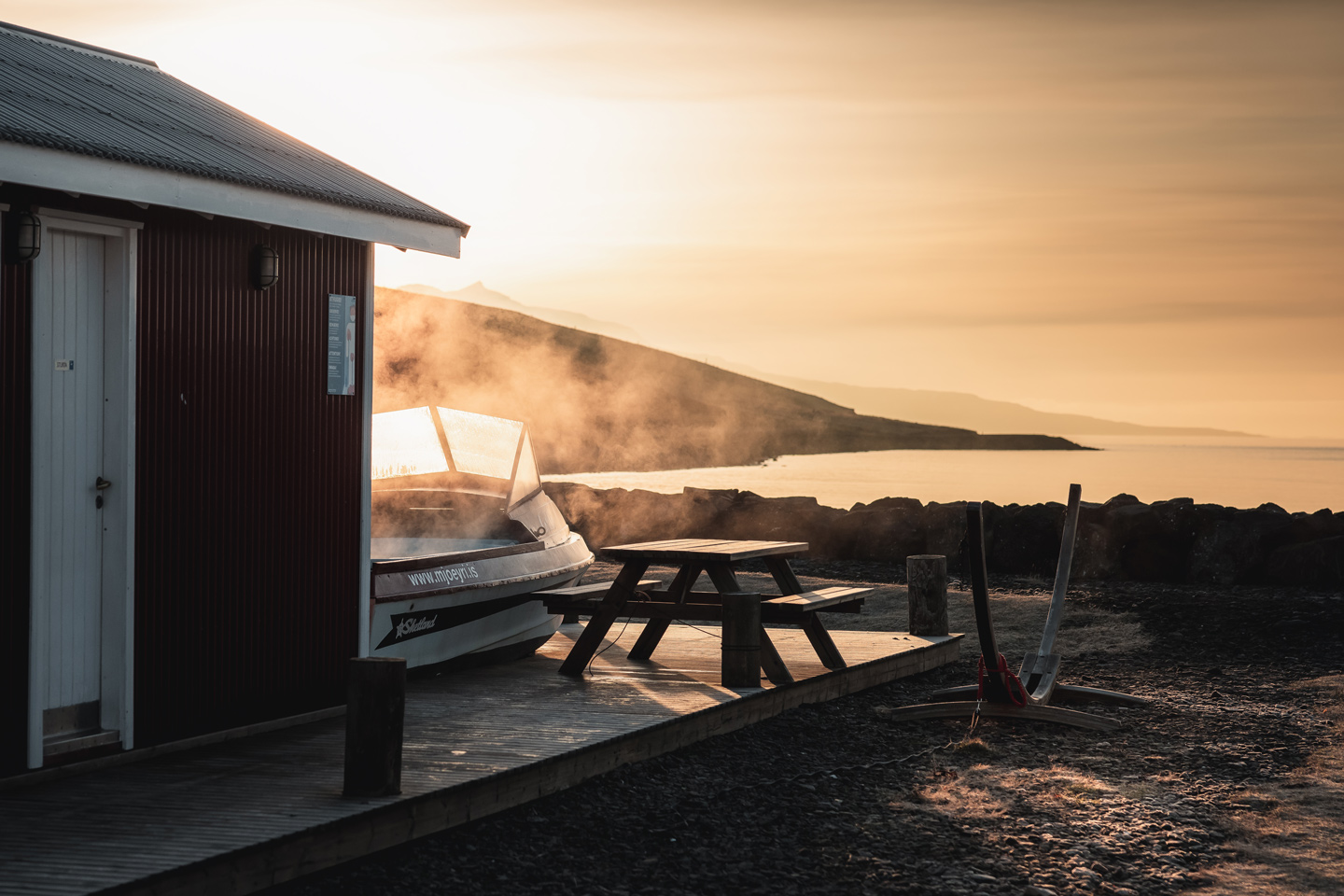 The hot pot set up at Mjóeyri is quite unique . Photo: Þráinn Kolbeinsson | @thrainnko
Check out Iceland's capital of slow travel
In the southern pocket of Austurland, the scenic town of Djúpivogur is part of Cittaslow, 'an international network of cities where living is good'. Towns that are certified by the Cittaslow movement focus on the authenticity of products, good food based on the slow food philosophy, rich and fascinating local craft traditions, and the protection of the environment together with the joy of slow and quiet living on a daily basis.
Djúpivogur is the only Iceland town that's a member of Cittaslow. One of the main objectives of Cittaslow is to preserve the spirit of community and share knowledge to the new generations to make them aware of their cultural heritage.
You can dive deep on the Cittaslow movement and philosophy on the Cittaslow website. Or you can make your way to Djúpivogur, where the unhurried pace allows time for locals and visitors to stroll, explore, and breathe deeply. Come see the benefits, and check out the unexpected history and creativity on display.