Warm up in Austurland
By mid-October, the days in Iceland are getting shorter and the temperatures are slowly dropping. The sun still makes regular appearances, and there's a good amount of gluggaveður too (a great Icelandic word that translates as 'window weather'). Gluggaveður is used to describe weather that looks good through a window from inside, but isn't so enjoyable when you get outside! That might be a day when the sun shines brightly in a clear blue sky but there's wind and chilly temperatures – and that happens often in Iceland after the summer's over!
October also brings some occasional storms, and as the gorgeous but short-lived fall foliage begins to drop, it's evident that winter is on its way. That means a few things: the northern lights are back to light up the skies, the hot pools beckon, and it's time to get cozy!
Allow us to share some tips on how to make the most of this beautiful time of year in Austurland – and most of these tips aren't exclusive to October, but readily apply to all the cooler months in East Iceland.
Resources
First things first: do a little homework! These are some handy websites for checking the weather, the times for sunrise and sunset, the road conditions and more.
Once you've checked the details, you'll know whether you're facing a good day for road tripping, outdoor exploration, soaking in a hot pool, hunting the northern lights, or getting cozy indoors, and you can plan your time accordingly.
Weather forecast for the country
Aurora forecast for the coming 3 days
Road conditions for the country, giving great information on whether roads are easily passable, slippery, difficult or closed
Time and date is an invaluable resource that details sunrise, sunset, and the number of daylight hours you can expect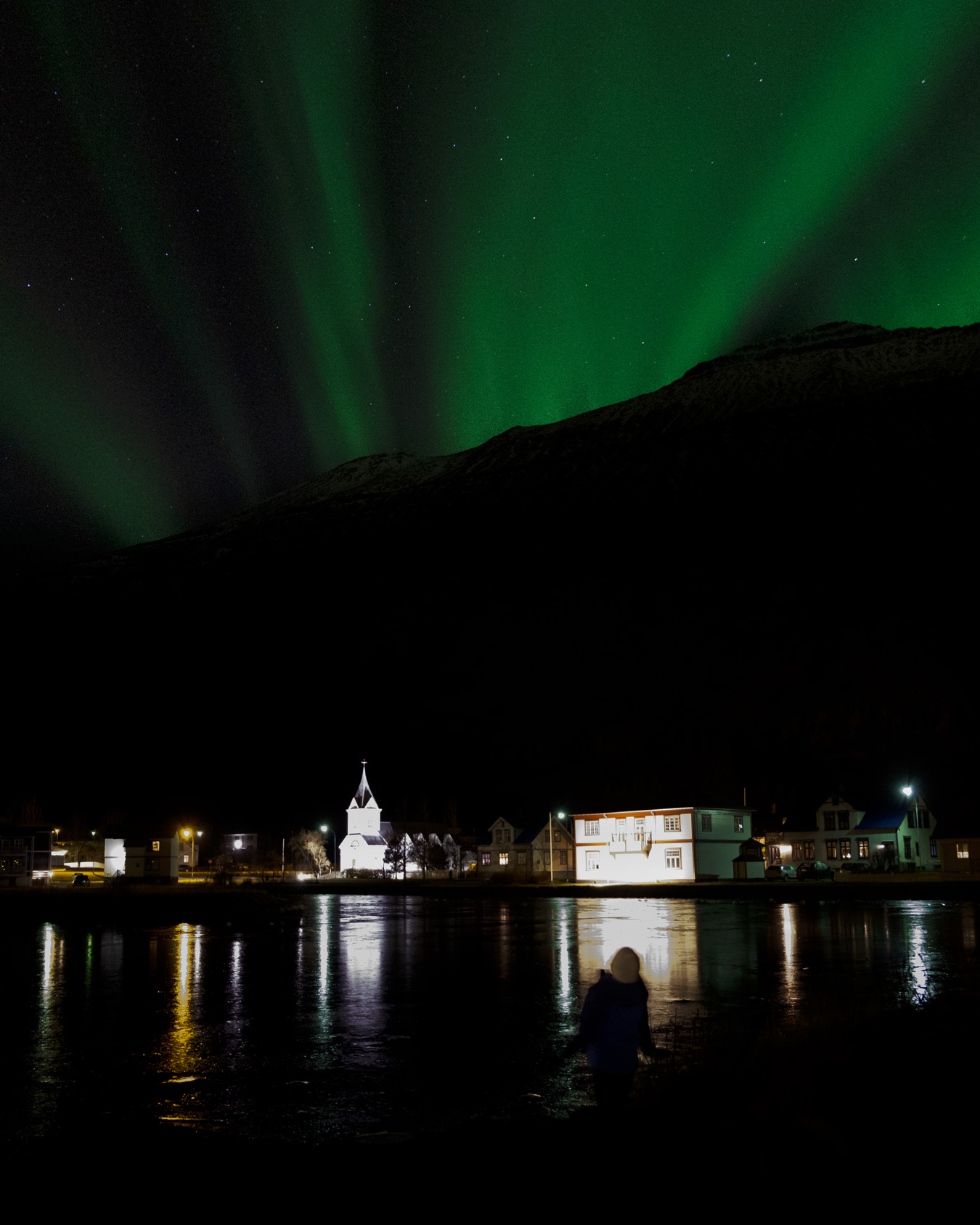 Northern lights over the Blue Church in Seyðisfjörður. Photographer: Ingvi Örn Þorsteinsson
The northern lights
It's a big bucket-list item, and we understand why. When the night sky fills with dancing green lights, it's hard not to feel completely awed by nature.
Predicting the visibility of northern lights (also known as the aurora borealis) on any given night is complicated, as the right conditions involve a mix of dark and partly clear skies combined with solar activity. For a rundown on the science behind the aurora, check out In Search of the Northern Lights on the Inspired by Iceland website.
The season for viewing the lights is September to April, and there are a number of forecasting websites and apps to help to increase your chances of a successful hunt. We like the vedur.is website from the Icelandic Met Office, which gives an aurora forecast for the coming 72 hours (on a scale of 0 to 9 known as the Kp-index) and shows general cloud cover for the country.
It's fun to go aurora hunting independently, especially when the forecast is strong. Wherever you are in Austurland, you don't need to travel far to find a peaceful place in nature away from light sources. But you might prefer to join a tour run by expert guides, who know the places where light pollution is lowest and where cloud cover might allow a glimpse of the magical lights when conditions aren't optimal.
Companies offering northern lights tours include Tinna Adventure, based out of Breiðdalsvík and offering pick-up from hotels and guesthouses in the area. They transport passengers in their super-jeeps, and offer tips for photographing the lights.
Stay warm!
There are many ways to stay warm as the temperature drops. Here are some of our favorites.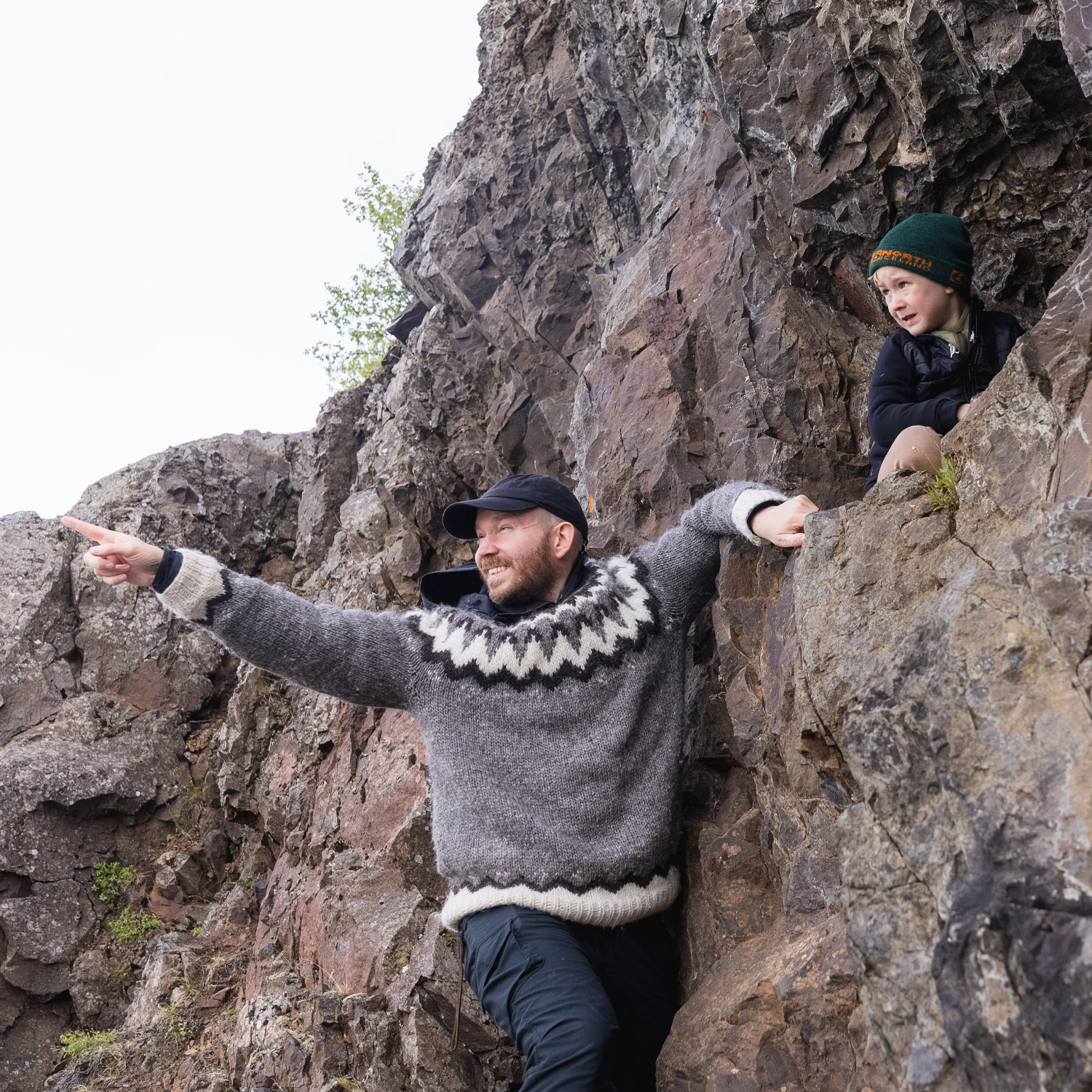 Lagarfljót. Photographer: Gunnar Freyr Gunnarsson | @icelandic_explorer.
Snug woolens
If you're going to be out chasing aurora or just awesome East Iceland landscapes, it's important to dress for the weather. Layers are key to this (start with a base layer like thermal underwear or lightweight wool, then a middle layer for warmth, and a waterproof and windproof outer layer).
Follow the locals' lead and invest in an authentic lopapeysa at one the local handicraft markets. These are the iconic sweaters hand-knitted from Icelandic sheep wool, and featuring a distinctive pattern around the yoke. Icelanders have spent a long time perfecting the art of staying warm, so you know that the lopapeysa (or lopi for short) gets the local seal of approval. These are more than just a great souvenir – they're practical and beautiful, too.
You'll find handicrafts sold all over the region – in souvenir stores, and also in unlikely places: some guesthouses and cafes sell a small collection of sweaters produced by local knitters.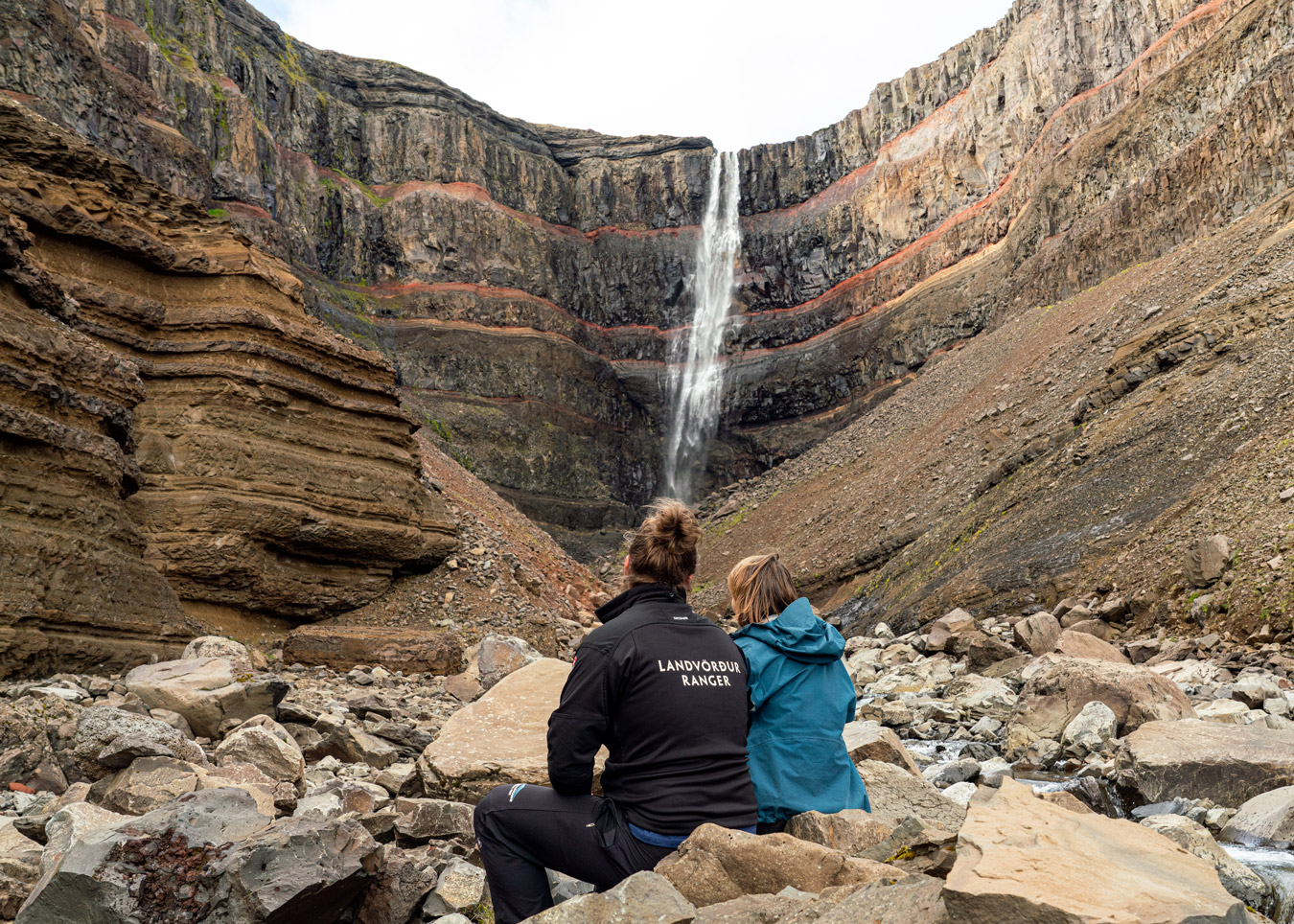 Hengifoss waterfall. Photographer: Jessica Auer.
Walks and activities
If the weather is favorable, there's no shortage of walking trails that can get your heart pumping, and there may just be a stunning reward (like the perfect view) on your stroll. Visit stunning Stuðlagil canyon (check the road conditions before you set off), tackle the uphill trail to the incredible Hengifoss waterfall, or breathe in fresh salty air on a black beach like Stapavík or Meleyri.
A great place for late-fall strolls is Hallormsstaðaskógur, the largest forest in Iceland. Follow one of the trails and explore the arboretum, the moors, the lake shore and more. Or unleash your inner Viking and book a session of axe-throwing in the forest (yes indeed!) with local company East Highlanders.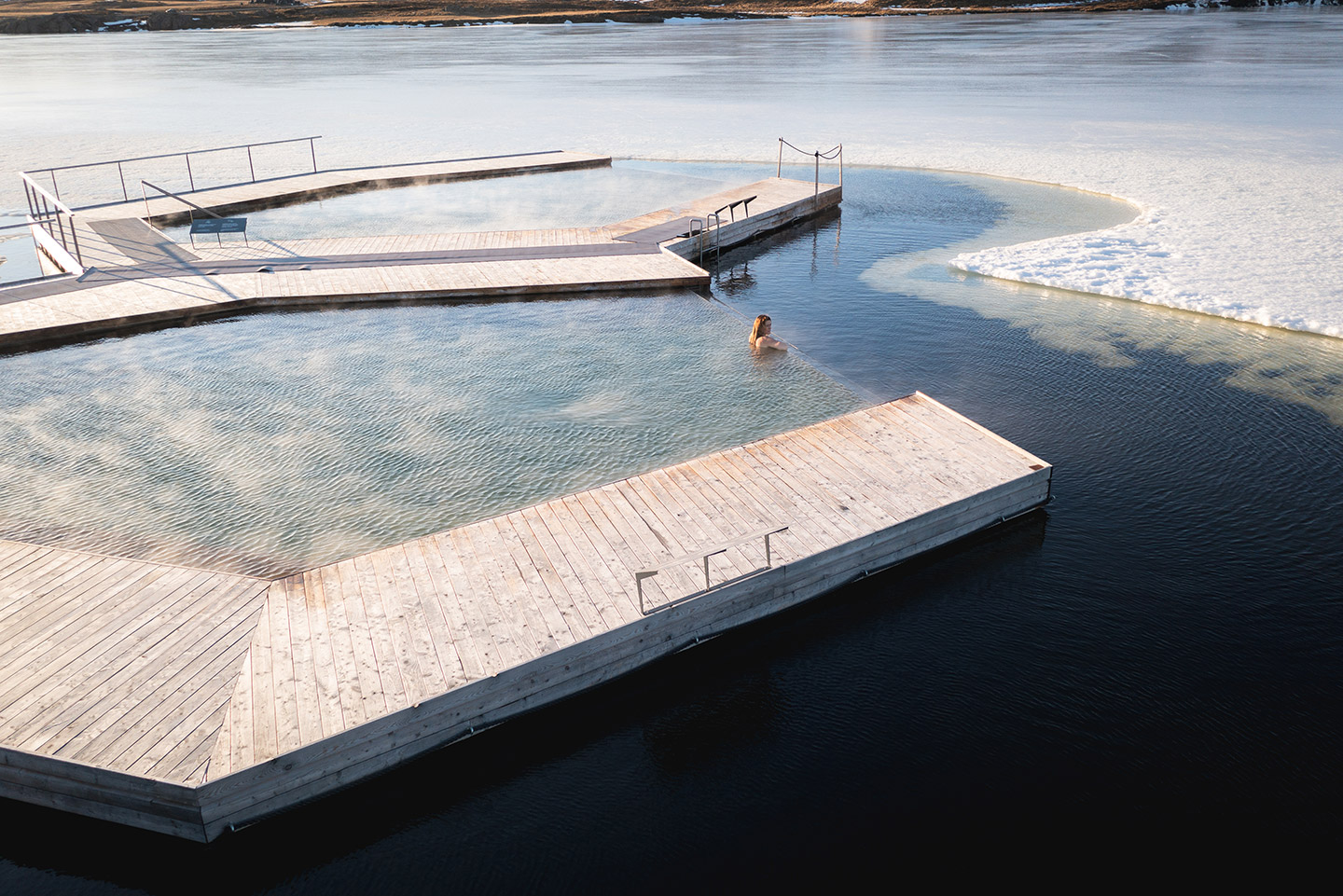 Vök Baths. Photographer: Gunnar Freyr Gunnarsson | @icelandic_explorer.
Sweet soaks
Any time of year is great for a swim and a soak in a geothermal pool, but when the air is crisp and cool, the warm water is extra appealing.
You'll find local swimming pools in almost every town in Austurland, and uniquely inviting hot pots as a feature of some year-round accommodation (including Mjóeyri in Eskifjörður, Blábjörg in Borgarfjörður eystri, and the Wilderness Center in Fljótsdalur).
Warmth is easy to find at Vök Baths, where cool design meets natural inspiration. This is no ordinary swimming spot: two infinity pools float in lake waters, drawing on the pure, warm water flowing from the ground at Urriðavatn lake.
Refueling stations
Cafes and restaurants act as a refuge when you're craving some cozy indoor time, and local flavors will warm you and set you up for further exploration (or just a good night's sleep).
Soup is something of a national obsession in Iceland, and you won't need to travel far to find kjötsúpa, or meat soup (made with lamb and root vegetables) to warm your heart. Vegetarians and vegans won't miss out – stop at Tehúsið in Egilsstaðir for a vegan harira soup (a Moroccan recipe of lentils and tomatoes). Head to Fjalladýrð at Möðrudalur highland farm to try their farm-fresh lamb soup, vegan soup, or even their moss soup!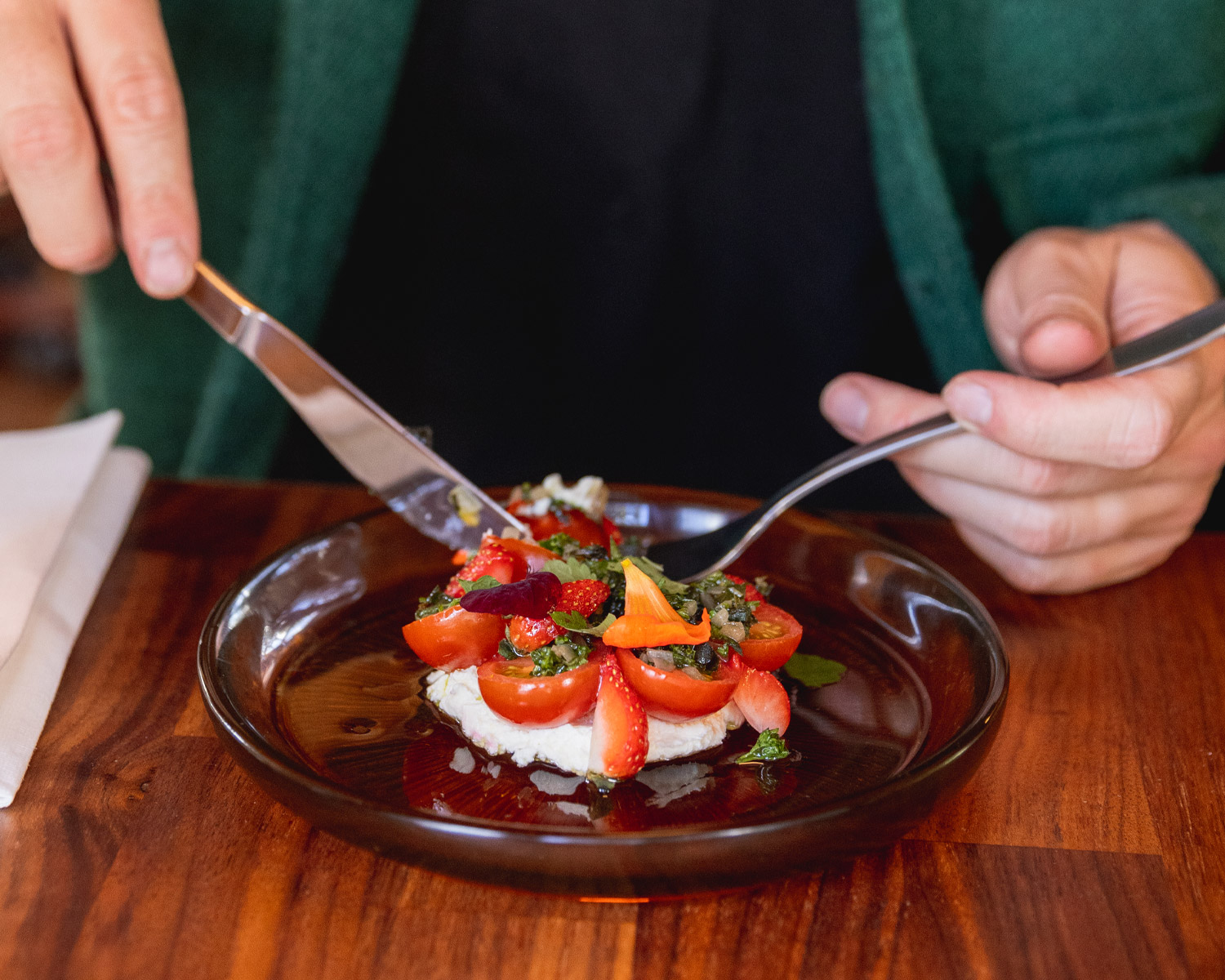 Nielsen restaurant. Photagrapher: Gunnar Freyr Gunnarsson | @icelandic_explorer.
Local restaurants will treat you to seasonal flavors fresh from the autumn harvest period. If you're looking for a gourmet experience, book a table somewhere like Nielsen or Eldhúsið, both in Egilsstaðir.
Coffee and hot cocoa are favorite warmers but you might want to sample other local liquids: the Tea Bar at Vök Baths offers a selection of organic and locally sourced herbal teas, made using the hot water from Urriðavatn lake (certified drinkable).
Austurland also has some great craft breweries to try out. You might like to spice things up with landi (Icelandic moonshine), crafted by a new distillery, KHB Brugghús, in Borgarfjörður eystri. Skál!