The A to Z of family travel in Austurland
Whatever the age of your kids, we've got places to excite them, inspire their imagination, and bring science lessons to life. And why should kids have all the fun? This is an adult-friendly place too!
Lagarfljót. photo: Þráinn Kolbeinsson | @thrainnko
East Iceland is crammed full of action and adventure that's perfect for family travel, with enough attractions (natural and manmade) to fill a busy, fun itinerary.
Before we begin, we've got recommendations from locals who have taken their young families on Austurland adventures: read the blog posts Exploring The Ring of Riverdale with the entire family, and Austurland: The perfect destination for a family trip for expert tips.
And now, let's break it down, shall we…
The A to Z of family travel in Austurland
A is for art, activities and adventures
Austurland is rich in art, activities and adventure options. Whether you like your adventures mild (watching colorful puffins, soaking in a warm pool, taking a forest walk) or more wild (mountain biking, kayaking, horseback riding, quad-biking), there's much to discover. And there's something for kids of every age.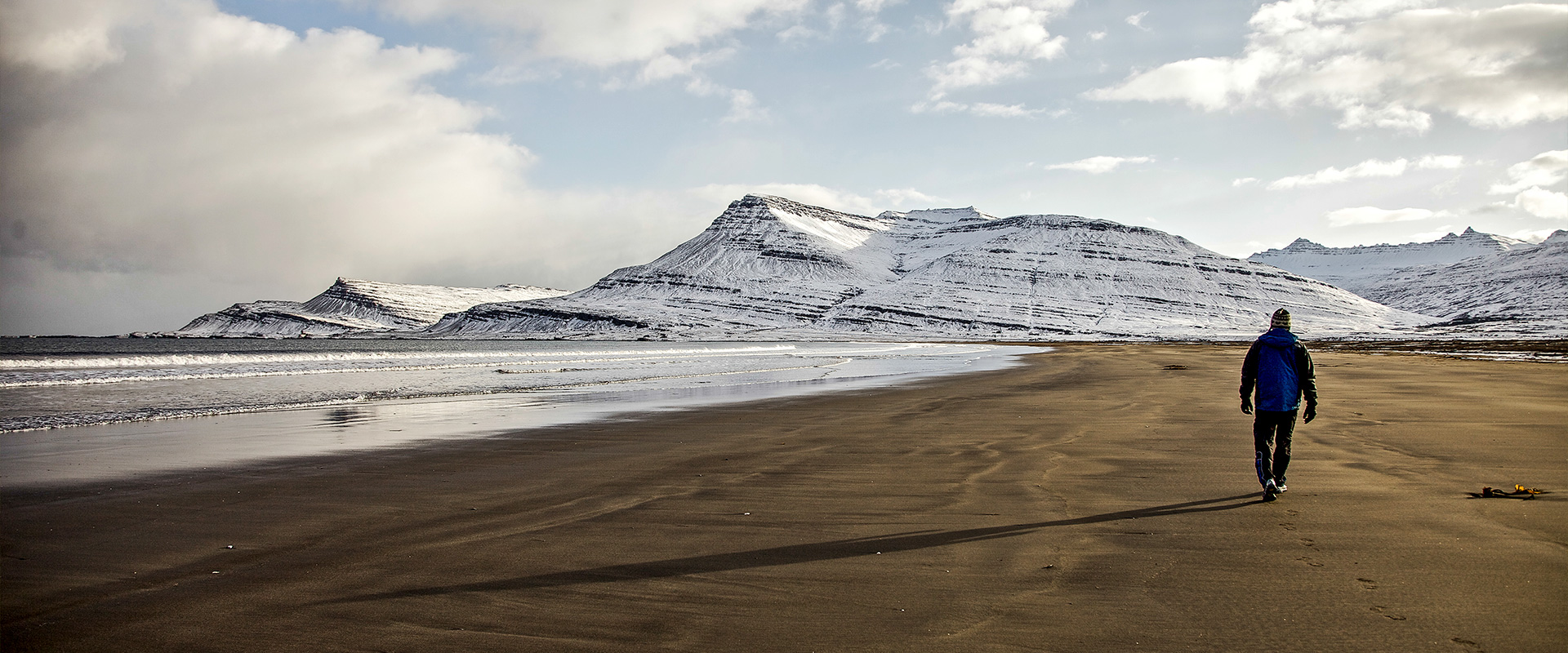 Meleyri black sand beach.
B is for black beaches and birds
Ok, you're not coming to Iceland for a traditional beach holiday! But our beaches are unique, and we recommend you allocate some time to investigate the back sands around Djúpivogur and Vopnafjörður.
Birds are an undoubted highlight of summer in Austurland, from highland geese to Djúpivogur ducks, but the best bird-spotting place is Hafnarhólmi, where puffins nest over the summer.
C is for camping, canyons and cakes
Camping is a family favorite in summer, and a great way to get close to nature. Austurland has camping areas (many with playgrounds) in all towns and also in the countryside.
There are stunning canyons to explore in Austurland, including Stuðlagil and Hafrahvammagljúfur, and for a break from driving and exploring, the afternoon cake buffet at Skriðuklaustur is a winner!
D is for driving
Austurland is a dream destination for road trips! Looking for itinerary inspiration? We've put together a number of travel routes, listing their highlights and how to tackle them in different seasons.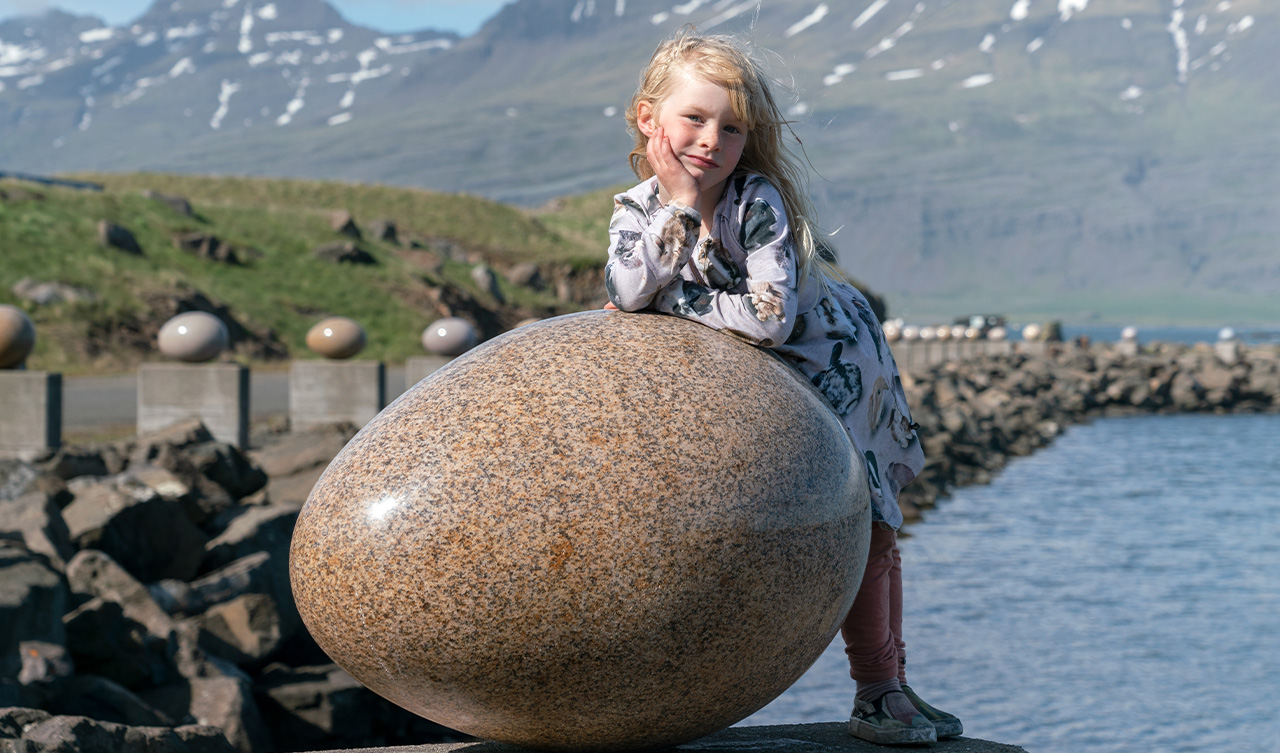 Eggin í Gleðivík. Photo: Jessica Auer
E is for elephant, eggs and elves
An elephant in Austurland? One of many rock pillars along the coast is Ljósastapi, in Vopnafjörður. Locals have given it the nickname "Fíllinn" (Icelandic for 'The Elephant'), because it resembles one!
More fun nature-spotting is in Djúpivogur: check out the fantastic outdoor artwork called Eggs in Merry Bay. And maybe you'll visit some elves, too, at Álfaborg (the 'City of Elves') in Borgarfjörður eystri.
F is for forests, festivals and farms
Austurland is home to Iceland's largest forest, called Hallormsstaðaskógur, and there's plenty of trails and play areas to explore here. There's also a big array of art festivals and music festivals across the region (especially in summer) – we even celebrate a children's culture festival each fall.
Farms are scattered across Austurland – some have accommodation, some have cafes, and some have hiking opportunities. One of the most interesting is Möðrudalur, the highest settled farm in Iceland. It's a gateway to the highlands and here you'll find tours, farm-fresh meals, and a range of accommodation. You might even spot an arctic fox!
G is for golf (frisbee golf, that is), and the right gear
Big kids might enjoy a round of golf, and the region has a number of courses. Frisbee golf is all the rage lately, and can be played in a number of places, including Hallormsstaður and by the campsite at Borgarfjörður eystri.
Bringing the right gear for traveling in Iceland is essential. The weather is changeable, and no one likes being cold or wet! We have helpful lists of what to pack, and what weather to expect – check them out.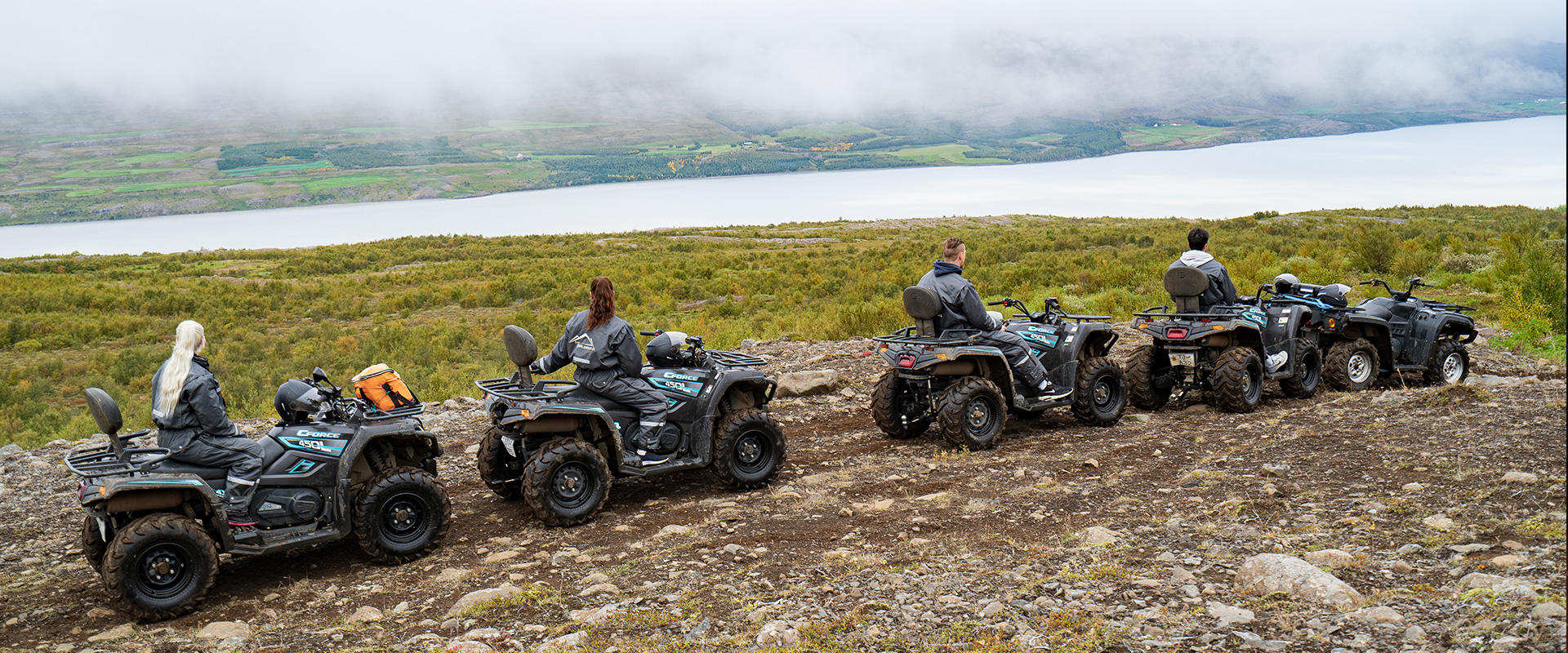 East Highlanders. Photo: Skúli Andrésson
H is for hiking, horseback riding, Hallormsstaðaskógur and Hengifoss
Hiking and horseback riding are two favorite Austurland pastimes. Then there's the warm, geothermal hot pools to relax in, and the highlands to explore…
Take a walk in Hallormsstaðaskógur, the largest forest in Iceland, and enjoy marked trails, camping areas and playgrounds. Visit at the right time for picking berries or mushrooms. When you're done fossicking in the forest, continue driving around Lagarfljót lake to reach the hike to breathtaking Hengifoss waterfall. This is one of Iceland's highest falls, and it drops into an incredible striped canyon with a thunderous roar!
I is for icy
Despite its name, Iceland is not always icy (but it can be)! Traveling in winter is magical but requires a bit more planning. Long nights are excellent for soaking in hot pools and looking for northern lights, and you can hit the ski slopes too. We've put together some information on weather and the average daylight hours for each month, and what to pack for each season.
J is for jam-packed journeys
"Why didn't I stay longer?" Or "I wish I had stayed another night." We hear that often in Austurland. Travelers stay on average less than 2 nights in East Iceland but often realize they should have stayed longer in the area. Can we recommend you slow down a little and give your family time to enjoy all we have to offer?
K is for kayaking
Teenagers might jump at the chance to get in a kayak and explore the fjords, and it can be done in a few spots, including Borgarfjörður eystri and Djúpivogur.
L is for lakes, landmarks and lighthouses
The Lagarfljót lake offers a perfect road-tripping adventure with countless places to stop and explore.
If you're looking for lighthouses, keep your eyes peeled for the bright orange ones that mark the coastline. Streitisviti is a good landmark to stop and stretch your legs.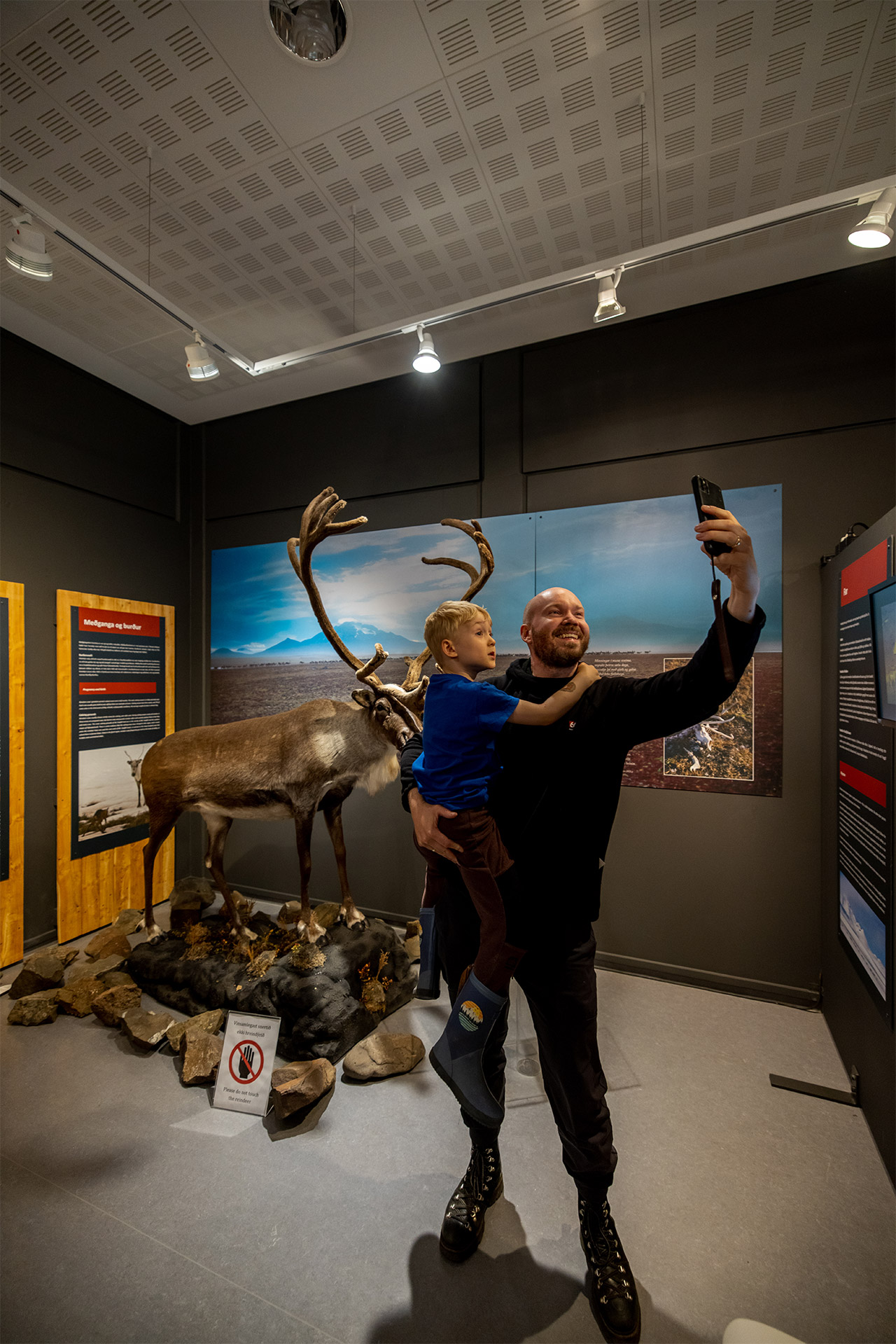 East Iceland heritage museum. Photo: Gunnar Freyr Gunnarsson | @icelandic_explorer

M is for mountains, museums and mines
Mountains are everywhere in Austurland, waiting for discovery. They offer countless options, from gentle hikes to winter skiing. Museums are also scattered across the region, many with an angle to appeal to kids: colorful rocks, tales of yesteryear, boats and seafaring stories, maybe some stuffed animals! Great options include the Wilderness Center and Bustarfell. There's even an old Iceland spar mine to check out near Eskifjörður, called Helgustaðanáma.
N is for national park and nature reserves
Vatnajökull National Park covers around 14% of Iceland's territory, and the park's eastern territory is home to some stunning highland features, including Snæfell Wilderness Area. Stop by Snæfellstofa visitor center for excellent kid-friendly displays and information. Ask the staff where reindeer have recently been spotted!
There are fantastic nature reserves to explore in Austurland, including favorites like Hólmanes and Neskaupstaður Nature Reserve.
O is for Ormurinn
Did you know there's a legendary sea monster lurking in Lagarfljót lake? He's known as Ormurinn, and in English as the Lagarfljót Worm (or Wyrm). Be on the lookout for him as you drive around the lake.
You can also visit the Ormurinn adventure walking trail at Vallanes, which is geared to families and makes a good picnic spot. Vallanes is home to an organic farm and café where you can load up on healthy snacks.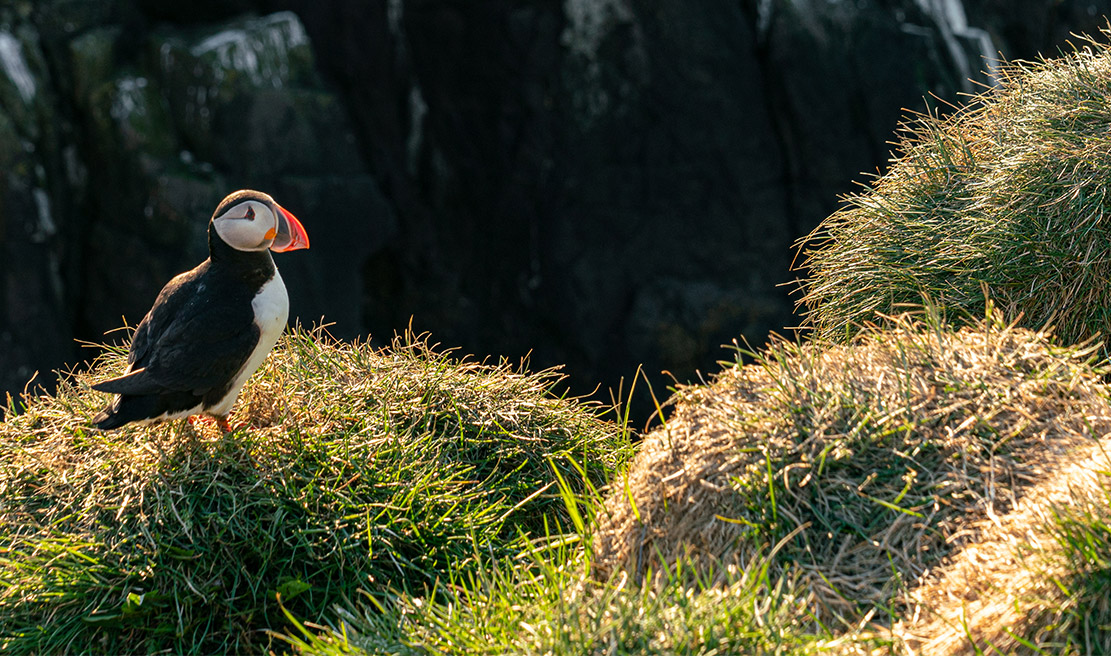 Photo: Jessica Auer
P is for puffins and playgrounds
Austurland is home to the puffin capital of Iceland. In spring and summer, Hafnarhólmi outside Borgarfjörður eystri is a puffin-watching paradise, with easy, family-friendly access to the nesting grounds of these colorful, comic birds.
When puffin-watching is done, seek out a playground for letting off some energy – the kids' play areas at Skriðuklaustur are excellent.
Q is for Queen of the Elves
Did you know the Queen of the Elves lives in Austurland? In Borgarfjörður eystri, to be exact. Here, you can visit Álfaborg(translation: the 'City of Elves'), a landmark rock you can walk up for great views.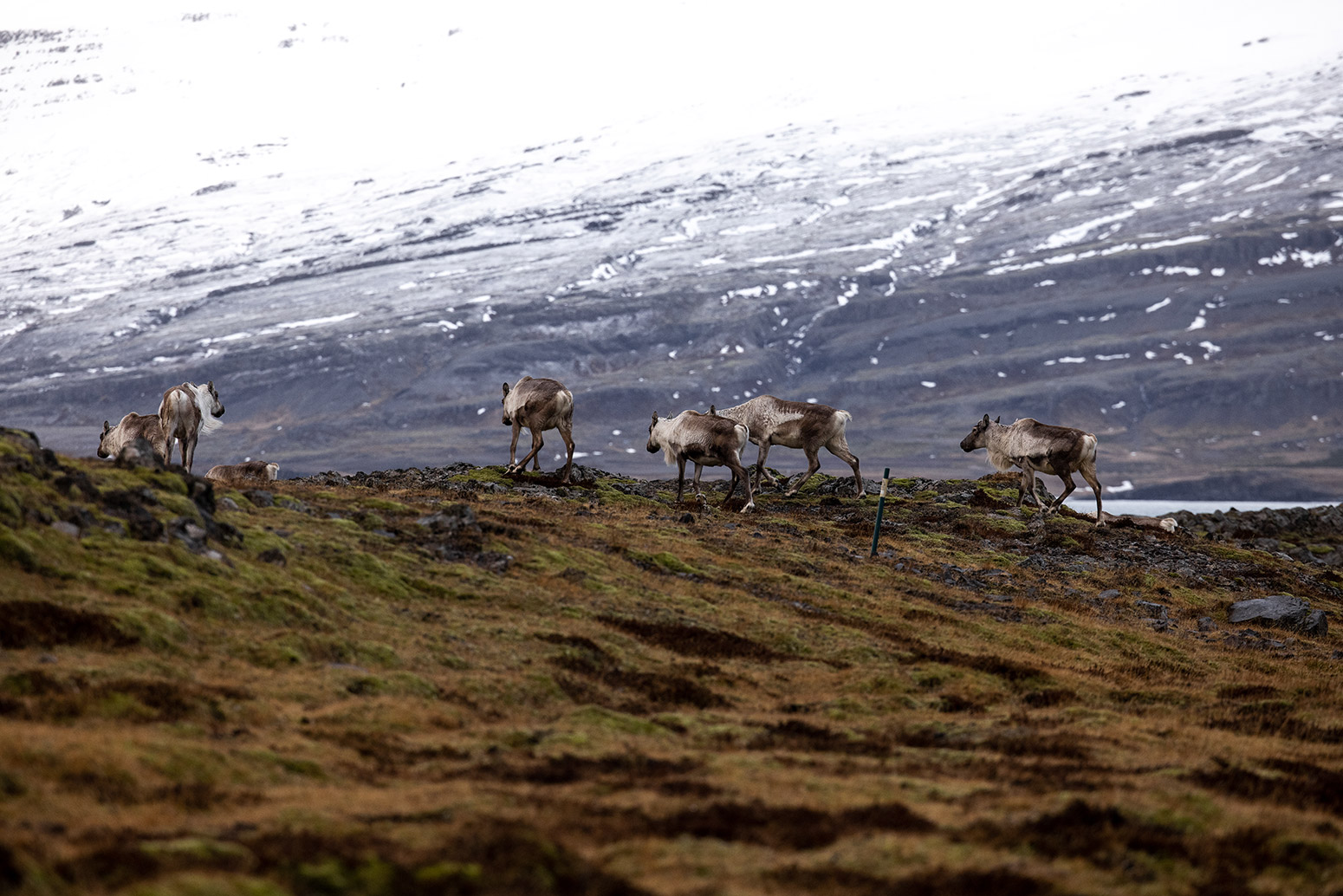 Reindeers roaming free. Photo: Gunnar Freyr Gunnarsson | @icelandic_explorer
R is for reindeer, rocks and rainbows
Austurland is the only place in Iceland where reindeer roam free. You might spy some on your travels, but if you want a guaranteed close-up encounter, visit a local farm where two orphaned reindeer named Garpur and Mosi live.
Along the coastline you'll spy some cool rock pillars (including one that looks like an elephant near Vopnafjörður), but if you like rocks and minerals in all their crazy colors and forms, the best place to visit is the kaleidoscopic wonder of Petra's Stone Collection In Stöðvarfjörður. Djúpivogur is also home to some high-quality rock galleries and quirky gardens.
If colorful family photos make you happy, we think you'll like Rainbow Street in Seyðisfjörður.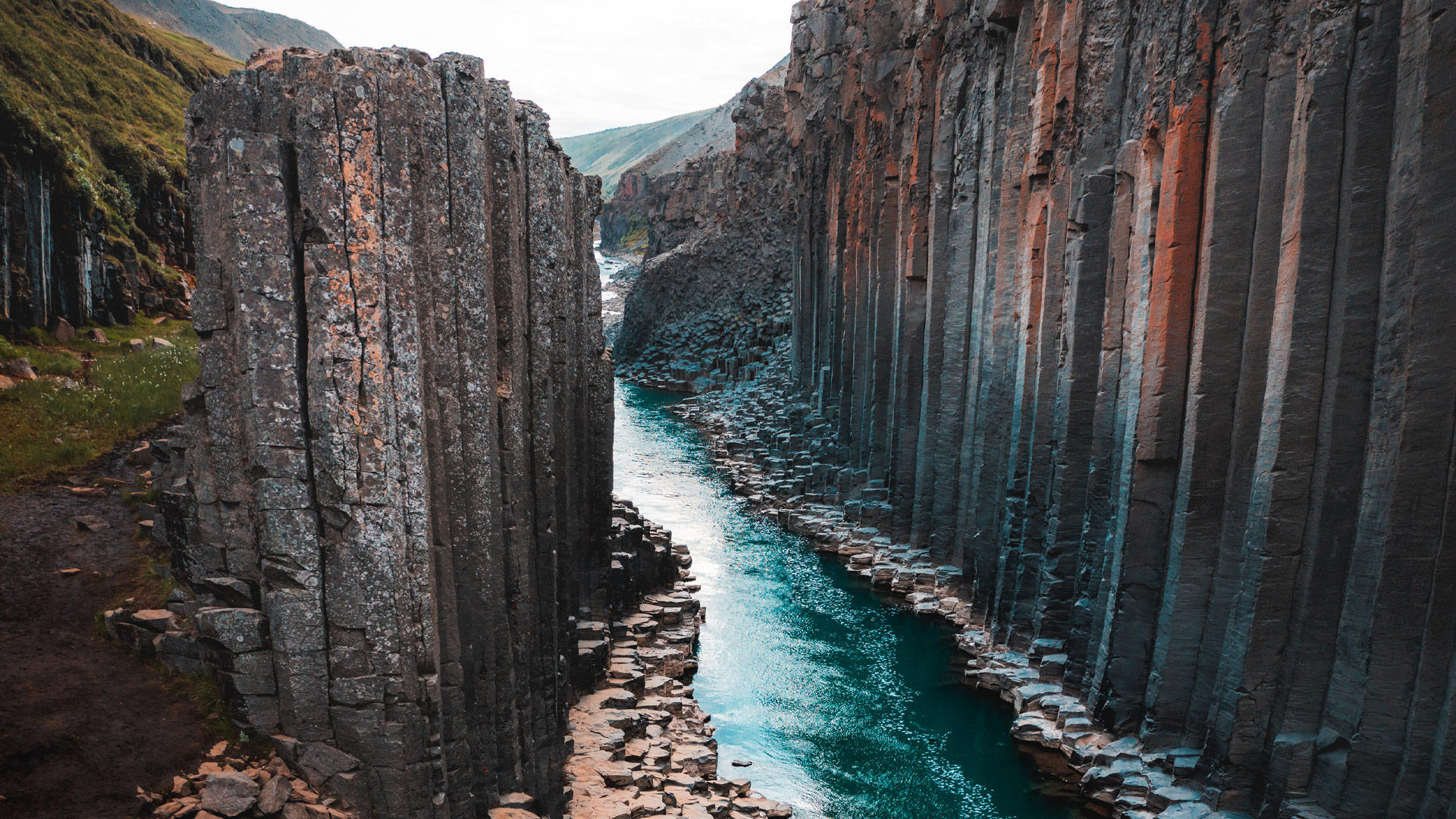 Stuðlagil. Photo: Gunnar freyr Gunnarsson | @icelandic_explorer
S is for swimming pools and Stuðlagíl
One of the highlights of travel in Iceland is the abundance of swimming pools, beloved by locals and tourists alike. Almost every town in Austurland has one, and the pools that bring the biggest smiles are in Neskaupstaður and Eskifjörður, thanks to their waterslides.
More smiles come at the wondrous Stuðlagil canyon, where basalt rocks and blue water combine to brilliant effect. If you're traveling with small kids, you might want to stick to the observation platform over the canyon, accessed on the north side.
T is for trails, tours and turf houses
Austurland is home to an abundance of hiking trails, and is gaining a reputation for biking trails, too. The area around Borgarfjörður eystri is popular for mountain biking, and there are quad-bike tours in the Hallormsstaðaskógur forest area that are perfect for kids as passengers.
Companies throughout the area are happy to take you on a day tour, from Superjeep expeditions into hidden valleys or across snowy mountains, to guided hikes, horseback rides and more.
And if your kids like hairy houses (and why wouldn't they?), we have turf houses to explore: at Bustarfell folk museum, Sænautasel, Lindarbakki and more!
U is for unexpected moments
Spotting reindeer by the side of the road, feeling the mist of a waterfall spray, seeing sheep and lambs playing in the fields. Maybe catching a fish, or spying a seal from the shore. If the timing is right, seeing the northern lights dance across a dark sky. There's a lot of unique adventure in Austurland.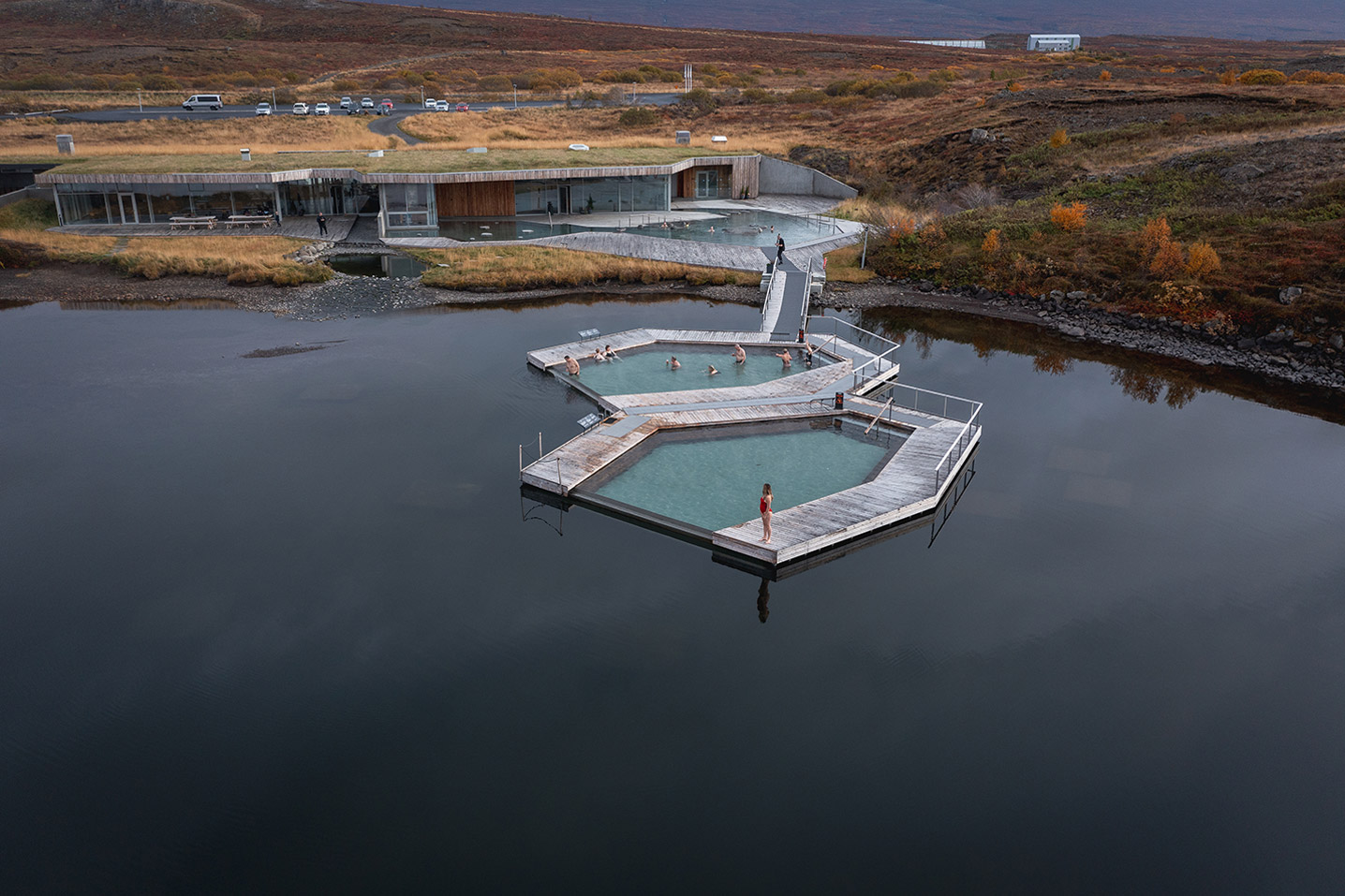 Vök Baths Photo: Gunnar freyr Gunnarsson | @icelandic_explorer
V is for valleys, views and Vök Baths
We've got valleys and views for miles. Plus the best place to relax: Vök Baths. This is a stunning swimming spot, with two pools filled with warm geothermal water, floating on a lake.
W is for walks, waterfalls and the Wilderness Center
There are so many walking trails for all ages, leading to some gems – including waterfalls by the dozen! We've got a few favorites, including Hengifoss and the multi-level Klifbrekkufossar in remote Mjóifjörður (population: around 14 people).
We've also got the remarkable Wilderness Center, a farm set on the edge of the highlands where you can stay in unique lodgings and do all sorts of activities, from horseback riding to stargazing.
X is for xcellent xperiences
Excellent experiences, you say? Yes, guaranteed!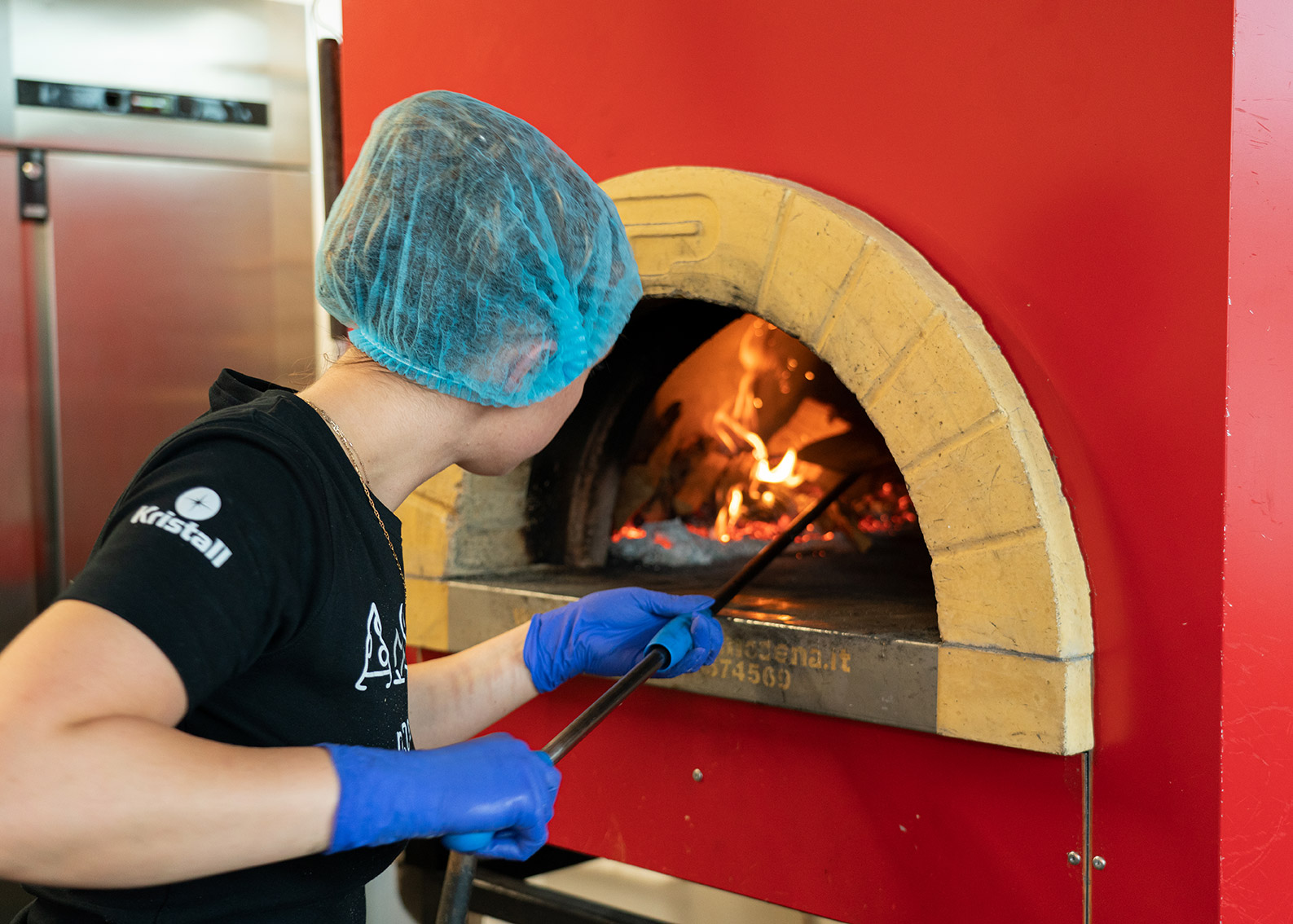 Askur Pizzeria. Photo: Jessica Auer
Y is for YUM
From cake buffets to fresh fish, there are lots of local flavors to explore, and for fussy tastebuds, we've got pizza too! Follow the locals' lead and stop for a hot dog or an ice cream at the larger gas stations.
Z is for zzzz's
You'll sleep well in Austurland, with plenty of accommodation options, from family-sized hotel rooms to camping areas. Maybe a guesthouse or cottage on a farm is the city escape you've been looking for?
So that's the A to Z of family travel in Austurland. Want to hear a bit more about Iceland? A few years ago the tourism authorities put together a very catchy song called 'The A to Ö of Iceland' (also known as 'The hardest karaoke song in the world') – check it out! And note that much of the video was filmed in and around Seyðisfjörður, one of Austurland's prettiest towns.
Words: Carolyn Bain